WINGS CONSOLIDATES THE PERUVIAN COMMUNITY WITH A GREAT EVENT ON 9/6/2018 IN LIMA
There is great anticipation for the first scheduled event of the 2018 WINGS MOBILE Roadmap, where the firm will present and promote the company born in October 2017 which has been consolidated in recent months, effectively coming out of the Startup phase with unexpected economic results.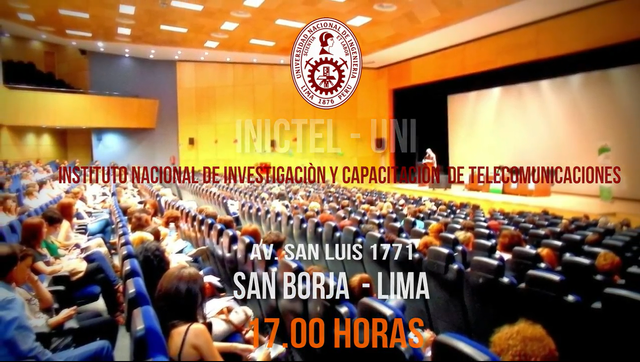 Wings Mobile was created to revolutionize the mobile phone industry, winking at new technologies and new channels for communication and energy.
It is no coincidence that the first mobile phone with Graphene battery will be presented soon, a technology which will probably revolutionize the world of sustainable resources in a definitive way.
Just think about charging your smartphone in a few minutes, without the need for an electric outlet due to a dead battery at noon already.
The new soon-to-be-launched collection will be a concentrate of technology, usability and security, a real and tangible revolution in the field of telephony.
The very much Italian CEO for the firm, Antonio Milio, will also attend the event personally, with great enthusiasm for presenting what will be a new concept, a new experience for allowing people to save money and at the same time generate income, using and recommending specifically those products and services which we cannot afford to not use in our daily lives.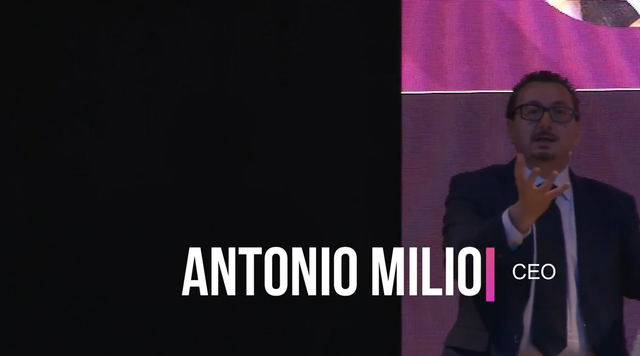 We are talking about a new philosophy of shared economy for making economic development possible for millions of new entrepreneurs, which will decide to take the big step towards financial freedom with the aim of improving the quality of their lives.
On this occasion the launch of the Bitwings ICO will also take place, during which the private sale will be anticipated, with the possibility of reserving Bitwings tokens and get high savings on the forthcoming purchases of Wings Mobile technologies, products, stores and corners.
Thanks to its consolidated network and the use of the best existing technology, Wings Mobile can pride itself about GUARANTEEING THE TOKEN'S ISSUING VALUE whatever the market evaluation, for life!
I'll explain, when an ICO gets into the market and introduces a new Token, its value is always more proportionate to the company's trust, history, team, experiences, but above all, to its sustainable business model.
After some time on the market, the coin's value could collapse due to incapacity of completing a project which remains unfortunately only on paper. It is an unfortunate circumstance which happens quite frequently nowadays.
Investors, in addition to not earning, usually remain with a handful of worthless Tokens, with consequent loss of invested money.
Wings Mobile is an already established and still growing reality, with real products worth more than the average's market: this is what guarantees the currency's purchase value in its sales portal.
Without going too far into technicalities, finally we have an ICO with an already valid project, not just studied on paper, with a detailed and already initiated planning.
The Lima event will be followed by other presentations, in July 4 events are scheduled: Colombia, Italy, Argentina and Ecuador In August, the company aims to confirm or exceed the forecasts of 3 thousand affiliate Partners with an astonishing number of 100 Wings Store.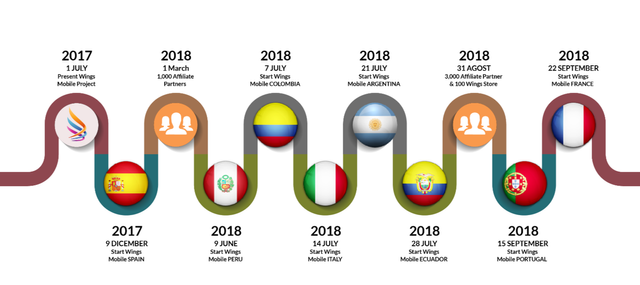 In September we reopen with the opening of the Portuguese and French markets, followed by the Mexican one.
In October we will return to South America, where a very lively market is anxious to promote WINGS products: Uruguay, Chile and Brazil in the forefront.
In November it will be time for other ambitious markets such as UK, Germany and the USA, where the challenge becomes increasingly difficult, yet incredibly stimulating.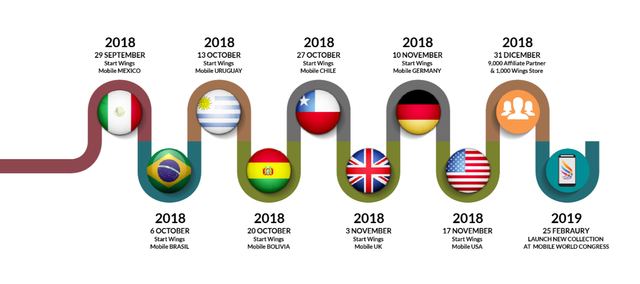 The idea is to arrive in December 2018 with 9 thousand affiliate partners and 1000 Wings Store.
In January 2019 the new collection of products will be presented at the MOBILE WORLD CONGRESS to be held from 25 to 28 February, probably in Barcelona.
One thing is for sure, technology and Network enthusiasts will see some good ones.