Lately, I've been researching old microcomputers from the 70's and 80's, particularly the CPU and graphics chips. The TMS9900. The 6502. The 68k. The z80. The TMS9918a. I want to build a microcomputer, as they were called. I want to build an old 16-bit computer from the 80's, beefed up as much as I can, and play old software on it.
The first computer that I ever used was a TI99/4a. It was a pretty chunky computer. It kind of looked like an oversized laptop without an LCD, but you pretty much couldn't use it very easily on your lap. Not sure exactly what all the weight came from, as it didn't even have a hard drive in it. It was nice though. I loved it. It had TI-BASIC built-in, available right from the menu the second you turned it on and had a ton of educational software.
I remember competing with my older siblings to see who could win in multiplication games. Sadly I didn't realize that my age might have something to do with me losing. Recently talking to my mom about it, she actually apologized that she didn't say anything to me because she was afraid that I would let it get to me or something. It did get to me actually. I always thought I was bad at math. Well, a few years later when I started elementary school, I was one of the only kids that knew multiplication and division, including of fractions.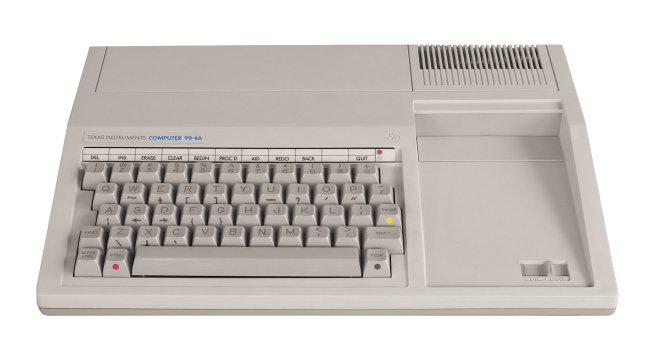 Photo by Ron Reuter 24 November 2014 CC BY-SA 3.0 DE mainbyte.com (source)
Later, when I got a Mac, I actually hated that it didn't have a programming language built in that was easily accessible. That's something that I loved about the computers of the 80's. The Apple II even had basic...and they just took it away with the Mac.
Computers and consoles might have become more and more advanced, but they lost that education that made me part of who I am today.
I want to bring that back. I want to build an 80's microcomputer. I want to figure out how to wire up the chips to make something that I'll have fun with and will teach me how to wire up the circuits.
Like when I was a kid and got the electronics kids. I loved those! But they never seemed to teach me enough. I wish I had gotten a microcomputer kit when I was that age. But I don't want a kit now! I want to design my own! I might want to build quite a few! I might want to build a few types. And it turns out that you can actually buy "kits" that are nothing more than a bunch of IC's that you can put together and build your own computer. And then I can buy my own support chips to give it USB and wifi! How is this not fun? Why aren't more people doing this? Why don't you get an electronics kit? They're fun!
It might have started out with just sort of researching an old computer that I loved...and how to upgrade it to make it a bit more useful and fun to use...but then I realized it would be better to just start from scratch...and more fun! We all should try to make things occasionally. We need hobbies. We need to learn. We should have learning software built into our computers. Why is there Minesweeper and Solitaire with Windows, but not any other math games?
I digress. Another thing I need to buy when crypto recovers. But it's gonna be a fun project for the next year!