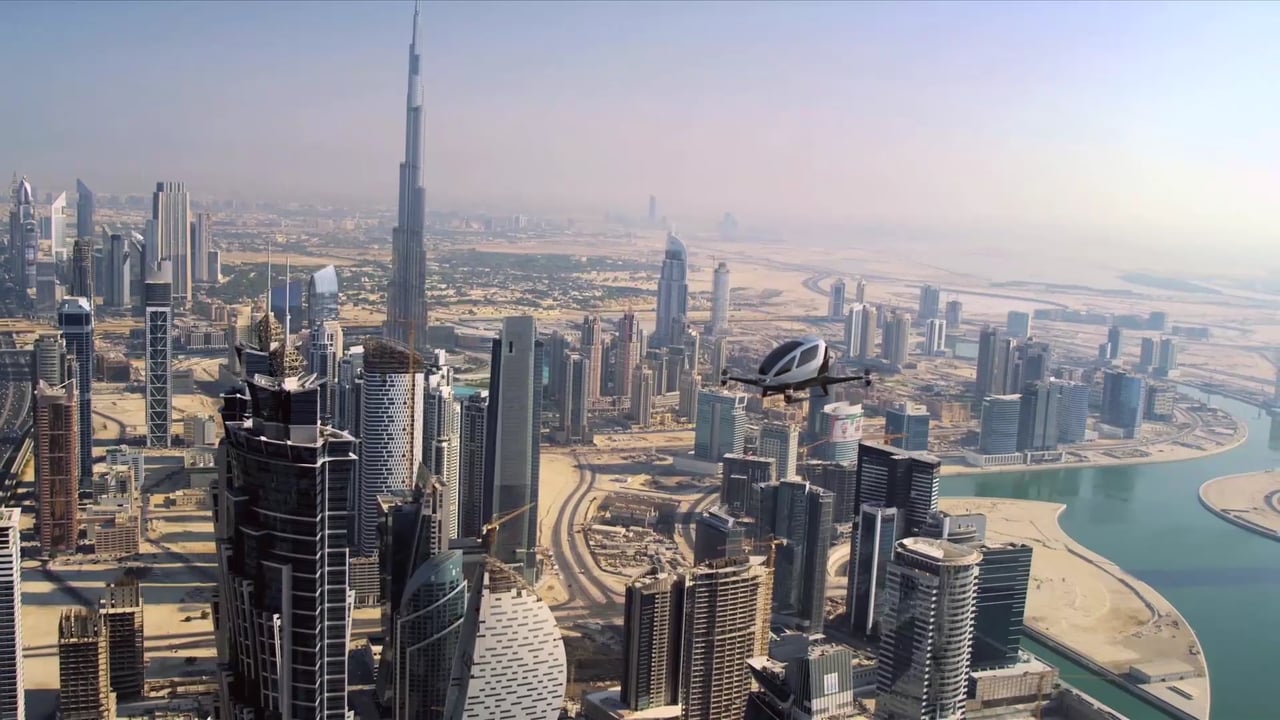 Source: Vimeo
A lot of companies these days are competing with each other to bring the first taxi drone on the market. What once was something out of a sci-fi movie like Blade Runner or Back to the Future is slowly but surely becoming a reality.
Dubai as an Example to Follow
In the city of Dubai a series of test will be hold with an unmanned taxi drone by the end of this year. Dubai wants to be a model city for the world to emulate, so their goal is to empliment the taxi drones into their city infrastructure as soon as possible.
Dubai's (Roads and Transport Authority, RTA) has made a deal with the German start-up Volocopter. The Volocopter company got 30 miljoen dollars from inverstors to develop a two passager drone. According to the start-up the Volocopter 2X can fly for 30 minutes and reaches a top speed of 62 mph. Due to security requirements 9 batteries have been incorporated in the Volocopter. A second candidate is the Chinese Ehang 184, this drone however can only carry one passenger.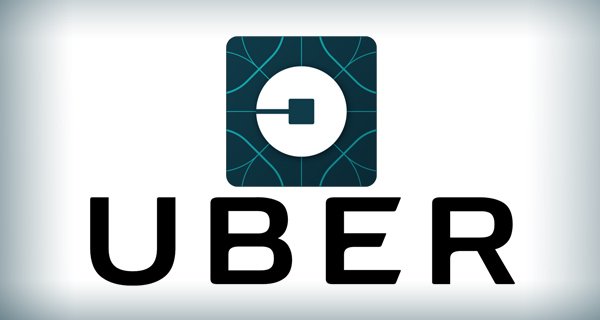 Source: Sandeepnewstyle
Uber Joins the Race
Uber also wants a piece of the taxi drone pie and has hired a NASA engineer to help with the design of a new taxi drone model for Project Elevate, which could be seen as the airborne version of Uber's services in the near future. Then there is the French airline builder Airbus that is currently working on a prototype named Vahana. By the end of 2017 the first tests of the Vahana should start, as a part of the company's plan to fabricate entire fleets of 6 passenger drones called CityAirbus. All these companies have several things in common, they want to achieve a way of air travel that is eco-friendly and less noise polluting. Their vertical take-off vehicels are made out of lightweight carbon fiber materials which makes them suitable for inner city traveling.
Price tag and Regulations
According to Uber's ceo Mark Moore, the cost of a trip divided by four passengers will not exceed today's pricetag of the UberX services. A drone for personal use will be costly in the beginning but the more people will buy them the faster they will become affordable for everyone. One thing is for sure, no road maintenance taxes will be charged.
The F.A.A. (Federal Aviation Administration) has stipulated that all aircraft should at least have sufficient fuel in reserve to stay airborn for 20 minutes in case of an emergency, for example when there happens to be a fuel leak. With the Ehang's 23 minutes of flying time, this means that it can only stay in the air for 3 minutes, the other 20 minutes are reserved for critical situations only. Therefore the Ehang 184 and the Volocopter 2X do not meet the F.A.A.'s standard regulation for now.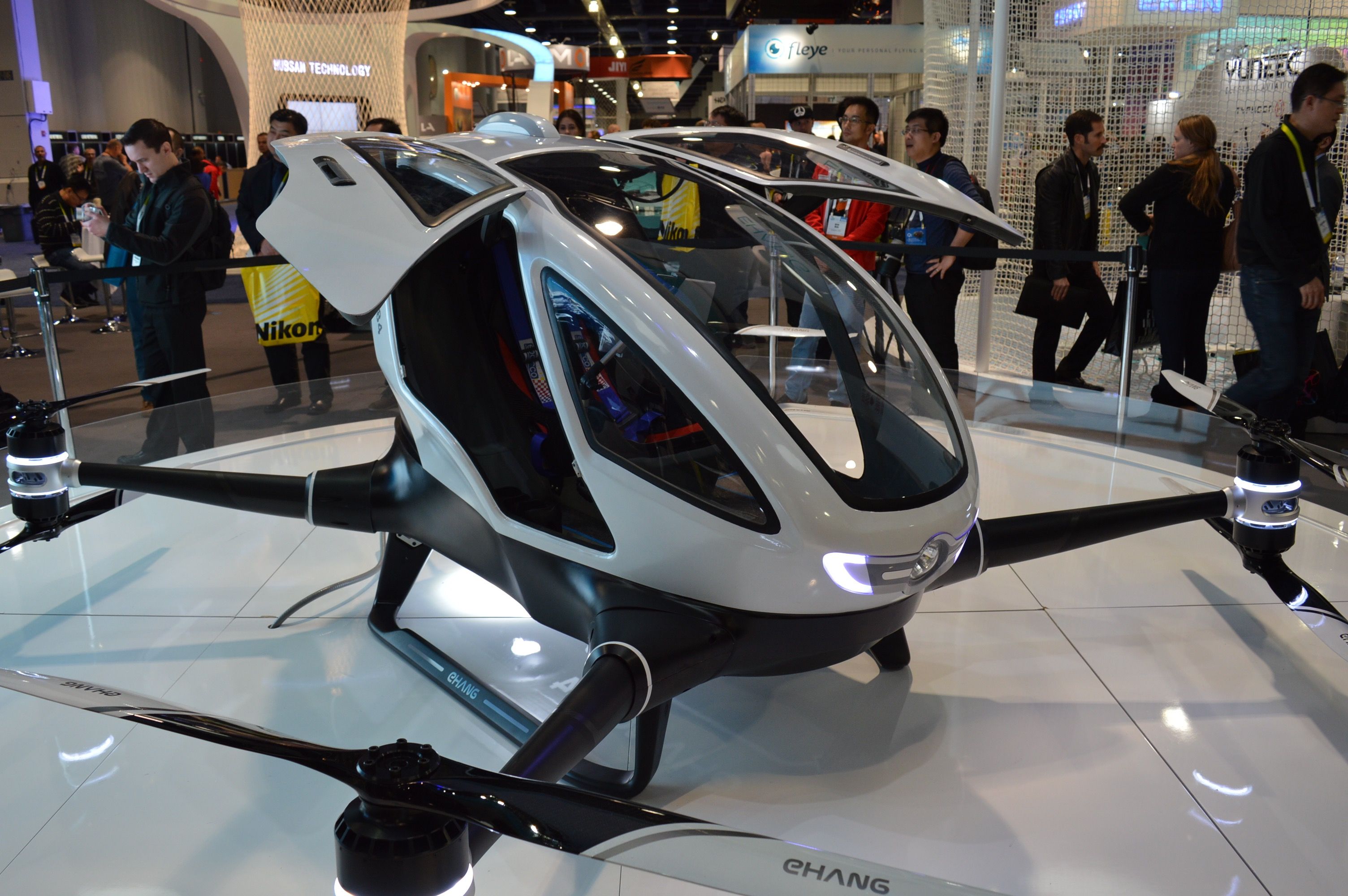 The Ehang 184 - Source: Ben Smith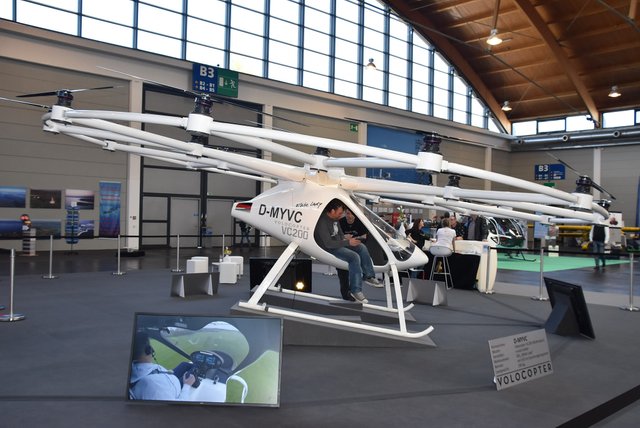 A Volocopter model VC200 similar to the X2 - Source: Alec Wilson
Mark Moore remains optimistic, he states that with the arrival of new technologies the batteries will last long enough by the year 2023. Uber plans to have 50 taxi drones in the air by that time. Another challenge is the management of flight routes, most of the big cities already have flight routes for helicopters but the way of optaining clearence to use those routes happen verbally.
At NASA's research center NTX engineers are working on a way to automate the process of acquiring flight routes. With a relatively new software called sense-and-avoid, future taxi drones will be able to communicate with other taxi drones and passenger planes in an effort to stay out of each others way. Moore adds to his predictions that for the first 10 years the taxi drones will fly with a pilot on board, till they gain enough public trust.
Thanks for reading,
Funcore