As the teardrops SMT gets closer to fruition, it is becoming time to prepare. Well, preparation has been ongoing on #teardrops for close to a year but we now have another outlet by means of @teardropstv to prepare further. 
We will soon begin activities to this effect. In the meantime though, we implore you to visit TeardropsTV on YouTube and become a "true fan".
You can start here:
Kindly share this video on every wall, online and offline; home and abroad. Then, we implore you to subscribe as well and put on notification, to be informed upon every video upload.
 Note that we already have an entire portion for  #teardrops on our website on https://ulogs.org/created/teardrops and a the #teardrops post editor on https://ulogs.org/teardrops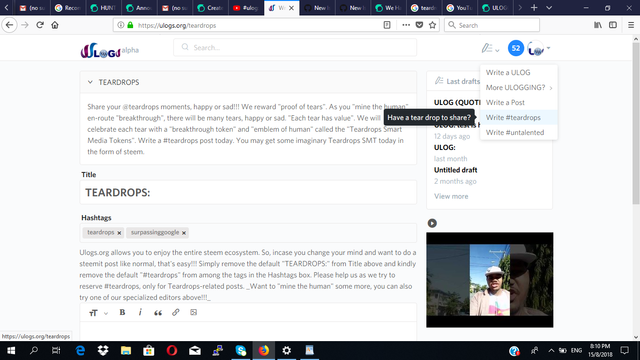 KickStart TeardropsTV
Subscribe to us on YouTube: https://www.youtube.com/channel/UCnIJlzMZzfrcE0bXabLpXKw Like our Facebook page: https://www.facebook.com/Teardropstv-811123225762179
 
To contribute a video to @teardropsTV, indicate interest in the comments of contact us!!!
Subscribe to us on YouTube: TeardropsTV