I collect a lot of things. My most recent and active collections are refrigerator magnets and key chains. I always ask my friends and relatives coming home for a refrigerator magnet and key chains. Even though I know I will never be able to visit these places. I feel happy when I look at them. Makes me feel contented and proud I have them.
My problem was always on how I can display them or show them off, yet keep them clean and safe.
Last month my besties HS classmates gave me 2 standard sized magnetic board with a travel design. I was so happy. Now I can arrange them because the refrigerator in the bedroom was covered and sometimes they fall off and hard to keep clean. But sad to say 2 standard or small ones was not enough.
So when I went to the city I bought 1 big one but the travel design was out of stock but I bought one with a cute flamingo design.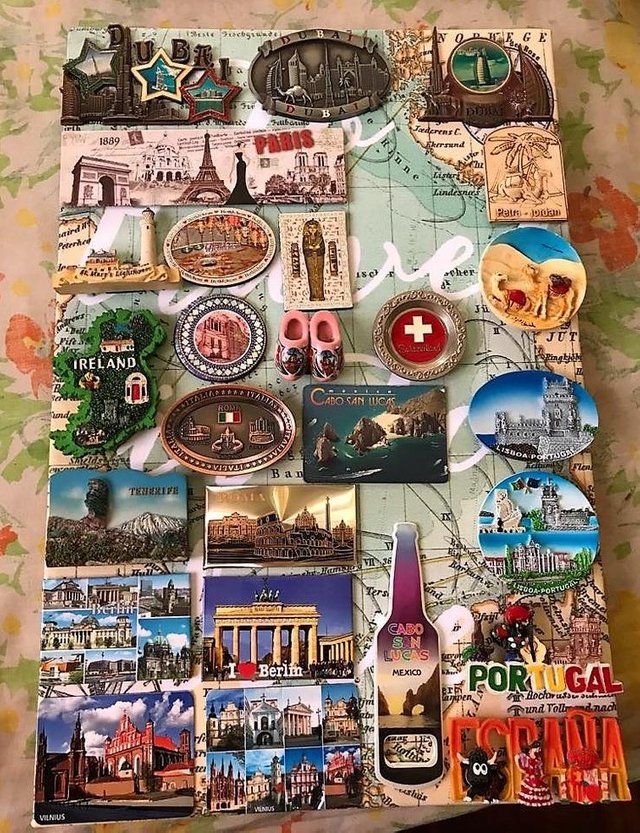 This is one with the travel design. I placed here the European, South Americas and other places. There is still room to add.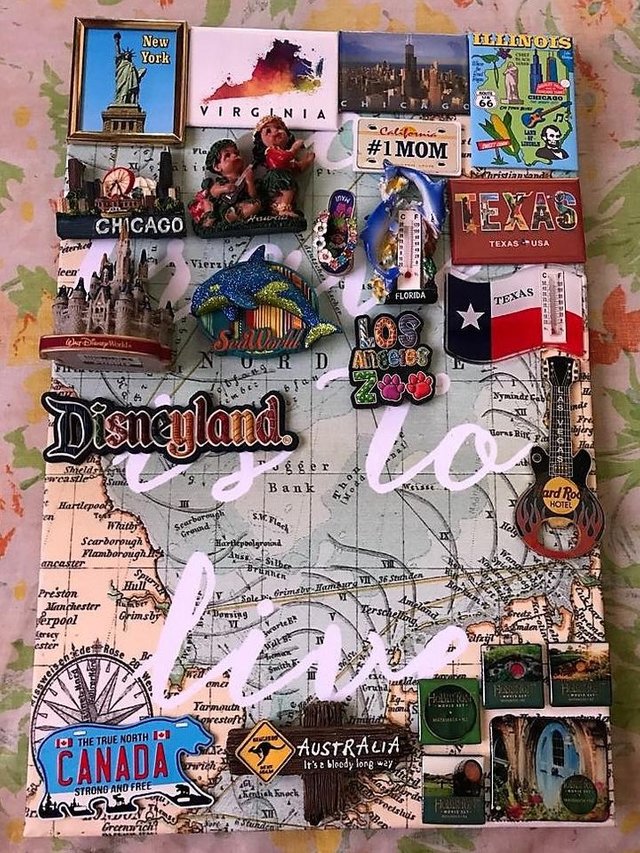 This is where I will put the USA, Canada and Australia/New Zealand. I am hoping to complete the 51 States. Will take a long time I only have 8 so far hahah. But I am not losing hope. @vegasgambler I hope you will remember to get me some before you go back here. LOL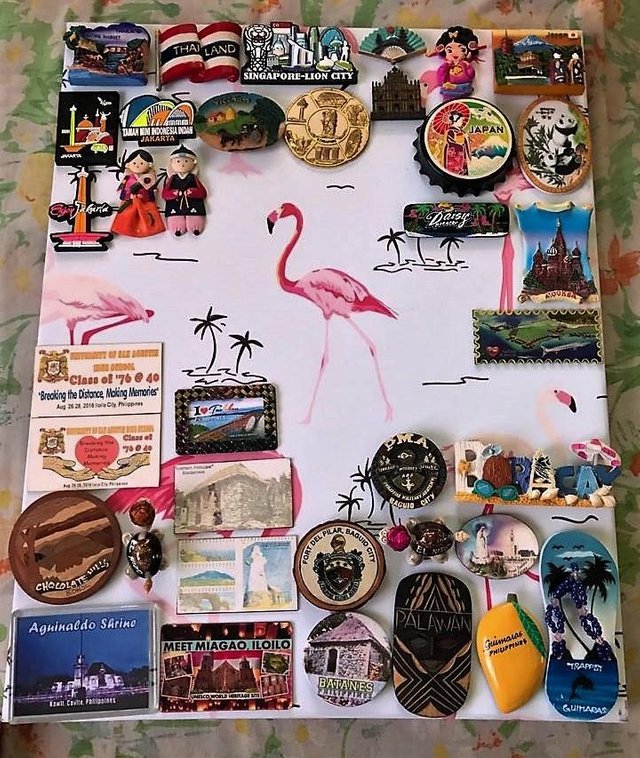 Now this is the bigger one. It has a nice flamingo background. Here is where I arranged all the Asian and Philippines magnets.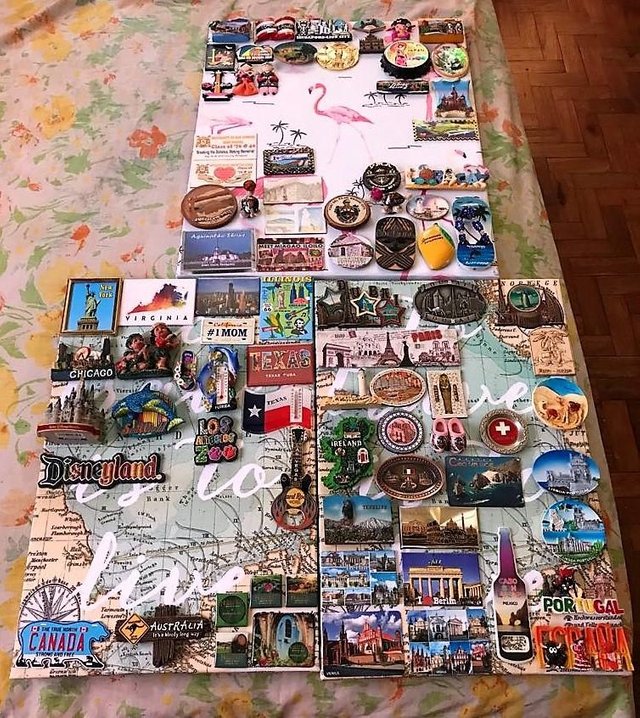 There are still some space. I can also remove some duplicate ones and return them to my refrigerator. I plan to get them framed with a glass covering and preferable with a lock. Need to save again from my #steemit earnings. I do hope they go up. I also placed some on the downstairs ref. So if you can imagine my small ref upstairs fully covered with magnets.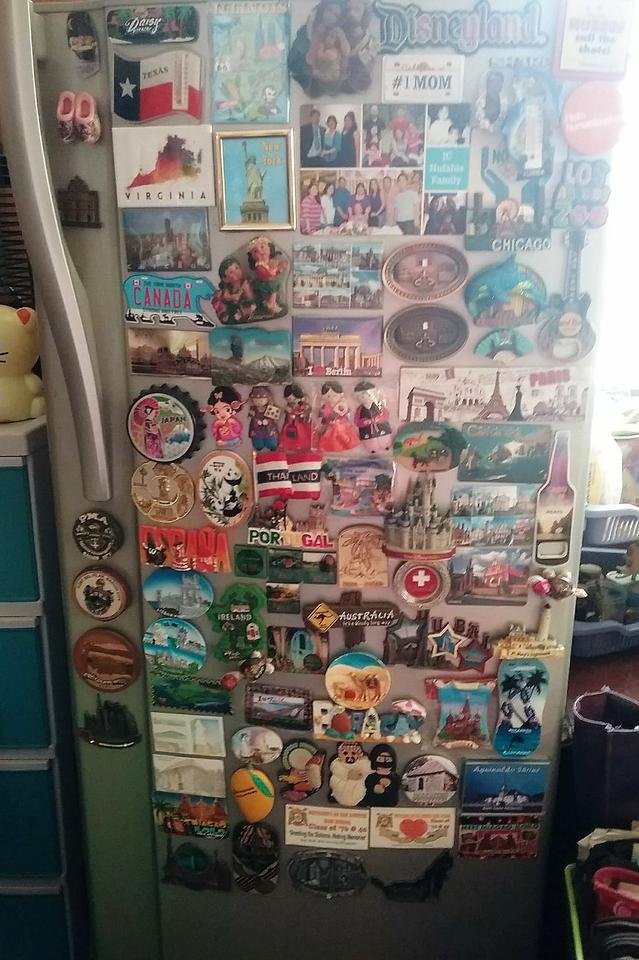 See how full. I already have placed some downstairs Now it looks kind of bare because I just left few magnets on it.
I do hope my vision of getting them famed with glass and lock will become a reality.
My key chains were also a problem. I have been collecting them longer than the ref magnets. So I searched on line to see how some people displayed their collection. There so many but most were either too expensive or not strong enough. I decided on the one using a cork board and push pins. I bought 2 of the big ones. The cork was kind of thin so I asked my helper to place an illustration board on the back. He did and even had space in between. Without it, the pins went thru and you could get pricked.
I measured the distance between and the length. So he placed them on both boards.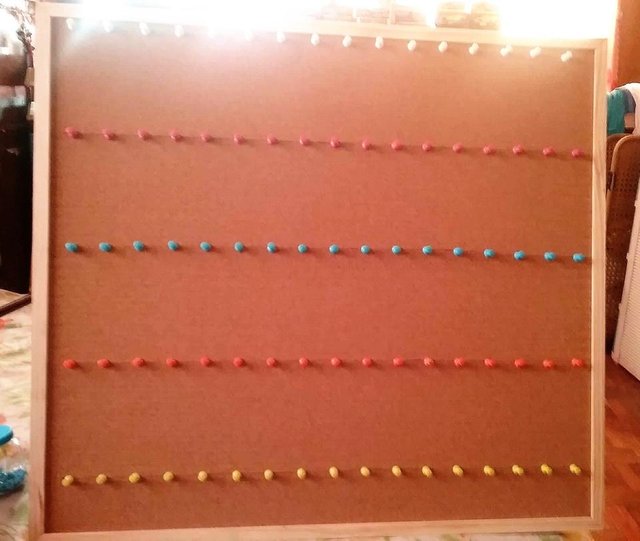 I was so happy on how it looked when it was done.. So then I tested it by placing a few key chains. I was contented on the outcome so I just kept placing them all.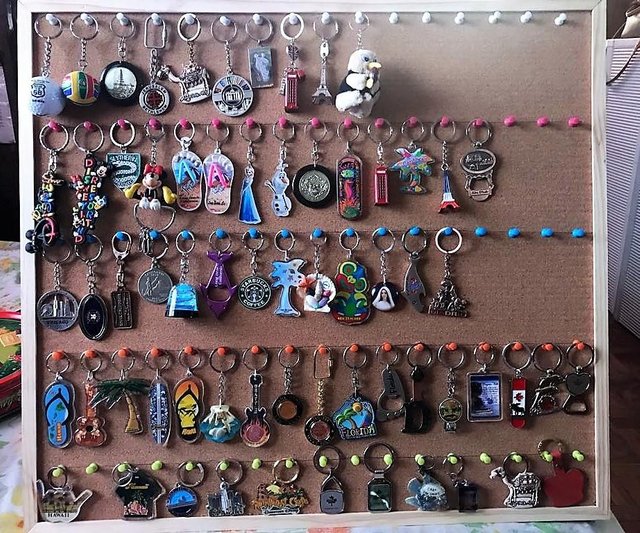 Here I just placed them in any way. I could not place them according to State or country so I just randomly placed them anywhere. It will make it more interesting. But this board had all the foreign countries and the United States. Oh @vegasgambler key chains would be nice too hehehe.
Oh I was so happy and excited on how it looked.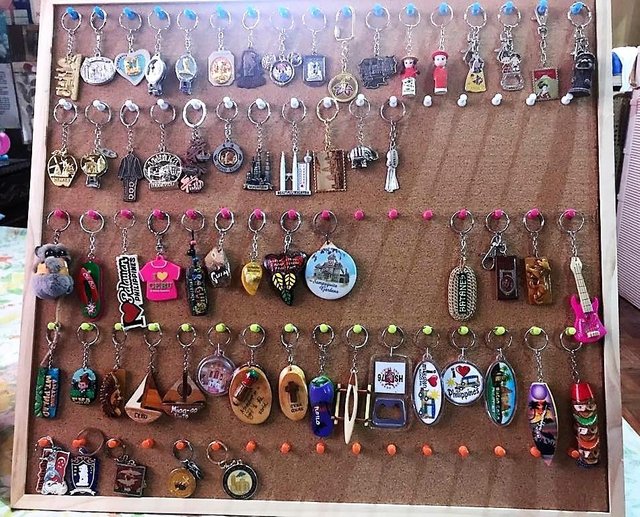 All Asian and Philippine key chains are displayed here. I also plan to have them framed and covered with glass. I can't wait to be able to have it done then displayed.
The key chains finally came out of their plastic coverings, Right now they are placed in my daughter's room and covered. I take a peek every once and a while, to get a dose of happy feel.
You just need to research and be a little #creative. There are so many DIY (do it yourself) #projects if you only research. Even my Hawaiian decors and costume was a DIY. I may put a little decoration somewhere to give it a little "oomph".
So now I am half-way to my goals and dreams to display my collections. Now I can share with others and it will make a good conversation piece.
My angel collection is already displayed in the living room in a shadow box. My care bears are in a shelf with glass cover. My car collections are just outside but they are still in their original boxes. They are being reserved for my grandson.
What is the use of the collection if you can not display them and share with others. Now there are #teardrops of happiness in seeing all my prized collections ready for display.
PICTURES ARE MINE

Our mentor @surpassinggoogle has been very supportive of our group #SteemitDiversify and other groups too. Please support him as a witness by voting him at https://steemit.com/~witnesses and type in "steemgigs" at the first search box.
If you want to give him witness voting decisions on your behalf, visit https://steemit.com/~witnesses again and type in "surpassinggoogle" in the second box as a proxy.
Others that we should support are: @henry-gant, @kenny-crane, @beanz, @teamsteem, @good-karma, @busy.org, @esteemapp, @hr1, @arcange @bayanihan, @acidyo, @anomadsoul, @steemitph, @jerrybanfield, @darthnava, @paradise-found, @geetharao, @stephenkendal and @richq11; they also have supported us; also the many others who have visited My posts. Pls. support them too. Thank you very much.
I am grateful for them and for everyone who has helped me and my friends. (Quote made by @purpledaisy57 permission given to use for members of SD family)
Please like @teardrops on Facebook and Twitter:
https://www.facebook.com/teardropstokens/
https://twitter.com/teardropstokens
Please like the Facebook page: https://www.facebook.com/steemgigs/
& Twitter: https://twitter.com/steemgigs
PLEASE SUPPORT: https://steemgigs.org