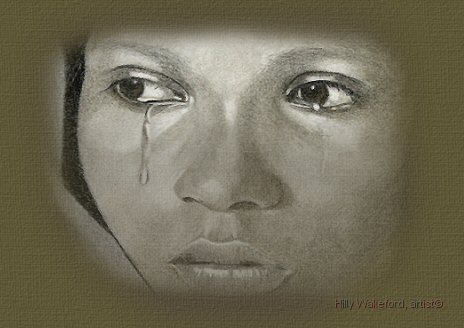 How do I keep my head up
In a society that thinks me a blot
Why should I continue living
In a society that doesn't consider Giving.
True, I can decide my fate,
but I didn't decide my state.
I lost them both, at once.
Now, I've joined the other ones.
I had real love till I was 10,
It was taken away from me by unknown gun men
I watched as they drove off in a black benz
My GOD! That sight was a mess
Did I cry? YES
Do I cry? YES
Have I been crying? YES
Will I cry? YES
Its not my fault I found myself in this position.
But for some reason, I cant get a job without high connection
REALLY?
When did it start becoming about credentials?
I thought it was about potentials.
So how can I think any better of myself?
for Pain became the only thing I deeply felt.
If only I had a place to go
Or someone to talk to
AN OPEN LETTER FROM AN ORPHAN
Find me, Accept me, Love me, Help me, Teach me, Hold me, then Mould me.
Please buy me that pair of shoes
Then send me to school.
Please Buy me that tiny smartphone
Teach me how to use the internet to grow,
Teach me slow.
TEACH ME LOVE
Mama, I'll make you proud.
Papa, I'll make you proud.
Somehow...
...just somehow.
Signed
An Orphan