Hello There, Steemers!
Today i want to share with you guys my Art Work of Teardrops for Sir @surpassinggoogle and i want to thank him for this opportunity, now lets just proceed to this article we are about to discuss,the meaning of teardrops, either you're a good or bad person, and realize what our tears worth for.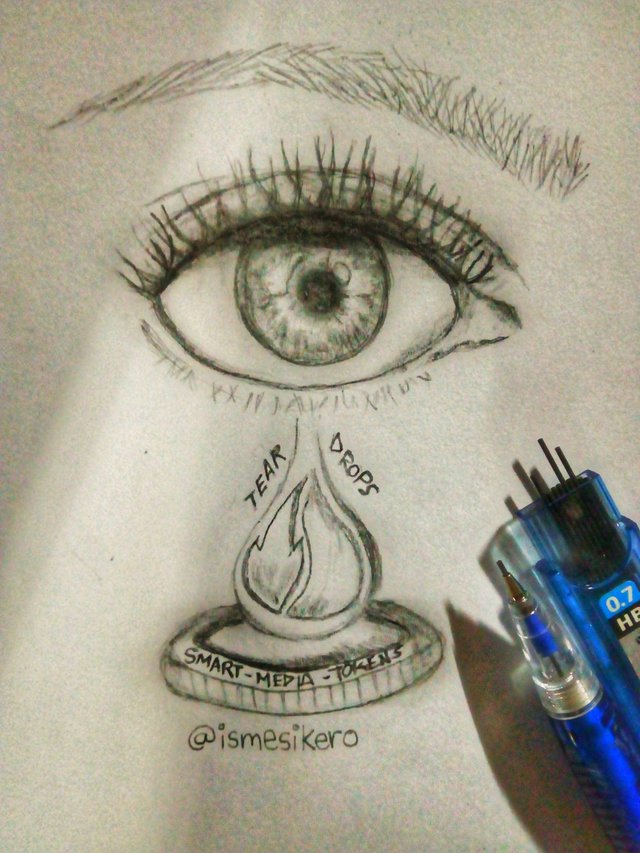 The Meaning Of our Tear Drops.
For me as a, good person in our community, in today society, the deep meaning of our tears, is our strong and weakness as a human, i just realized everytime that when, im alone and no one can see me, and only my deep thoughts is the one that i talking too, I've always say to my self why im not strong like the others?, i always cried, even if for some, lame excuses, and small reasons, why the others, like to hurts somebody feelings, and then again they're the one who consience by there own intentionally mistake?
And suddenly, i stop from thinking the problem from my head, and realized that maybe some other people did bad things to them too, from before?.
And they want to be strong, and mean to people because of that bad incident happened in their life, they want to be tough enough for, not that things happen again
>Before, they are good persons too, but other people takes advantage their kindness.*
i know guys, we have our own ,belief and free opinions, about the said scenario and ,there are some excuses, why we drops our tears for some reason that you know, is that for our problem in life?, or is that because for our ralationship to people that we know and make us hurt by them?.
dont let bad people, takes your kindness for yourself and for your love ones that do believe in you.
be kind, the way that your kindness suit you.
Thats why for me, the meaning of our tears in our eyes, is the word-
"Kindness".
WHAT IS TEARDROPS ALL ABOUT TEARDROPS is an imaginary Smart Media Token (SMT) that gives rewards to those people who shared their testimonies about their life struggle and have cried because of joy, sadness, loneliness, grief and tears. It is one of the project of one of the running witnesses @surpassinggoogle or Sir Terry/SG
have you vote for your witness yet please do vote sir terry @surpassinggoogle as your witness,Thanks and Godbless Guys.
@surpassinggoogle who has been a wonderful person to us and please support him as a witness by voting him at https://steemit.com/~witnesses and type in "steemgigs" at the first search box.
If you want to give him witness voting decisions on your behalf, visit https://steemit.com/~witnesses again and type in "surpassinggoogle" in the second box as a proxy
Hello Guys! Please do follow me here on steemit @ismesikero
*Upvotes, resteemed this post, and Give me your Wonderul Comments and Suggestions, I'll very appreciate it.
*Thanks to you my Beautiful Readers the one that care most. 📖💓🌏.