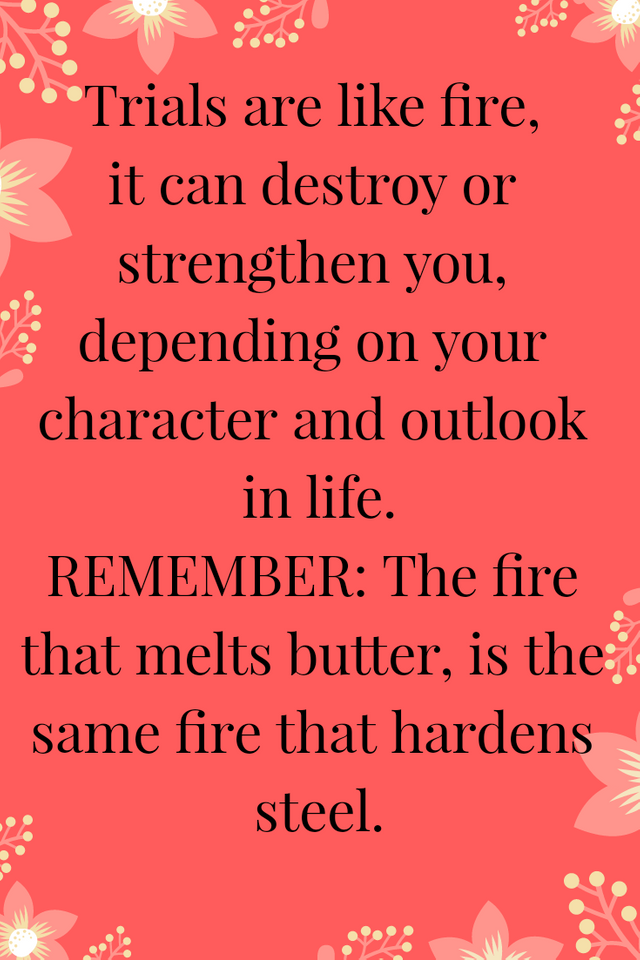 Yes I am in a very difficult situation right now, emotionally. My world is in a mess. I dont know how to describe exactly what i am feeling at this moment. I wanted to write a story but I dont know where or how to begin. I wanted to tell everything but I cant. I wanted to express myself to ease away the pain. The kind of pain that is breaking me into pieces. My mind is full of questions searching for answers.
I've been crying since last night. They say, tears are the only way when your mouth cant best express how your heart has been broken. I cried a river but still the pain exist. Its the worst feeling ever. I dont know if this kind of trial can destroy or strengthen me. No amount of words can comfort me. Ive been shattered. The feeling that some people are so cruel. They forget the nice things you do to them and only remembers when youve done wrong.
My world is falling apart. The struggles are real. Im in a crossroads. I need to choose which way to go. But choosing either roads can hurt me still. Is it time for holding on or giving up? Ugghhh..Its really hard to choose. Decisions are really the hardest to make. Much harder if we were to choose, between where we should be and where we want to be. I wanted to go to a far place to escape from this disastrous place and toxic people, but I cant..cause my children will suffer. Will experience hardships. I dont want that to happen.
Still a lot of questions in my mind, all is still uncertain, but by writing this, my tears has stopped from falling. Somehow it lessens the pain. All i know is that, If GOD cares for the sparrows, how much more would HE care for me.
Sorry for sharing my pain with you guys..i just dont know where to go or what to do to ease my pain. Thanks for dropping by.
Disclaimer: I dont know whos the author of that quote I used in the picture. I forgot where did I found it.