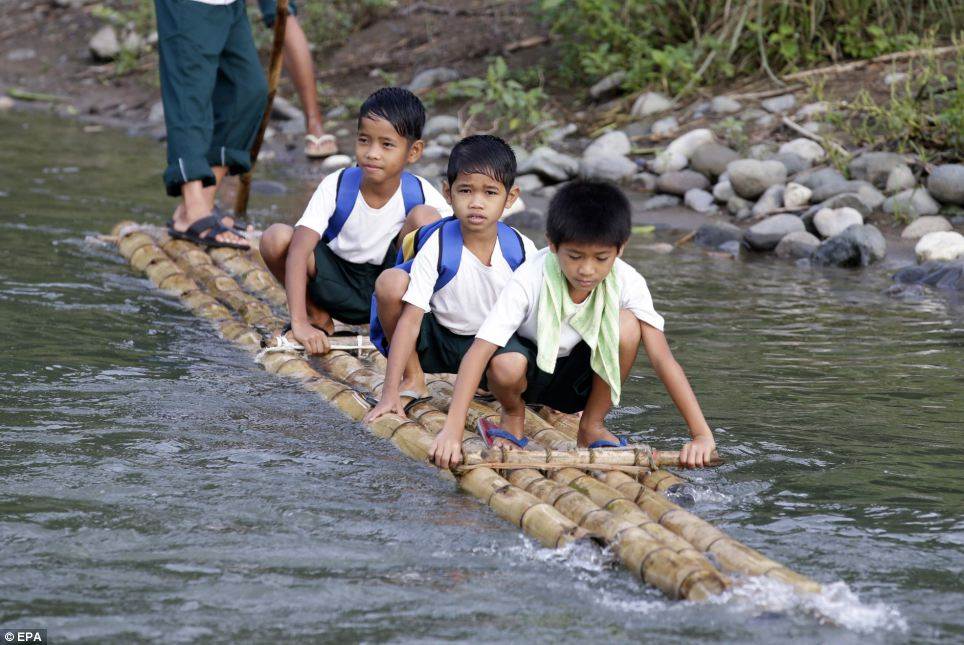 Reference photo:
By means of reaching out our school it is really a difficult matter but what counts most is the learning we'll gained if we reach it.
It takes years and surpassing different difficulties to be graduated. In the Philippines there are lot of scenarios about difficulty means of transportation to be in school but still in this photo we are committed and bear the passion of goal into our dreams to become successful in life.
MY INSPIRATION FROM THIS HEARTFELT PHOTO
"KNOWLEDGE IS POWER"-JOSE RIZAL our national hero. From seeing this photo I actually felt blessed and guilty at the same time. From the reason of sometimes we are just being procrastinate in spending our productive time in studying doing and having some out of business theme like roaming around without reviewing things and lessons. Blessed in the way that we have acquire an easy means of transportation in going to school,blessed because we have given a chance to have our study and supported by our great parents.
As I look up in this photo,this children really amazed me because although along the way they will encountered difficulties before reaching out their school still everyday they have the inspiration and commitment ti be always present in school.
This children is committed in their career to become successful in life. They are firm enough from the flow of life, keeping positive vibes and humble from the boat they are riding off. Faithful from the strength given by God.
I know everyone has a dream and there's no payment for this. But what matters most is that,we should never give up on it we must continue to possess the positive vibes and aura as a tool against negative attractions. There are lot of people who really want to study bur not given the oppurtunity to be with. We should not waste the chance of having this legacy by our great parents because it is wealth for us individually.
To @surpassinggoogle and @teardrops thank you so very much for the oppurtunity in having this chance to express our emotiins through teardrops. Because at the end of the battle for sure our parents will also have the teardrops of joy from their eyes after all the effort they've given was paid from the succes of their children from school.
Thank you so much!
Have a nice day!
Please follow @surpassinggoogle and @papa-pepper
Please support also @surpassinggoogle by voting here:
https://steemit.com/~witnesses
Vote @steemgigs, @rcarter , @curie , @blocktrades , @neoxian , @liondani,
@pharesim , @good-karma ,@jerrybanfield , @neoxian and dont forget @arcange