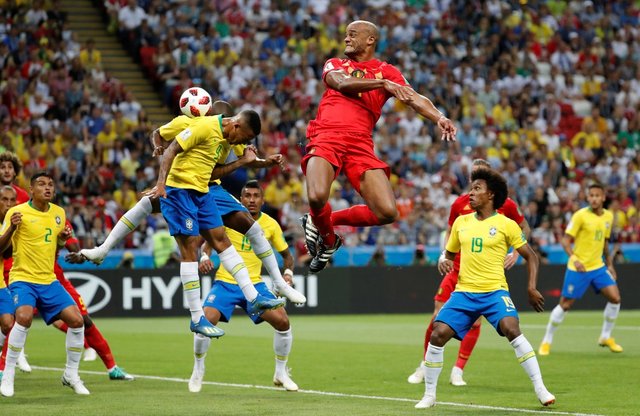 source
Belgium was again in the semifinals of the Mondial after 1986, while Brazil was the last six times eliminated by the team from the Old Continent.
Belgium against Japan in the eighth finals of the Mondial was losing 0:2, but since then, attacked, as in all matches so far in the tournament. So Red Devils went against Brazil, quick counter, great chances ... Then they took a corner after 13 minutes, when the ball fell between two Brazilian players, struck in the Fernandinho´s elbow and ended up in the net - 1:0.
The advantage was doubled in the 31st minute when Lukaku sent a ball to the right-hand side of De Bruine, and he pushed Alison away from the penalty kick - 2:0. The open battle lasted until the end, both teams attacked, the chances were down, Renato Augusto only three minutes after joining the game, after Coutinho's assist with the header beats Courtois - 2:1. Brazil was looking for equalization to the end, they had two great chances, first Coutinho, and then Neymar, but Courtois swayed through the air and the ball went above the crossbar turning to the corner.
On the tournament, after the elimination of Carioca´s, the rest are the representatives of Europe, which means that the trophy will remain at the Old continent.
Referee Milorad Mazic did an excellent job, there were a few questionable things, VAR was hot, but the referee team from Serbia did not fall for Neymar rolling on the ground.
What do you think ?
Is Neymar to blame for Brasil´s failure, or Hazard is obviously a better team player ?
Do you think that the team play will always beat the individual qualities like we saw yesterday ?