Is Borneo Blockchain Summit a Success?
The Answer is : The Volunteers
Its pretty obvious to see its a success, but the success answer goes to the Volunteers. As you may not know, this is organised by Steemians around Kota Kinabalu with a few volunteers from Team Malaysia. (No Doubt Team Malaysia in Malaya plays big role Too in helping for Crowdfunding, Donations in Steem & etc).
The point is this, these volunteers just happen to be a normal bloke who apparently likes to write and earn in Steem, and this community in Sabah happens to only know each other for about 8-10 months and some even lesser. Think about it for a sec, I had this conversation with @danieldoughty during @zamifara Raya Open House, we barely know everybody here but if in Steem, its like a Family thing and we pull off together to organize first Borneo Blockchain Summit. Fucking HELL!!!
We literally became a family in Steemit, some are medical officers, engineers, most of them are physiotherapist, valuers, housewife, student, professional event sound engineer, musician and etc These people took work leave to attend the briefing on the 7th Sept, some even took unpaid leave just to be a Volunteer in this event. Could you believe that ???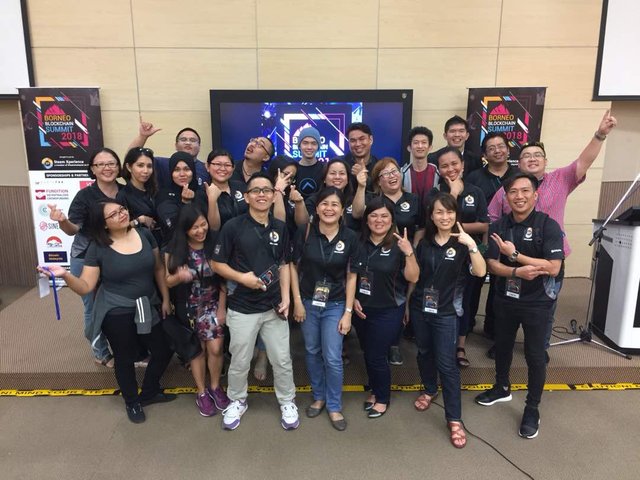 These are remarkable people, they are the kindest heart at its best. A moment that struck me is when I saw them carried the Hot Big Tray of Food from the Cafeteria to the Canopy, serving food to the hungry participant. My heart literally melted, blew me away that they can go to that extent to help and make BBS a success. Mind you, most of the Steemians Volunteers are ladies, they carry and walk about 100 meters under the Hot Sun, one tray after another just to fill up and keep adding the buffet line (back and forth).
From coming to attend briefings, meetings and discussion, you volunteers never shed a lite of tear and complain, it was purely from the heart to contribute and help out for the community and the people of Sabah. Without you Volunteers, they wont be a Borneo Blockchain Summit.
The success goes to each and every one of you volunteers, I would like to name each and every one of you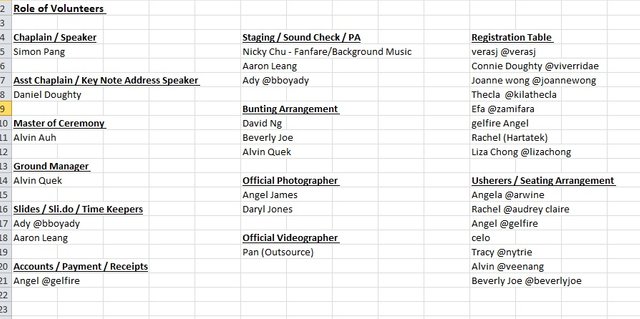 @verasj, @viverridae, @gelfire Thank you for arranging the name list and compile it into a masterlist, the arranegement is perfect with the idea of Alphatical way.
@kilathecla the loudest, joyful and caring steemian, don't worry your Oppa is somewhere out there, keep hunting !! Lol. haha.
@lizachong thanks for being there to overseeing the flow and help out the registration table.
@zamifara Thank You for being taking up the role for the Momento and Gift Presentation (Ko juga lah yang terbaek)
@joannewong, @aaronleang, @awesomianist, You guys flew down to KK make's it even sweeter. Thank You for taking up the role we have given to you. Thanks for helping to bring down the buntings, wristband from KL too. Save us tons of Money, KK is expensive to print.
@arwine, @melindajamulis, @nytrie, @celo769, @beverlyjoe, @audreyclaire. Really Thankful you all are here, where you guys are the last defender to see those details to be achieve and done.
@nickychu aka Kuya Taiko. The man behind the scene always have the better view. The person who help and manages the Sound System. Thank you for your humbleness and friendship. You definitely deserve to be Steemxp Labuan Manager.
@bboyady, The person who took unpaid leave to volunteer. Damn Bro.. You have made KK Steemians proud. Thanks for taking up the role and drove around the speakers. It is tiring i know, but it is worth it. You also definitely deserve to be Steemxp KK Manager.
@davidngtv Thank You for being the eye and ear for us. As sometimes we overlooked things, you are there to remind us.
@angeljames & @darryljonesjr Thank for the awesome lovely pictures, could not ask for a better photographer.
@alvinauh aka Cikgu Alvin. Same name like me (in Kadazan you are my "Bangai"). You are Silky Smooth in Emceeing, thanks once again for taking up the role as Master of Ceremony even thou i know it was like "Walking in the Park" for you, Lol. Haha.
The organizers @bitrocker2020 and @danieldoughty and myself really, I mean really appreciate your dedication, your precious time, your talent, your effort and most importantly your friendship. For this, We SALUTE You all Volunteers.
Thank You Thank You Thank You So Much
After spoken to @bitrocker2020 and @danieldoughty, they have a small surprise for you all. Which I would leave to them to tell you all in a very near time soon. So please do keep updated in whatapps and discord for the news.
Til then that's it for now. Next post will be the Post Tour to Dinawan Island.