In Loving Memory
On June 2nd, @branlee87 and I were all packed and set to fly back. We were headed home after a 9 day holiday in Japan and if you have been listening to our podcast, you'd know how much fun we had. While waiting for our flight, my brother notified me that my mother's condition has worsened and they had called for an ambulance. That was the last text I got before our flight took off.
For 6 and a half hours, all I could do was wait. The moment we landed, I switched my phone on. Checking to see if my mother was in the hospital or if she was in the ICU. My heart broke when I saw those words.
"Mom has passed away".
It has been a week since then. Her wake happened on Monday night. So many family and friends came to her wake that the room couldn't fit all of them. I'm truly overwhelmed and touched by the support and love we received that night.
Mom was cremated and we collected her ashes on Wednesday morning. Her room has been cleaned and revamped. Where once her bed was, is now replaced with a drawer, beautifully decorated with her photos with her children and grandchildren. There in the middle of it all, is where we have placed the urn that holds her ashes.
Mom has been suffering since the beginning of the year. So many doctor appointments, and even being admitted to the hospital for a week. She slowly lost the strength to walk, to eat. She had weekly checkups yet the doctor couldn't find out the cause. She no longer has to suffer now, she's in a better place.
I last saw her 2 days before I flew to Japan. 19 days ago. My last message I received from her was in the form of a WhatsApp voice message on my birthday:
"I miss you too. Have loads of fun"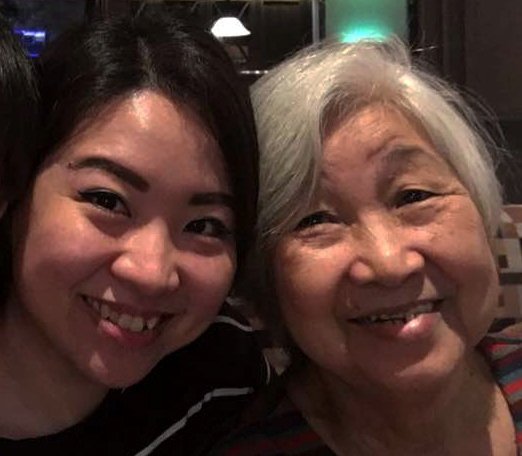 Last year on my birthday
In her absence, with her last message to me, Bran and I have been inspired by her, to have a bigger look at life. To live and to enjoy ourselves while we're at it. We have so far set some goals to pick up new skills and start back some old hobbies that were left forgotten when we started working. I know doing these things will not bring her back, but I want her to know that I'm doing okay and that she does not have to worry about her big baby :)