Noob Film Thoughts - Spread Good Words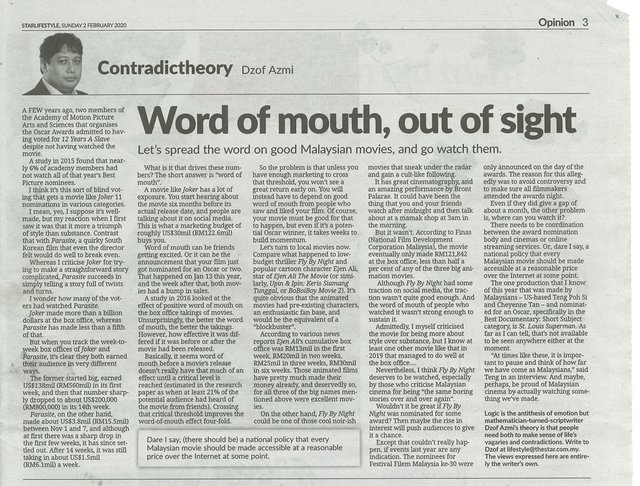 Last weekend I bumped into an article in The Star by
Dzof Azmi
titled
'Word of mouth, out of sight'.
It is about the local film industry and mainly the marketing of it through the good word of mouth.
Example were given in two cases. One being Upin and Ipin Keris Siamang Tunggal and another one is Fly By Night.
Upin and Ipin has an existing fan base and Fly By Night does not. So it is a no-brainer how Upin and Ipin (also Boboboi and Ejen Ali) had a higher ticket collection.
I have changed my habit of 'foreign film first' to 'local film first' for a reason - if its not us watching our local film, who else? Good local film will tell a story about its people and carry a message for them, and I have developed a habit to be curious.
Especially in this case, Fly By Night. It talks about the corruption in the local law enforcement and how the local crime is seamlessly linked to it. A perfect tale of 'it takes a thief to catch a thief'.
I first heard about the movie from the one of the ticketing apps showing the upcoming shows and further heard from the industry people that I personally know. After watching it I thought that it is going to surely be a hit because of the success of 'One Two Jaga' but according to the article, it only collected around RM120k.
I tried to spread the news about the movie the best as I could by writing a review about it and recommending it to all of my movie buff friends. But the box office figure is not showing that it had the appeal (or for some other reasons)
The article talks about how it might have attracted some attention with award nomination (which it has - for FFM30) but the film was not showing anymore in cinema when that happened (and the hint at the beginning of the article that film some awards juries don't watch all the nominated movies. They follow the word of mouth too.) But thank god for Netflix - although I do not know how the movie will make money there.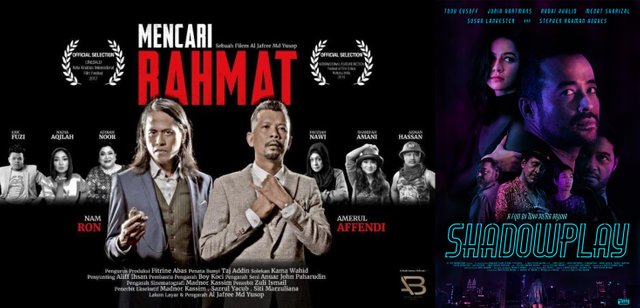 Recently I have seen and experience two local films that has benefited from good word of mouth. Namely
'Shadowplay'
and
'Mencari Rahmat'.
Both have developed a cult of its own and it is not even showing on local cinemas!
'Shadowplay'
is currently on Vimeo and was shown once on the big screen in
REXKL
and
'Mencari Rahmat'
only going to hit the big screen this June (after a couple of years of screening tour around the country).
The article also talks about a documentary made by Malaysian that is being nominated for the Oscars called 'St. Louis Superman'. Something that a Malaysian film buff should know about (which I dont). But hey, I read the newspapers and I got to know about it!
The online version of the article is titled 'Let's spread the word about good Malaysian movies, and go watch them'. I myself have learned from the industry senior and veterans to do just that. Spread news about the good ones and stay quiet of the bad ones.
Like the saying goes "Before you speak, let your words pass through three gates : Is it true? Is it necessary? Is it kind?".
Or just say nice poster™ :)
Link to the article - https://www.thestar.com.my/lifestyle/living/2020/02/01/lets-spread-the-word-about-good-malaysian-movies-and-go-watch-them
Thank you for dropping by!
@teammalaysia
#teammalaysia