How To Jump Start in Steemit for Newbie like a Pro
How To Jump Start in Steemit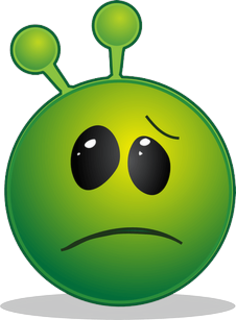 Are you lost or mere confused what the hack is Steelmit and what you could do to jump start your steelmit investment ? I called it investment because like it or not, you have to spend time and effort to write post, make comments or upvote ( not sure what is this ? ).
Are you over overwhelmed with those big money earners examples given by the presenters ? Or still wearing a "are you sure" hat still not believing your eye sight ?
Well, you are not alone ! some post ? I know exactly what you are getting thru and fully empathized with what you are ( or were ). I went thru similar growing pain when I attended a Steelmit bootcamp on 3rd Feb 2018, after I have signed up the STeelmit account on Jan 25. Ghosh, how lucky I was to obtain my account approved on Jan 29, 5 days before I attended this bootcamp on 3rd Feb 2018.
To be fair, the confusion is real and it is all due to my first time exposure to this unbelievable way to make money online. Unlike most program out there in the market, the trainer never promise how much you can make from the program. Some case studies of those high income post written by several steemian. Surprisingly, those high income posts are so simple and yet attract your attention to read on, hence you are willing to "upvote" the post. ( sorry I have to use one of the jargon at this stage )
I was talking to and console myself that with these showcase posts, I could do similar task, But then is that all I have to do in order to earn something like $30k for one of the showcase posts presented ? Perhaps there are some fundamentals I have to learn in order to equip myself for such an opportunity.
Here are some key factors I have gathered and like to share them here :-
Write a decent article
Are you alright with this ? Not sure what type of article to write ? A simple tips for you not to crack your head to think. How about write a short story about yourself in an introduction tune ? Easy, right ? Your first article to be posted should be your own introduction.
However, you need to start think about your second and subsequent articles. Here are some tips to write a decent article to post to your blog area :-
Research -
Do spend 25 minutes to search for data or facts about an interest you may have in mind. Example : Gardening, there are plenty of articles posted in internet about gardening. Explore what are some of the areas to focus in gardening. example, pot gardening, open ground gardening etc
start to write about the topic you have research without literally thinking. Yes, you heard it right ! Just write and don't stop to think. Write anything came to you mind until you have spend about 25 minutes in writing. Don;t try to perfect what you wrote, you will never satisfy anyway. As long as you understand what is written, that is good enough for now.
However, the minimum structure of a post is seperated into 3 parts, namely :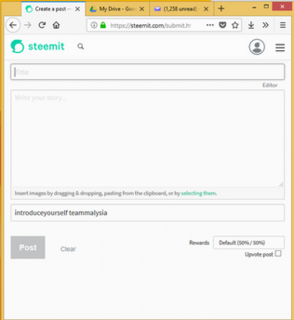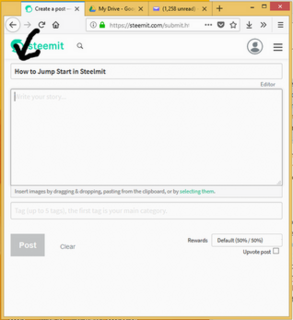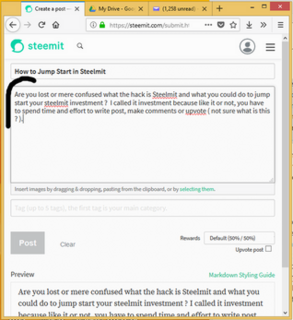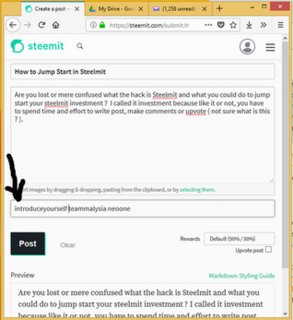 - Editing Now you can start to edit your article for spelling error, obvious grammar etc etc . Again, don't try to perfect your sentence. Lets face it, your readers are not likely to judge how good your writing skill but how engaging is your story
Post the article
Post your article right away, you may have the tendency to go back and review your article and found out that is not so smooth or perfect. And perhaps you may also wonder whether anyone like your article. Just put those aside and click the "post" button and publish your article. You can always revisit your article within 7 days to edit it.
Some of the thing you may want to add is images about yourself or interest, some minor editing to the sentence to make it clearer to understand etc. Never rewrite the whole article ya.
Important ingredients for posting and article
As time goes by, Steemit will be full of articles or post that consist of various topics. It is crucial that fellow steemians finds your post to read. The purpose is for reader to give feedback about your artile or post in the form of "upvote" for which you will get some income, write a comment about your post etc. All these are important to raise your reputation in the Steemit World.
Below are some key tips during publishing your post :_
Tagging -
Steemit system is so unique that you can literally direct your post to a particular group to get their attention by way of using a tag. A tag is a keyword phrase that represents a group or category. The input of these keyword are in the Tag input box just below the article section. The way to insert a tag is by separating each word with a space. The system will detect the space as the end of a tag keyword. Example, By practice ( or regulation) you are limited to use up to 5 tags.
Example of some pertinent tag are :-
introduceyourself
teammalaysia
neoone
cn-malaysia
gardening ( relate your article topic )
Followers
Like it or not, you are alone in the beginning. And no matter how interesting is your post, nobody will notice it. Therefore it is important that you tag your post to a friendly group. The sample tag are our friendly group. But do not expect everyone in those group like your post and it is a fact.
As a way out, you need to build your fans by getting fellow Steemian to follow you. However, this is a tricky part, what makes you think that fellow Steemian will follow you ? The motivation factor of our group is that we already have a family like Steelmit community among ourselves. Some of them will follow you
And to accelerate and expand your follower list, take the initiate to start follow others but don't expect equal return favor ya.
Conclusion : I wrote the about article based on own experience and understanding after attended a 1 day boorcamp conducted by @maverickfoo and @bitrocker2020 in Taman Tun Dr, Ismail. It is mean for reference only. Nevertheless, feedback and suggestions are most welcome