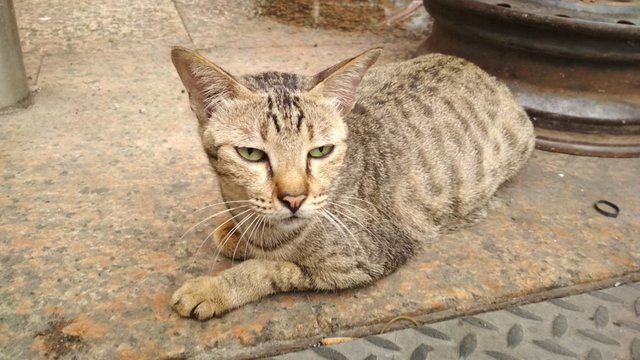 Today best food in Penang! Wait. That didn't came up right. No I didn't eat this fella. I was heading to the market and this little lazy bugger is blocking my way, I squat to take this photo and that's the kind of reaction the cat gave me.
今天来介绍槟城以外的食物。别误会,我没吃这猫咪。这照骗是我正在准备进入北海的菜市场时,这个喵星人就大胆的趴在门口不管人进出。当我蹲下拍这照骗时,喵星人懒洋洋的用一种看不起的眼神瞄了我一眼。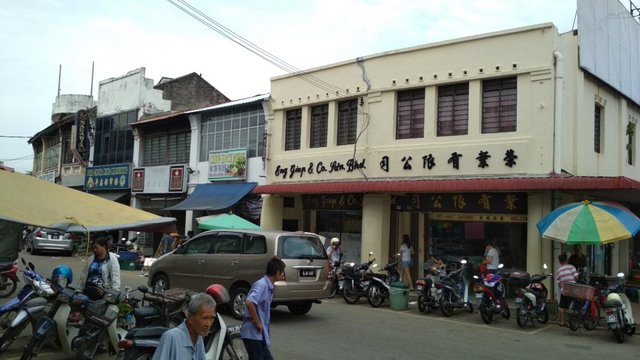 We decided to check out earlier since we found Subway at the nearby mall. As soon as we stepped out of the hotel, we changed our mind. Might as well search for local food. And GPS sent us here.
本来早上在网上搜索到附近的广场有间赛百味,所以决定提早退房。可是人就是善变,才踏出酒店一步,立刻改变了注意。大老远来到北海,怎么可以不吃一下地道食物。结果卫星导航把我们带到这里来了。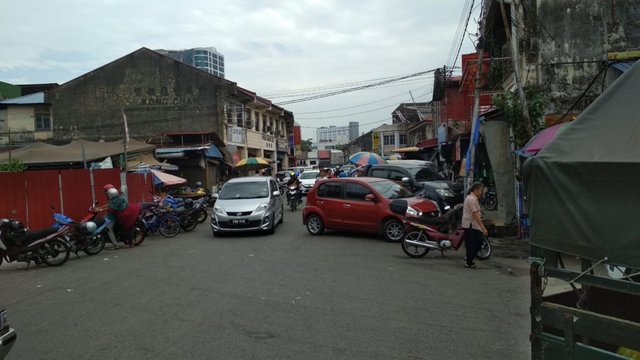 After I managed to parked my car, we walked back up to the junction to search for our food where GPS brought us here. By a glance, it doesn't seem to be accurate. It looks more like a trading port of some old school cowboy town.
当我把车子停放好了,走出去刚才进来的大路找卫星导航带我们来的地方寻找食物,这里看起来并不像能找到好吃的店。感觉像是一个贸易中心点。有一种返回几十年前的感觉。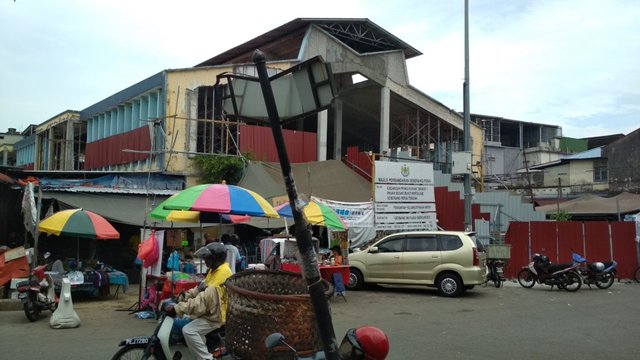 This building by the junction seems to be going on renovation. The structure of the building looks more like a Pasar (market), so I guess we found the right place, but at the wrong time.
来到了交叉路口的前面看到了这一座建筑物,正在装修中。单靠外形估计就是巴刹(菜市场),看来卫星导航系统是正确的带我们来到这里,只是时候不对而已。在装修又怎么可能有好吃的?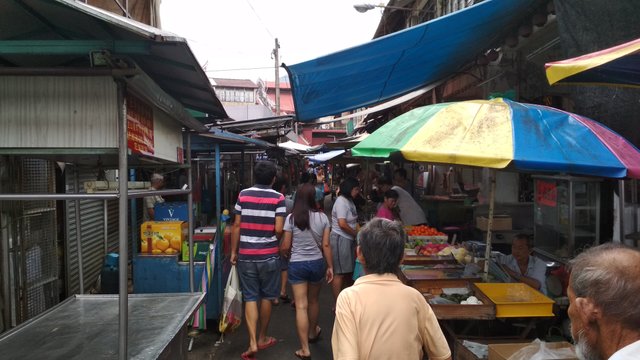 As we getting ready to leave, we found a small lane leading to the opening area behind a temple, looks like this is the alternative!
当我们准备离开时,发现一条通往神庙后院的小巷。看样子要找好料就是这个地方了!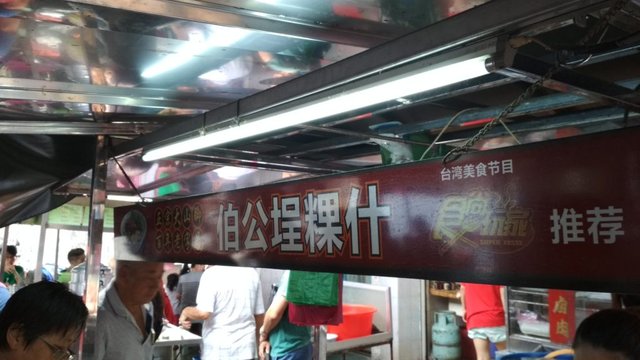 Towards the end of the lane, there's this stall by the name of Bek Kong Cheng Kway Chap. So, what is Kway Chap? Let's find out from below.
走到巷子最后的一个摊子,这里就是伯公埕粿什。那到底什么是粿什,且看接下来的内容。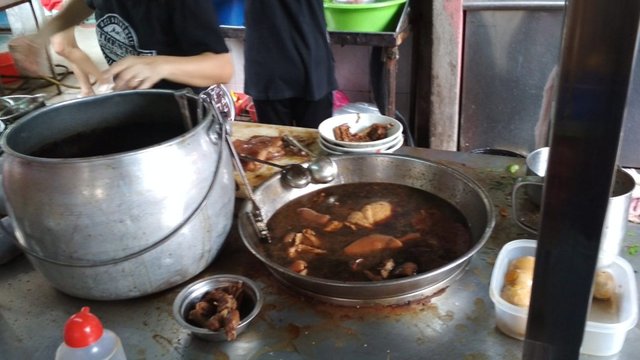 Kway is rice cake slices. Rice being grind to powder, recombined and steamed to become solid form, and sliced into thinner piece do the texture become smooth and easy to chew. Chap brings the meaning of mixture, also means animal internal organs. In the instance, rice cake slices mixed with animal organs.
粿,在这里的意思是面粉糕,也就是广东人的沙河粉。什就是杂的意思,也可以说是动物内脏。那么这里的意思就是内脏参杂河粉。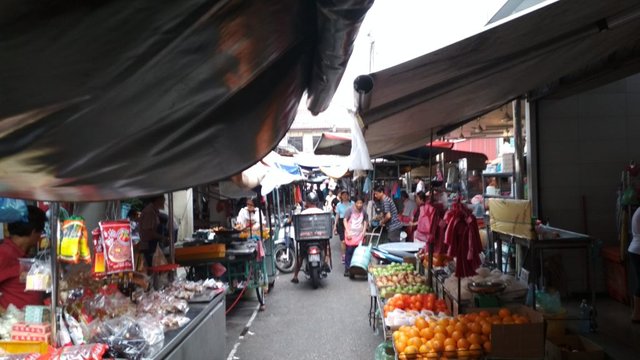 Good food in mainland Penang, you'll need to serve yourself. No it's not self service oriented, but here people had been practicing self service to avoid any delay, hence most of the time shop owner got confused by who comes first. I had to stand here and wait for my kway chap.
一直这么等下去实在不耐烦。也是没办法,槟城这个地方本来好吃的都百花齐放,再加上外来游客繁多,基本上如果坐着等食物端来是不可能的。因为大家都迫不及待的站着等,所以我也没有特权,只好在这里耐心等候我的粿什。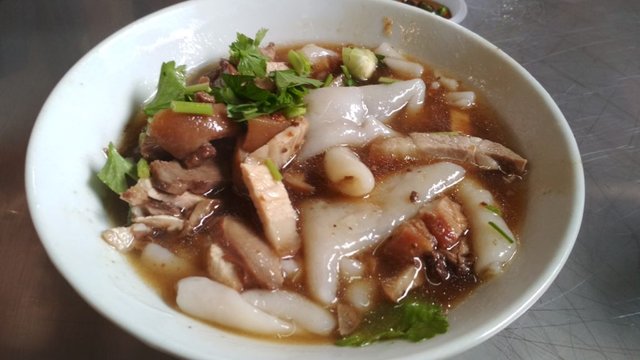 Finally my KwayChap is here! The taste of duck meat and stew pork skin is distinctively brought out by Chinese herbal soup. Added with the price cake slices bring sliced into ultra thin manner, it'd slippery and easy to go down. I almost didn't chow down the bowl.
终于等到我的粿什了!汤里淹着的是鸭肉,卤猪皮,而且药材汤带出了非常浓厚的香味。加上了面粉糕被切成超薄片,吃起来是一级溜!一不小心就直接吞了进肚子里。差点没把碗也吞进去了!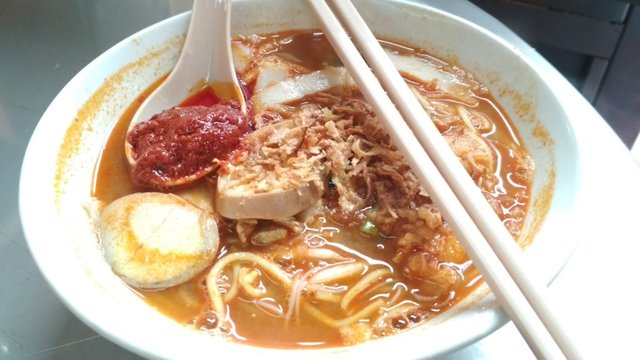 After kwaychap we felt there's still something missing. Had a moment of blank, like there's something we should do, but haven't thought of what it is. And here's the prawn noodle. In Penang we call it Hokkien Mee. This time, no need to stand there and queue. The stall located right next to KwayChap, within 5 minutes wait it had served. The soup is super nice, spicy, and prawn taste awesomely sweet and fresh.
‌吃过了粿什,总是觉得好像还有些啥事做漏了。原来还没有吃到虾面。这个可好了,虾面不必排队,就粿什隔壁而已。还没五分钟等待就端来了。味道非凡,够辣!虾肉鲜美,汤底够浓,实在是天上人间!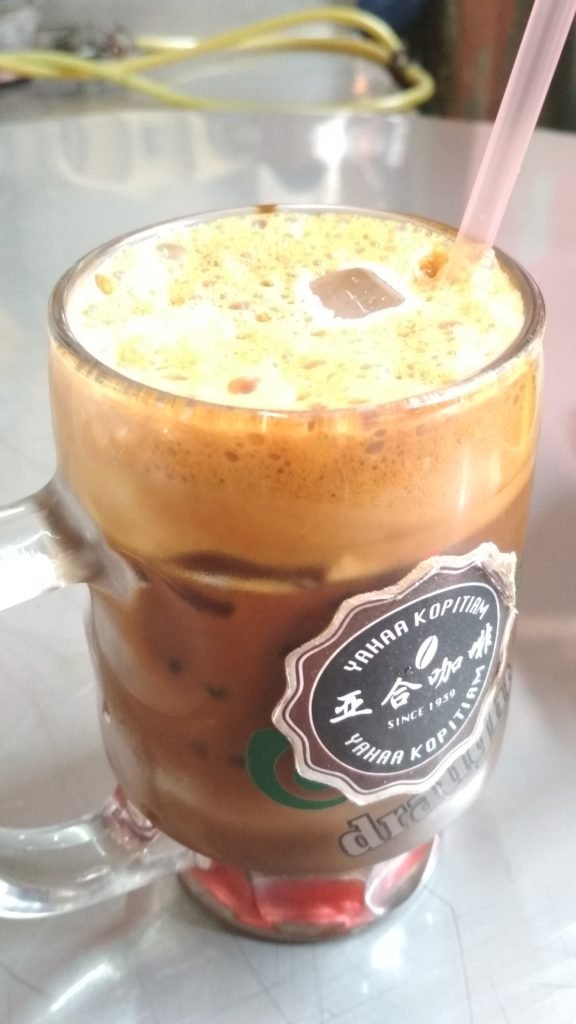 This is going to be perfect when a Penang white coffee turns up on the table. I don't wanna dive into coffee talk as coffee is an entire different topic by itself. Damage for these items are RM5 for the KwayChap, RM4 for the prawn noodle, and RM1.70 for the white coffee. Isn't it amazing?
既然在槟城吃喝,没有个白咖啡冰哪里算的上完美?结果就来了一杯白咖啡冰。这里就不加陈述了,毕竟咖啡本身就已经可以写一本百科全书了。这个早餐的各项花费是,粿什五块,虾面四块,白咖啡冰块七。能吃喝到这样而且低消费可算是一项奇迹呀。

---
Posted from my blog with SteemPress : http://davidke20.vornix.blog/2018/07/21/having-good-food-out-if-penang-%e6%a7%9f%e5%9f%8e%e4%bb%a5%e5%a4%96%e5%90%83%e5%a5%bd%e6%96%99/
---