---
Hey Steemians,
When I started out on Steemit , there was hardly not much tools around for Steemit. I remember one of the first tools I found easy to use was MinnowBooster. I used to delegate my steem power thru its innovative market place and that helped me increased my Steem Power significantly so I could be able to help my community more.
Just a month ago I revisited MinnowBooster again and to my surprise I saw it has matured so much. One of the new feature which caught my attention was Vote-Selling .
One of my buddies had invested in Steem and then he could not continue blogging due to obtaining a new project. So I told him to try out Vote-Selling and if he could maintain at least 1 post a week ,
he would be able to upvote himself using the balance earned
he could upvote other people using the balance as a form of support.
The final option was to just withdraw whatever he made from staking his votes.
---
disclaimer : I do not sell my votes , I'm just sharing the experience of what I did for my friend who invested into steem
---
SO I GOT HIM INTO VOTE-SELLING !
DO NOT LEASE YOUR STEEM POWER NOW, BUT SELL YOUR VOTES ! THEN UPVOTE YOUR POST FROM BALANCE
I realized that delegating when the price is low does not make much sense and I seemed to get better returns from selling my votes. Not only that you will get better returns but you will also be able to promote not only your post but any of your community members posts just to help them out.
How do I do that ?
Once you login, you will see Vote-Selling in the menu after clicking My Account .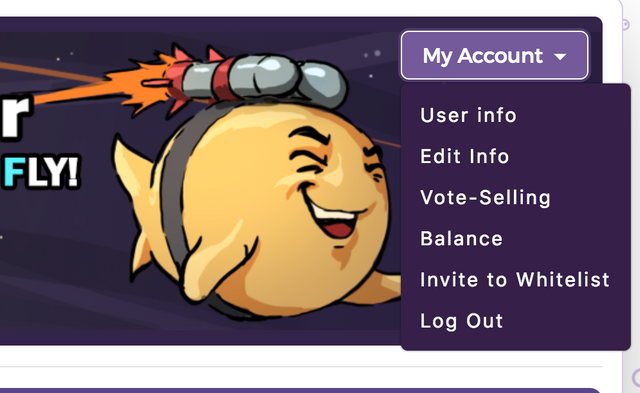 ---
You will then be brought over for you to authorize your account. Go ahead and authorize your account if you want this to be this main account to sell the vote.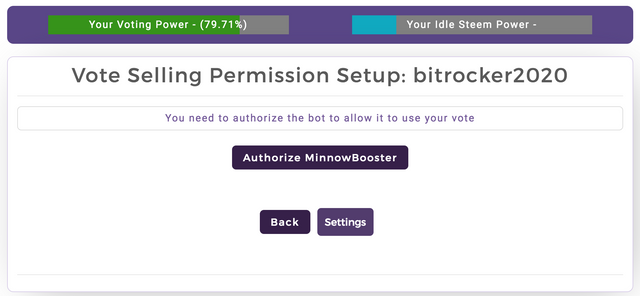 ---
Once you have done that, login and now you have to do some settings for your Vote Selling. Once more click into Vote-Selling option and your screen should now look like this after you have authorized MinnowBooster to use it.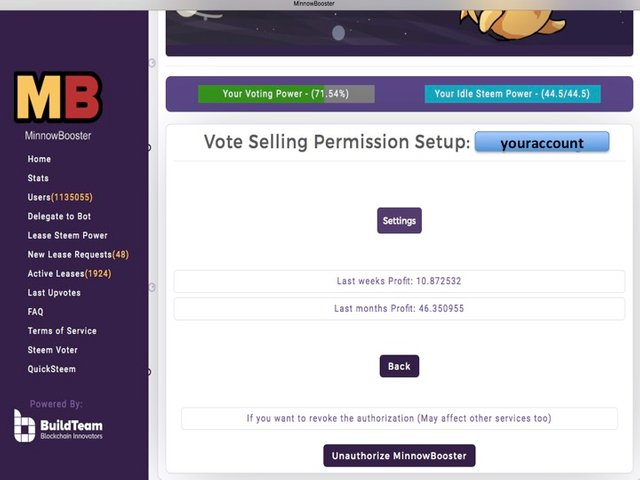 ---
You can leave these settings at default except for the bottom slider which states Sell your vote when VP above . This value is based on your percentage of your voting power . This is so that all vote selling will stop the minute you go below the stated percentage ! It would then wait till you get above this percentage before it commence vote-selling again.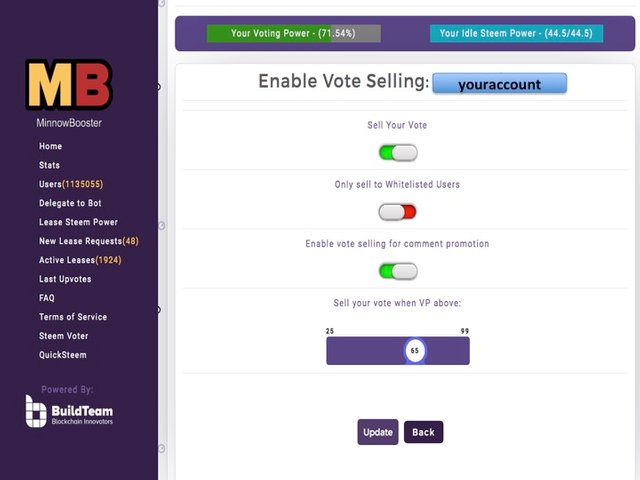 ---
Here are a few TIPS !
Do not do this if you have a trail. Your trail will not benefit and its just plain rude for selling their votes without their permission. Besides, only the authorized account will earn.

Do not set the VP percentage too low, remember it takes 24 hours to roughly gain back 20% of your VP . 65% should be a good number to start with and you can adjust from there

You can withdraw your SBD anytime you want, however you would benefit more from just upvoting your post or your friend's post.
Conclusion
This is a great feature from MinnowBooster if you have dormant accounts which you would like to just gain from selling vote. With you selling your votes, not only that account gets to profit however you are indirectly helping others as well. MinnowBooster maintains a blacklist shared with Steemcleaners and other upvote services so that your votes will not go to spammers or anyone who has been reported to MinnowBooster.
Should you vote-sell ?? That is something which you should decide on and its based on how active you are on the Steem Blockchain !
If you would like to check out MinnowBooster you can find them on
and on their friendly discord channel
---
Another great tool MinnowBooster and BuildTeam has provided the community with is the Delegation Leasing Market. The DLM allows you to lease SP at your chosen rates and even fill SP at high APR % amounts as per the below example.

---
Cheers and hope this short tutorial was helpful for you ! Have a brilliant weekend ahead !
@bitrocker2020