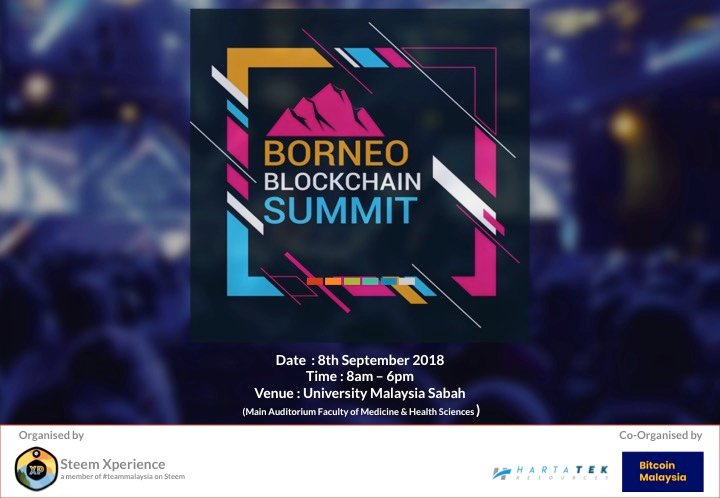 ---
Great news ! We are organizing the first Borneo Blockchain Summit in Borneo Sabah on the 8th September 2018.
What is different between this and other blockchain conferences ?
Its organized by mostly Steemians in Malaysia ! And it would be the very first blockchain event supported by the Ministry of Education and Innovation Sabah . and they would be setting the tone of the conference as in Malaysia cryptocurrencies are not banned nor is it regulated. So it was with great delight when they agreed to endorse our event.
Who are the speakers ?
With a strong lineup of speakers who has confirmed to come for the event and support us , we have well established community builders, reknowned blockchain developer / consultants to crypto exchanges who would be embedding steem into their exchange once they get hold of someone in charge =)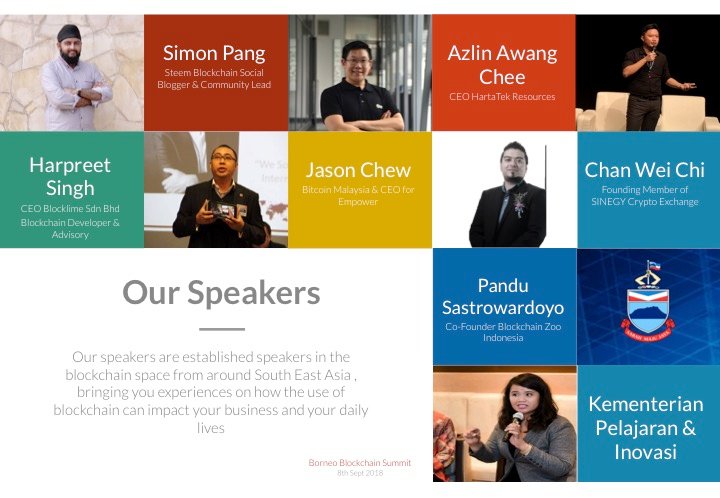 What would our speakers be talking about ?
The main topics being address during the conference would be to create a better understanding about the blockchain and cryptocurrencies and how it has impact lives and disrupt businesses.
We would be educating the general public on matters like Tokenomics , ICOs , Blockchain and how it impacts businesses , we would also be addressing things like mining and trading and how to properly validate an ICO project .
I ( @bitrocker2020 ) would be showcasing the various applications and projects on the steem blockchain and how it has impact Malaysians from all aspect of life. The takeaway will and should be "Why Steem Blockchain Matters"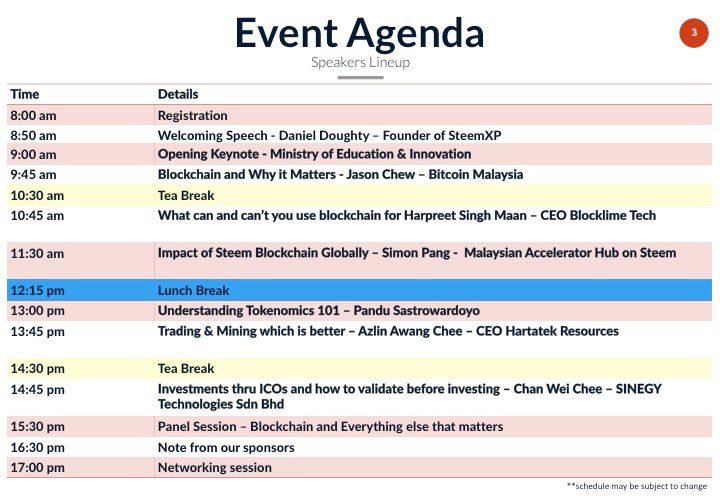 Who would be attending ?
We are targeting majority of the crowd from Borneo as we got to know there is a lack of education in blockchain space and that is why we specifically want to host this there. We are expecting about 200 attendees for the conference.
With the help of the ministry we are also trying to grab the media to come and cover the entire event. Hopefully it would be similar to my previous event here
Partners and Sponsors
We are running this event purely as a none profit and would like to keep it that way. We do however need your help to get this event to run flawlessly.
Our requirements is about USD3500 with a end goal of $5000 to get it smooth sailing. We do have sponsors however its mostly to cover minor costs. We would love to keep the event free however with the current bearish market for cryptos , we are pushing to make this event a success.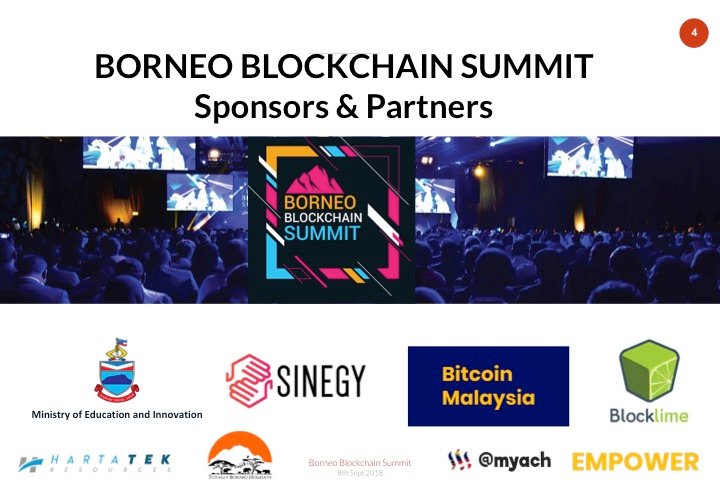 ---
So to finalize ....
We totally understand and recognize that @ned and the team at STEEM Inc is not 100% responsible for running marketing efforts to push for the growth of the Steem Blockchain, since we are all hodling some Steem Power, we should all be accountable for the success of this amazing blockchain.
We want your support. Every single bit of donation would be used towards making this event a success. If you are unable to donate , an upvote on @myach latest post here would be really great ! Any extra that we earn would be used back to grow the community.
Kindly send all donations to @myach with the memo "Borneo Blockchain"
Thank you in advance .. we all salute you ! TeamMalaysia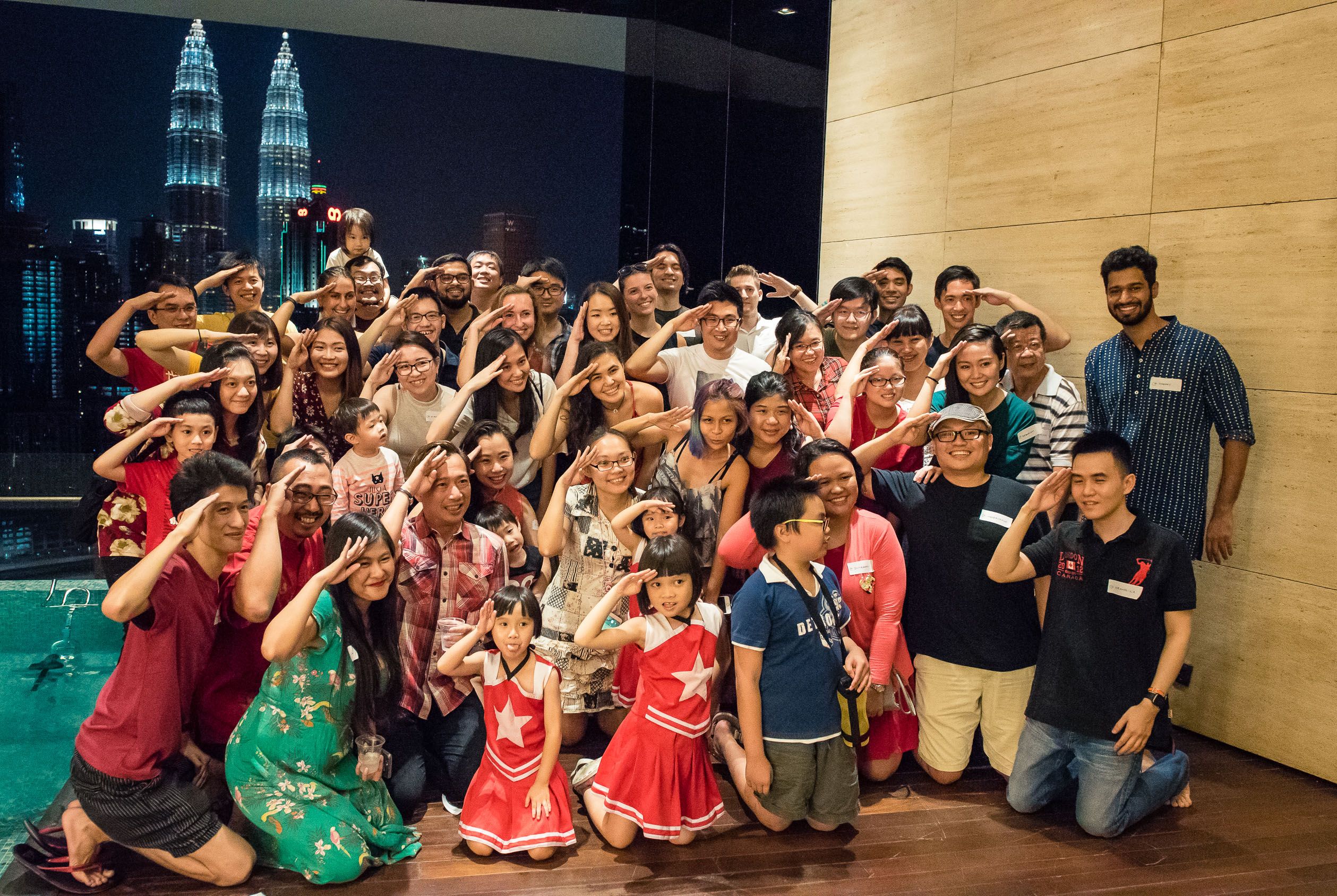 Malaysian Accelerator Hub ( @myach )
Sincerely @bitrocker2020 ... your steem witness