✨ ¡Charlas Empoderadas en TeamGirlPowa! | Mi nuevo podcast ✨
Después de un hiatus forzoso, vuelvo a realizar mi podcast, con nueva estructura, nuevo nombre y por supuesto que en un nuevo server...
¡Team Girl Powa, gracias por la oportunidad!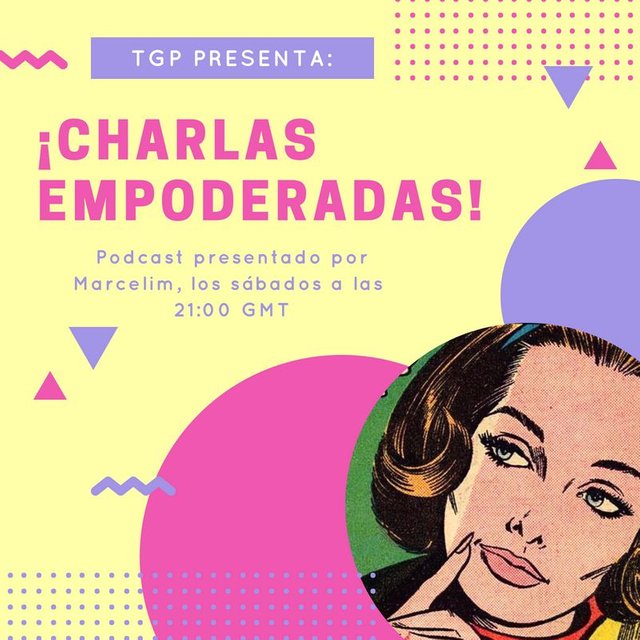 Charlas Empoderadas será el espacio donde conversaremos de aquello que nos afecta interna y externamente, al mismo tiempo que convertimos esas adversidades en nuestras aliadas. En la primera entrega daremos un vistazo a lo que es el Autoestima y como los medios han hecho de este algo tan escaso de encontrar.
---
Sola no puedo cambiar al mundo, así que espero estén tan emocionadas/os como yo y que me acompañen en este nuevo proyecto.
---
@teamgirlpowa es un servidor de discord y cuenta en steemit donde promueven y valoran el contenido creado por mujeres en la blockchain, así que los invito a unirse dando click a la siguiente imagen:

Muchísimas gracias por estar acá, comenten qué otros temas les gustaría hablar en el podcast y nos leemos por aquí :-)

english version
After a forced hiatus, I'm back to making my podcast, with new structure, new name and of course on a new server... Team Girl Powa, thanks for the opportunity!
Empowered Talks will be the space where we will talk about what affects us internally and externally, at the same time as we turn these adversities into our allies. In the first episode we will take a look at what self-esteem is and how the media have made it so rare to find.
---
I can't change the world by myself, so I hope you'll be as excited as I am and join me in this new project.
---
@teamgirlpowa is a discord server and steemit account where they promote and value the content created by women in the blockchain, so I invite you to join by clicking here
Thank you so much for being here, comment on what other topics you would like to talk about in the podcast and I will see you guys around :-)