It's only a few days ago I posted about mainstream media coverage of Bitcoin in Australia on the main evening news bulletin on the ABC (Australian Broadcasting Corporation) , which for those who don't know is the Australian government owned national broadcaster. I even mused a few months ago how long until other cryptocurrencies are mentioned. The quote below from my previous post [Bitcoin Correction on ABC Australian TV News] made in September 2017 (https://steemit.com/teamaustralia/@stephen-somers/bitcoin-correction-on-abc-australian-tv-news)
Almost a month ago the finance presenter, Alan Kohler highlighted Bitcoin vs Gold, tonight it was the current correction where the market cap of BTC has lost over US$20 Billion, I wonder how long until he starts to talk about other cryptocurrency and the disruption they pose toward traditional business models.
Well, tonight I was pleasently suprised to see Alan Kohler include Ethereum (ETH) up on the commodity report with Gold, Copper,Oil and Iron Ore prices.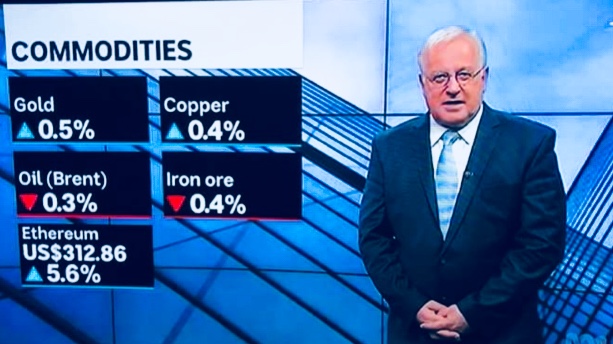 Thanks @bearone for the teamaustralia banner