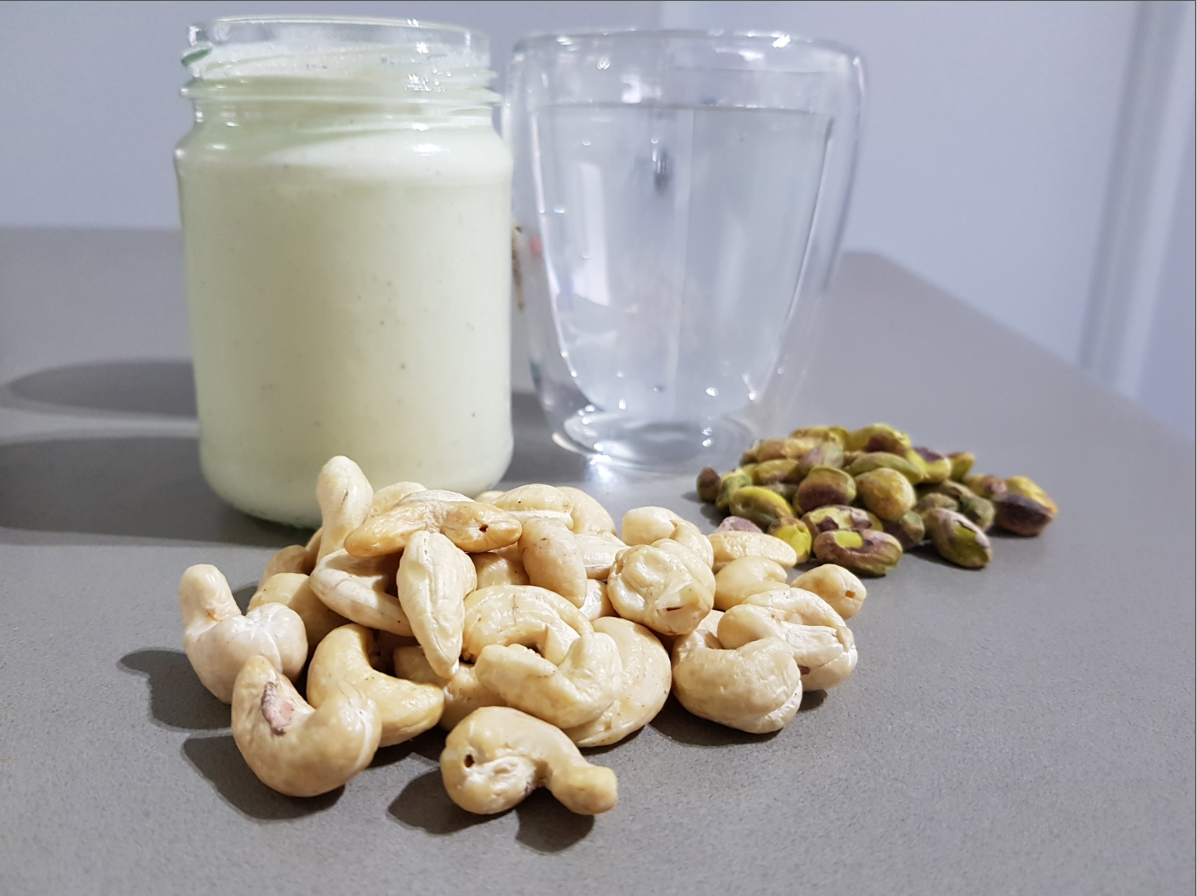 You've wanted to move away from dairy because you're not into the needless exploitation of animals. I get it. Making your own alternatives is fun and easy.
I didn't do it before because it seemed like a pain.
I have read endless instructions on how to make soy and various nut mylks. I didn't get far into the how-to before reading the need for cheese cloths (irony?) and imagining the additional mess and clean up required. To me, that just didn't outweigh just going to the shops and buying a carton of soy mylk.
Why it's different now.
Making a dairy milk alternative is super easy. I saw past the need for a cheese cloth. The sediment doesn't bother me. I am also unable to buy cashew or pistachio mylk anywhere in stores. Almond was my gateway nut mylk.
I vividly remember the first time I drank almond mylk. I was living in Charlestown (near Newcastle, NSW). I bought a carton with my shopping, came home and plopped it in the fridge. I remember the pour, taking a look at the sweet-smelling juice in my glass and taking a small sip before instinctively guzzling the rest of the drink down. The lightness of almond mylk compared with soy mylk, which is much creamier gave it more of a thirst-quenching property. The version I gulped down happened to be sweetened.
Good times.
When to use.
You can use this pistachio and cashew mylk in baking (cakes/muffins etc.), smoothies, homemade non-dairy ice cream or on your cereal where you would ordinarily use a store-bought soy or nut mylk.
When not to use.
I'll admit that I haven't tried adding it to coffee or tea yet, but I'm assuming this would be pretty awful. Unless you let it settle, there will be sediment in your coffee and it may cloud up, much the same way almond mylk does.
However, in my experience, if you heat up an entire mug of almond or soy mylk, then add your instant coffee or shot of coffee, there is a limited chance for 'clouding'. This might be a space to watch.
Let's get to it!
Gents, grab your nuts!
1/2 cup unsalted pistachio nuts
1/2 cup unsalted cashew nuts
750mL - 1L chilled water
Ladies, start your blenders!
In a high speed blender (think EXPENSIVE blenders, like a Thermomix or Blendtec) add all the ingredients and set speed to Warp 10 for about 20-30 seconds. You could soak the nuts over night, but who's got time for that?
Pour into a clean jars with lids and write down the date you made it on a sticky label. I'd think it would be fine for at least a few days, if not a week. I used mine up within 4 days.
A few points to consider.
Be mindful that sediment will settle. This may be good if you want to decant the top layer off for a coffee, however you'll want to shake to get all the extra goodness going into your oatmeal or smoothie. Yum!
The whole blending process creates something amazing. The cashews will give the mylk and eerily creamy consistency and the pistachios just add something unique to the flavour. When I made up my first batch, I used it in my smoothies. I add almonds already, so it was sort of just piling on the extra nutty goodness.
Treat this whole exercise as more of a starting off point. You'll find your own tweaking to the ratios of nuts and water that suit you. Maybe you feel you don't need as many nuts or you want to try using cashews only. If you want some sweetness, try adding some sugar. Depending on how healthful you want to go, there are a few options. White sugar will sweeten best as it dissolves completely, molasses is more healthful and date sugar is best for you (but will probably turn out disastrously in terms of consistency). The recipe is by no means prescriptive, so do what you have to.
Please let me know how you went in the comments below. Better yet, blog it and link your work in the comments. Sharing is caring, after all.
All the best,
Nick.
All content is original.
Disclosure: This article was not a paid promotion and was not self-upvoted. Nor were there any affiliate links.
---
Thank you so much for your support on my Steemit Space. Please Upvote, Comment and Follow @nickmorphew for regular content.
I do my best to engage with all thoughtful comments. This space absolutely invigorates me, so shoot me a comment.. even a critical one. I love fans and I love argumentative a-holes. I don't discriminate.
---
I'm still looking for an artist to cover my work on my fantasy saga, Adventures in Elowyn Glade. Please make some noise if you're interested.
---