Meet Quadrant: Syam Sasidharan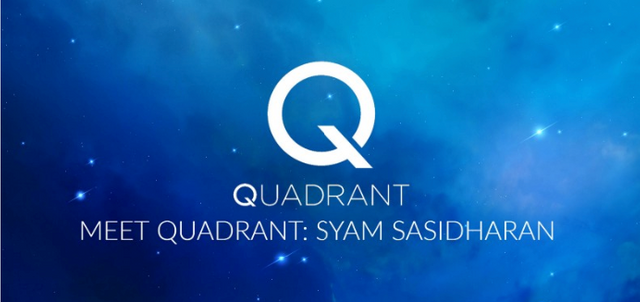 Given the amount of growth we are seeing at Quadrant, it's crucial that we continue to grow our team and add great new talent. We are excited to present our first member to join us after the ICO: Syam Sasidharan
Syam joins us with a wealth of experience under his belt. He is a senior software developer with 10+ years of experience in developing software systems in various industries. The majority of his work experience has been in developing mobile applications for B2B and C2C companies. He also has significant expertise handling enterprise-grade security applications.
Syam's most recent role prior to joining Quadrant Protocol revolved around Internet-of-Things(IoT) ecosystems and applications. As the Director of Engineering at Quadrant Protocol, I couldn't be happier to welcome an individual as talented as Syam into our team.
Part of Quadrant Protocol's growth plans for the foreseeable future involves working with location data and analytics companies. We want to be able to capture the data right at the source — the mobile phone — and map all these sources together via our Data Smart Contracts, making them available for consumption for our Elons and Data Buyers. Syam's prior experience with mobile development and security applications makes him the perfect person to help us develop and lead the development of end-to-end solutions for this identified sector.
As many of you know, Quadrant's vision is to establish our protocol as THE protocol used to access, authenticate, and verify data transactions. This includes distributing, or more accurately, decentralizing, our network validators — Guardians — to entities beyond Quadrant in 2020. Once again, Syam's experience in IoT ecosystems, and more importantly, edge computing, make him the ideal person to build this for us.
"When the opportunity with DataStreamX [Quadrant Protocol's parent company] came to me, I was really excited," Syam tells us. "Then I got even more excited when I heard about Quadrant Protocol. The decision-making process was easy for me as I see the value in the product that we are building. It solves a problem and I believe in it. I would like to contribute in any possible ways I can and I am ready to wear multiple hats when required."
With Syam's talent, deep knowledge, and ability to work on multiple crucial projects, we are confident in our future building and developing the new data economy.
We invite you to welcome Syam by reaching out to him in our Telegram community.
t.me/quadrantprotocol