我是纹身师gogo - The Shanghai tattoo journey with Aid!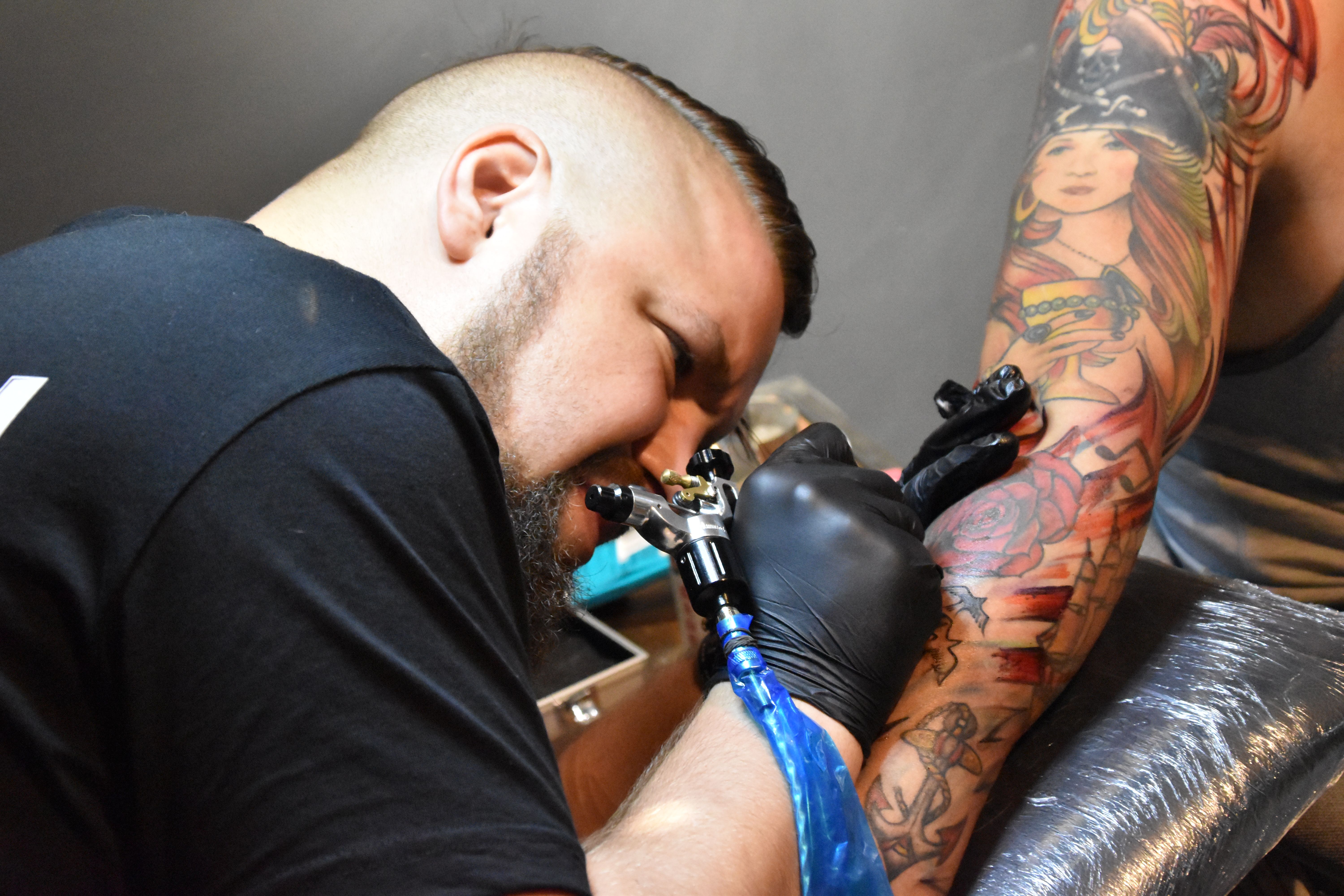 他,不愧是来自战斗民族的汉子
跨越四五千公里来到我们的华夏土地
他选择来到上海的目的是什么?
仅仅是作为一个游客,还是......


He comes from the "fighting nation".
Over four thousand or five thousand kilometers to get to China.
What was the purpose for him to come to Shanghai?
Just to be a tourist, or?......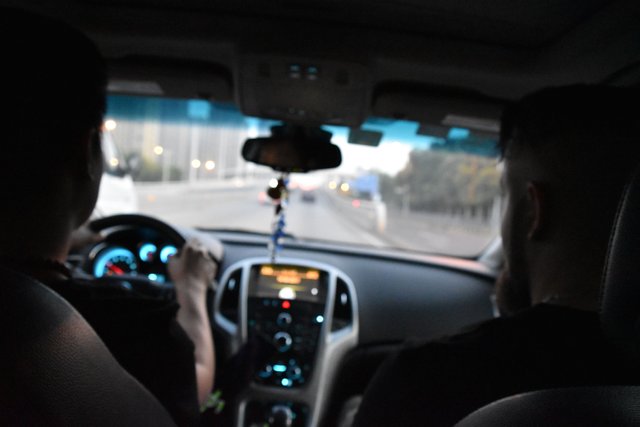 是为了明天即将在上海展开的国际秋季纹身艺术展
他
为了将俄罗斯纹身硬汉风纹身分享给中国
借助gogo.tattoo作为桥梁
加深中国纹身爱好者和俄国纹身师的友谊
他提着他最喜欢的纹身器械,风尘仆仆来到这里


He came for Shanghai International Autumn Tattoo Festival which will be happening tommorow and during the weekend.
Aid
Aiming to share Russian tattoo style with China
Using gogo.tattoo as a bridge
Deepening the friendship between Chinese tattoo lovers and Russian tattoo artists
He was carrying all his favorite tattoo equipment, going on this journey.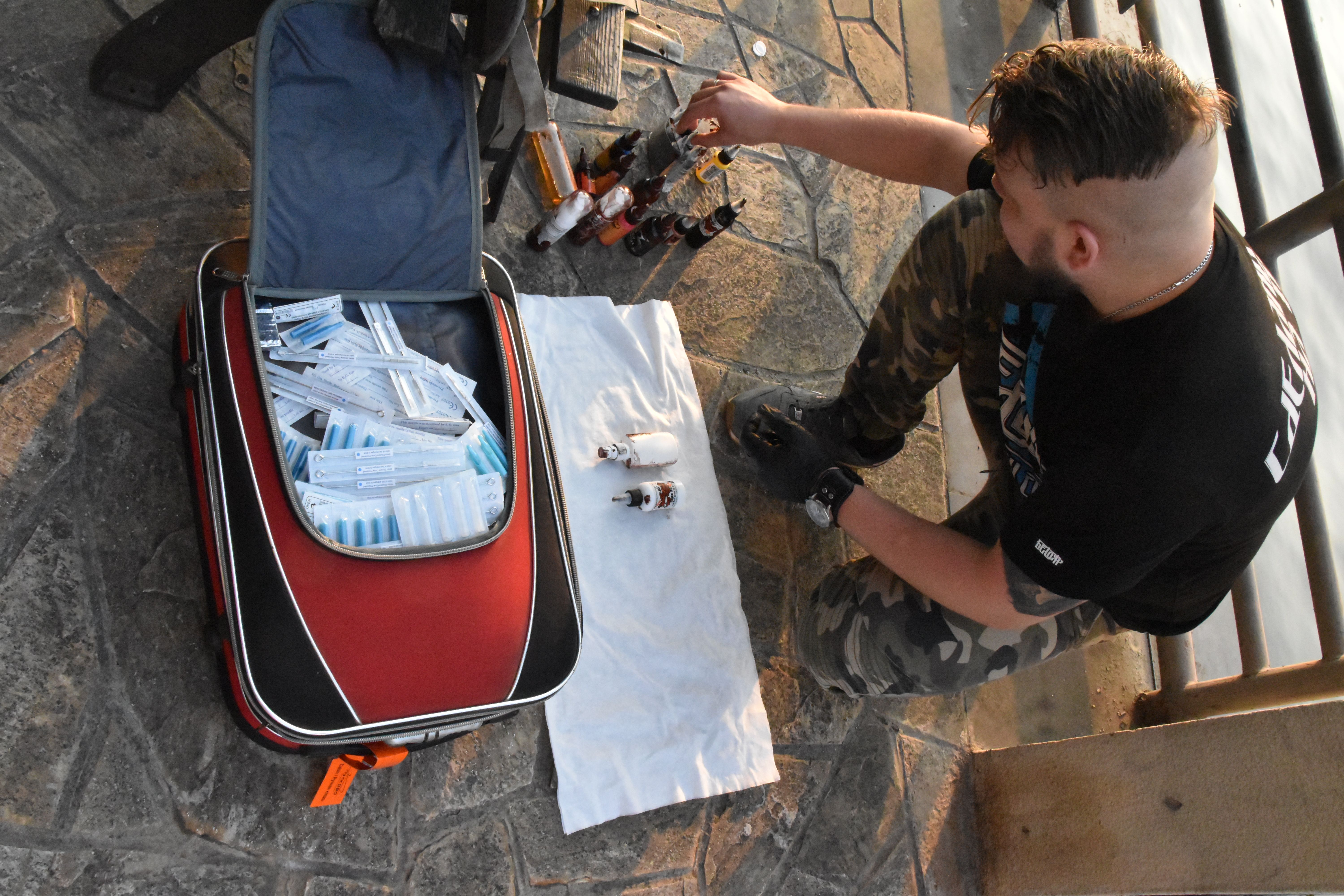 虽然这当然不是我们第一次接触Aid,也不是第一次在现实生活中与艺术家打交道。
但是于我们而言,陪同这位有趣的艺术家简直是紧张又新鲜
Aid对于自己的作品和纹身用品有执着的高品质追求,连颜料都必须是自己用的最顺手习惯的品牌从俄罗斯带到这里。
从机场来到市区之后的第一件事便是检查他的宝贝器材
当他意识到有颜料罐挤破了的时候,可以看得出他的内心是崩溃的。什么都顾及不上,只想赶紧就地清理干净。


Accompanying this great artist is very tense and exciting.
Aid has a persistents of high quality pursuit for his own work and his tattoo equipmen. Even the pigments must be the most used brand of his own choice, so that he brought all these stuff from Russia.
The first thing he did after leaving the airport is checking his tattoo equipment.
When he realized that something might be broken on the plane, we can clearly see how attentive he was.
But cleaning up everything is a habit of tattoo artists. He did it immediately.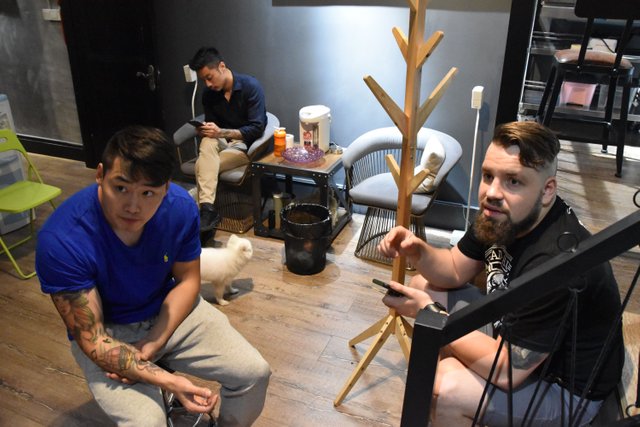 休息了一会儿后,我们便赶往[楚上风] ](http://gogo.tattoo/@chushangfeng)与这位早在6个月前便预约了的大兄弟沟通纹身
他为他的花臂背景苦恼已久,希望有纹身大师解救他的手臂
Aid凭借这样繁琐的纹身任务第一次接触中国客人
这才只是他熬夜飞行后的第一天,疲倦的身体加上文化差异
彼此的信任感都还未建立,沟通有些不太畅快
在神经暂时得到缓冲的小小失落中,他仍然期待着第二天的背景修改纹身达到超高水准


After short rest, we went to Chushangfeng to communicate with this cool client who had already booked an appointment via us 6 months ago
He was not happy with the background of his arm, hoping to find the master to save his arm
Aid experienced the first Chinese client with this cumbersome tattoo task.
Rather than fixing, he is more into creating his own new awesome works.
Slightly dissapointed, he is still looking forward to do the background modification on his second day in Shanghai.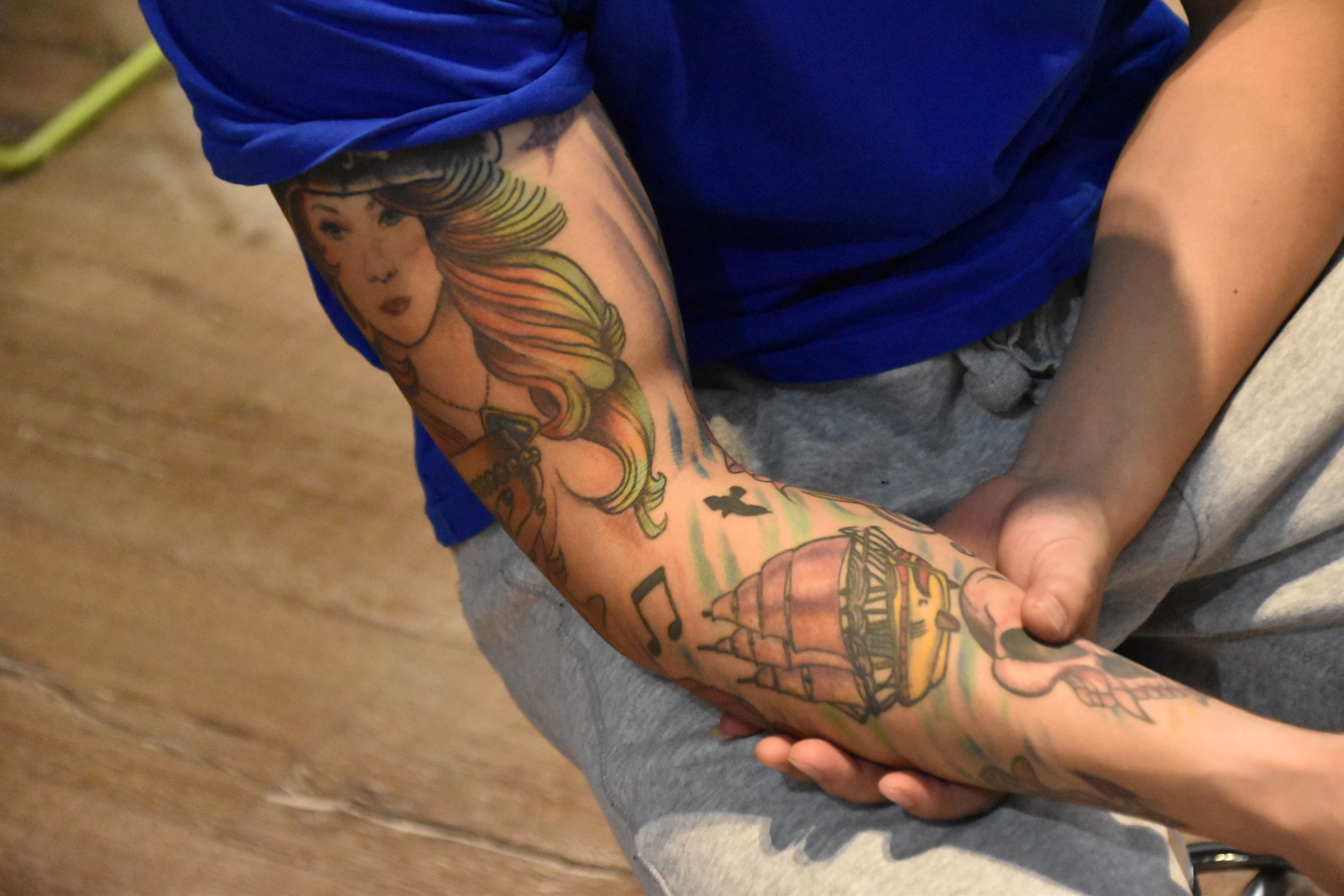 这个乱七八糟的背景会被修改成什么样子呢?


How will this mess of background be modified?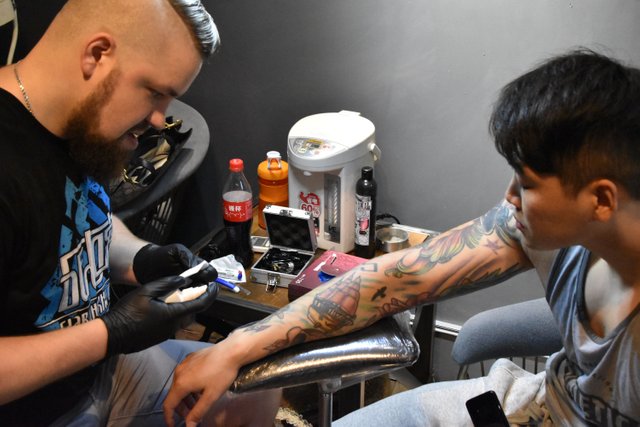 客人和Aid 都很期待


Both the master and the client are looking forward to it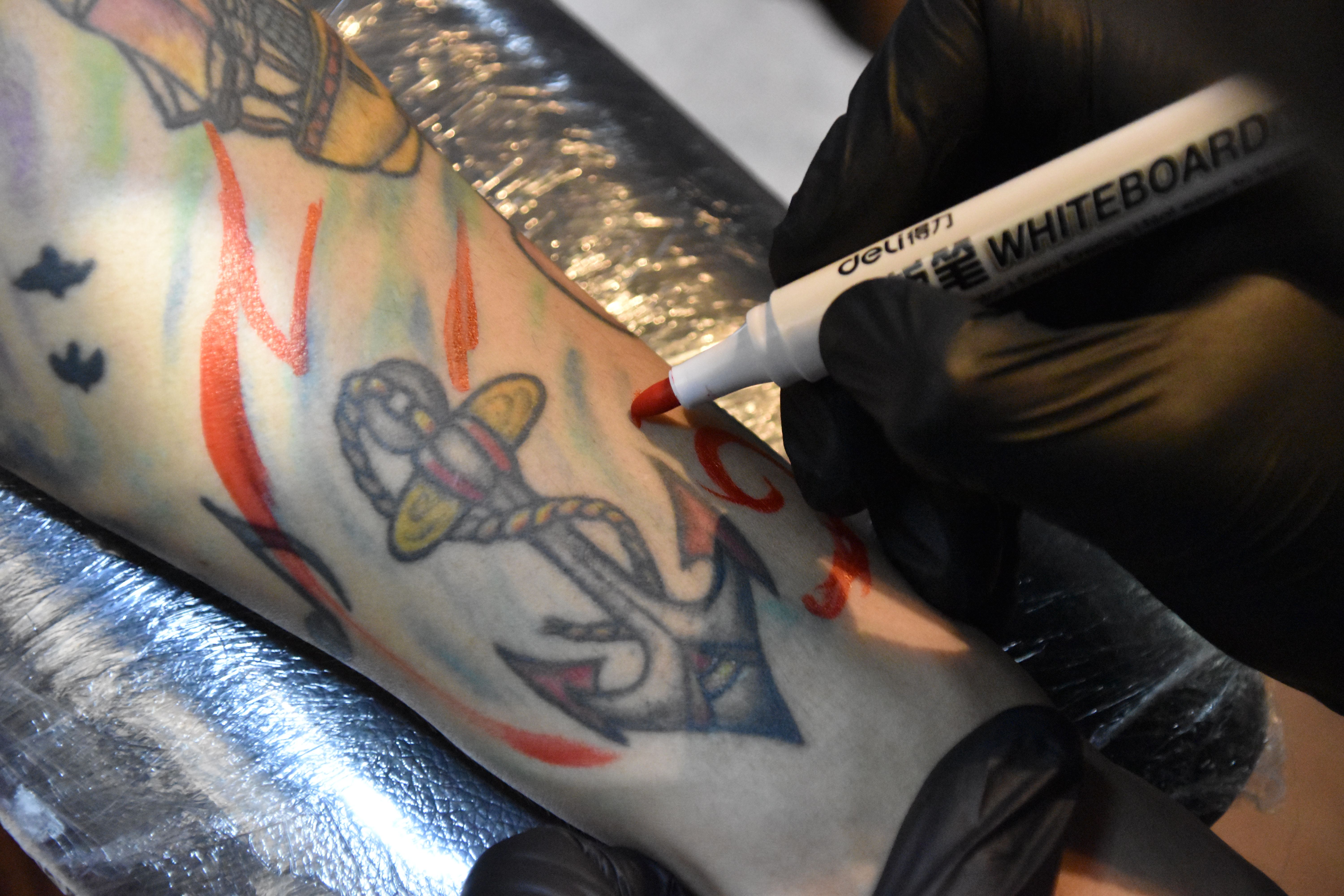 他拿起笔就画了起来
也许是因为构思了一晚,记号笔在他手里好似行云流水
很快,一条手臂便已经在记号笔的草稿里看起来大变样了


He took the pen and directly started sketching
Perhaps it is because he was thinking about the idea for whole night, the marker pen in his hand looks like a free flow of water
Soon, the arm is already covered with the marker pen draft.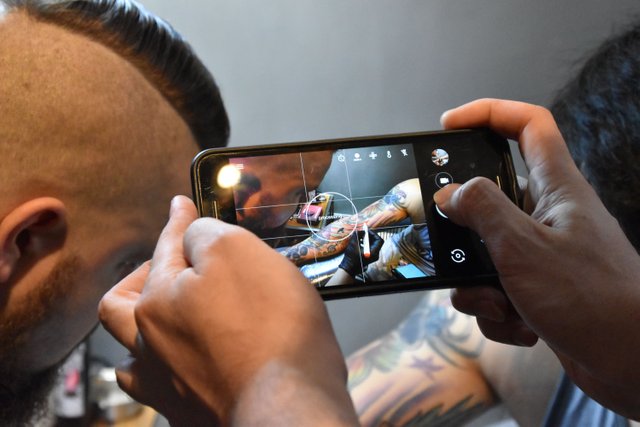 这些有力度的线条,像极了Aid的性格。
也许,他的创作与他的性格还有他健壮的体型一样,总是不断地在自我吸收和容纳。


These strong lines in the draft just like Valentin's personality.
Perhaps his creations are just similar to his personality and his strong figure. Constantly absorbing and accommodating themselves.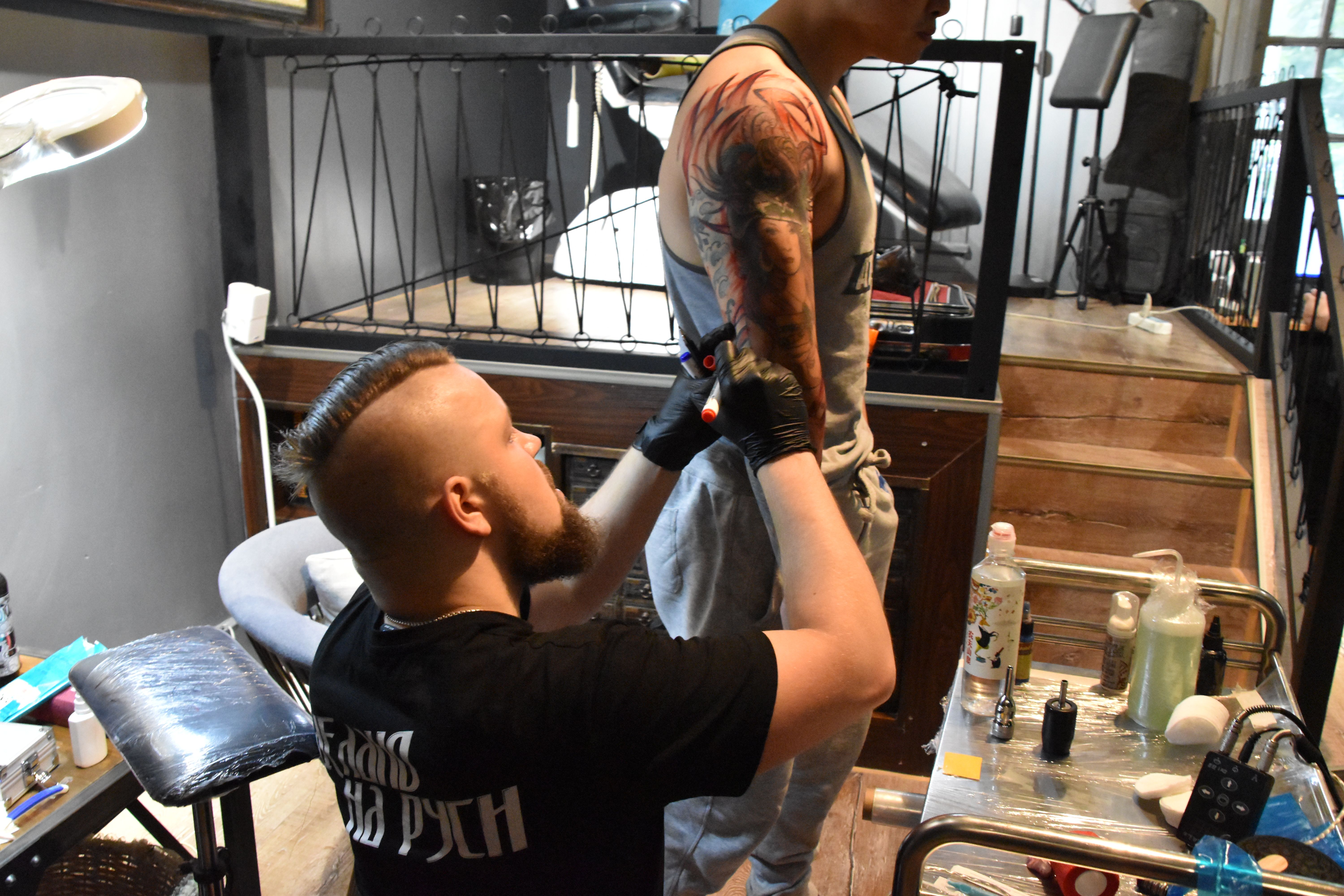 在纹身进行的过程中,Aid满头大汗,认真无比。
也许是因为听不懂围观的我们在用中文交流什么,他认真的好似把整个灵魂都用到了制作纹身的过程里,对周遭毫无察觉。


During the tattoo process, master was sweating a lot.
Maybe it's because he didn't understand what we were talking about in Chinese.
He's serious about using the whole soul when making tattoos, and he doesn't want to know what is happening around him.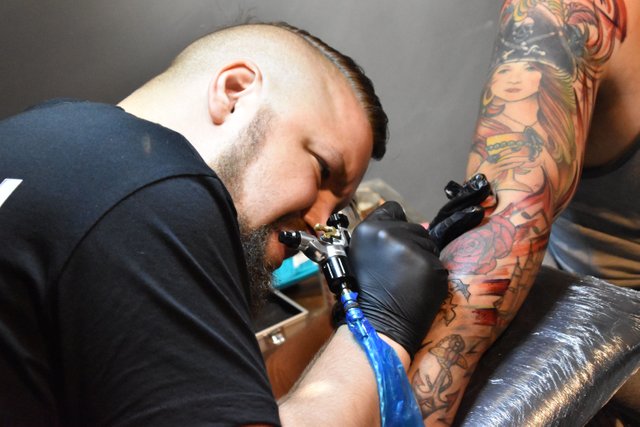 在一个休息的片刻,他用玩笑的口气,询问客人还能不能坚持下去。
"你还活着吗"
"你还能坚持吗"
"你学着享受一下这样的痛吧"
在他对客人的表情里,和这些虽然搞笑但是和他的外表性格一对比便觉得温暖的文字里,我读出的是一位在自己的国家的纹身领域里,已经达到很高成就的艺术家的谦逊与随和。


At a short moment of rest, he asked in a playful tone , if the client could still hold on.
"Are you still alive?"
"Can you still breath?"
"You need to learn to enjoy this kind of pain."
In Aid's expression toward clients, although he is talking in funny language, our client did feel the warmth.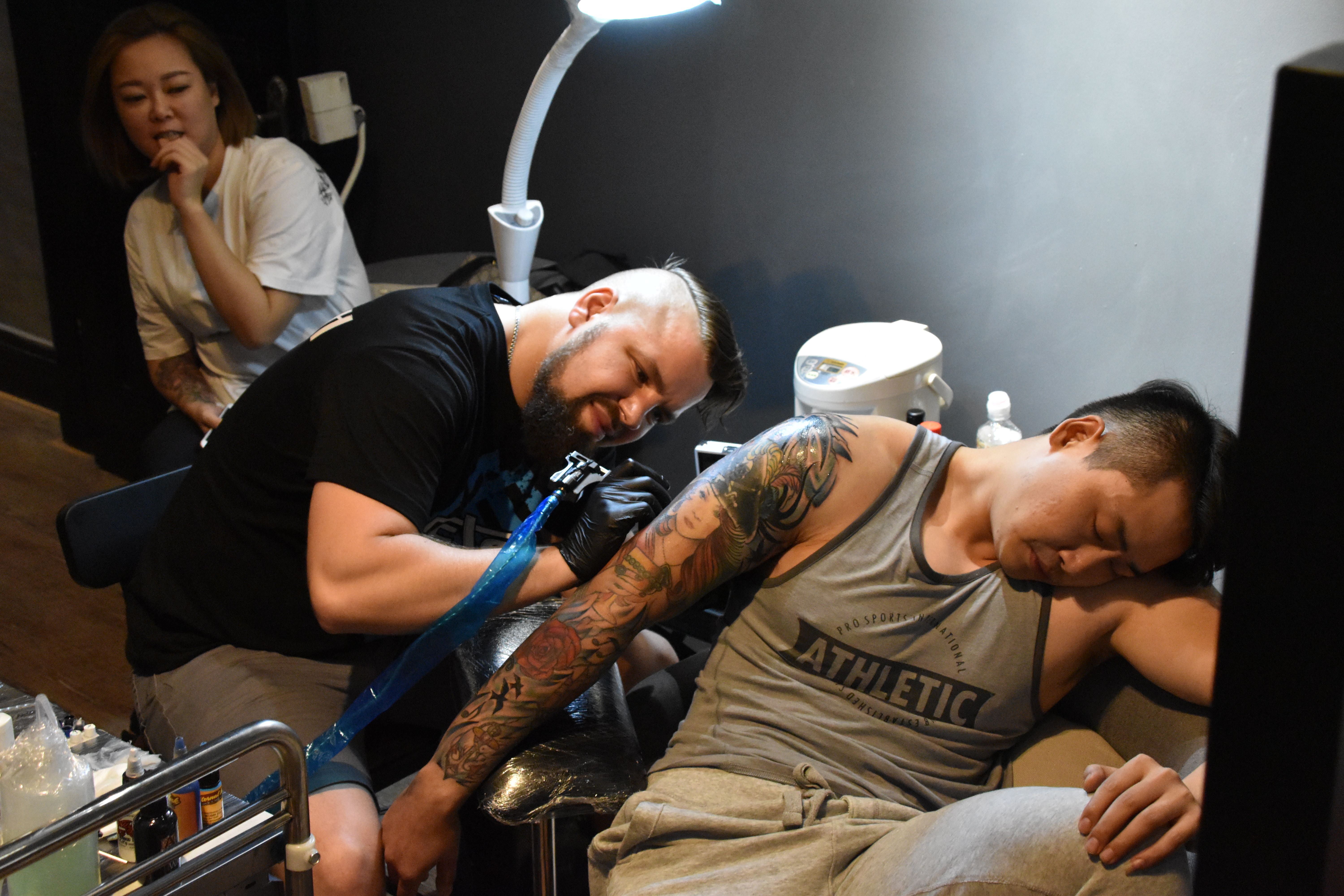 这是Aid第一次和中国客人打交道。
他纹身时的安静和纹身店里的热闹成了鲜明的对比
他夸张的肢体语言却让纹身的氛围额外的有意思,吸引了更多纹身爱好者驻足观看。


This is the first time Valentin were dealing with Chinese clients.
The silence of his tattooing process contrasts sharply with the excitement in the tattoo shop
His exaggerated body language makes the tattoo atmosphere extra fun, attracting more tattoo lovers to stop here and watch.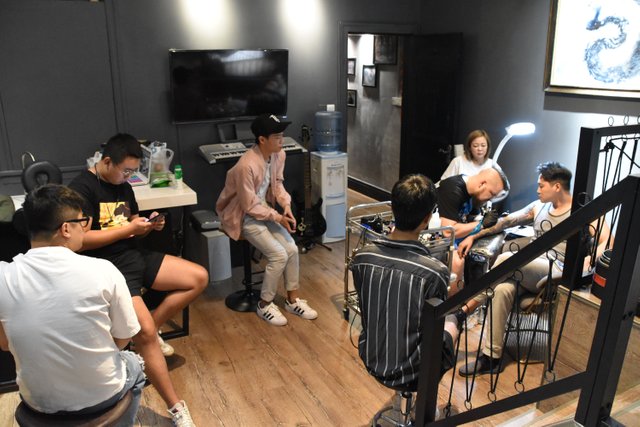 当晚。有两位可爱的小哥哥直接预定了Aid的纹身。
工作中的他永远是最好的状态,他热爱工作,更热爱喜欢他作品的承载者。


Same evening, two lovely clients made direct reservations to get tattoos made by Aidov.
He loves work and he loves the wearers of his tattoo works.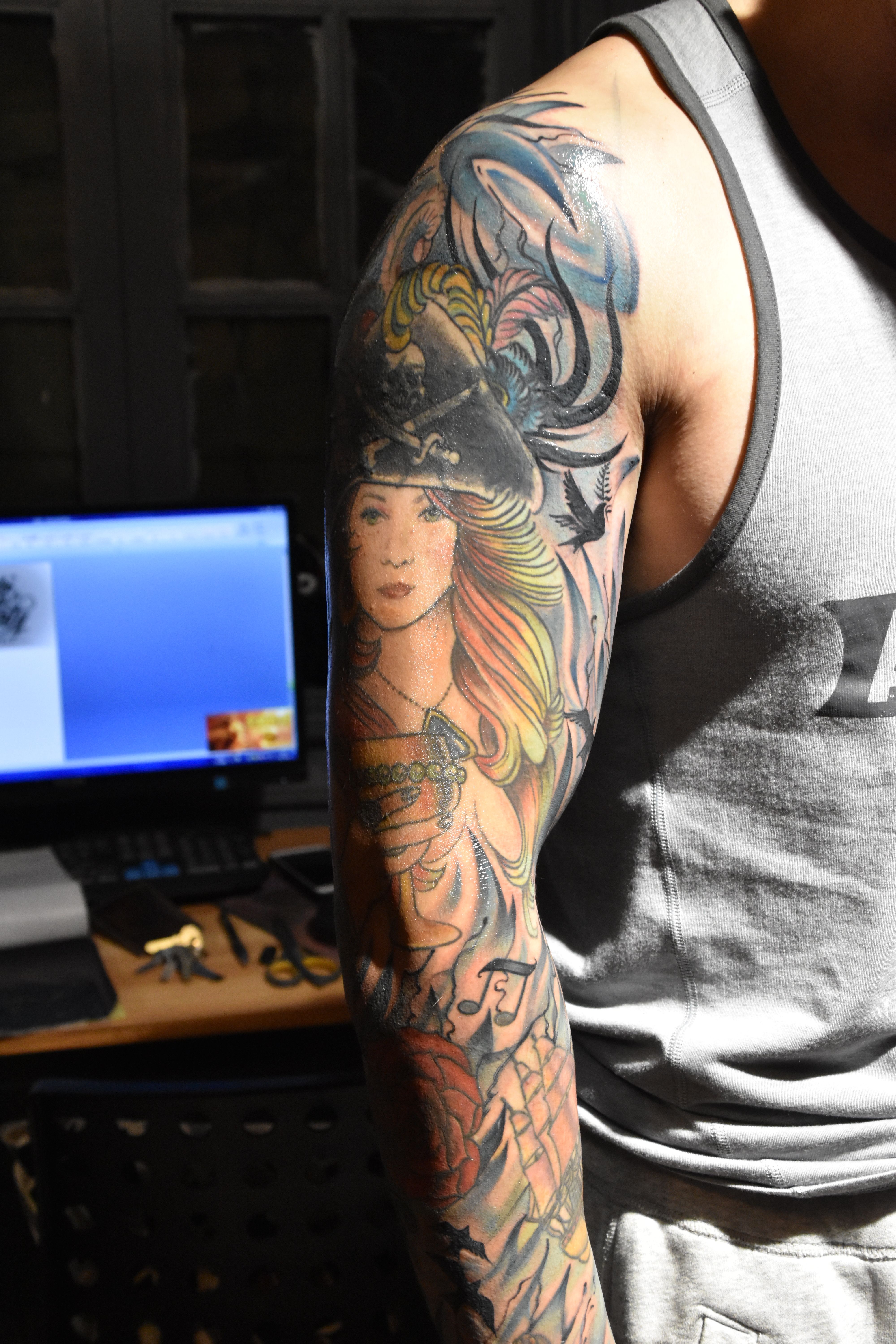 背景的修改完成了!
Background fixing
他便开始了为刚刚预定的客人着手设计纹身。


Background ready!
He began working on a design for the client who just booked a tattoo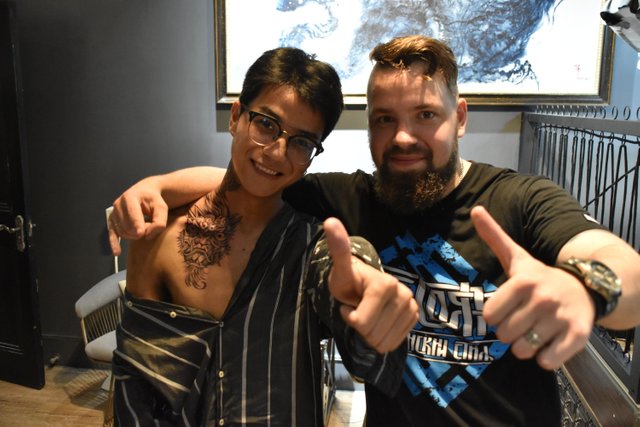 当场画,当场制作。
Rose mask
客人非常高兴,直呼"赚到了!"


He did a freehand design for him.
The client was so excited after the tattoo was done.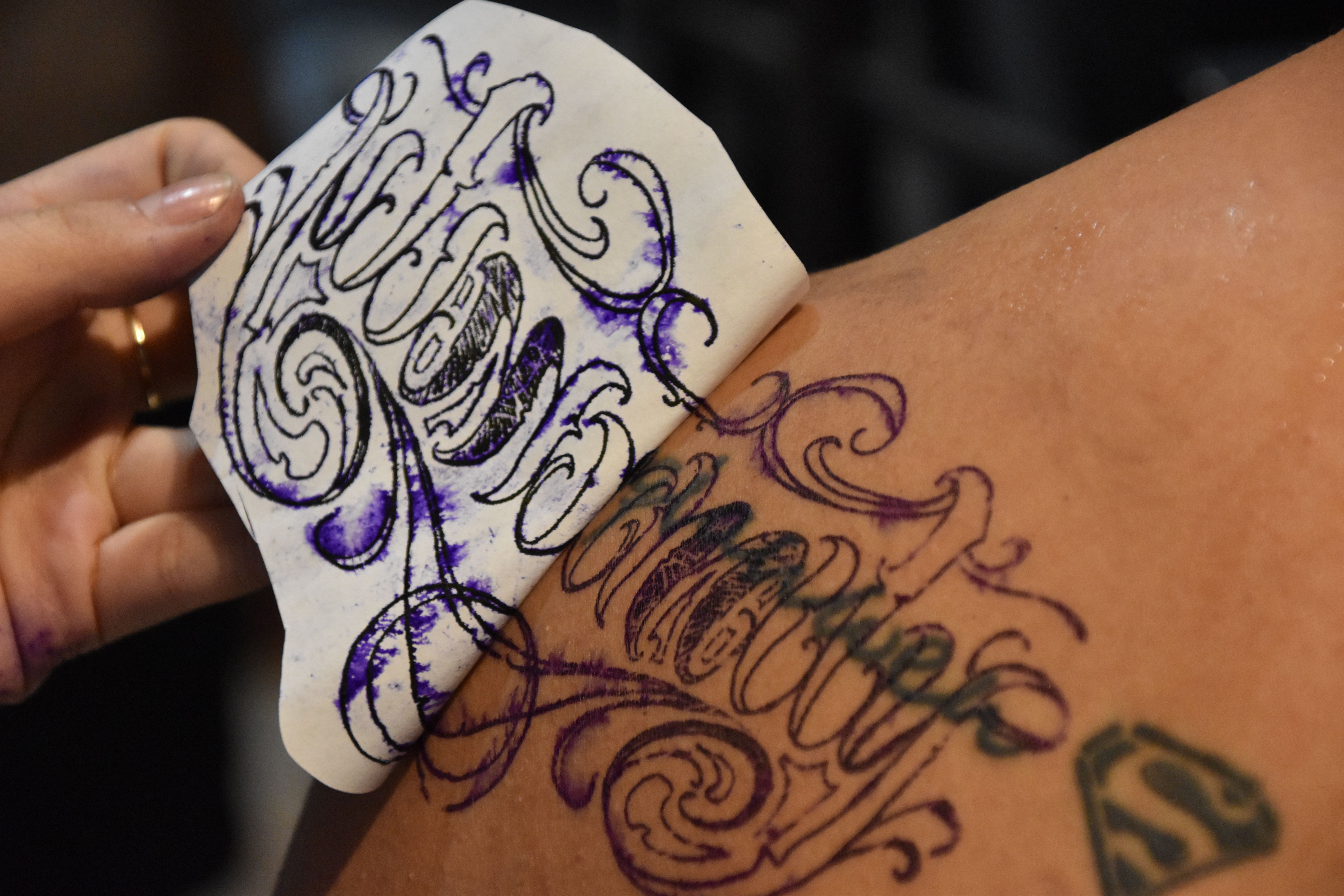 当晚我也做了两个小纹身,和Aid的作品比较起来,
我的作品极其的内敛
也许艺术家的纹身作品承载着艺术家的性格,
Aid会大声说笑,每时每刻都充满了爆发力,就像他的作品
但我即使是表达不满,也最多只是摆摆手不再说什么。
客人告诉我,每次要听清我的话,都需要安静的环境,或是必须凑到我跟前。
话语声轻而绵,缓缓的语气中夹杂着时时溢出的倦怠感,就像我的作品。


I also made two little tattoos that night.
In comparison to Valentin's works, mine seem quite restrained.
Perhaps the artist's tattoo works carry the artist's character,
Aid would laugh hard having explosive emotions all the time, just like his works.

My voice is light and soft, and the slow tone is mingled with the overflowing sense of ennui, just like my works.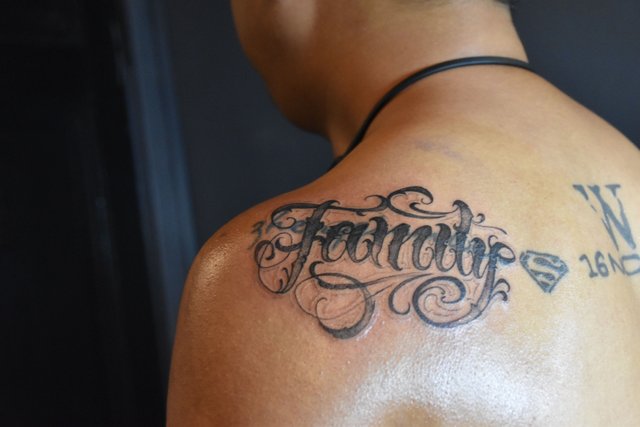 这是一个纹身遮盖作品。
This is a tattoo cover.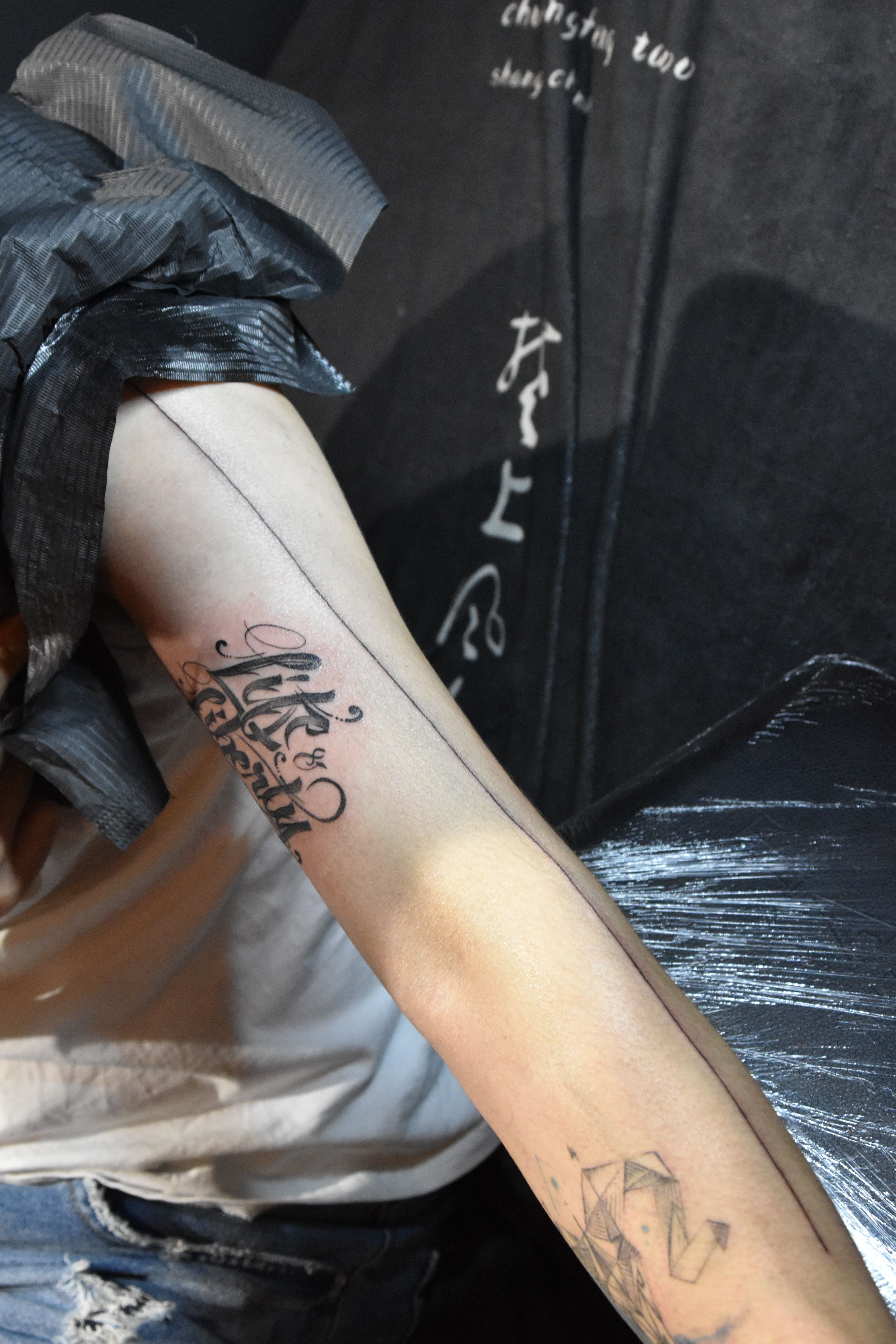 多雨又灰蒙蒙的天空,阻止不了Aid想做纹身的心。
第二天,一睡醒便赶到纹身店,为昨晚的另一位承载者着手设计胸口的字体。


Rainy day and gray skies can't stop Aid from making tattoos.
On the second day, as soon as he woke up, he went to the tattoo shop and started designing the chest font for another client who came last night.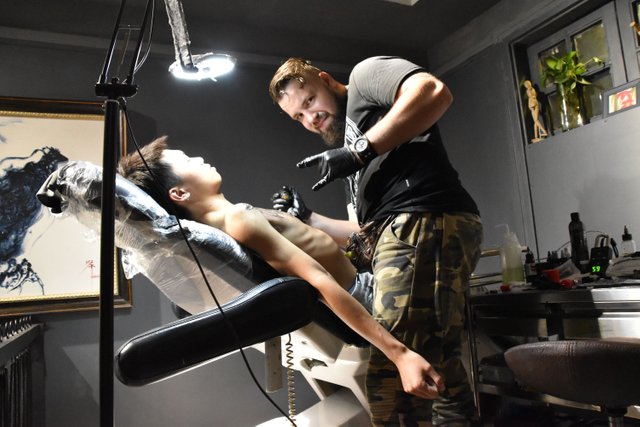 实在是太好看了。
今天这个纹身被发布在gogo.tattoo官方Steemit。
这位承载者在镜子前转了好几次圈圈。即便很疼,但仍然心花怒放。


It's really beautiful.
This tattoo is already on the gogo.tattoo offical Steemit acc.
The wearer was smiling none stop in front of the mirror. Even if it hurts, but he still wildly enjoys.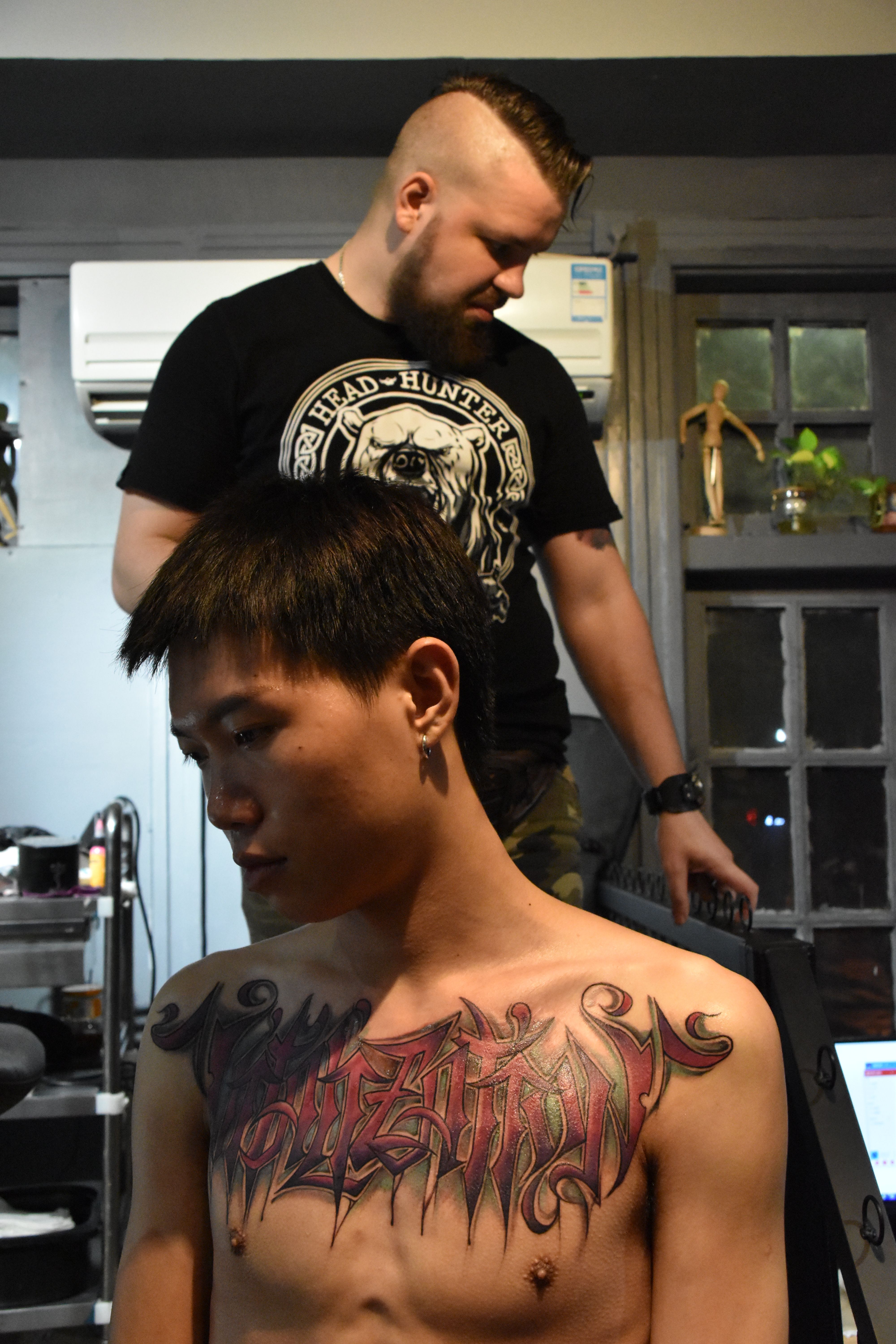 Aid充满纹艺气息的上海之旅才刚刚启程
来秋季纹身展围观这颗时时刻刻在创作的灵魂吧!
欢迎各位Steemitain 来玩,我们会非常乐意为大家提供各种新鲜的纹身周边新闻和免费的steemit logo 纹身设计服务。


Valentin's Shanghai journey should be full of art. He has just started it, but its already wonderful!
He has the soul that is always creating.
Come and join us at Shanghai International Autumn Tattoo Festival!
Welcome all Steemians to meet us there.
We will be happy to provide you with tattoo intel, and free steemit logo tattoo design/tattoo services.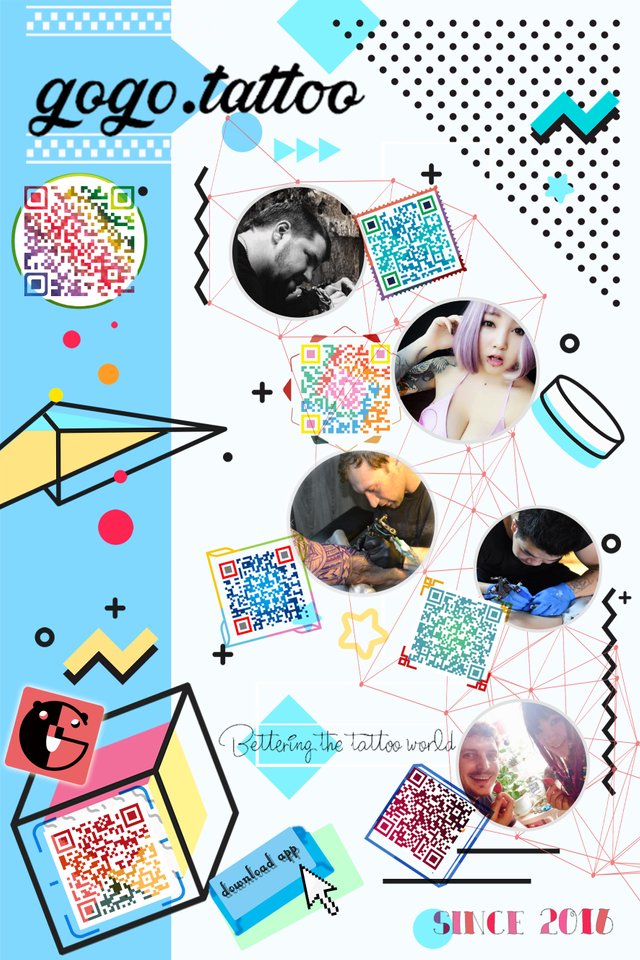 With love!