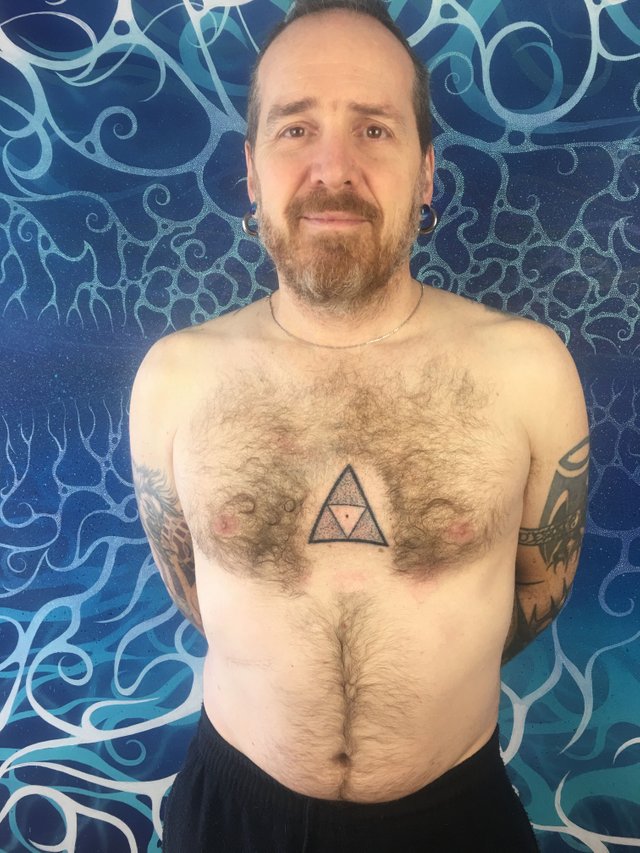 My partner, Cheryl, my daughter Phoenix and I arrived in the late afternoon on Saturday December 23rd and hung out with old friends, ate, cooked, reconnected, mostly staying inside due to the cold weather and that my daughter wasn't feeling well. I found myself periodically thinking about both where and what I wanted this tattoo to be. The previous Thursday I had partaken in a Kambo session and when asked where I wanted the burn, to administer the Frog toxin, I offered up my sternum, but was told that, as this was my first introduction to this particular poison and the sternum would be an advanced session, we ended up doing 4 burns on my upper shoulder, which caused this area to be a no go for the hand poke. Most of my back and arms are covered with tattoos already and I wanted this piece to stand on it's own, so it seemed that for some reason my sternum was calling to be healed. As for what I wanted tattooed, I received a vision of 3 triangles, interconnected forming a 4th triangle in the center.
On December 25th, Daemon asked me where I wanted the tattoo. I informed him on my sternum. He asked me a couple of times during the day, if I was certain, that was where I wanted it, I did not waver. I have never wanted a tattoo in this location. For one, my chest is quite hairy, so this location has always felt like a location where the piece would be obscured by my hair and shaving has always been an uncomfortable and itchy reality. The other reason I have never wanted a tattoo in this spot, is that I know it would be quite painful and having been tattooed all over my back, around the elbows and on the back of my hands, I have never avoided an area thinking it would hurt too much, but I never thought of the chest as a good spot for me.
I had made a crude sketch on an envelope of my 3 triangles as Daemon finished making the needles. I lay in his chair, wearing my Mindfold, to block out all visual distraction. I could feel myself tensing simply from the sensation of shaving my chest area. This preparation seemed to take a long time and I breathed through it and wondered if I had made a regretful mistake. Daemon freehand drew on the geometric design and had me stand up to ensure it was straight. It wasn't quite the geometric design I had envisioned but the elements were all there and I have always trusted Daemon's design sensibility.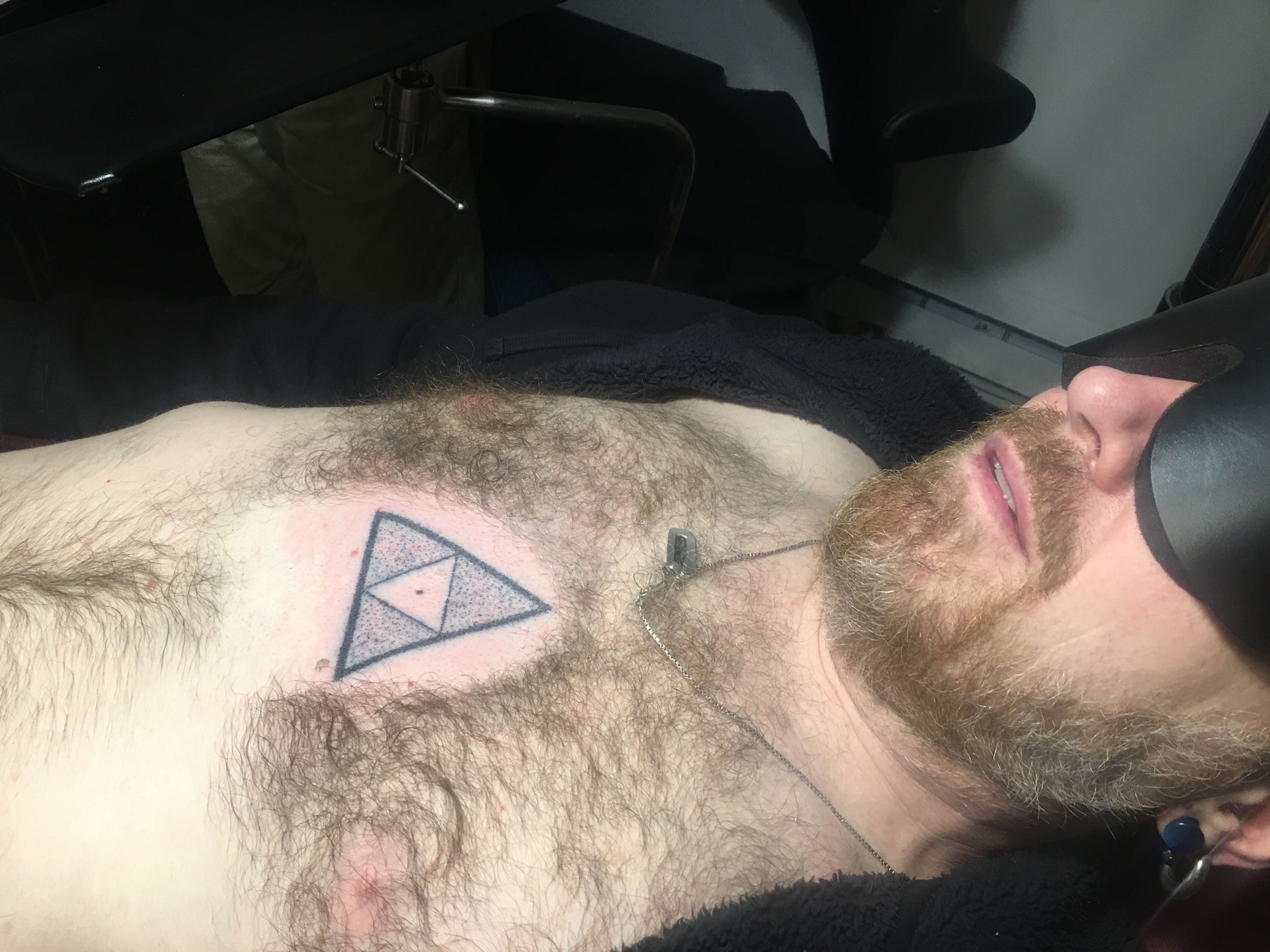 The Mindfold served a couple of purposes, as stated above it removed all visual distraction, but it also meant that I did not have to watch my friend tattoo, what I knew instinctively was going to be a difficult area. It also meant that I had not even looked at the Deer bone needles that would be perforating my flesh.
I chose some ambient music from my phone and leaned back and focused on my breathing. From the first penetration of my chest, I knew this was no ordinary tattoo. Knowing that pain is always an aspect of a tattoo experience, I was taken aback by how much it actually hurt. Each poke was like an electric shock, my body tensing as my mind would count the perforations between each time Daemon would have to re-dip the needle in the black ink. One, two, three, four, five, six, seven, eight, nine, ten pause, though the average was about six pokes before the brief pause to re-dip into the black ink. I could not release. I would focus on my breathing, relax a little and then re-tense, feeling like my body was curling up from my toes to my shoulders. The pain was excruciating, the pain was omnipresent, and the pain was a metaphor for my existence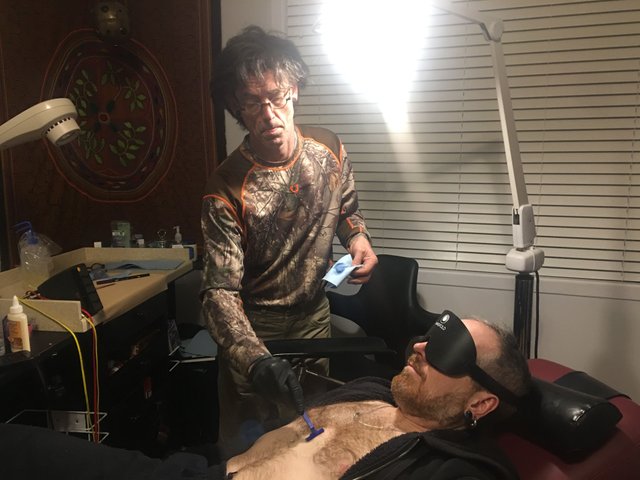 At one point I flashed back to seeing Daemon earlier in the day, pressing his finger into his sternum with a concentrated expression on his face and I burst into a manic laughter, realizing that he had offered my a couple of opportunities to change my location and that he knew this was going to be a difficult experience of me, though at the time I could tell I was being offered a way out, there was something in me, saying that this was where it needed to be done. I had a couple of these mini bursts of laughter and at about the 1.5 hour mark of the 2 hour experience, I realized that I was now fully in my breath, almost circular, allowing me to breath deep and exhale fully making the puncture less in the forefront, a bit of an endorphin high, allowing me an element of being more present than I had been thus far. Before he was finished, I requested a single dot inside the middle of the inner 4th triangle, as the other 3 were to be shaded.
Once complete, I finally saw the Deer bone implements used to burnish my flesh. The simplicity of the tool that felt like it perforated both my fascia and chest muscle was contrasted by the inner vision of a jagged piece of bone that my mind conjured during the process. The 3-pointed Shader, a simple torture device, turned into a precision ink disperser.
The design elements that I had in mind, were the 3 triangles each individually symbolizing my daughter, my partner and myself in a triadic relationship of unification and the 4th one representing myself as an individual alone, but connected to the triad. As with the location, something was calling me to this area, the armour I wear to protect my heart from further hurt, but the need to open this area, to heal the pain that still lingers in me from a life half spent attempting to heal the wounds that have been inflicted upon me by others and an attempt to transmute the false beliefs I have integrated as a result of these transgressions. I do hope that it will allow for an opening in my heart chakra and will allow for some focus through this simple geometric Mandela, to soften, to open, to be the healed person that I have spent so much time working and moving towards. I am as always a single point, bursting out of the shape I have chosen to define me. I will allow the Deer medicine to help me heal as a new year is brought forth and a new imprint was literally made on December 25th, 2017.
Bryant T.