Salad "Caesar"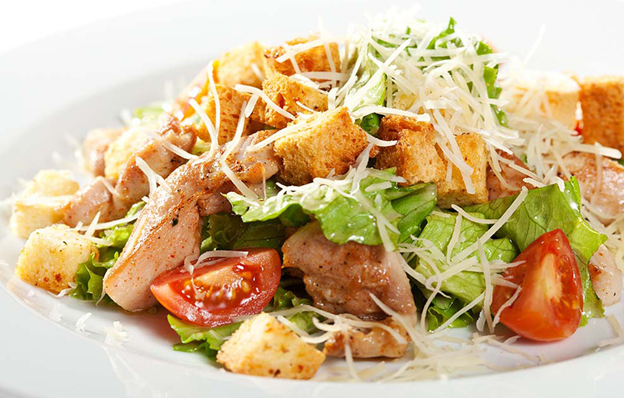 One of my favorite salads and one that I usually request when dining out is Caesar Salad. I remember dining at a couple of restaurants in Kiev where they made the Caesar Salad table side with such flair and showmanship.
History of the Caesar Salad
There is a widely held misconception that it is named after Julius Caesar, but the salad's creation is generally attributed to restaurateur Caesar Cardini (an Italian-born Mexican).
Cardini was living in San Diego but also working in Tijuana where he avoided the restrictions of Prohibition. As his daughter Rosa (1928–2003) reported,her father invented the dish when a Fourth of July 1924 rush depleted the kitchen's supplies. Cardini made do with what he had, adding the dramatic flair of the table-side tossing "by the chef".
Another story is that the salad was created for Hollywood stars after a weekend party. Others suggest Cesar's brother Alex created it as "Aviator's salad" for San Diegoaviator comrades who were in a hurry, and the dish was renamed later, when Alex was a partner of his brother. A few fellows among Cardini's personnel claimed the authorship, but without success.
There is no direct documentary reference to it until the mid-1940s— twenty years after the 1924 origin asserted by the Cardinis. It appeared on a Los Angeles restaurant menu in October 1946.
Prep Time: 30 minutes
Cook Time: 15 minutes
Total Time: 45 minutes
Serving Size: 4-6 servings
Ingredients
1 chicken fillet
3 egg
3 tablespoons fresh lemon juice
1 medium garlic clove, crushed
1 pinch salt
1/2 teaspoon freshly ground pepper
1 teaspoon Dijon mustard
1/3 cup virgin olive oil
2 medium heads of romaine lettuce -- outer leaves removed
1/3 cup Parmesan cheese – grated
How To Prepare At Home
1.For the Croutons
Combine garlic, oil, salt, and bread cubes in a bowl. Mix until cubes are coated evenly. Spread the coated cubes onto a baking sheet and bake until the croutons are golden. This should take about 10 minutes.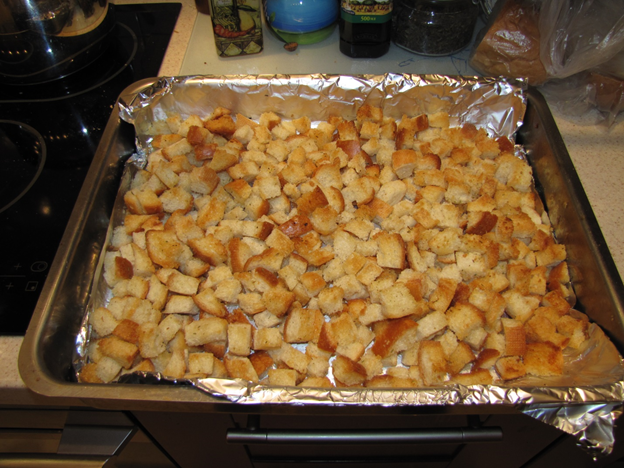 (Note: do not walk away, these can easily go from browned to burnt.)
Remove and let cool.
Make the sauce:
Rub the garlic with salt and pepper. Add some mustard, lemon juice and eggs, whisk thoroughly. While whisking, add the oil slowly.

Chicken fillet
Chicken grate with salt and pepper..
Fry quickly in a well-heated frying pan on two sides in a little oil (grilling will be even better). Squeeze juice out of the lemon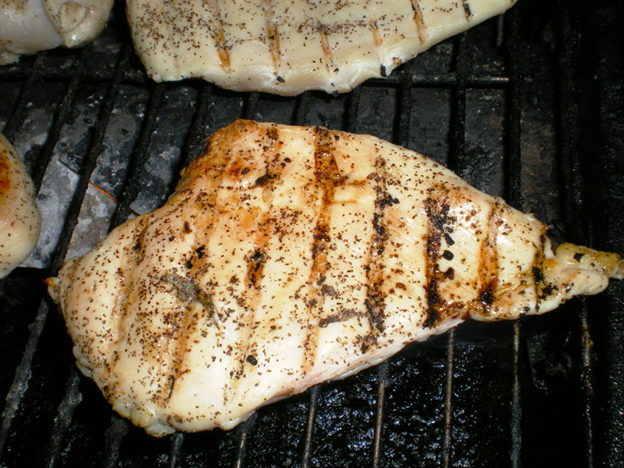 4.To Serve
Wash and dry the lettuce and tomatoes. Tear the lettuce. Chop the tomatoes (cherry tomatoes – in half, other – in slices).
Dress the lettuce with sauce and mix gently. Put sliced fried chicken and croutons on the lettuce. Drizzle with dressing. Sprinkle with grated Parmesan cheese and garnish with tomatoes. Now you can serve the salad.
Bon appetit!