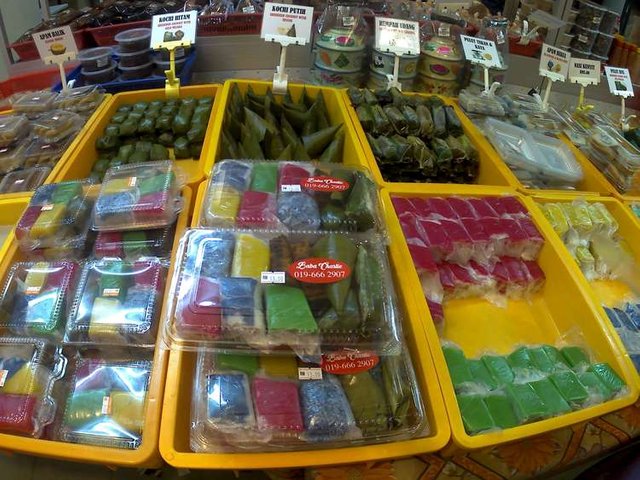 Hello everyone! Today I am going to share some pictures of Baba Charlie Nyonya Cake store. It is a famous local cake outlet located in Malacca, Malaysia. They sell a large variety of delicious pastries and cakes which are made of organic ingredients, especially classic Nyonya cakes.
There are actually two outlets of the Baba and Charlie in the area. One is the cafe where you can eat all the cakes, pastries and more. The other one is the cake store which I will be sharing today. By the way Baba comes from the words Baba and Nyonya which refers to local Chinese settlers who have a unique culture with a blend of both ancient Chinese culture and the local Malay culture as well.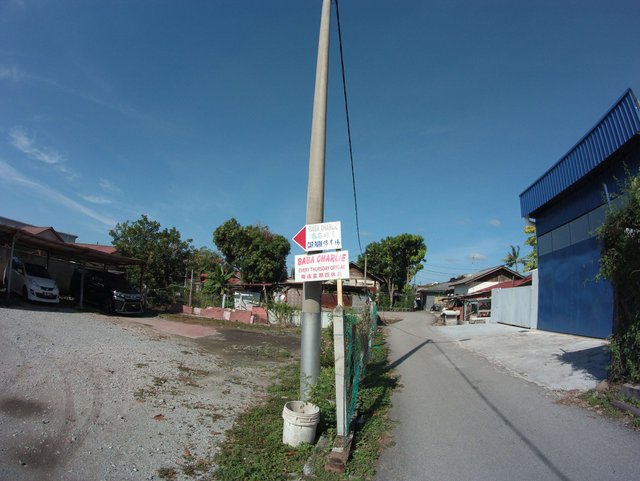 This is the car park area available specially for the customers of Baba Charlie store. It was spatious and free. The shop is in a walking distance from here.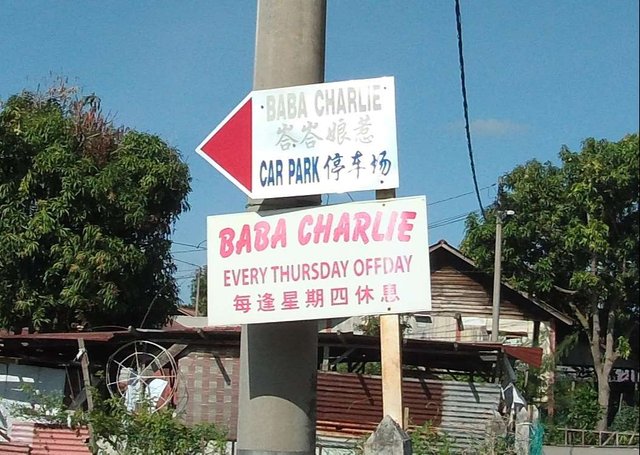 Here's a closer look of the board.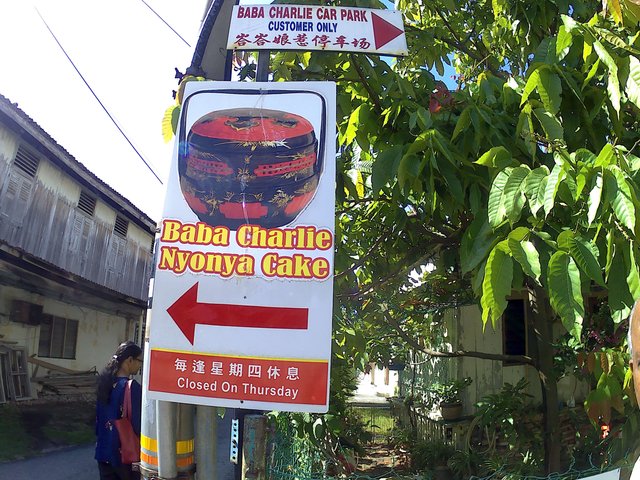 This is another board to guide customers. Just follow the directions given. The store is open daily except on Thursdays.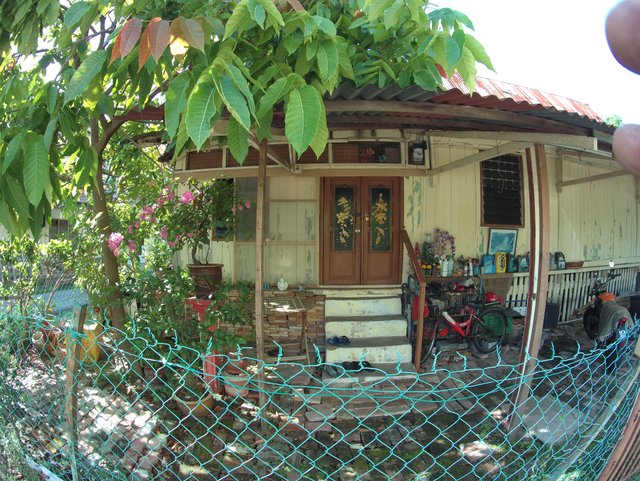 The are looked like the small town in the olden days decades ago. This is a classic looking home I saw while walking to the shop.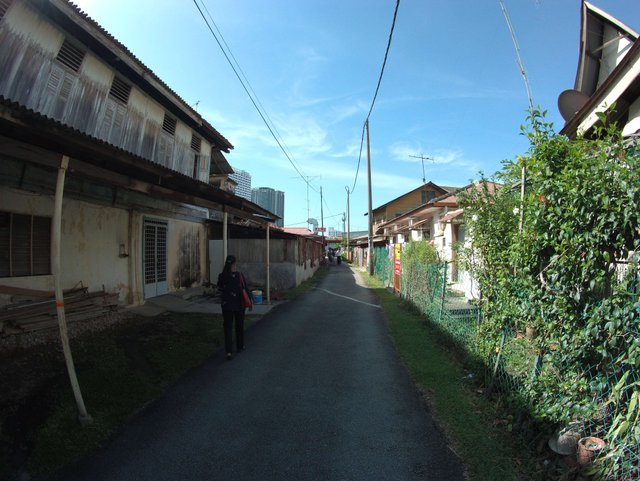 This is the street leading to the shop.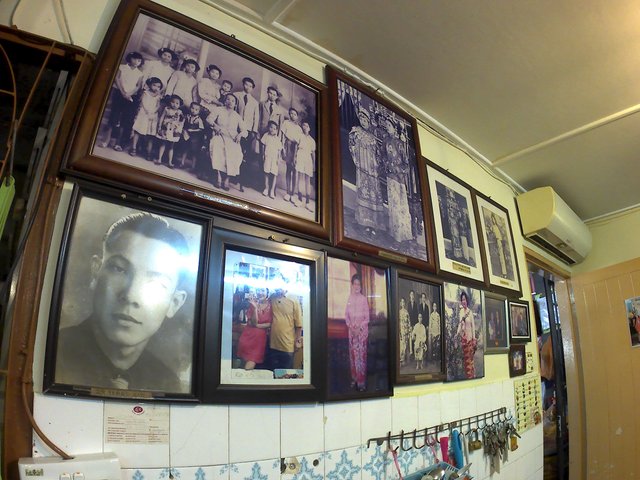 If I'm not mistaken, the person on the bottom left is the one who founded Baba Charlie. The others are some of the pictures of the family of the owner.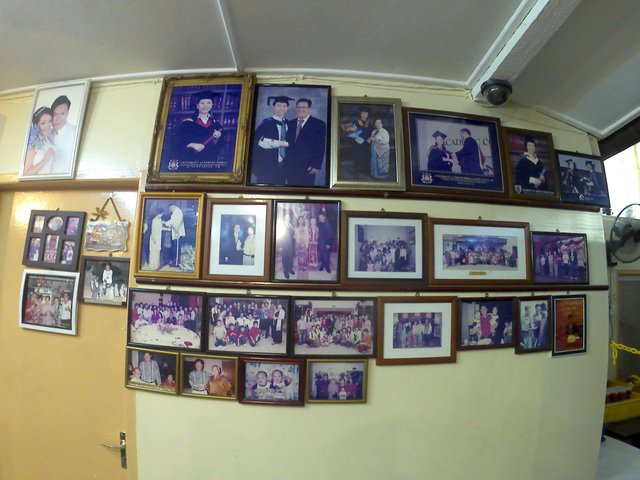 Here are more pictures of them.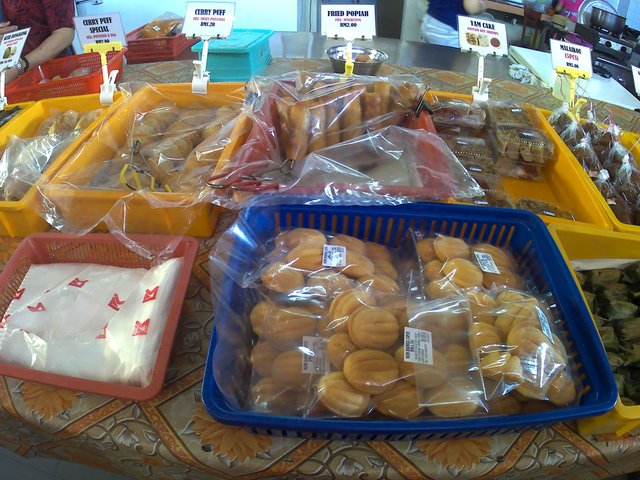 These are some of the pastries sold. In the picture above, there is a famous local cake called bahulu and yam cake as well. Then, there are also curry puffs with different types of filling like eggs, potatoes and sweet potatoes. Others are fried popiah and malaikou.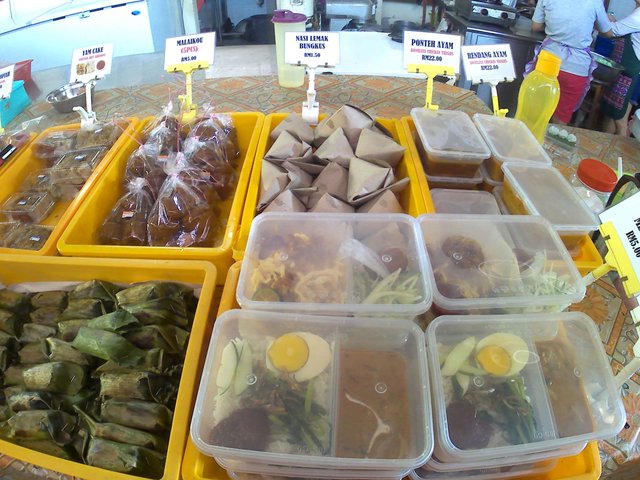 This is a closer look of malaikou which is on the left. Malaikou is a steamed sponge cake. It translates to Malaysian cake where the word malai refer to Malaysia and kou is cake. It is done in Cantonese style cooking. The cake on the bottom left is lepat pisang which is steamed banana parcel cake. It is made of flour, banana, grated coconut and sugar. This shop also sells other food items such as chicken and full meals such as nasi lemak. I think they do so because some customers come from far like my own family so we will be able to eat here after our cake shopping. We can also take it to the Baba Charlie Cafe which is not far from here and eat there.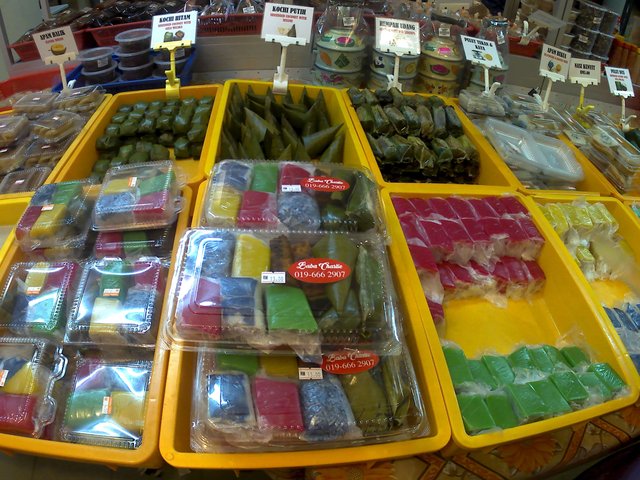 Take a look at these colourful cakes and pastries! They are all made of natural colours derived from plants and flowers, which is why the prices of some of the cakes can be a little higher than a typical pastry shop. By the way, if you look close, there is a durian apam balik. The best thing about it is that it is made with the real durian fruit and not merely with durian flavouring. I have tried it myself and it was yummy. There were also shredded coconut cakes different fillings such as palm sugar, sesame and even shrimp. My favourite is the one with the palm sugar. Other than that, there were pulut and the famous 'kuih lapis' which is a layered cake.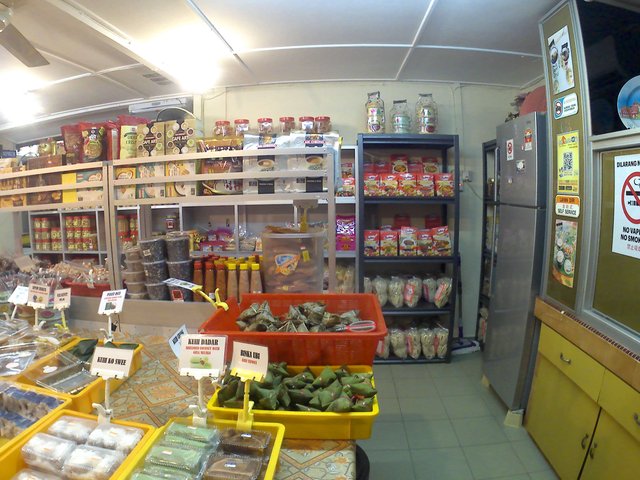 Here is a wide view of the shop. By the way, on the bottom right is baked tapioca cake which is my all time favourite. I love to eat this cake! It tastes great.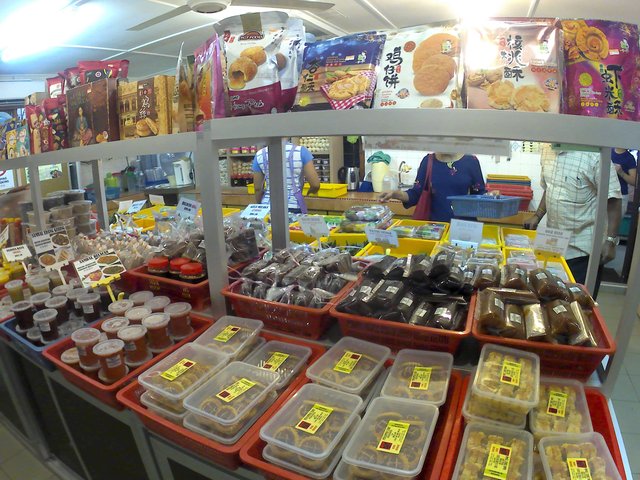 This is a picture of the other side of the shop. On the top row, there are other pastries, buns and cookies. There are almond cookies, sesame crepes, shrimp crisps and other traditional Nyonya pastries. On the bottom, there are some raw ingredients that can be used to make the pastries and cookies at home like the palm sugar which can be used as fillings in some cakes.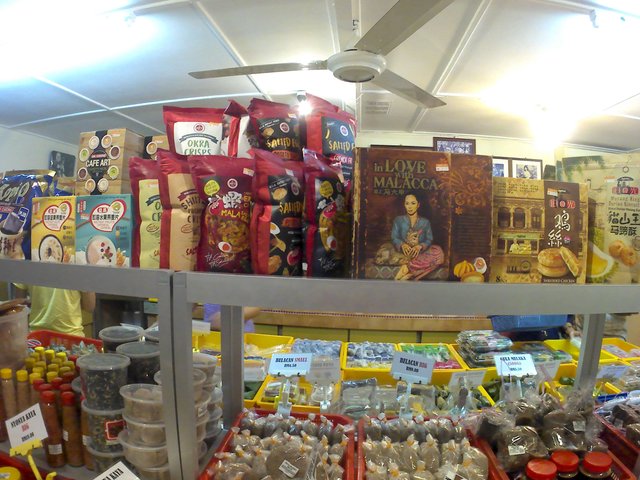 These are some cookies, crips and snacks. I found some rare items that we don't see often such as the okra crisps, shredded chicken pastry and the musang king durian cookies. In case you are not familiar with durian, it is the king of fruits and found in Southeast Asian countries like mine. Musang king is the highest quality of durian. It is so cool how Baba Charlie made it into cookies.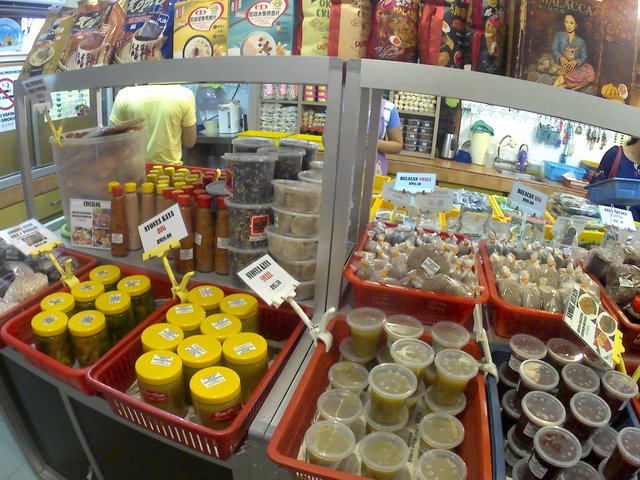 These are different types of kaya. In case you are not familiar with kaya, it is a coconut egg jam.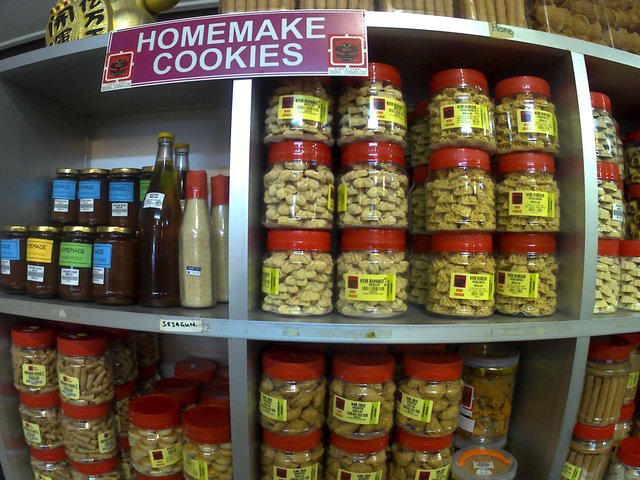 These are some homemade cookies. Though there is an error in their typing, their cookies are perfect! They are not too sweet and the flavourings are moderate. The cookies on top are my favourite ones and they are tapioca cookies while the ones on the bottom are peanut cookies. On the left, you can see that they also sell homemade pickles.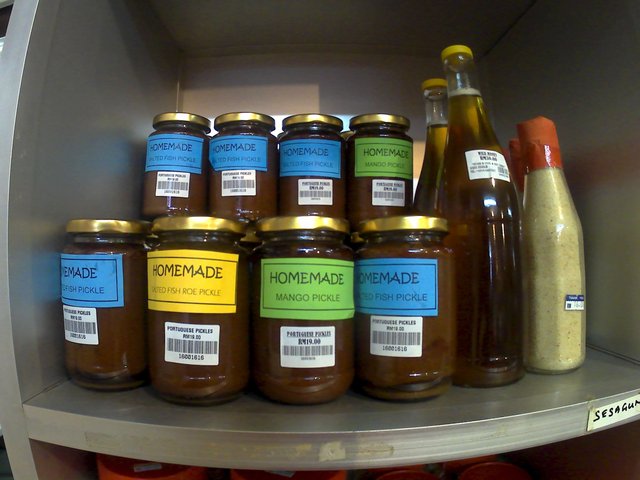 This is a closer look of them. These pickles can be used to make pickle cookies or as general flavouring with food. The ones available are salted fish pickles, mango pickles and salted fish roe pickles.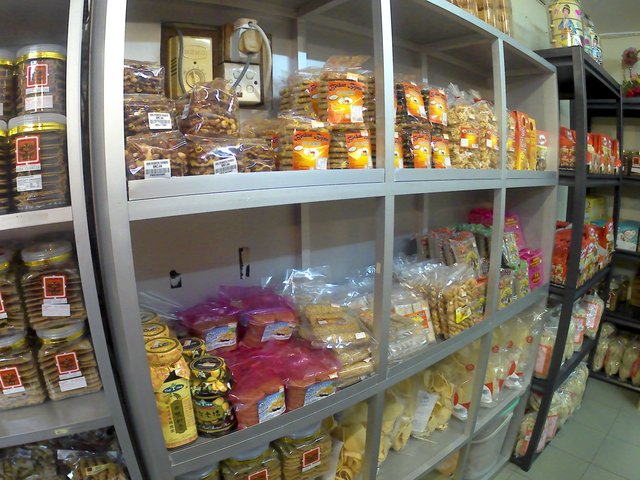 There are more sesame cookies here. Apart from that, coconut cookies and several other homemade cookies which specially had the brand of Baba Charlie were also available.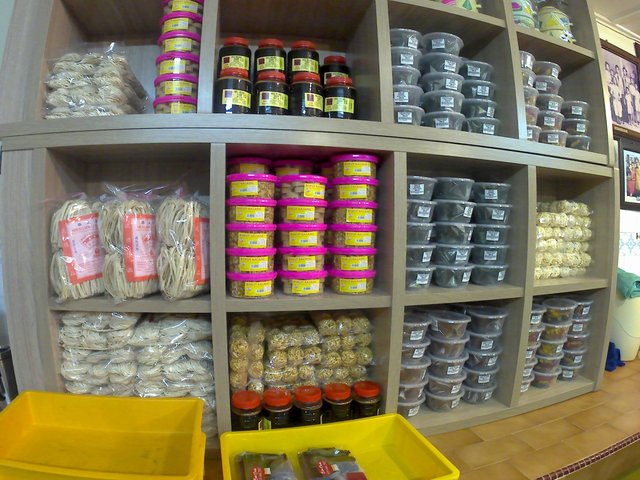 Here are some nuts cookies, palm sugar and other pastry and cooking ingredients.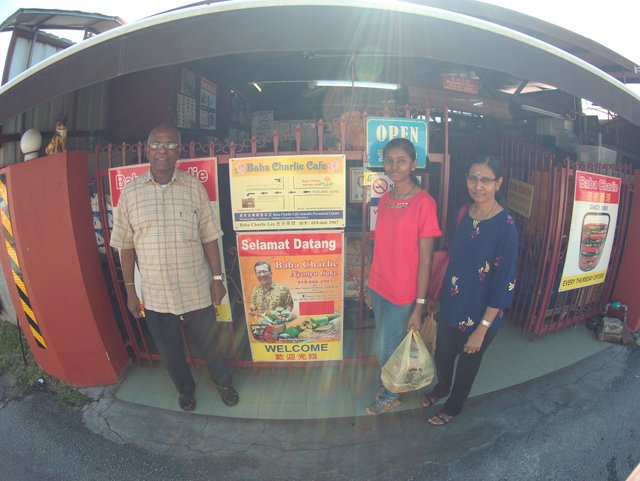 This is my family and I after buying some cakes and pastries from here.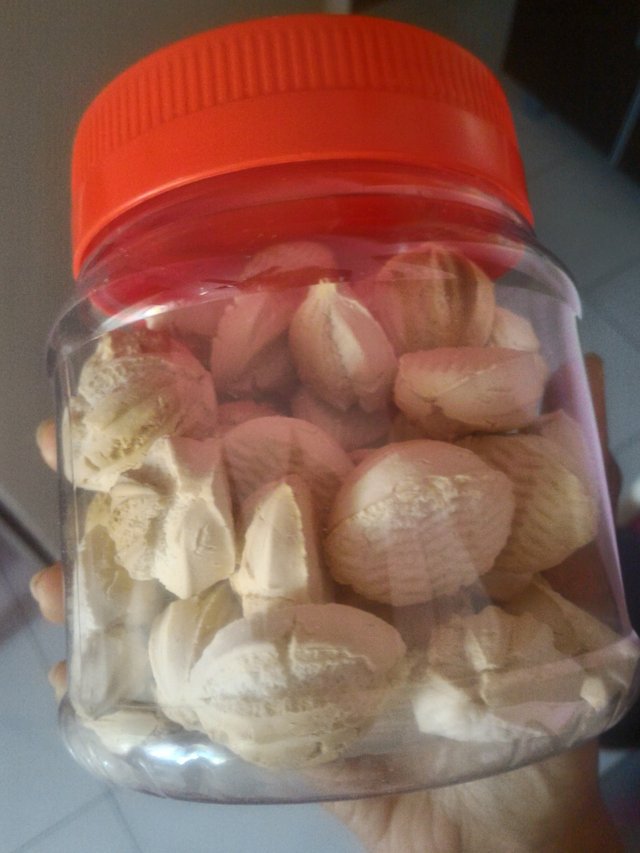 Here's a picture of the tapioca cookies that I bought. These are my favourite cookies. They are the ones in the 16th picture I have shared.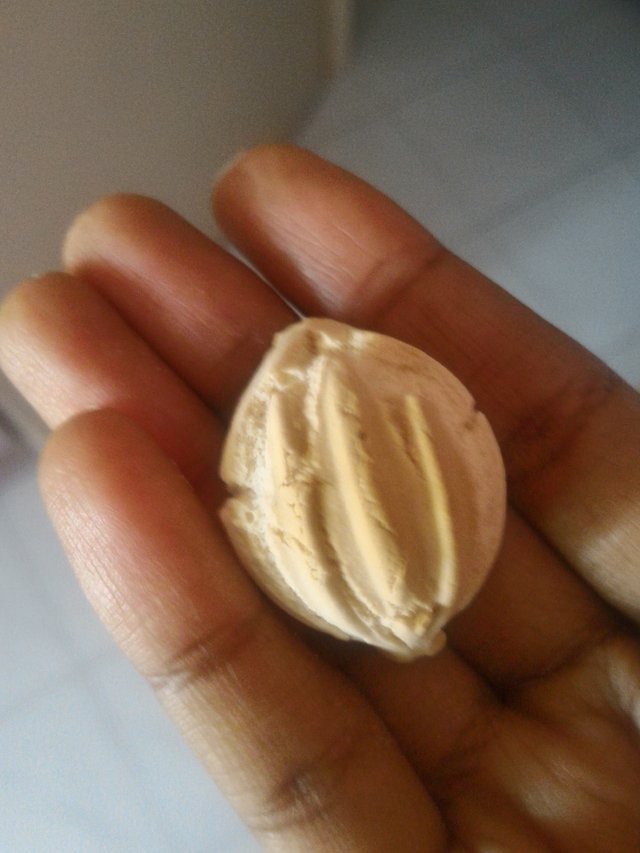 This is a closer look of one of the cookies.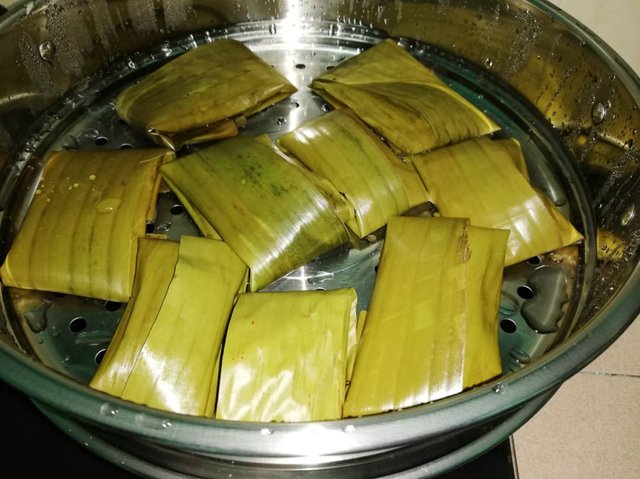 My family and I ate most of the cakes in the place but we did bring some back. These are lepat pisang which are steamed banana parcel cakes. It is the one you can see in the tenth picture above. We reheated and ate them.


My Review
This store is the best to buy local cakes and pastries. They make them right there in the shop but I did not get the chance to take pictures. However, I did watch it for a few minutes. The pricing is slightly higher than average but the taste and quality of the items are above average. So, we get what we pay for. Overall, I have been here a few times now and will continue to buy the and eat their delicious cakes and pastries.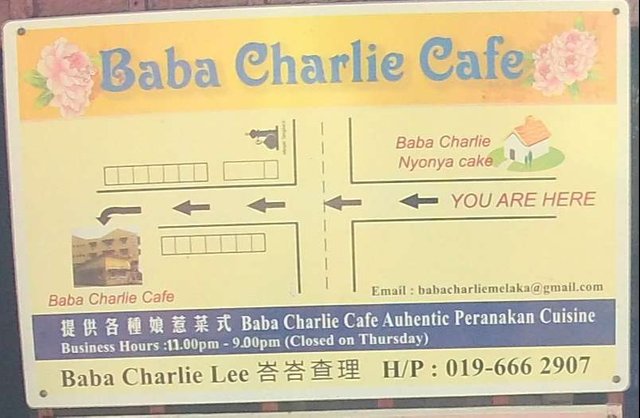 The above is a small map that shows the routes to their other shop.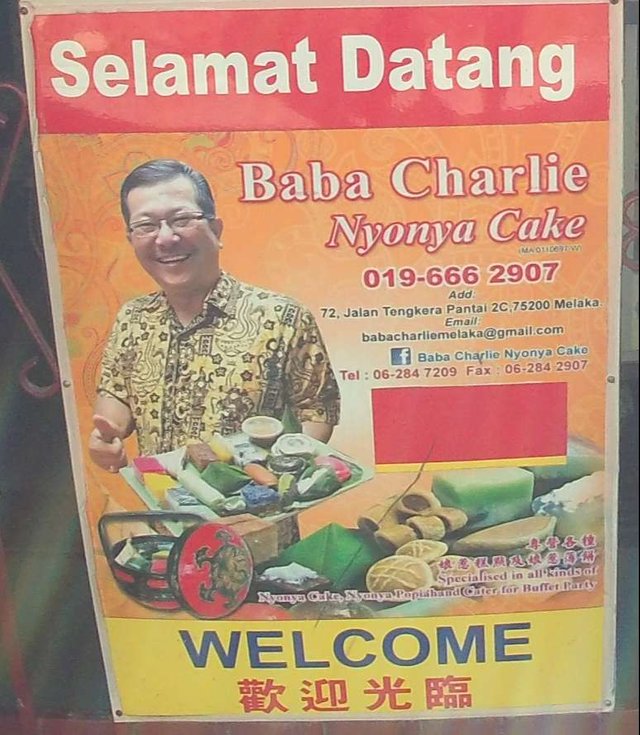 The above is the poster of this store with some information. The following are some details about the store that you might find helpful :
Location : 72, Lorong Tengkera Pantai 2c, Kampung Tengkera Pantai Dua, 75200 Melaka, Malaysia.
Phone Number : 019-666 2907
Opening Hours : 10am to 3pm daily except on Thursdays.
I hope that you enjoyed checking out the pictures and reading my review. Thank you for dropping by and I hope that you have a great day ahead =)
---
Restaurant Information

Baba Charlie Nyonya Cake



72, Lorong Tengkera Pantai 2c, Kampung Tengkera Pantai Dua, 75200 Melaka, Malaysia
---
Baba Charlie Nyonya Cake - A Tasteem Review
This post participated in the Tasteem contest Bakeries and Patisseries