★【Local Dish】Local cuisine of Aizuwakamatsu City, Fukushima Prefecture, "Takino" where you can eat "Wappameshi"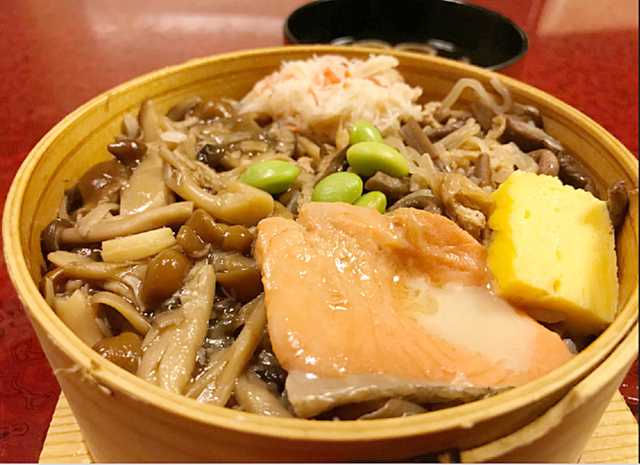 1. Introduction
In this article I will introduce the local cuisine of Aizuwakamatsu City, Fukushima Prefecture, "Wappameshi".
"Wappameshi" is a traditional local cuisine of the Aizu region with dishes cooked with hot steam with rice and ingredients in a box called "Mage-wappa".
There are several restaurants in Aizu to eat "Wappameshi", among which I will introduce "Takino" which continues from the Kamakura period. The Aizu western road Itozawa rest house, used during the Edo period, was moved here and restored in order to open this restaurant.
2. Menu
・Variety wappameshi 五種輪箱めし飯 1,840 yen
・Salmon & salmon roe wappameshi 鮭親子めし飯 1,840 yen
・Multi-course lunch set 会津会席コース 2,500 yen
・Sauce covered pork cutlet wappameshi ソースカツ飯 1,260 yen
etc
Wappameshi course includes 2 appetizers, miso soup, and pickles.
Of course, the menu is not limited to "wappameshi", but also regional cuisine such as Aizu Kaiseki cuisine only for pre-orders and wild vegetables in the Aizu region is recommended. "Sake" also includes a variety of Fukushima sake and other items on the menu.
3. Dishes
This time I ordered "Variety wappameshi".
Variety wappameshi 1,900 yen
First of all, I will introduce the appetizer. Appetizer is cooked with horse meat and cowpea (bottom left), cut kelp (middle) and pickles (bottom right).
Horsemeat in Aizu is characterized by a rough taste. It is a subtle flavor that is mixed with horsemeat and burdock
The lush green kelp spreads the taste that broke the soup and made it viscous in the mouth.
Miso soup can be changed to "Kozuyu" if you pay extra fee. "Kozuyu" is a regional cuisine in the Aizu district of Fukushima Prefecture. It is a soup containing scallops, dried shiitake mushrooms, ginkgo, wood ear mushroom and vegetables.
Wappameshi like jewelry box waiting to wait has been served.
The ingredients are spring, mushroom, crab, salmon, egg. They are spreading on rice without regret.
「let's eat!」
It is a delicious taste that you want to clap one's hands.
The unique fragrance, crispy, umami that overflowed from the wild vegetables can soak into the "bloom" and you can fully enjoy the food of the mountains. And gift from the sea such as salmon and crab exquisitely harmonious and it is exceptional flavor that can not be expressed in words.
Adjustment of rice cooking is perfect, it is hot and plumps so that it can be loosened in the mouth.
This is the picture of inside the place.
There was a video of "Takino" on youtube.
4. Summarize
How do you like wappameshi. Wappameshi which has a rich flavor like playing the four seasons is Aizu specialty, it is a creative cuisine devised by Aizu invented by the age of this restaurant.
When you go to Aizuwakamatsu city in Fukushima Prefecture, please try eating Wappameshi.
Restaurant name:Takino

Address:5-31 Sakaemachi Aizuwakamatsu-shi Fukushima-ken

TEL:+81-242-25-0808

Operating Hours:11:00~22:00(L.O.20:00)

Shop holidays:no holiday

Remarks:



【Taste】 5

【Place】 4.5

【Atmosphere】 5

【Service】 4.5

【congestion】 3.5





written by tamito0201
In steemit, I update information such as eating, walking, traveling, and news that I thought was interesting. Upvote, Follow, Resteem of everyone will encourage renewal, so thank you for your support.
I will continue to introduce Japanese unique foods!
---
Restaurant Information

Takino



5-31 Sakaemachi, Aizuwakamatsu-shi, Fukushima-ken 965-0871, Japan
---
★【Local Dish】Local cuisine of Aizuwakamatsu City, Fukushima Prefecture, "Takino" where you can eat "Wappameshi"
This post participated in the Tasteem contest Your weekly choice