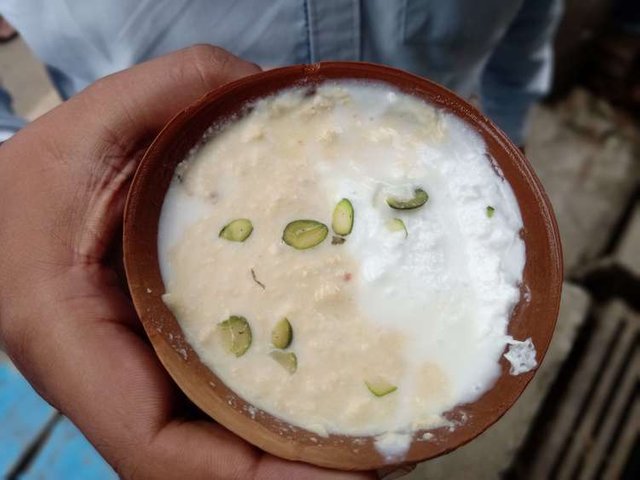 One of the most favourite and loved drink across India is Lassi. Made up of yoghurt, this drink is quite good for health and better than any cold drink available in market. Though this can be made at home but if you are outside in hot afternoon drinking these Lassi may cool down the quench instantly.
Same thing happened to me when I was in recent trip to Varanasi. After walking good amount of steps, I happened to come across this local shop across the road.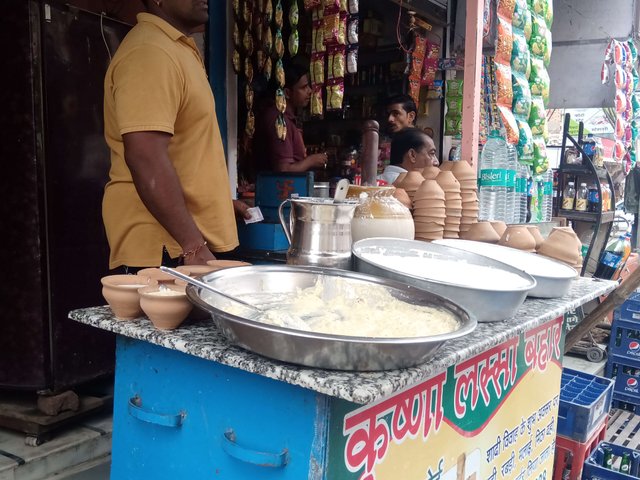 Available in **Sweet and Salt** taste this drink is very common. Wherever you will visit India, every restaurant have this item in their menu card.
This shop is quite a popular among the localites and rightly so as it serve the "Lassi" drink in earthen pot. The shop is very small in size however the owner is a local wrestler who run this shop for last few year. Large quantity of yoghurt were kept in open to attract the customer and few ready to serve drinks were made to keep in refrigerator.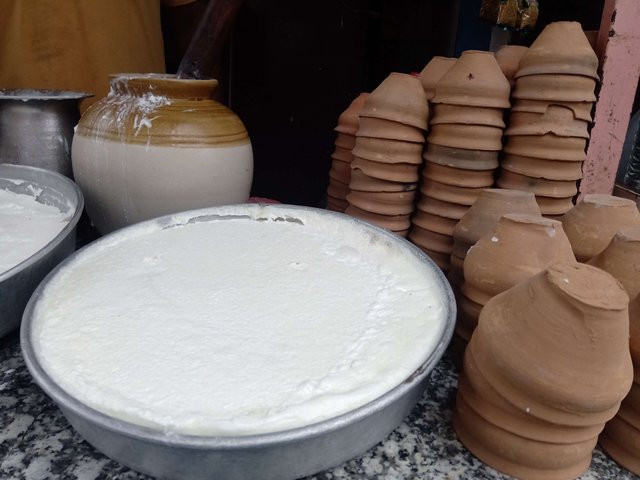 Being thirsty, I asked for a sweet one and get refreshed with the first sip. Lassi is actually made by blending the thick Yoghurt in a thinner liquid, however this particular shop is offering a good thick drink which might be eaten through spoon.
But i prefer to enjoy the drink with each sip. The chilled Lassi in an earthen pot is quite a good experience for me . The shop is also provide take home option by wrapping it properly.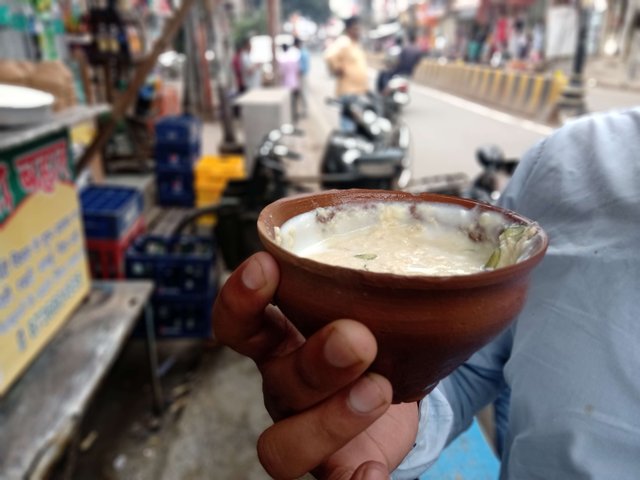 One can have Lassi either at breakfast, or after lunch. It is actually a yoghurt which helps in keeping a healthy stomach and keep digestion in check. I thoroughly enjoyed the thick lassi at this local shop in Varanasi. If you ever been to Varanasi do not forget to visit this local shop either for heavy breakfast drink or quenching the thirst.
Thanks & Namaste
---
Restaurant Information

Krishna Lassi Corner



Varanasi Cantt, Varanasi, Uttar Pradesh, India
---
Indian Lassi To Quench Your Thirst - "Krishna Lassi Corner" (Varanasi)
This post participated in the Tasteem contest Local Dishes