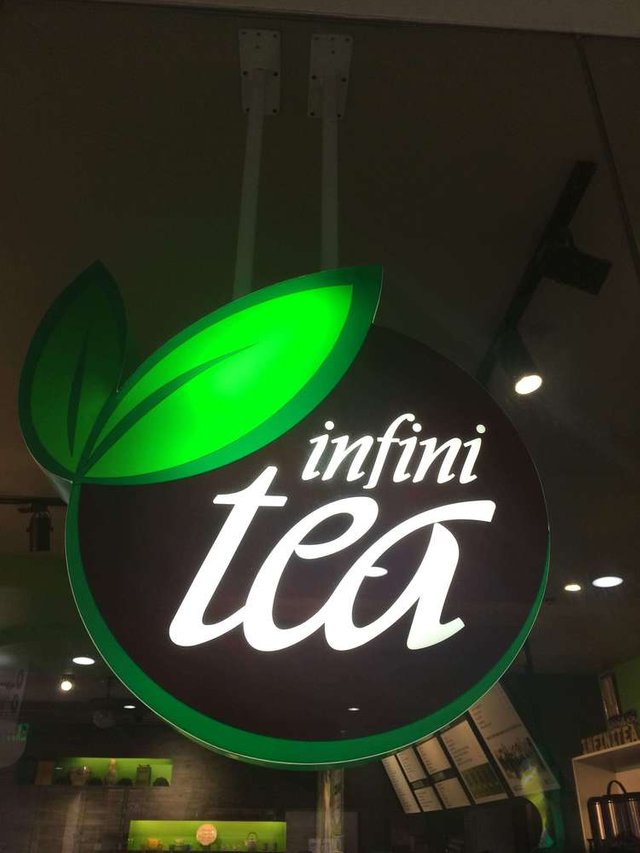 Me and my colleague decided to go for some drinks. He suggested this place called Infinitea. They have a lot of drinks here. All their drinks have two sizes medium and large. The drink here costs around 65 Php(1.23 United States Dollar) to 150 Php( 2.85 United States Dollar). You can adjust the Sugar Levels on your drink from
S- 0%( Zero Sugar)
U- 25% Quarter Sugar
G- 50% Half Sugar
A- 75% Less Sugar
R- 100% Full Sugar
Here are the different kinds of drinks and flavors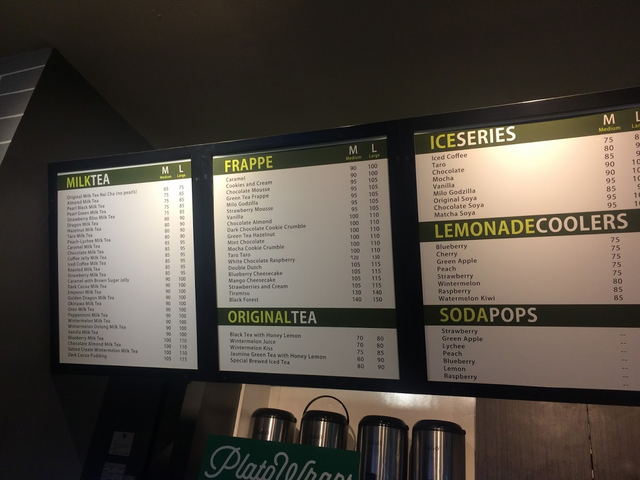 Milk Tea
Original Milk Tea Nai Cha (no pearls), Almond, Pearl Black, Pearl Green, Strawberry Bliss, Dragon, Hazelnut, Taro, Peach- Lychee, Caramel, Chocolate, Coffee Jelly, Iced Coffee, Roasted, Strawberry, Caramel with Brown Sugar Jelly, Dark Cocoa, Emperor, Golden Dragon, Okinawa, Oreo, Peppermint, Wintermelon, Wintermelon Oolong, Vanilla, Blueberry, Chocolate, Salted Cream Wintermelon and Dark Cocoa Pudding.
Frappe-
Caramel, Cookies and Cream, Chocolate Mousse, Greem Tea Frappe, Milo Godzilla, Strawberry Mousse, Vanilla, Chocolate Almond, Dark Chocolate Cookie Crumble, Green Tea Hazelnut, Mint Chocolate, Mocha Cookie Crumble, Taro Taro, White Chocolate Raspberry, Double Dutch, Blueberry CHeesecake, Mango Cheesecake, Strawberries and Cream, Tiramisu and Black Forest.
Original Tea-
Black Tea with Honey Lemon, Wintermelon Juice, Wintermelon Kiss, Jasmine Green Tea with Honey Lemon, Special Brewed Iced Tea.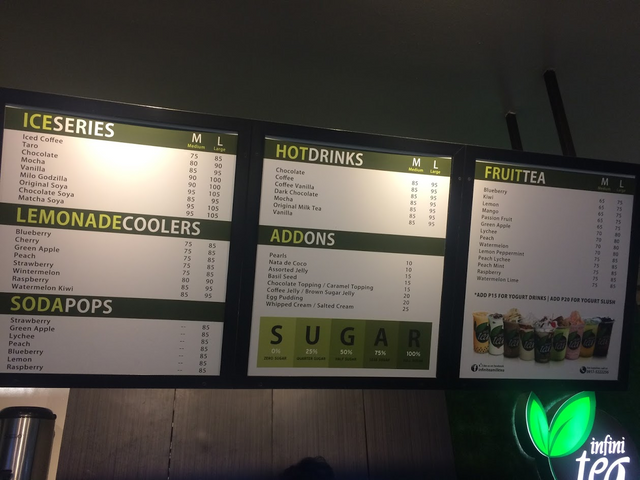 Ice Series-
Iced Coffee, Taro, Chocolate, Mocha, Vanilla, Milo Godzilla, Original Soya, Chocolate Soya, Matcha Soya.
Lemonade Coolers-
Blueberry, Cherry, Green Apple, Peach, Strawberry, Wintermelon, Rapsberry, Watermelon Kiwi.
Soda Pope(Only have Large Size)
Stawberry, Green Aooke, Lychee, Peach, Blueberry, Lemon, Raspberry.
Hot Drinks-
Chocolate, Coffee, Coffee Vanilla, Dark Chocolate, Mocha, Original Milk Tea, Vanilla
Fruit Tea-
Blueberry, Kiwi, Lemon, Mango, Passion Fruit, Green Apple, Lychee, Peach, Watermelon, Lemon Peppermint, Peach Lychee, Peach Mint, Rapsberry, and Watermelon lime
Add ons(costs around 10 php or .19 USD to 25 Php or .47 USD)
Pearls, Nata De Coco, Assorted Jelly, Basil Seed, Chocolate Topping/Caramel Topping, Coffee Jelly/ Brown Sugar Jelly, Egg Pudding and Whiiped Cream/ Salted Cream.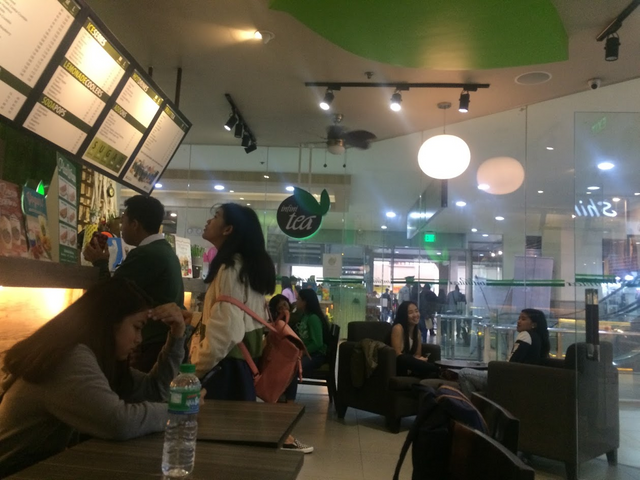 The whole place is actually Small but it's comfortable. You can see most of the people here are enjoying and I noticed that most of their customers are students.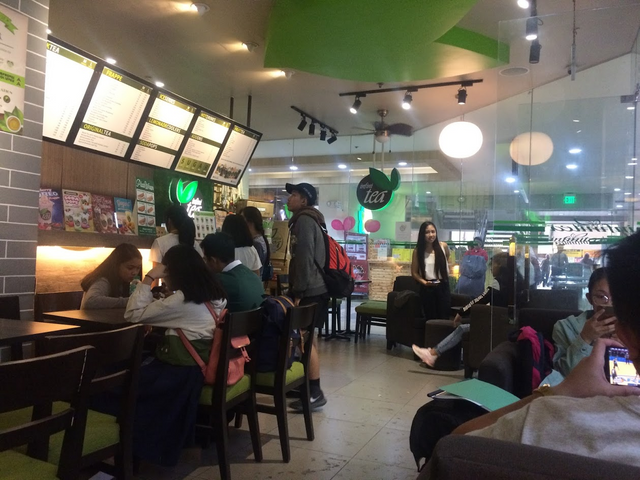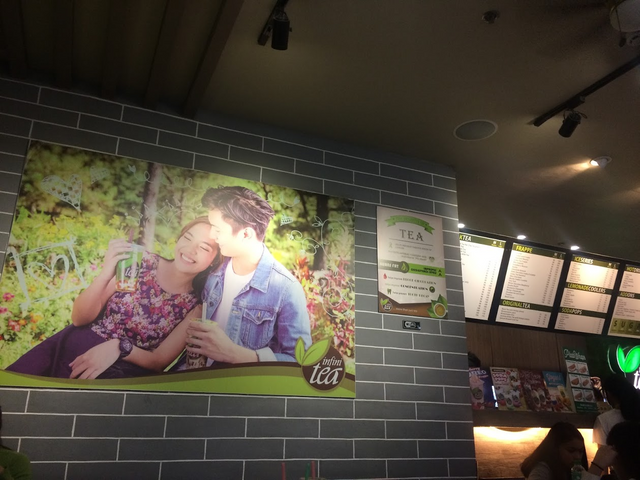 The design of this place is simple, most are ads of their drinks. It is a fun place to drink and relax while talking with you friends.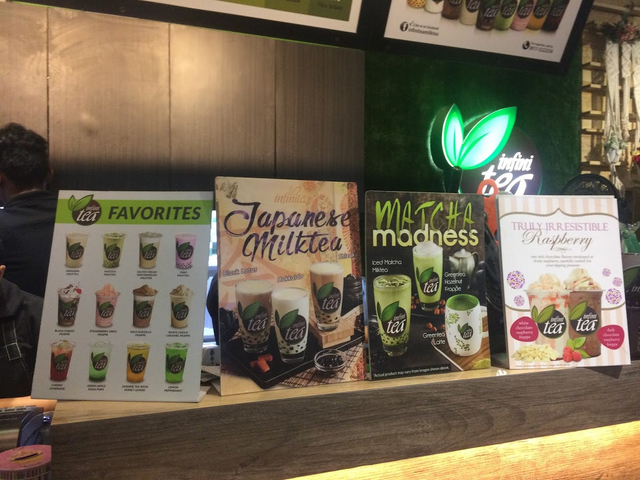 Their placard says their Promise
Infinitea Promise: We Believe our customers have the highest standards for their drinks, If you think you are not getting the perfect cup, we'll be happy to make it right.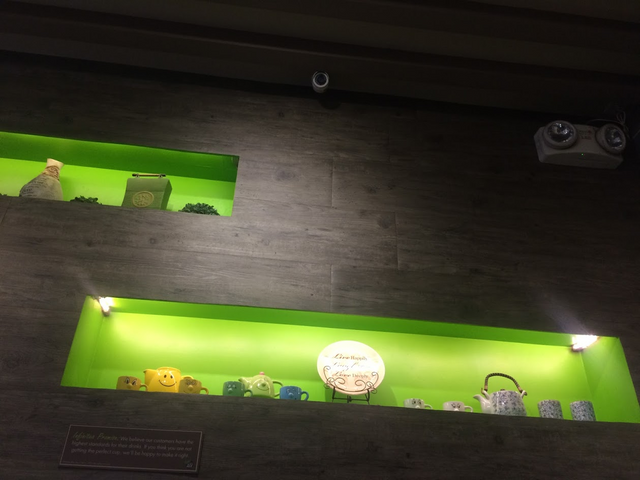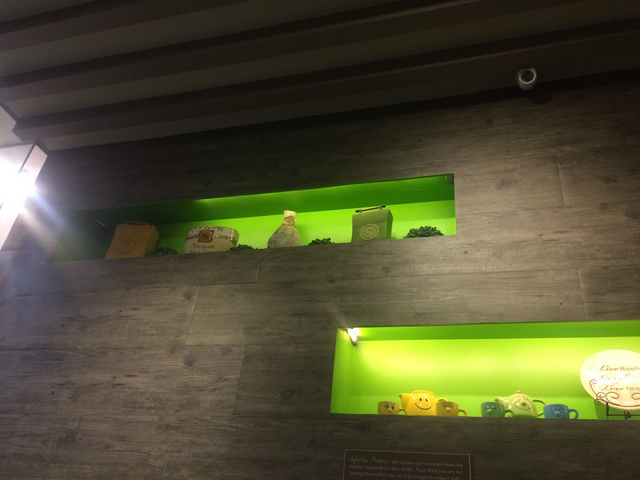 Me and my friend ordered the same drink. Taro Milk Tea. It was my first time tasting it and it was good but too sweet for me. I got it at Less Sugar I should have lessened it more. They also didnt have pearls so we had to get Jelly.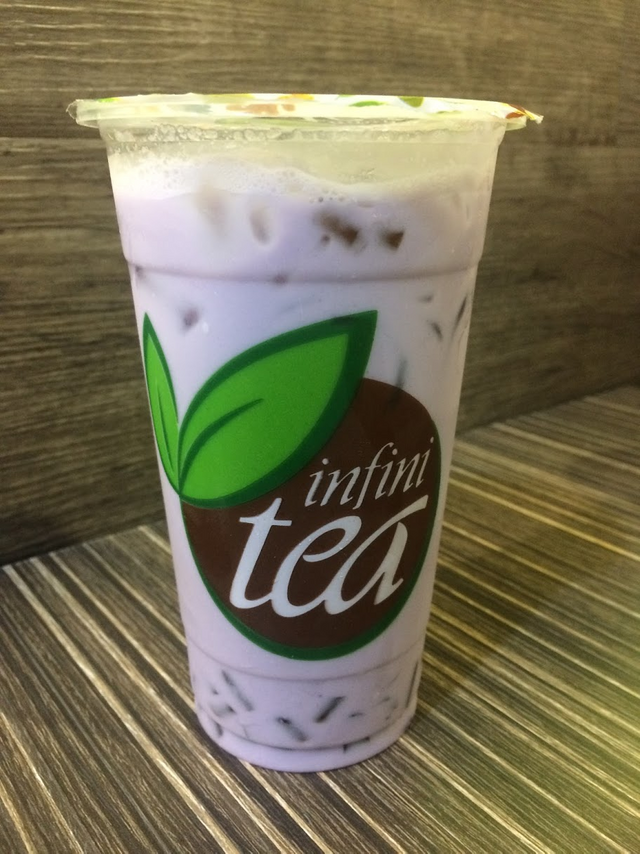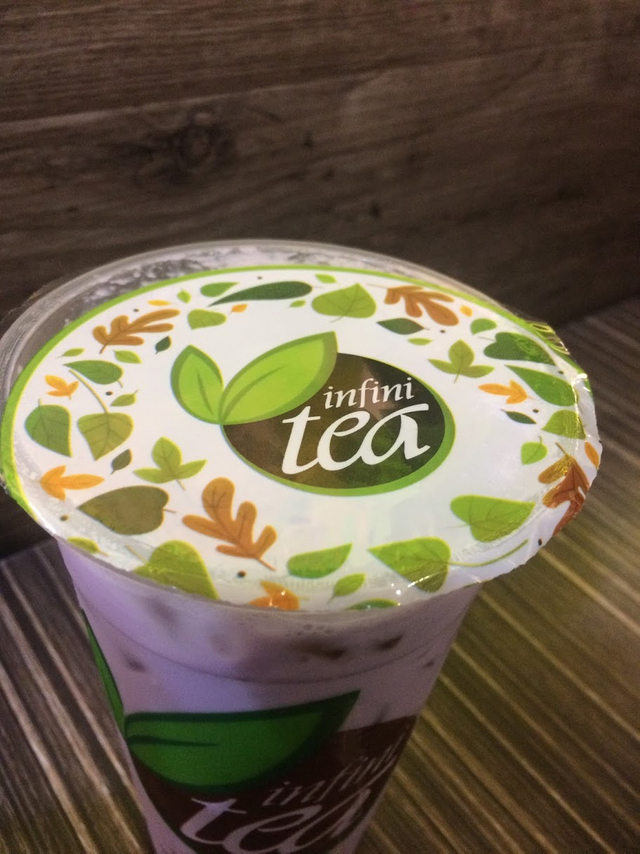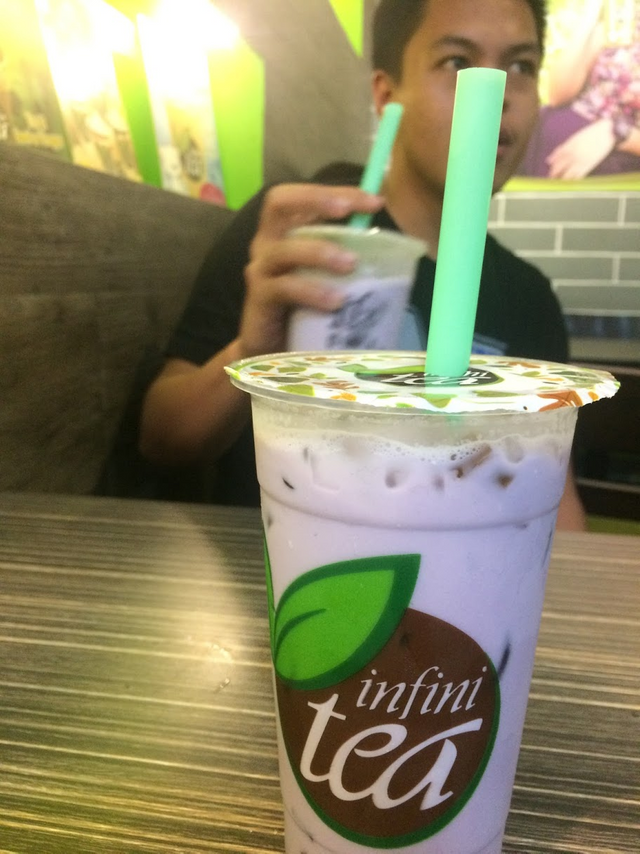 There was a quote printed in my drink
Life is like a cup of tea, it's all about how you make it. And I agree with them.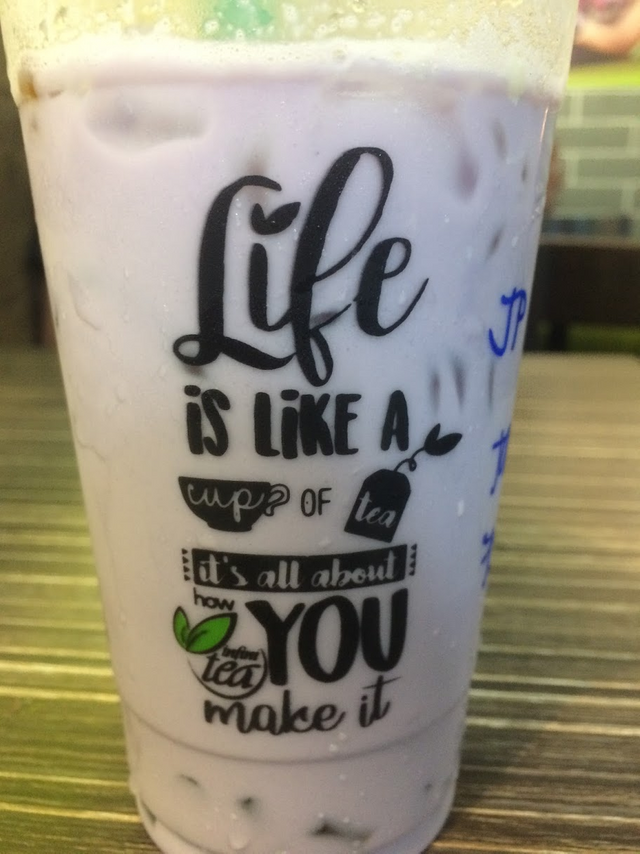 Overall I had a fun time, I actually missed catching up with him. I love the ambiance of this place.
Thanks for reading!

Animation by @zord189



Please support @surpassinggoogle as a witness by voting him at https://steemit.com/~witnesses and type in "steemgigs" at the first search box.

You can also give him witness voting decisions on your behalf, visit https://steemit.com/~witnesses again and type in "surpassinggoogle" in the second box as a proxy.

Please also support @good-karma as a witness by voting him at https://steemit.com/~witnesses and type in "good-karma" at the first search box.

I also want to thank @esteemapp, @rynow, @fitinfun,@blocktrades ,@jaynie, @bayanihan, @tattoodjay, @steemitbloggers and @dynamicsteemians
for all your support

---
Buy/Trade Cyrptocurrency:
KUCOIN
Binance
BitMex- Leverage Trading
Need something transcribed or want to become a transcriber click on the banner



I want to thank @esteemapp, @rynow, @blocktrades ,@jaynie, @bayanihan, @tattoodjay, @fitinfun, @steemitbloggers and @dynamicsteemians
for all your support

---

---
Restaurant Information

Infinitea



Cedar Peak Mall, Upper Mabini Street, Kabayanihan, Baguio, 2600 Benguet, Philippines
---
Ulog# 79 Infinitea
This post participated in the Tasteem contest Beverages with friends