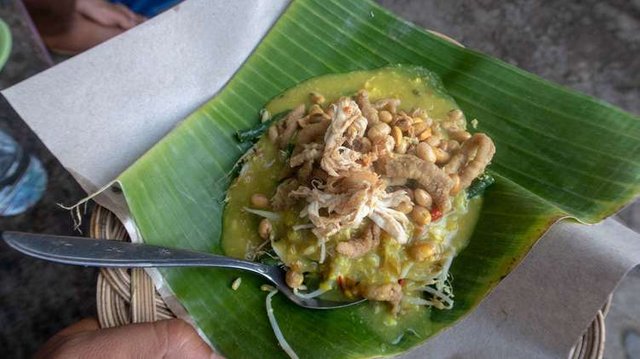 This was the street food I tried when I was in North Bali recently. That morning I went out to get some coffee and breakfast. Just in walking distance from the small hotel I stayed, I saw this lady putting a table just in front of her house by the street. She sold varieties of cakes and rice cake. Some people were there to buy food.
The street of Lovina.
Serving customers who were buying traditional balinese cakes.
There was a long chair nearby. I sat there with a friend. We ordered some coffee. Few minutes later, the husband (of the lady seller) came out with a two cups of coffee.
The husband came with my coffee.
My coffee.
She was preparing my fried banana.

Fried banana with palm sugar.
That's my coffee and my friend's, also the fried banana.
Selfie with my coffee
I looked at what she sold and decided to have some fried banana. I like drinking coffee and eating some fried banana. She took some of the fried bananas and then add palm sugar on them. Looks sweet and delicious.
When the coffee and the fried bananas were gone, I was ready for the "main course". I ordered blayag from the lady. Blayag is mixed of vegetables, rice cakes, shredded chicken, fried nuts shimmered with traditional sauce made of coconut milk and other spices. It tasted a bit spicy, but we love spicy food, even for early morning.

The blayag seller, in fact, that she only opened in the morning. She did not sell any cakes or blayag in the afternoon. I guess the street become too hot in the afternoon because of the sun light or any personal reason.
SOme more traditional Balinese cakes available to try.

These also look delicious.
When we finished eating the blayag, we paid for everything. It cost me around 20,000 or USD 1.6 for coffee, fried bananas, and a plate of blayag. So, that's my street food adventure in Lovina. Thanks for reading.
---
Restaurant Information

Blayag Singaraja



Jl. Raya Lovina-Singaraja, Anturan, Kec. Buleleng, Kabupaten Buleleng, Bali, Indonesia
---
The Blayag Seller by The Street of Lovina
This post participated in the Tasteem contest Street Food