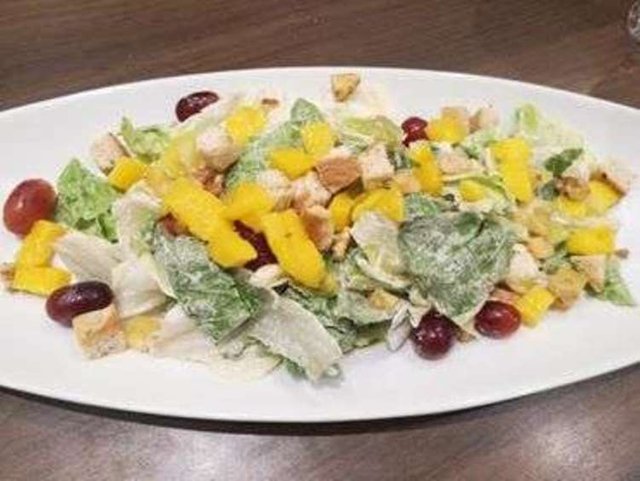 i dont know many Italian Restaurants around my city, neither do i know much about Italian food, so its best if i say this one is among the best, because its one of the few i have tried in Cebu city.
It must be many peoples favorite too as it was fully packed during dinner . second time here and twice the charm.
First time here was about 2 months ago with a dear freind, we had their sicilian salad, and a very yummy dish of mashed Potatoes, crisp fish fillet that was served with some mixed vegetables.
Loved loved their food and its the sicilian salad that got me craving for it almost everyday of the 2 months since i last visited. I just couldn't take it anymore, so i had to make the trip yesterday to the restaurant to satisfy my the mighty cravings, also because i have to tell you guys about it.
Guess what i ordered for first? hehehe ofcourse the Sicilian salad, the waitress said it was their best seller too . It has Romaine, red grapes, croutons, mangoes, walnuts and a really yummy salad dressing that causes a whole 360 on this bowl of salad(see cover photo).
You have a choice to choose between a small bowl and one that you can share. ofcourse the prices are different. The big bowl seemed just right as it was the two of us. You also have an option of addiing bacon and or chicken, at an additional minimal price.
Annndddddddd, since i was in the mood to spoil my self, Pizza, in an Italina restaurant just made a lot more sense, right? right? right? RIGHT!
So a Magharita pizza it was . This choice of pizza was our best choice as my collegue does not eat pork, and most of the choices seemed to have pork.
This choice would be great for Vegeterians as well as it has no meat at all, it had different types of cheese though so i guess not very ideal for a strict vegan, but it was a great tasting pizza. it came in 12 inches and just enough for the two of us. The waitress was kind enough to inform us that their biggest pizza is about 16" , incase we wanted to go bigger witht he size, ofcouse this wasn't a very wise choice, "cheating on Diet with "caution?"". They also asked if we preferred our Crust thick or thin. Now that is one rare option of choice within many pizza places around here and to me it was a big Plus.
There were many pasta choices as well as other foods, great wine choices too.
The Sicilian salad was great as usual and Big complimentary plus to this restaurant was the freshly baked bread served before the meal.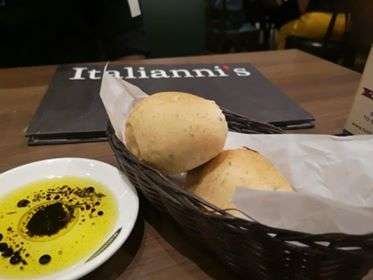 I dont know if this is an Italian tradition , 9to serve bread before a meal as an appetizer) but it was a great treat. Its been ages since i had fresh out of the oven bread and you can imagine how happy i was with this treat.
Its an upto standard restaurant, considering the location, the crowd in the restaurant , the long line waiting outside, and the food prices, which are relatively higher than a local restaurant, but then again, what would you expect of an italian restaurant , with an Italian chef?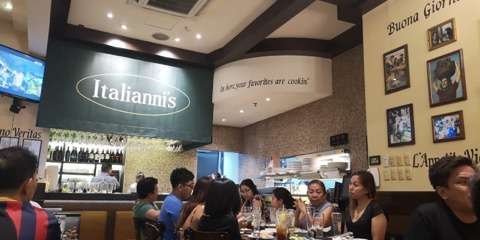 Totallyw ould recommend this place to antone with a taste of Italian food and craving for a good taste buds treat and have best experience worth their coins.
---
Restaurant Information

Italianni's



Cardinal Rosales Ave, Cebu City, Cebu, Philippines
---
The great Italian Experience Abroad.
This post participated in the Tasteem contest Your weekly choice