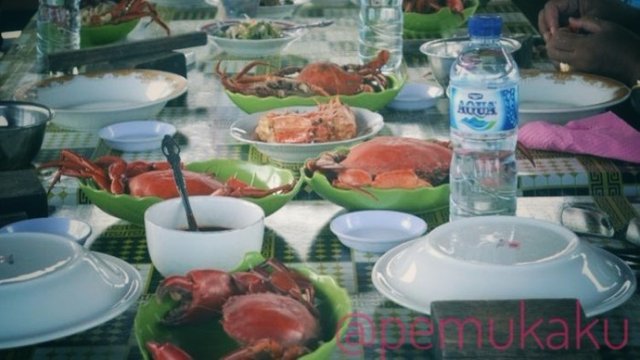 Service hours: 08am - 10pm everyday.
Price: quite expensive
Sweet thick crab meat plus chili sauce that make drooling and make dripping saliva certainly only exist in restaurants better known as "Barokah".
Places to eat in a hut built on the expanse of water as wide as the eye can see, will be more perfect when dusk greet.
While dining guests can enjoy the seconds of the sun sinking at the tip of the cypress waving.
Really a perfect meal.
Not to mention how to eat a crab that gives its own sensation.
Guests who order crabs first given wood beam approximately 25 cm long with 40 cm wide and wooden sticks of the big toe.
Simple equipment that serves crushing crabs before the meat is taken inside.
Mud crab served after boiled red color is not arbitrary.
Rafika the owner of the restaurant keeps the true quality of the crab served.
Customers are welcome to choose their own favorite crabs that are still alive in captivity for cooking.2
No wonder if the crab served meat thick and sweet.
It does not cost you to spend Rp 210,000 per one serving of crab weighing 1 kilo gram.
**Restaurant open 08am-10pm**
By @pemukaku
---
Restaurant Information

Barokah



Pulo Sarok, Singkil, Aceh Singkil Regency, Aceh 24472, Indonesia
---
The delicious crabs at the restaurant "Barokah"
This post participated in the Tasteem contest Bakeries and Patisseries