Traditional Thai Diner in Pattaya - Tasteem Review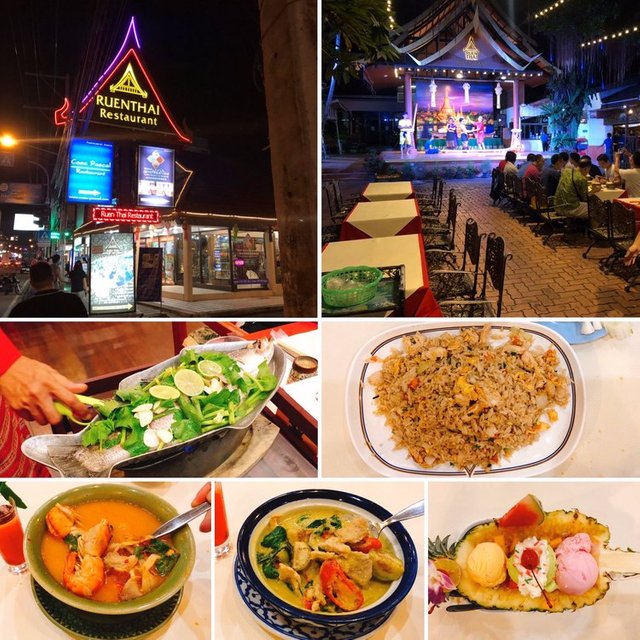 Traditional Thai Diner in Pattaya - Tasteem Review
Hello @tasteem and @steemit food lovers,
Today I would like to introduce my first Authentic Thai Cuisine with Traditional Dance in Pattaya Thaland.
This Thai Cuisine restaurant has been the renowned landmark in Pattaya City for many years and their unique is to create the experience and impressions such as Thai traditional dance and the designed and decorated in the traditional Thai style house with the characteristic gable, wooden pole and Kranok pattern.
Ruen Thai Restaurant open from 11:00 am - 12:00 am everyday.
LOCATION
Ruen Thai Restaurant is located on the hustle and bustle of Second Road in Pattaya.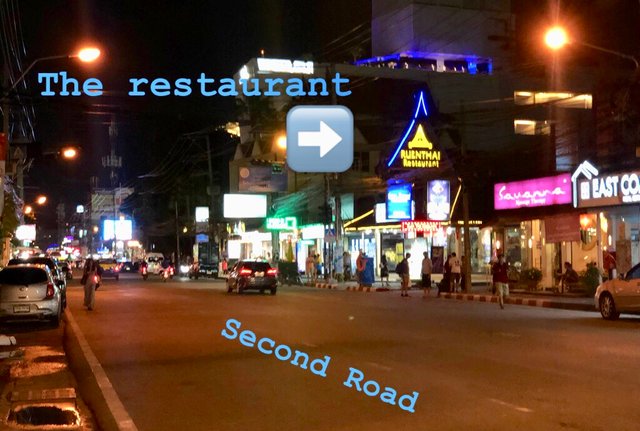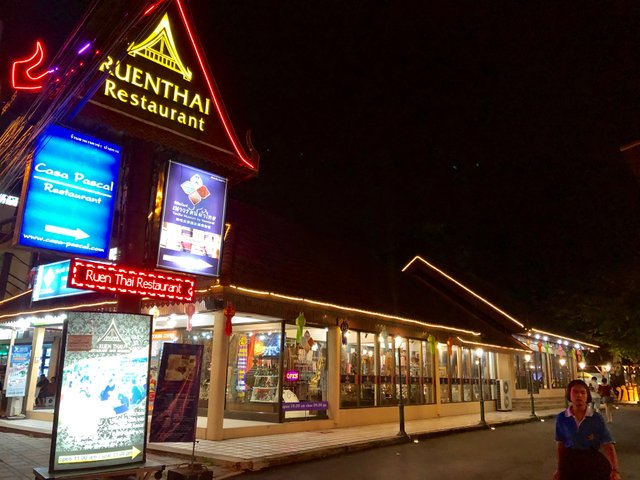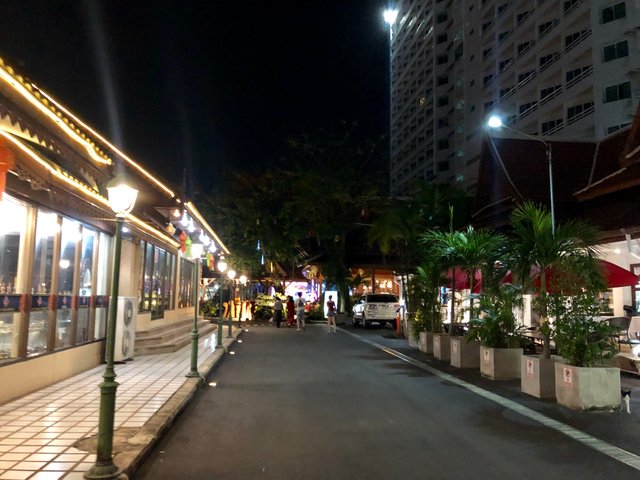 THE RESTAURANT
Ruen Thai is a beautiful venue with an idyllic secluded feel about it. The restaurant is designed as traditional Thai housing with outdoors surrounded by trees and plants and undercover areas at the open sided with roof supported by beams.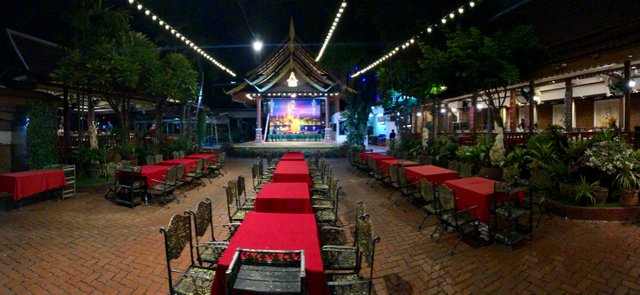 the centre piece of outdoors seating area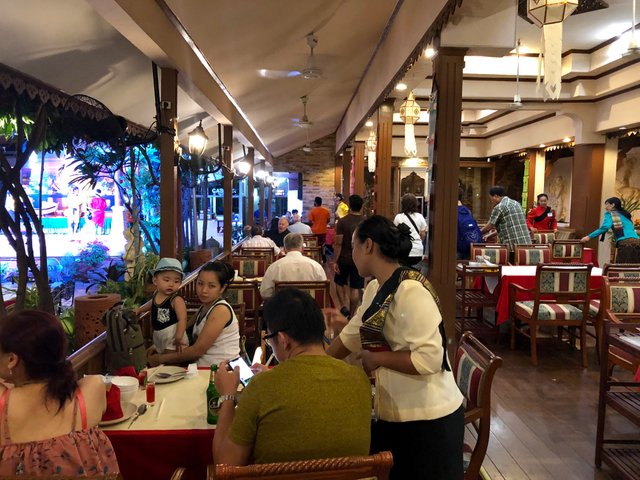 the side zone seating area with roof
The Entertainment was an awesome bonus!
Traditional Thai Dancers perform every evening from 7:30 pm to 11:00 pm on stage.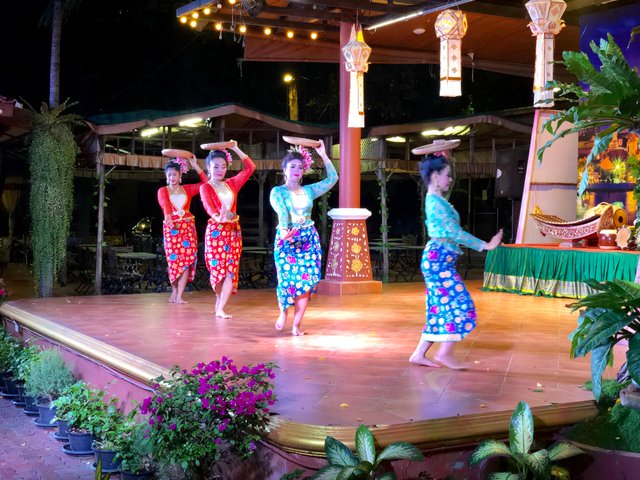 MENU
Ruen Thai Restaurant serves mainly Thai cuisine and also with a small selection of European to cater for westerners.
Let me share some menus from many.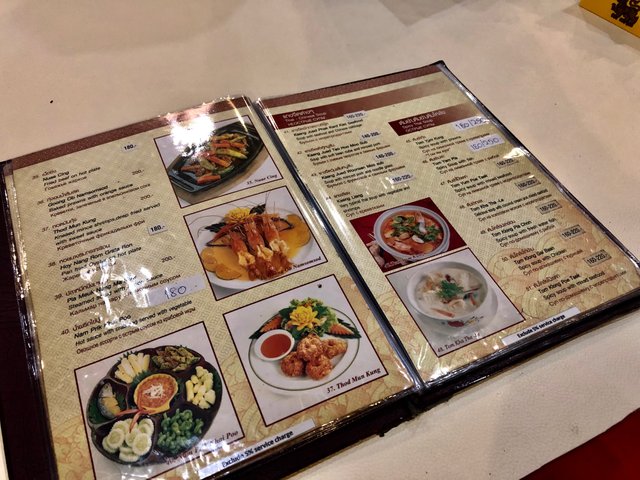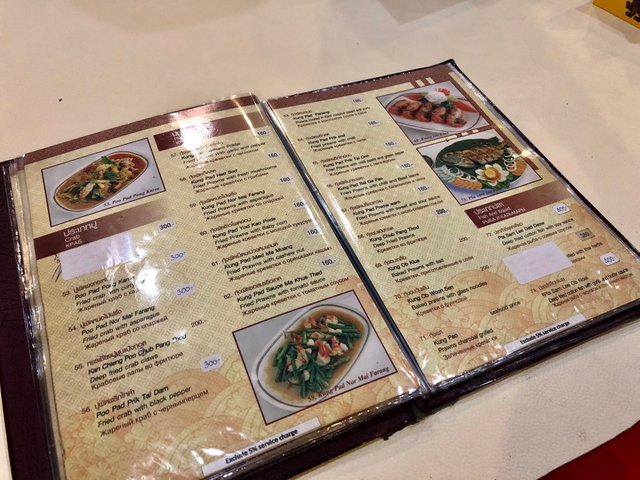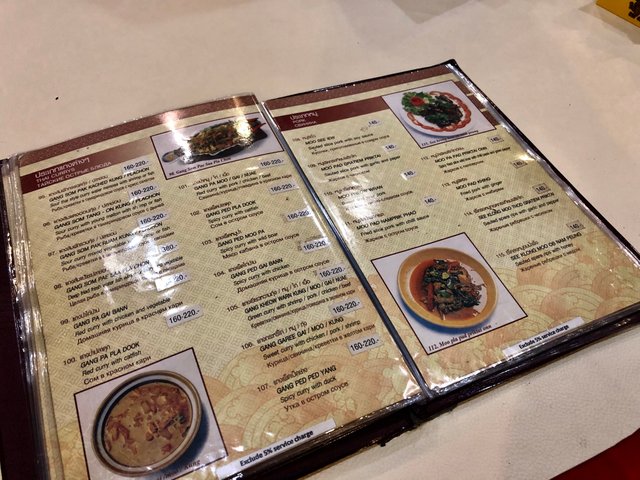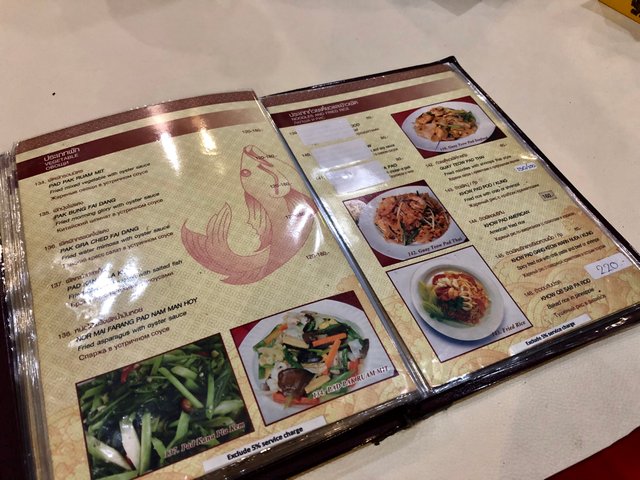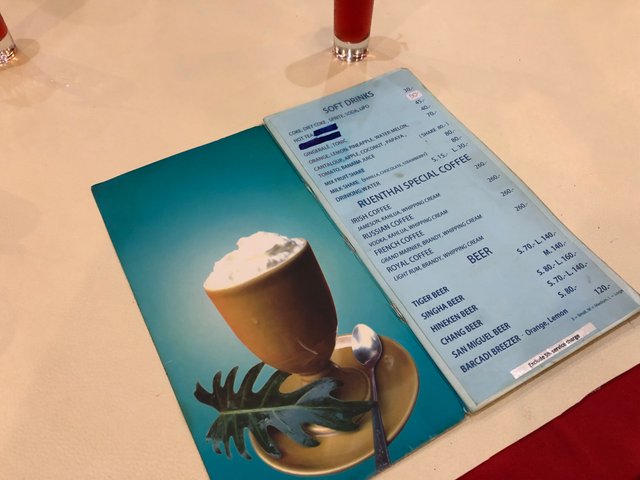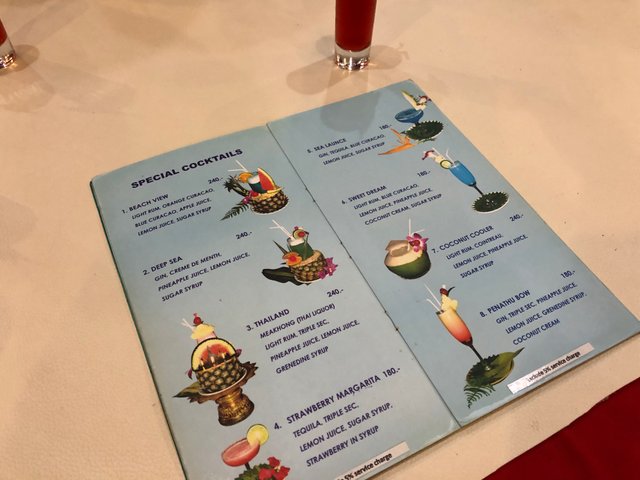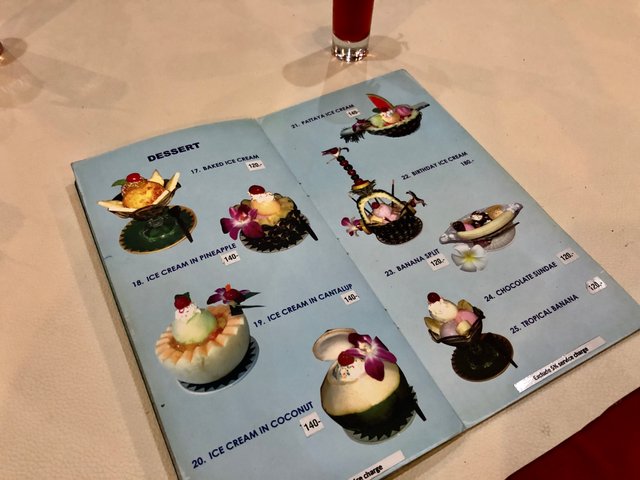 DRINKS
There is a welcome drink served by the waitress to all customers.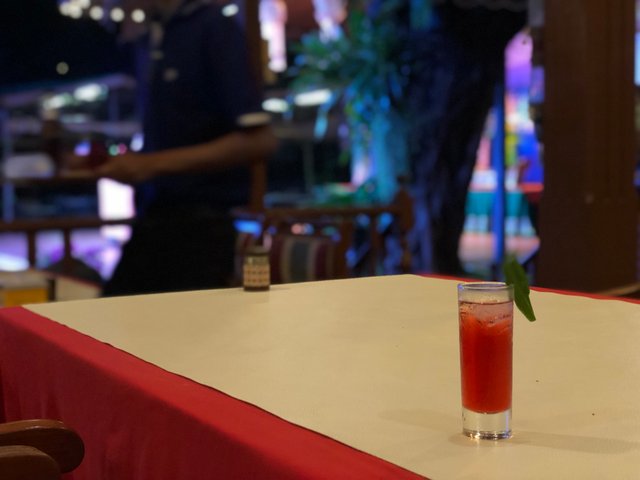 Welcome Drink - Roselle Juice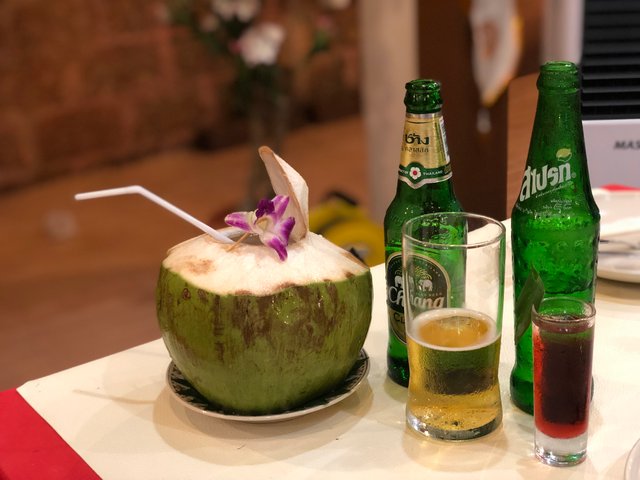 Coconut Shake, Chang Beer, Sprite Softdrink & Roselle Juice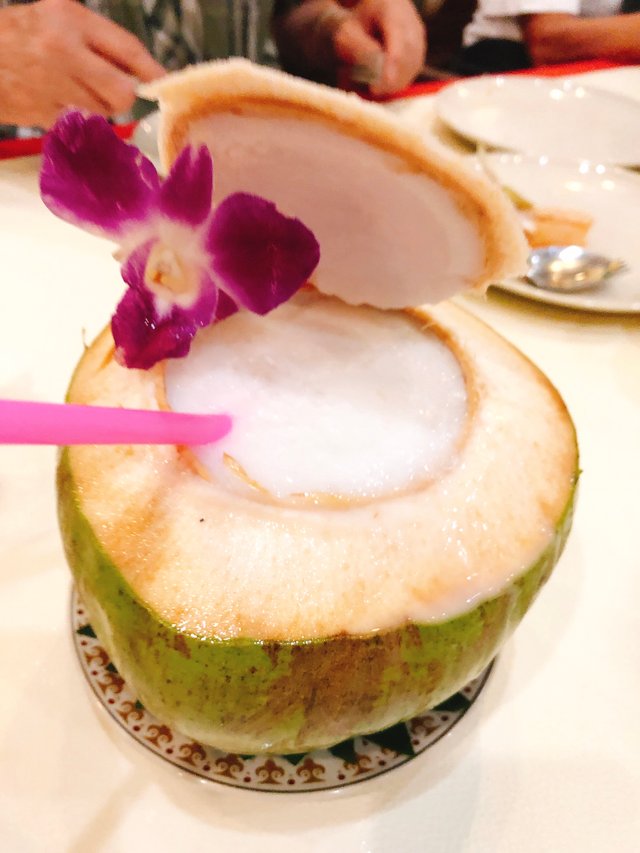 Coconut Shake
This delicious fresh coconut milk blitzed with ice. Nothing better in this hot weather than a coconut shake. I highly recommend this drink for refreshment.
FOODS
There is a diversity of food choices to choose and because of so many choices, the waiter gave some ideas and suggested some of their popular menus and we took their advice and ordered for our dinner.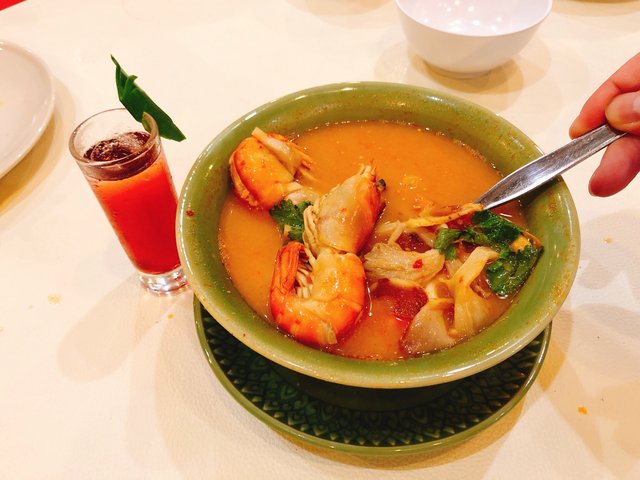 Tom Yum Kung
In another name is Spicy Soup, as usual, the most popular soup that must order when in Thailand. There are 3 choices of meats that you can choose from prawns, fish and mixed seafood. But I ordered this soup with prawns. The soup tastes delicious. Is sour and spicy and the prawns are fresh.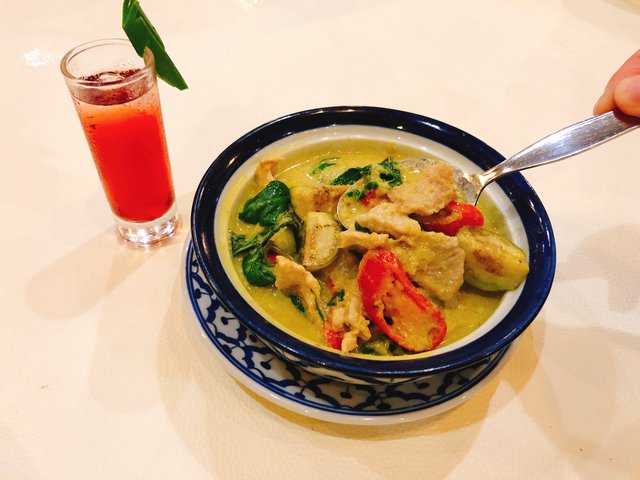 Gang Kheow Warn Moo
This is another Thai signature dish which is Green Curry with Pork. The gravy is sweet and spicy. The pork is tender and fresh. I will never miss out ordering this dish too. Is tasty!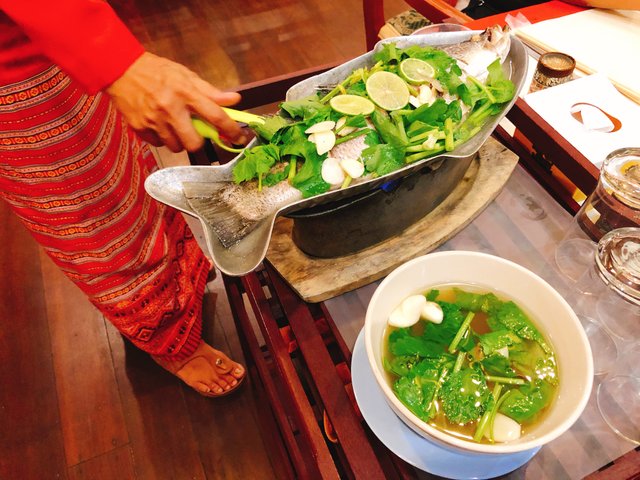 Pla Grapong Khaow Nung Manow
My first time trying this Steamed Fish with Lemon Sauce. This is something new to me and I never expected they are not sour but sweet and juicy. The best part is the fish so fresh and delicious. Thanks to the waiter that introduced us to this amazing dish. Thumb up to the friendly waiter.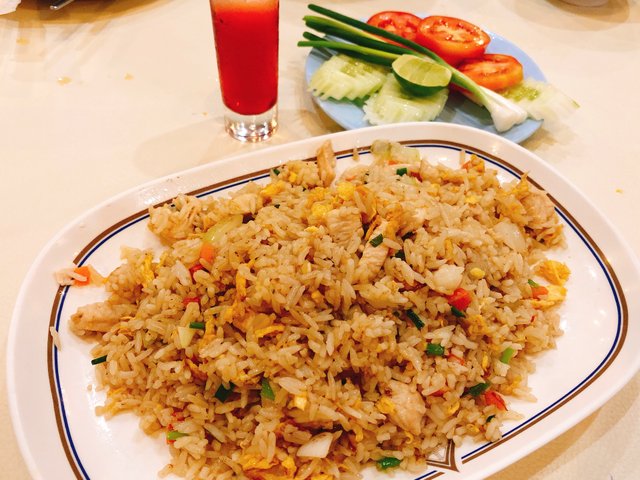 Fried Rice
This is simple fried rice with chicken but the best part is not oily and the rice is fragrance. Is yummy!
DESSERT
After meal, we ordered a dessert for sharing with few of us.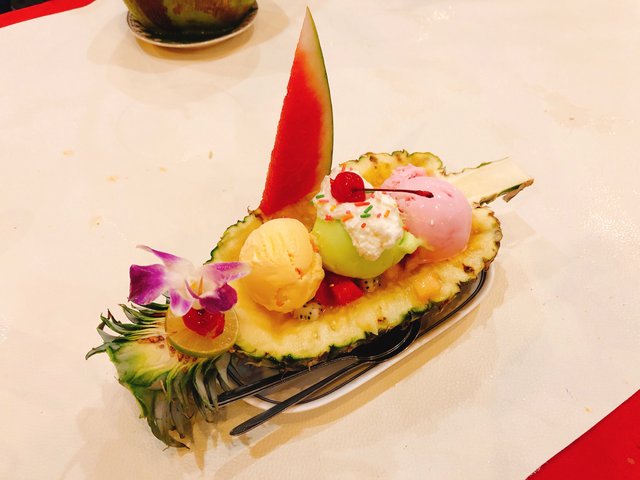 Pattaya Ice Cream
A special 3 scopes of different flavors ice cream in a pineapple basket. Nothing much special in taste but is very presentable. They come with assorted tropical fruits at the bottom of the ice cream.
TOTAL BILL
Worth spending total bill of 1533 baht (50 USD) for a table of 6. I think is cheap and affordable.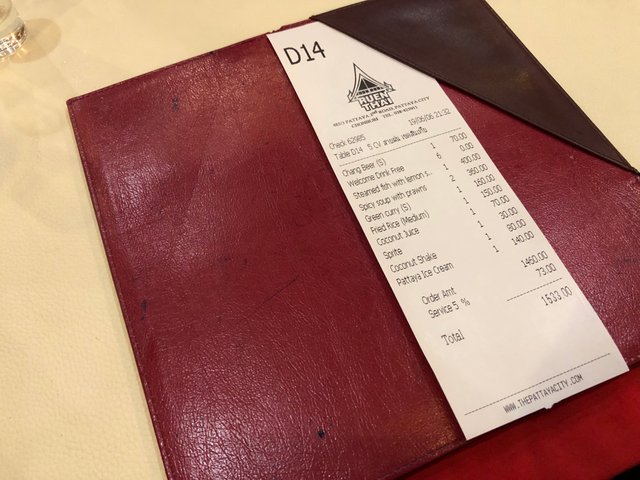 CONCLUSIONS
Ruen Thai Restaurant is a must during a visit to Pattaya City Thailand. Easily spend hours to dine here due to the atmosphere and beautiful venue and the extra bonus is watching traditional stage performance while eating. Last but not least, the price for foods and drinks are reasonable.
I love to share good foods to every @tasteem and @steemit members. So don't forget to BOOKMARK this place whenever you are in Thailand or traveling to Thailand. Thank you for spending your time to read my post. Do follow me for more review at other restaurants and cafes in my near future posts!
All photos are originally taken by me!
---
Restaurant Information

Ruenthai Restaurant



485 Pattayasaisong Rd, Muang Pattaya, Amphoe Bang Lamung, Chang Wat Chon Buri 20150, Thailand
---
Traditional Thai Diner in Pattaya - Tasteem Review
This post participated in the Tasteem contest Your weekly choice