Balinese Babi Guling for lunch - Tasteem Review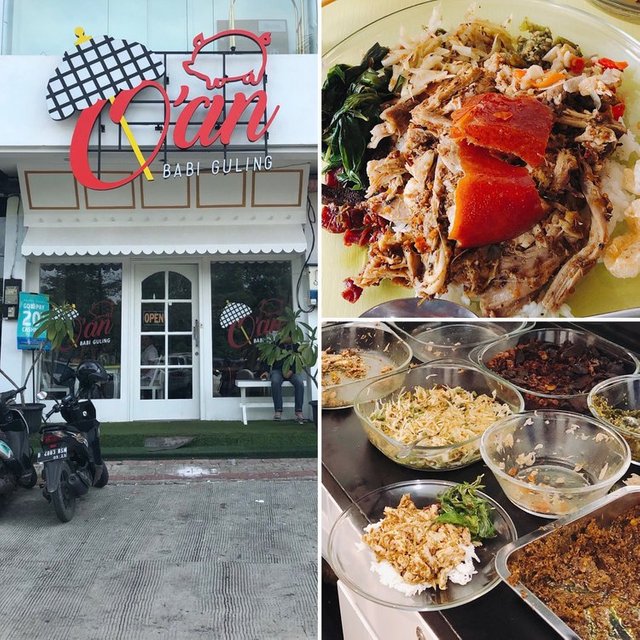 Today has come to my last visit in Indonesia and here I came across to this famous Bali's Babi Guling in the capital of Indonesia, Jakarta.
What is Babi Guling ?
The word Babi mean Pig and Guling is Suckling in Indonesian language. This means is a whole pig roasted over a fire and cooked.
View from Outside
During my arrival at the restaurant, the first impression is nice good looking small restaurant with a nice signage and renovation.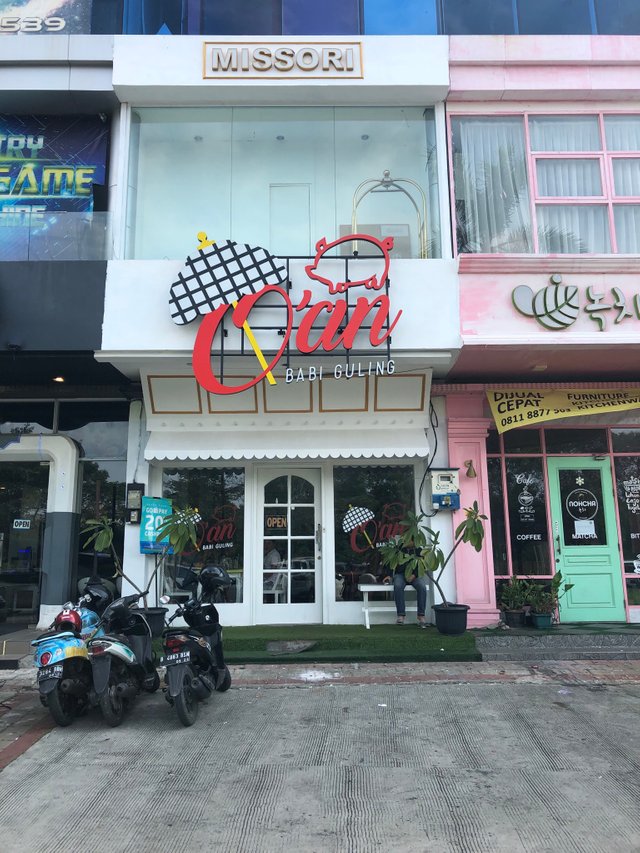 The Entrance
Let's get inside and check it out!
In The Restaurant
The restaurant is small and narrow but is comfortable! Is air conditioning and the fittings are awesome!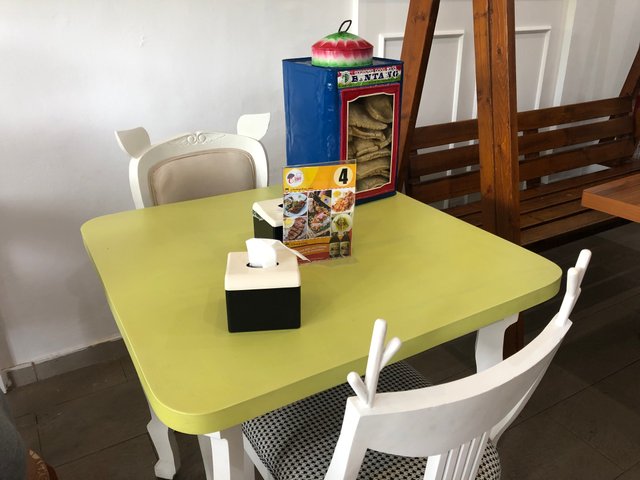 nice comfy dining chairs
What is in the menu?
Is all about pig! That's their main menu. Is a must try their signature Babi Guling (Suckling Pig).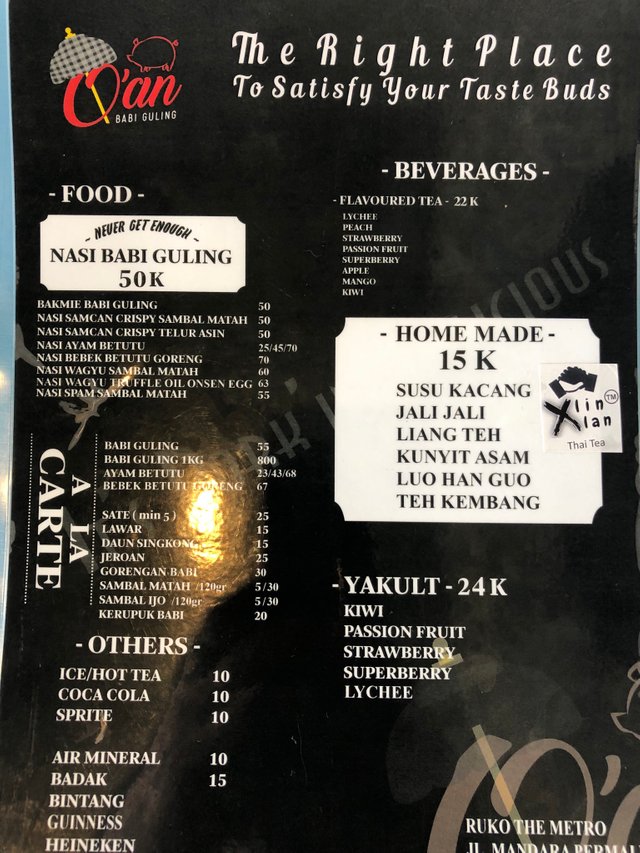 a simple menu with foods and beverages in one page!
Their theme says "The Right Place To Satisfy Your Taste Buds" and let's see are they really mean that?
Is time to order their signature dish!
After ordering, the owner himself prepare this amazing dish! I managed to capture few pictures while he preparing.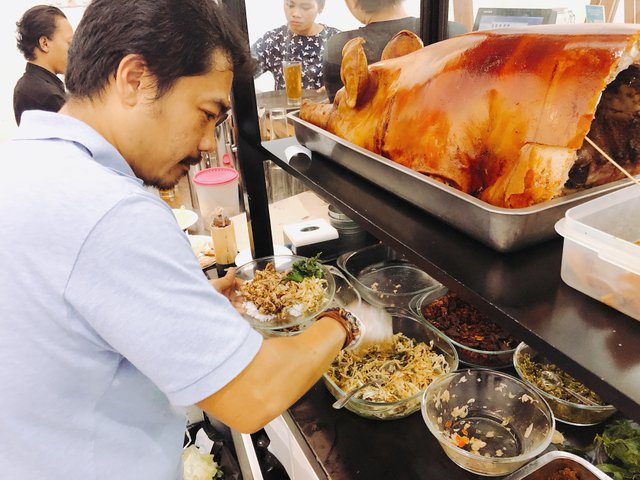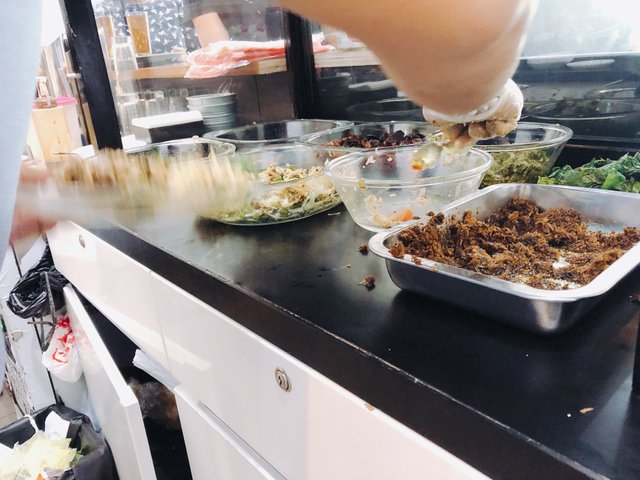 these are the side dish that comes along with the set of rice.
Is The Food Ready?
Oh yesh! This is a big plate of their signature dish that comes with a free spicy soup.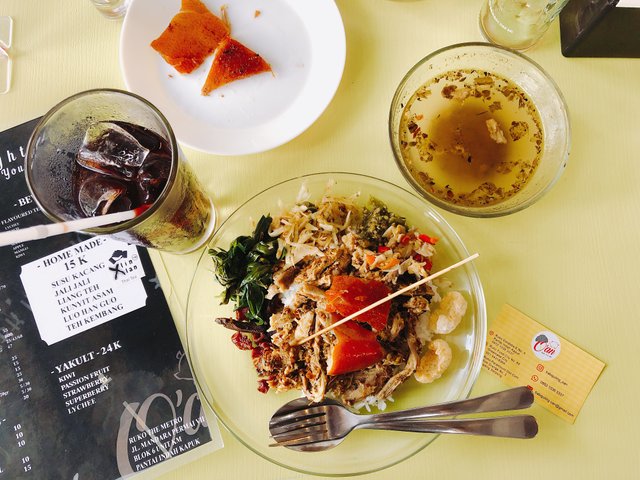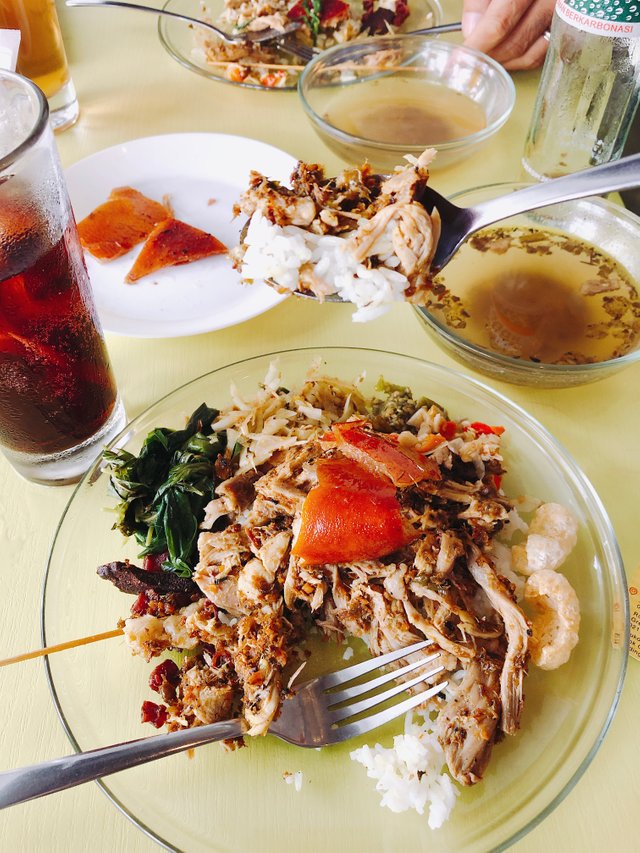 The foods are so presentable and yummy!
This is so delicious! Is 90% pork in this plate even the crackers are made from pork skin. The meat is tender, the roasted skin is crispy, the rice is fragrant and the vege is fresh! But the soup are really spicy!
Are They Expensive?
I consider as cheap and affordable with the portion of this dish and a drink.
Total amount I paid for is 65k IDR (4.6 USD) per meal. What do you think?
What Time They Open for Business?
They operate their business from 11am till 10pm daily (Indonesia Time) but they closed when customers cater their famous Babi Guling for parties and so on. So is better to call before coming over to avoid disappointed.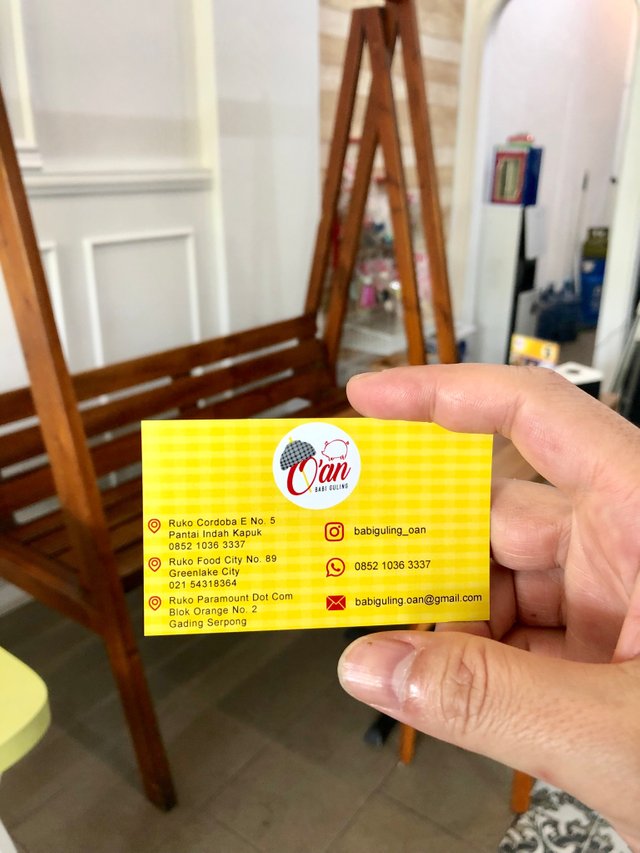 this is their restaurant's card with contact number, Instagram account and email address that can call them to make sure they are operating their business as usual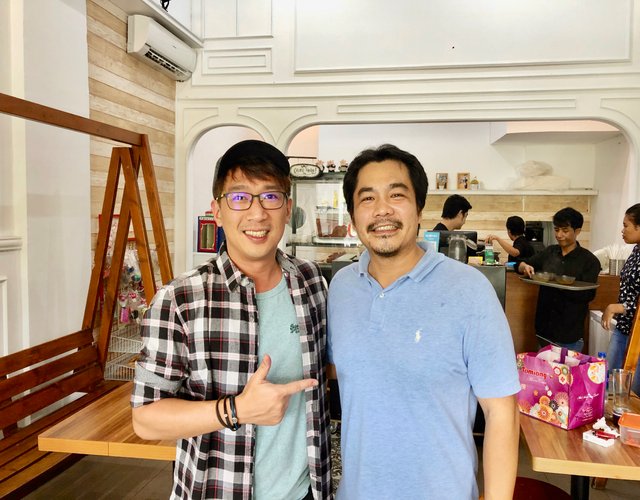 before leaving the restaurant, I managed to take a picture with this friendly owner who can speaks not only Indonesian and English but Chinese Mandarin too
Conclusion
This menu is originally from a small island in Indonesia which is Bali and not from Jakarta. So whenever you are here in The Capital City of Indonesia, I highly recommend this restaurant if you are looking something popular foods here.
I love to share good foods to every @tasteem and @steemit members. So don't forget to BOOKMARK this place whenever you are in Thailand or traveling to Thailand. Thank you for spending your time to read my post. Do follow me for more review at other restaurants and cafes in my near future posts!
All photos are originally taken by me!





---
Restaurant Information

O'an Babi Guling



Jl Mandara Permai VII Ruko Metro Blok 6KM, Kapuk Muara, Penjaringan, North Jakarta City, Jakarta 14470, Indonesia
---
Balinese Babi Guling for lunch - Tasteem Review
This post participated in the Tasteem contest Your weekly choice