Famous "bakso" in Jakarta - Tasteem Review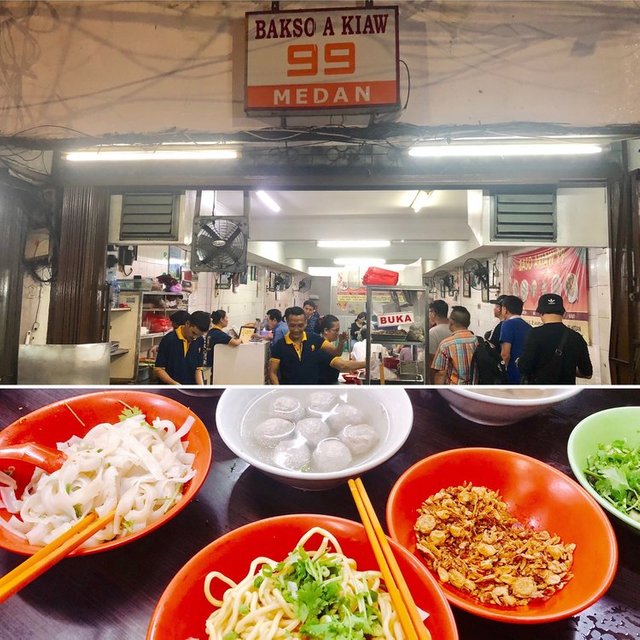 Hello @tasteem and @steemit food lovers,
When you come to Jakarta, the capital city of Indonesia looking for "bakso", and yes, then this is the restaurant review that you are reading now!
Today I'm giving the review of this restaurant and considered this is one of the most famous "bakso" restaurant located at Mangga Besar (Central Jakarta). No one can get more famous than them.
I did asked my Indonesian friends where to find the famous local foods here and they did named a few but none of my friends will ever missed this restaurant. So I decided to hit it and see are they really good and why?
Before I go further, "Bakso" means meatballs in Indonesia!
OUTLOOK
When I reached at the restaurant, hmmm! So this is the restaurant that the locals introduced to me. Are you sure? (in my first expression), this is old, look unhygienic and crowded with customers.
From the outlook of the restaurant nothing catches my attention and nothing interesting.
Let's get closer and take a look at it!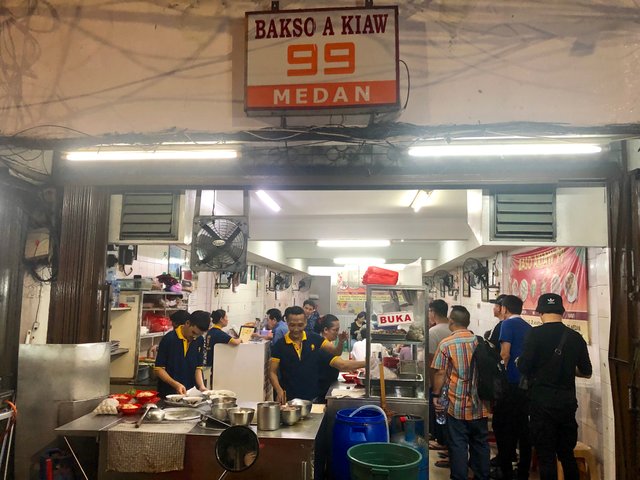 BAKSO A KIAW 99 MEDAN, is the restaurant name as the name says is originally from Medan at North Sumatra. This is one of the most legendary restaurants to eat the Chinese style of bakso in Jakarta! (That's what all the local says "legendary" )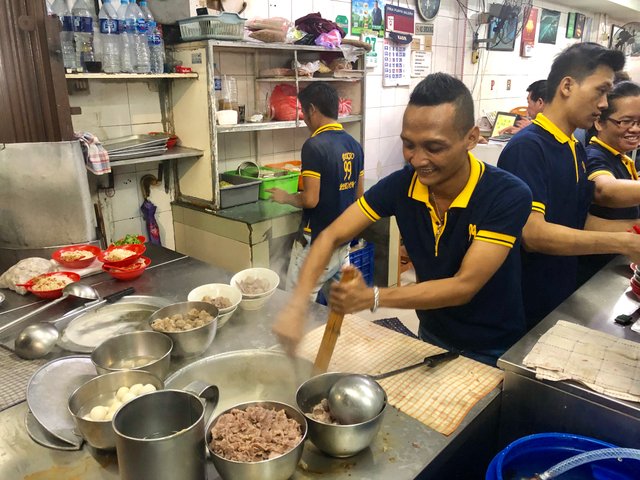 The food preparation is stationed at the front of the restaurant.
How to Order?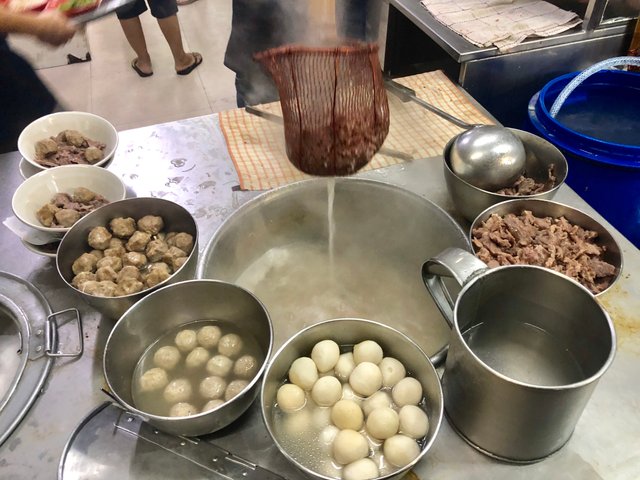 This restaurant has no proper menu and all you need to do is just by using your finger and point what you want to eat! Simple as that!
How To Eat BAKSO from A KIAW?
1ST - CHOOSING NOODLE! They have three types of noodles, Rice Noodles (Beehoon), Flat Noodles (Kway Teow) and Yellow Noodles.
2ND - CHOOSING MEATBALL! They have few variety of "BAKSO" which are Bakso Daging (Beef Meatballs), Bakso Urat (Tendon Meatballs) and Bakso Ikan (Fish Meatballs).
3RD - CHOOSING TOPPING! This is not a typical bakso compare to other restaurant that you had before. They are not just meatballs with soup but you can pick Sliced Beef, Shank, Tendon and Offal with your Bakso along or if you may get them to mix everything if you got no idea which is better.
After done the order, to do next is head inside the restaurant and get yourself a seat! Let's check it out inside the restaurant!
INSIDE THE RESTAURANT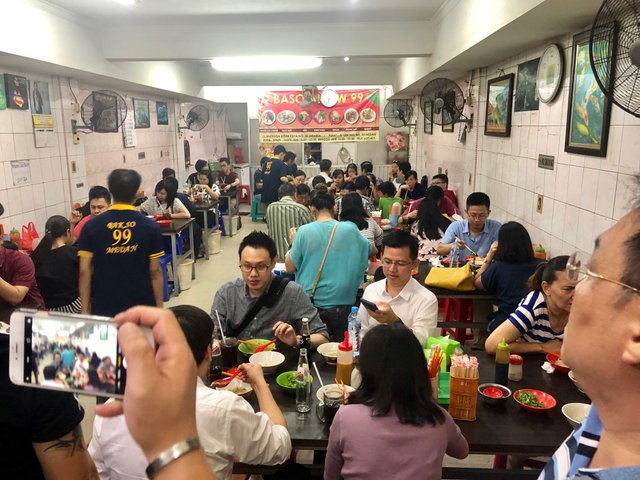 As I heard from my Indonesian friend, this restaurant is always PACKED! The concept is once you done eating, you pay then give your seat to others in need.
BUSINESS OPERATING HOURS
They operate their business from 3 pm till 11 pm except for Sunday from 1 pm till 11 pm.
FOODS ARE ON THE WAY!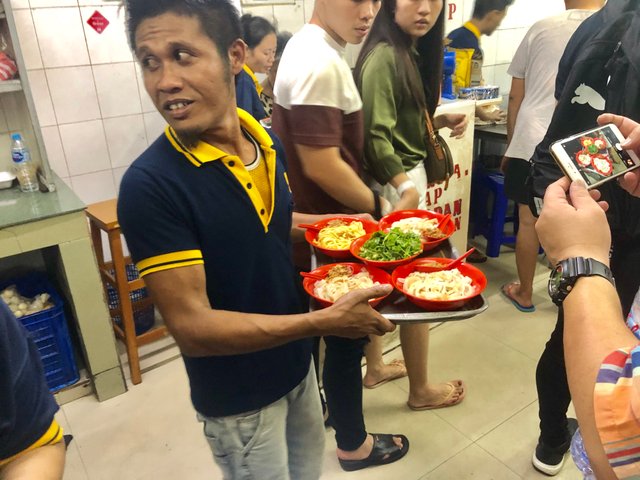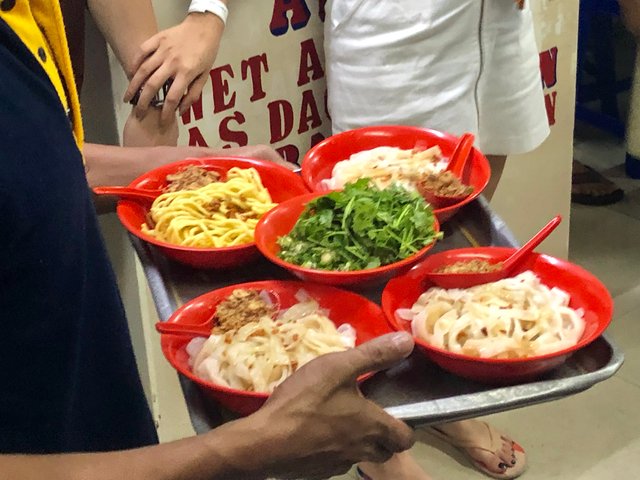 closed up
HERE COMES THE FOODS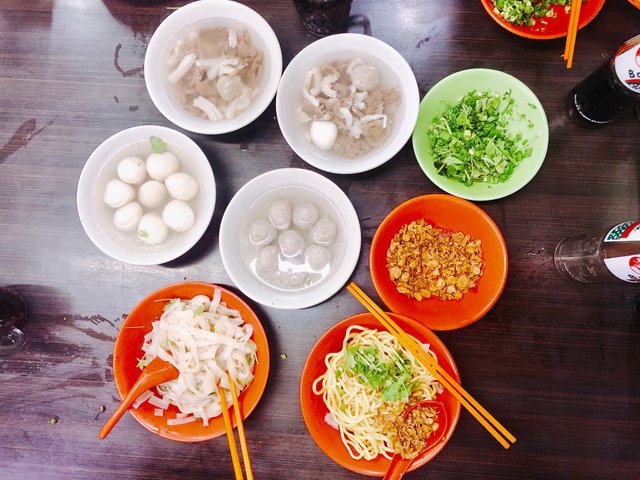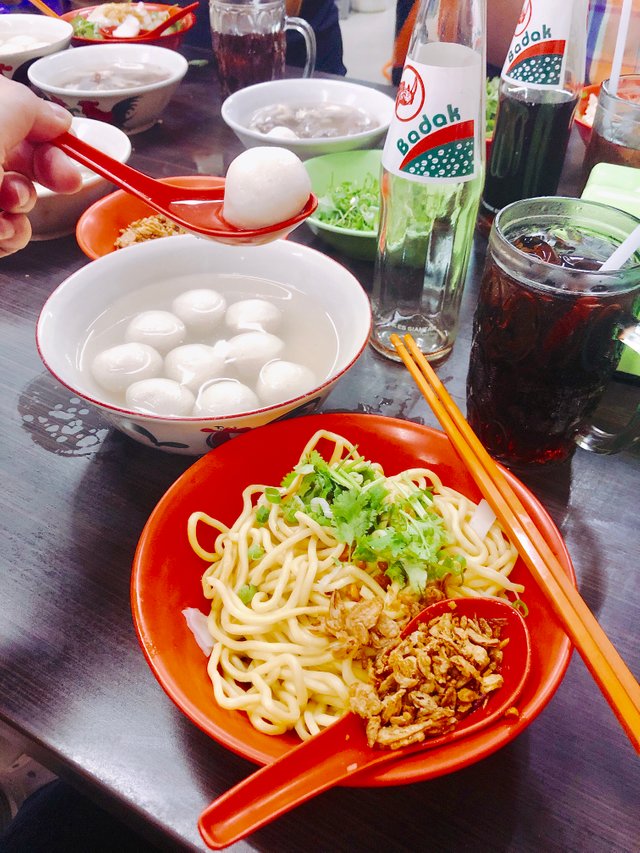 Here comes my "yellow noodles"! Before we start eating, can you see the fried shallot and garlic at the spoon on top of the noodles? That is to mix with the noodles before you eat but wait.... There are some more that you need to mix with to get the full satisfaction of taste.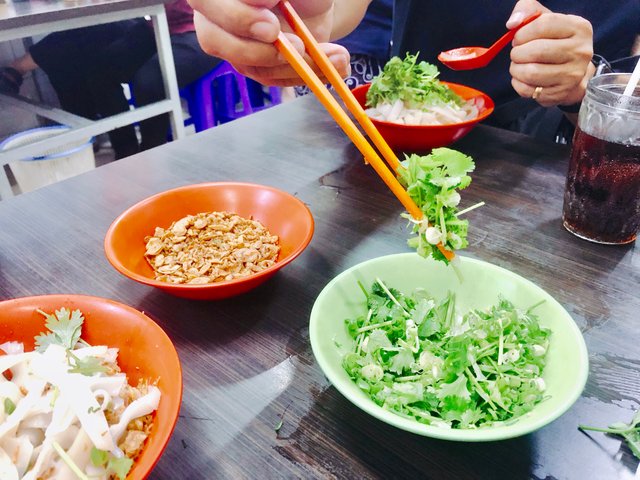 YES! Don't forget to mix with the fresh cilantro leaves and chopped spring onions to the additional flavor that makes tasty and more delicious. You can even put extra fried shallot with garlic if you want more as you can see they give extra at the other bowl.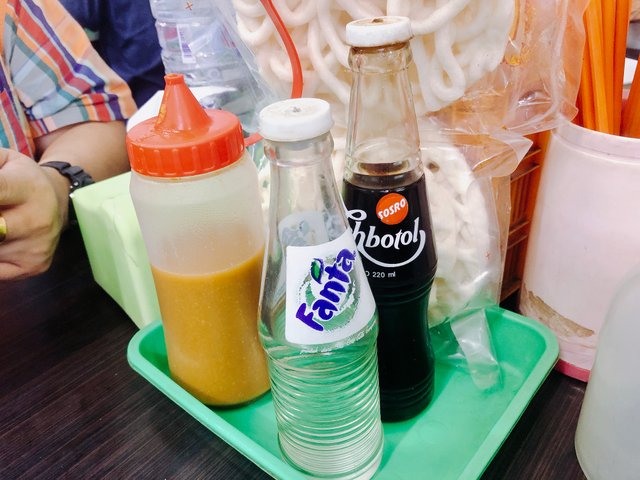 For those who prefer something spicy, you can put some at your noodles. The chili's are readied at every table. They are not just spicy but with the mixed of sour too! (That is Indonesian Grinded chili's)
The Taste of Foods
The yellow noodles cooked perfectly. They are bouncy, chewy, super fragrant especially when drizzled with sesame oil and chili sauce. It has the addictive savory taste that makes me want to slurp for more and more again.
When comes to the broth, it may look simple and clear, but once when you take the first sip, you gonna love it. Is favorful, salty, tasty but is not oily.
Regarding the meats, they are tender, juicy and fresh!
CONCLUSIONS
DONT JUDGE THE BOOK BY ITS COVER!
This restaurant really gives good quality foods and the staffs are friendly. I highly recommend this restaurant whenever you are here!
I love to share good foods to every @tasteem and @steemit members. So don't forget to BOOKMARK this place whenever you are in Thailand or traveling to Thailand. Thank you for spending your time to read my post. Do follow me for more review at other restaurants and cafes in my near future posts!
All photos are originally taken by me!





---
Restaurant Information

Bakso A Kiaw 99



Jl. Raya Mangga Besar No.2B, RT.10/RW.9, Maphar, Kec. Taman Sari, Kota Jakarta Barat, Daerah Khusus Ibukota Jakarta 11160, Indonesia
---
Famous "bakso" in Jakarta - Tasteem Review
This post participated in the Tasteem contest All about noodles