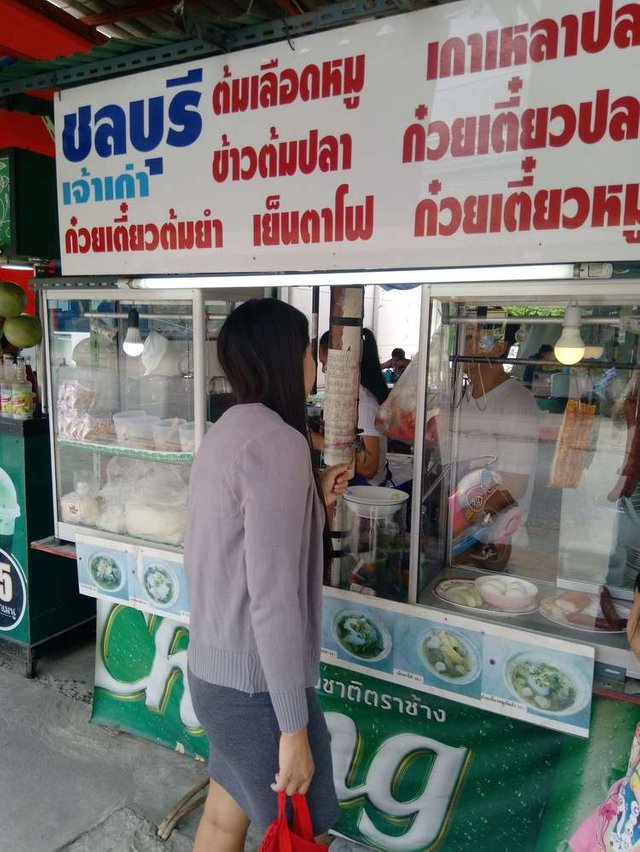 Noodle stalls and shops are ubiqutious in South East Asia, in a single square mile of where I live, there are probably 30 sellers. We have tried them all but when Champagne comes to stay, she likes this one!
As I said previously, food in Thailand is most often eaten oustide, or in this case, under what could possibly be an Asbestos roof! If you're coming to Steemfest and are a little bit prissy and a clean freak, bring plenty of cash for eating in downtown or more western style eating establishments but expect overpriced average fayre. I've just been to a relatively expensive Italian place this evening that was at best, average. You will read all about that in the next 'Pizza and Pasta' contest.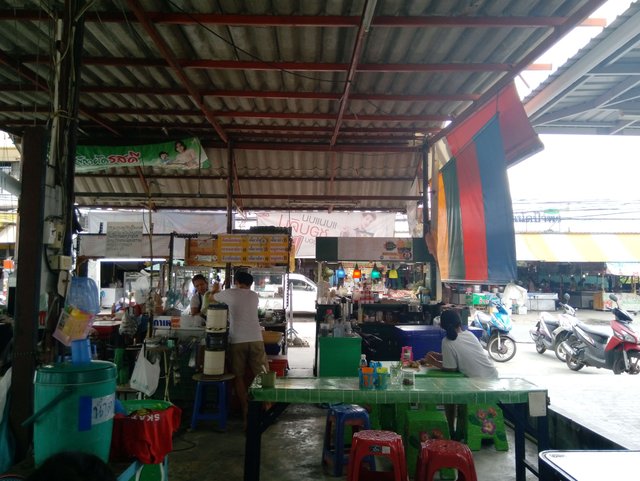 So back to this particular joint which is run by a lovely lady called Khun Ae, along with her husband and daughter.
Champagne and my wife love it here, they say the noodle soup is tasty, delicious and not too salty. The amount of salt in food here can be a big issue for me so the fact its delicious and not overly salty is a big plus in my books.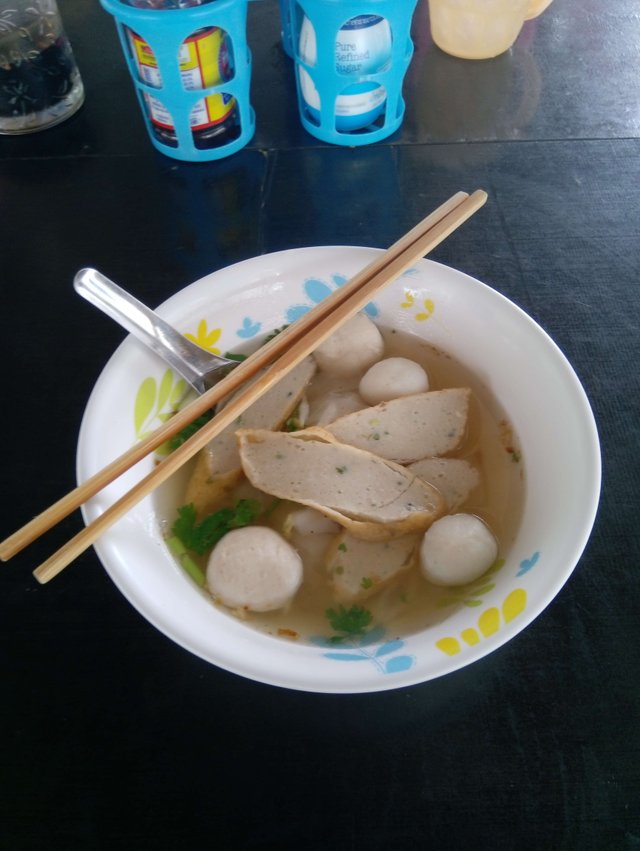 So, what happens at one of these noodle stands is that you choose the soup you want, in this case a plain soup but they also have a Tom Yam style soup too, and into that go the style of noodles you prefer, Champagne loves the flat, big noodles, (Sen Yai) and then in go bean sprouts and then your choice of Pork and / or fish balls. Champagne had both.
The fish balls and pork, I generally give a wide berth to and just eat my soup plain with the noodles but Champagne takes full advantage of the á la carte options!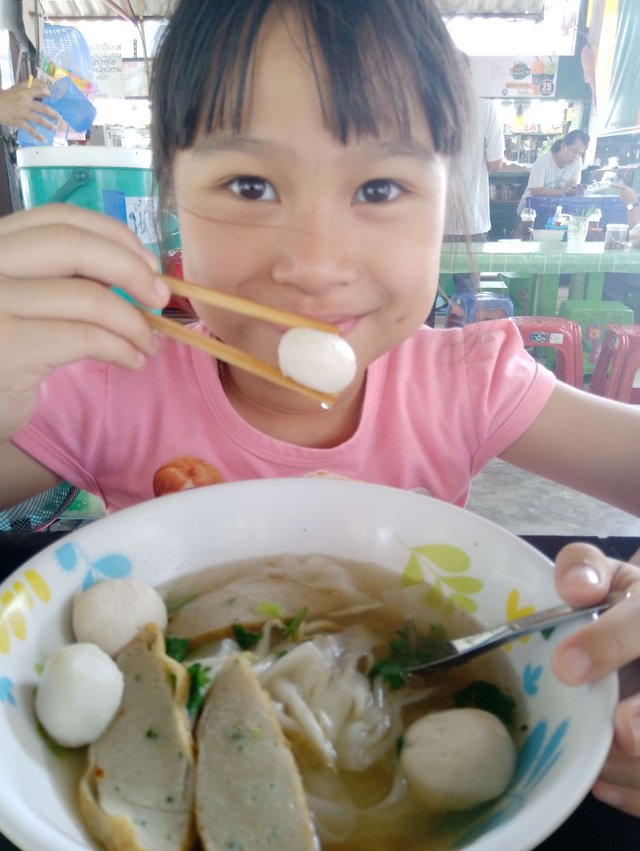 So, the food gets brought to your table and then you can start customising it!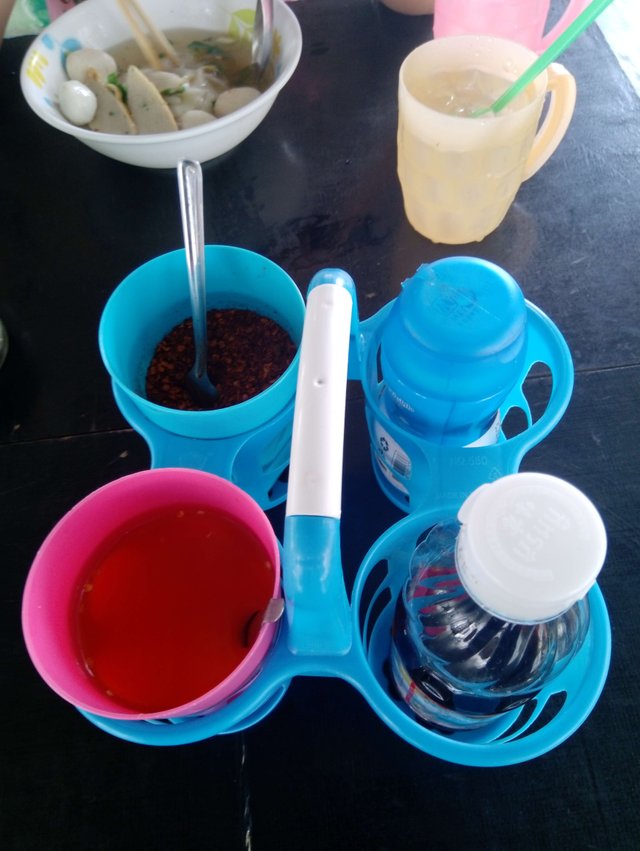 There are pots of Chilli flakes, a chilli sauce, fish sauce for extra saltiness and sugar. There are also spring onions and extra bean sprouts so you just throw in the extras to suit your own personal tastes and get cracking with the chopsticks!
What more can I say about noodle soup? Its a way of life here and provides hot, tasty and very cheap food around the clock. The stalls and small restos cover an entire 24 hours between them and the price? Well, in this case, 40 Baht ($1.30 USD, £1.08 GBP) a bowl for Champagne and the wife, 30 Baht ($0.98 USD, £0.80 GBP)for my plain ones!
Wait! You want a drink too? Not a problem. There is water and ice provided at no extra cost in a cooler bucket with cups and straws beside it. You simply help yourself, as you can see Champagne demonstrating!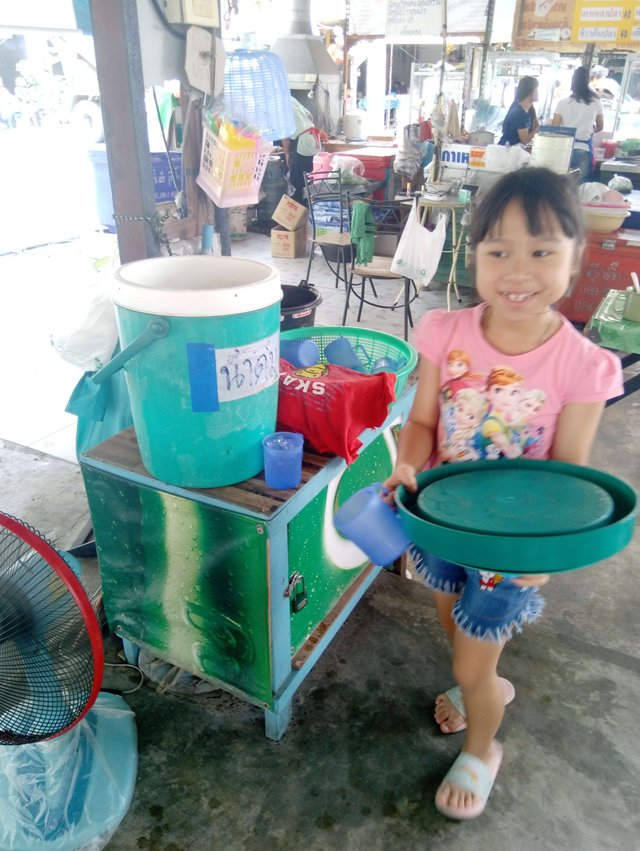 Sophisticated and high end food it isn't, but authentic and honest it most definitely is.
Aroy mak mak. As we say in Thailand!
---
Restaurant Information

Khun Ae's Noodle Stall



74/9 ซอย พหลโยธิน 52 Khwaeng Khlong Thanon, Khet Sai Mai, Krung Thep Maha Nakhon 10220, Thailand
---
Khun Ae's Noodle Stall
This post participated in the Tasteem contest All about noodles