🍕Foodland || My favourite Carbonara!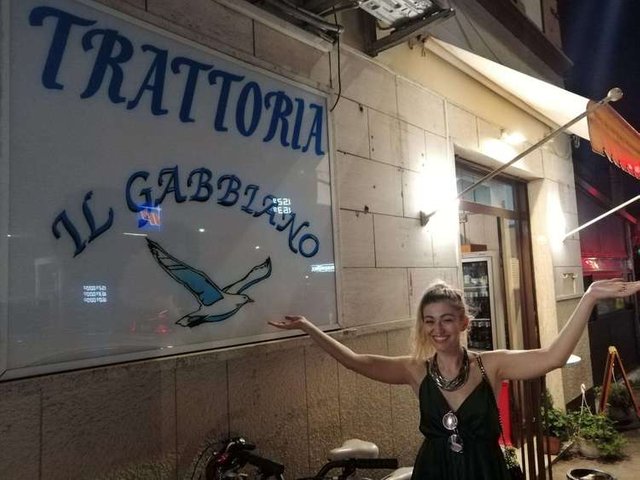 To celebrate the end of University exams and the beginning of my Summer, although it did come a little late, I've decided to have a dinner in one of my favourite restaurants here in Tuscany.
Il Gabbiano in Viareggio is a very small restaurant near the boardwalk, but is a guarantee, especially for the Carbonara with fish!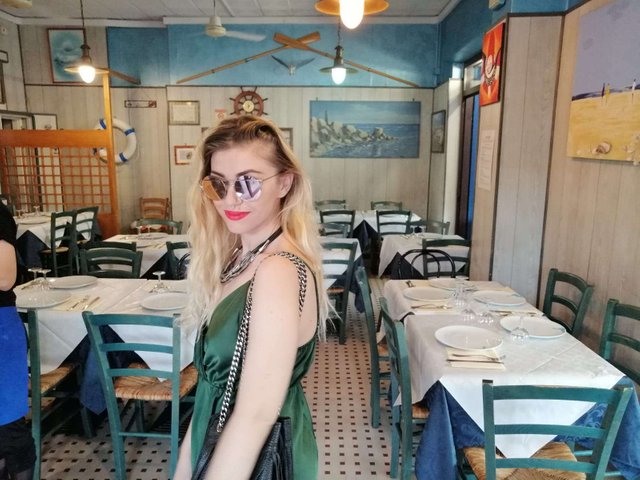 Waiting for the main dish, I've ordered an appetizer of fresh fish, belonging to the local tradition.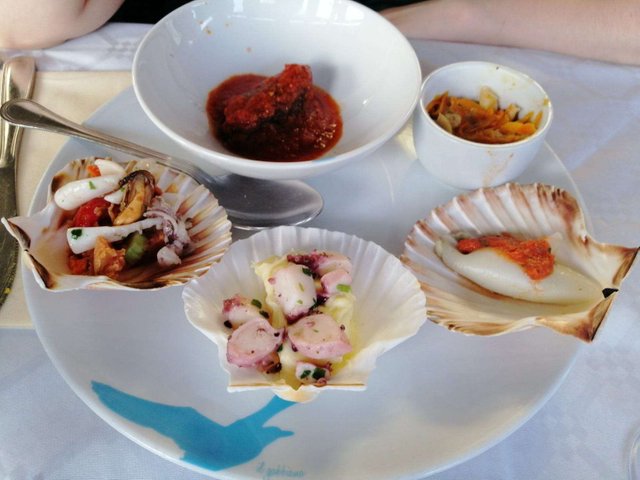 As many know, the "original" Carbonara is one of the most famous Italian dish in the world, composed by genuine ingredients: spaghetti, eggs, Pecorino cheese, pepper and bacon.
There are a lot of legends about the birth of the Carbonara, some very romantic, others less fascinating but more realistic: the truth is definitely not poetic at all, the real origins are unknown and its very first official mention is in 1960 by Luigi Carnacina in his cookbook, "La grande cucina italiana".
The Carbonara with fish (or Sea Carbonara) is a variant where bacon is replaced by fish. A lot of legends about its birth, but one particularly is the most fascinating one: according to the legend, the creator was Paul McCarty, infact, during is Italian tour in 1965 with the Beatles, he wanted to try something different from the traditional Carbonara. He was so nostalgic of Fish and Chips and asked to the chef of his Hotel, Parco dei Principi, to make a little change in the recipe, adding fish instead of bacon.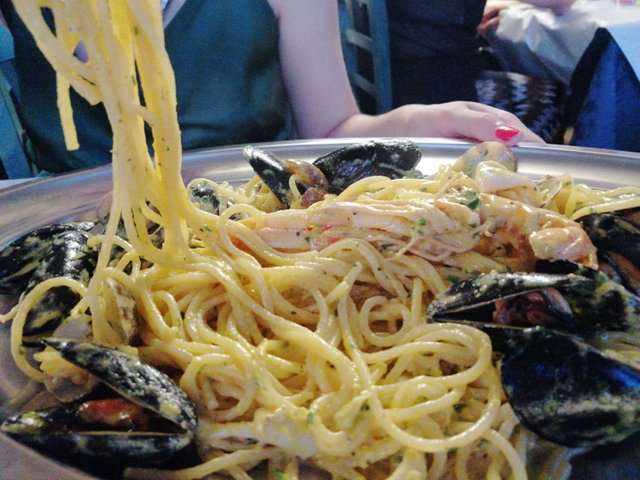 For all of those who are sceptical about the union between eggs and fish, as I was the very firts time I've tasted this dish, I suggested to watch carefully the photos. Doesn't it seem exquisite?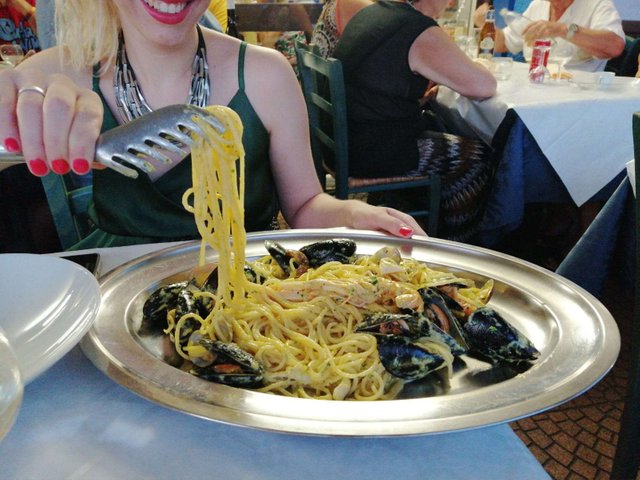 Is it impossible truly understand how much good is this dish just watching some photos, but imagine creamy spaghetti, not thanks to sour cream, but just thanks to the union between eggs and fish sauce. It is true, eggs have a strong flavor, but here eggs are so delicate that they marry perfectly with the flavor of sea.
And, at last an amazing dessert; coconuts pie with ice cream, yummy!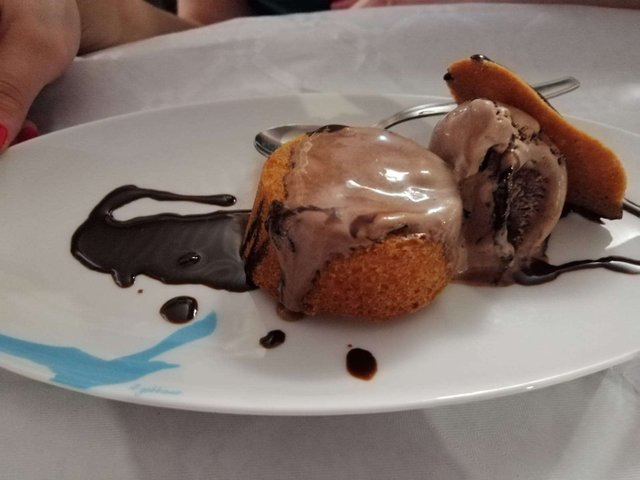 LA MIA CARBONARA PREFERITA
Per festeggiare finalmente libertà, la fine degli esami e l'inizio tardivo dell'estate (Per me), ho deciso di concedermi una cena in uno dei miei ristoranti preferiti qui in Toscana.
Il Gabbiano di Viareggio è una garanzia, specialmente per quanto riguarda la carbonara di mare, che credo sia uno dei piatti più buoni in assoluto. È un piccolo ristorante, con una cinquantina di coperti, vicino al lungomare di Viareggio._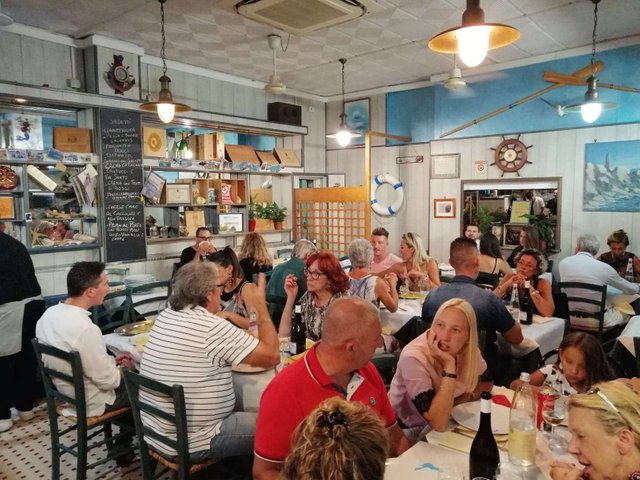 In attesa di gustare la specialità tipica mi sono concessa un antipasto di pesce fresco con tanti piatti della tradizione locale.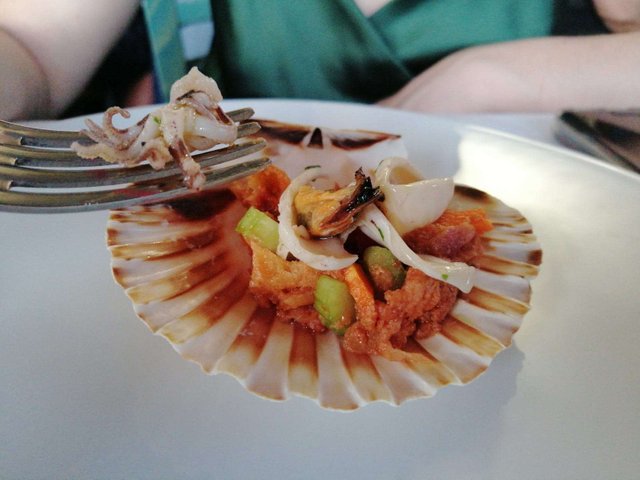 Come tutti sappiamo la carbonara "originale" è un dei piatti italiani più famosi nel mondo, composto da pochi ed efficaci ingredienti: spaghetti, uovo, pecorino, pepe e guanciale.
Molte sono le leggende intorno all'origine di questo piatto; i più romantici la vogliono associata ai moti carbonari, da cui, appunto, il nome carbonara. La realtà tuttavia è decisamente poetica, l'origine di questa ricetta non si conosce e rimane uno dei piatti più "oscuri" della tradizione culinaria italiana; parrebbe però che la prima menzione ufficiale della carbonara come oggi noi la conosciamo, risalga al 1960, quando viene inserita nel ricettario di Luigi Carnacina, "La grande cucina".
La carbonara di mare ( o di pesce) è una variante dove il guanciale, come vuole la ricetta tradizionale, viene sostituto dal pesce. Anche attorno a questa variante girano numerose leggende e storie fantasiose; una, decisamente meno affascinante, vuole l'utilizzo del pesce in quanto unica risorsa disponibile nelle cambuse delle navi. Un'altra, invece, ci fornisce proprio una data, un luogo e il nome dell'inventore di questa ricetta; la carbonara di mare sarebbe merito niente meno che di Paul McCartney, il famosissimo membro dei Beatles che, venuto a Roma con la band nel 1965, richiese al cuoco dell'hotel in cui alloggiavano, il Parco dei Principi, di provare a utilizzare il pesce, in quanto sentiva nostalgia del Fish and Chips che mangiava in Inghilterra.
Per chiunque sia scettico dell'accostamento tra uova e pesce, come lo ero io all'inizio, lascio che le foto parlino da sole sulla bontà di questo piatto.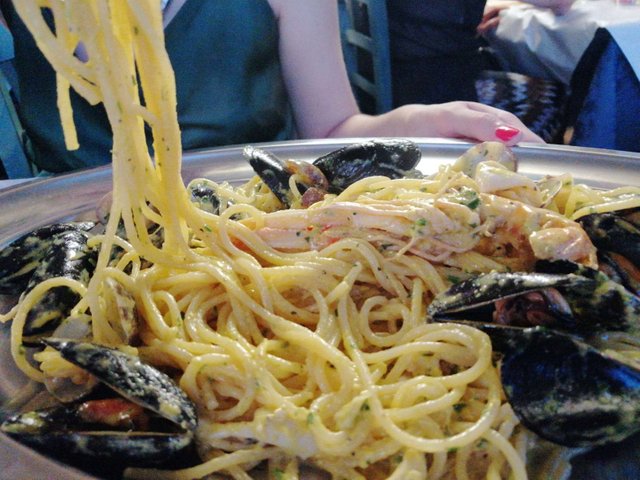 È impossibile capire quanto sia buono da una sola fotografia, immaginatevi degli spaghetti cremosi, ma non grazie all'utilizzo di panna o salse strane, ma semplicemente grazie all'unione dell'uovo e del sugo di pesce. Per quanto l'uovo abbia un sapore decisamente forte, in questo piatto quasi non si sente e non copre assolutamente il pesce, anzi si sposa perfettamente con il sapore del mare.
E per finire in bellezza il dolce del giorno; tortino al cocco con gelato alla nocciola!!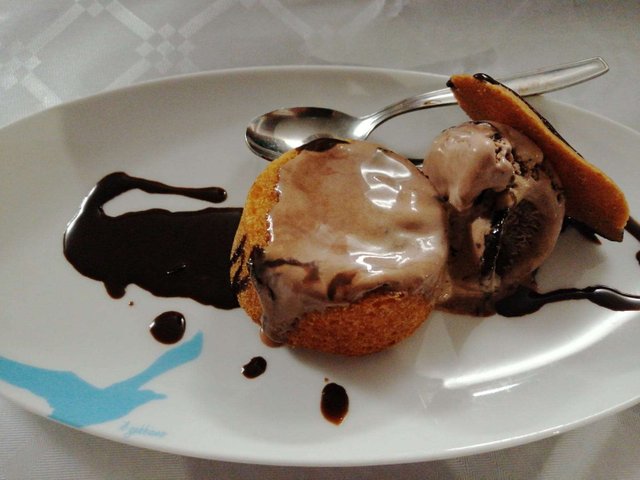 _
---
Restaurant Information

Trattoria Il Gabbiano



Via Michele Coppino, 161, 55049 Viareggio LU, Italy
---
My favourite Carbonara!
This post participated in the Tasteem contest Your weekly choice