Suman for everyone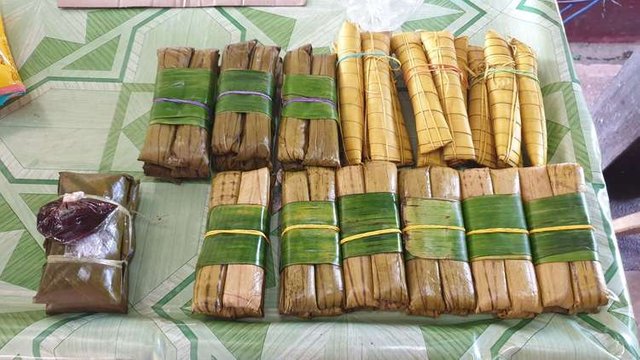 One Sunday morning after attending a mass celebration, I passed by this stall of a woman selling original Filipino suman and I got curious to give them a try.
Suman is a rice cake originating in the Philippines. It is made from glutinous rice cooked in coconut milk, often wrapped in banana leaves, coconut leaves, or buli or buri palm (Corypha) leaves for steaming. It is usually eaten sprinkled with sugar or laden with latik. Suman is also known as budbod in the Visayan languages that dominate the central half of the country. A widespread variant of suman uses cassava instead of glutinous rice.
I asked the woman when it was cooked and she said it was just that early morning of the same day.
"Are you sure?" I asked because suman can be spoiled in a short period outside of refrigerator.
She re-assured me and mentioned that she sells there everyday so I get back to her if the "suman" is not freshly cooked.I asked the differences of those that are on display. Yeah, I know those were suman but there are varieties that I do not really know. She explained the ingredients in each type.
The ones wrapped in babana leaves are the typical suman cooked with sugar and coconut milk.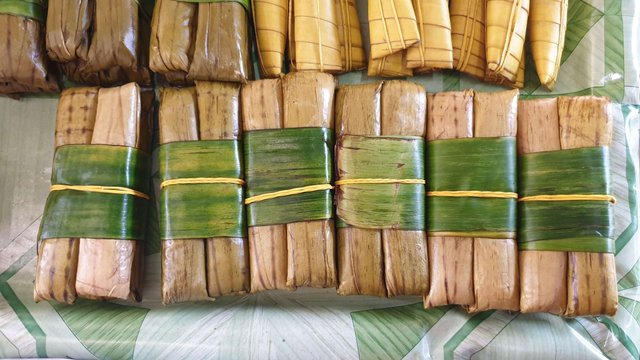 The ones wrapped in young palm leaves, the whitish ones, are the salty suman. Yes, they add salt instead of sugar. I prefer the typical suman though. Why would you make a rice cake (yes, cake!) salty?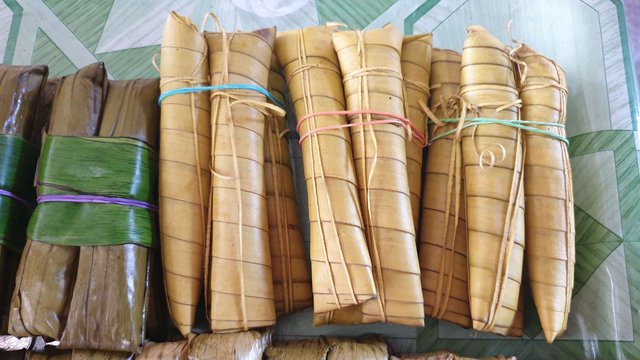 And there was this only one piece with matching "sauce" which I first thought to be shrimp paste or bagoong. Rice cake with bagoong? Weird, I thought. I asked what is the name of the variety and I forgot. I asked what the sauce was made of and she said it is latik. That is a syrup-like and caramelized coconut cream.
I bought two bundles of the original suman and the woman was recommending that I buy more. I stuck to two. When I got home and ate my suman, it was so good that I regretted not taking the vendor's suggestion. Guess what I did? I went back to her in the afternoon.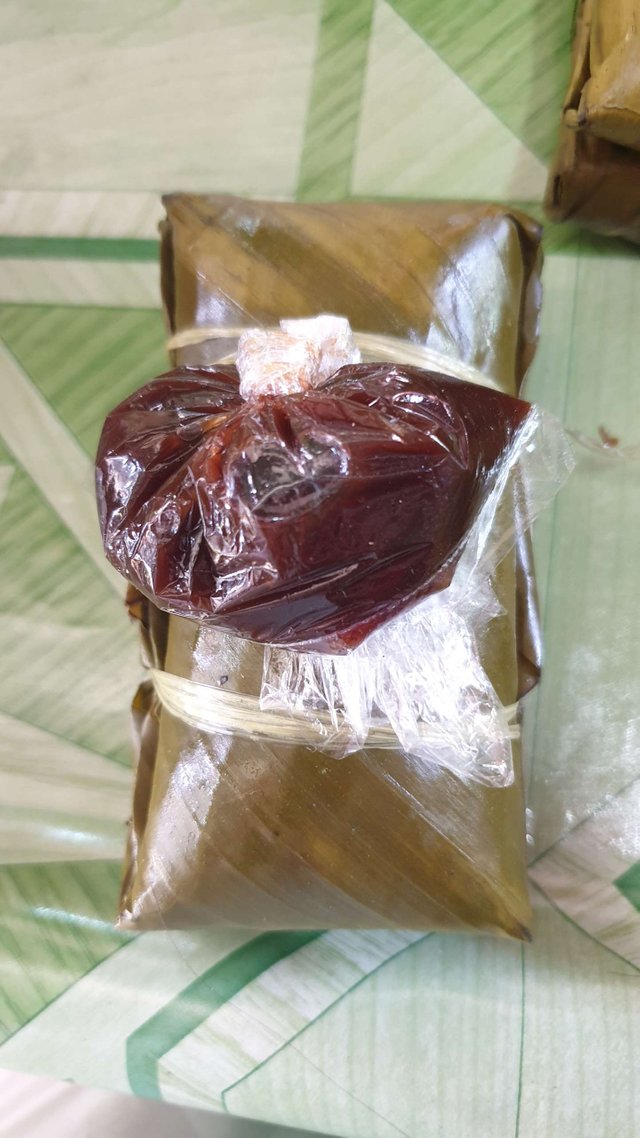 She was no longer there when I went back. There was this guy "watching" the remaining bundles of suman but was so busy playing games on his phone.
I asked where the woman is, he said she's gone but did not say where. I asked to be served with four bundles of the original suman and he pointed to a guy in a variety store behind me.
"Ah, so you're not the woman's proxy," I thought and turned to the other guy.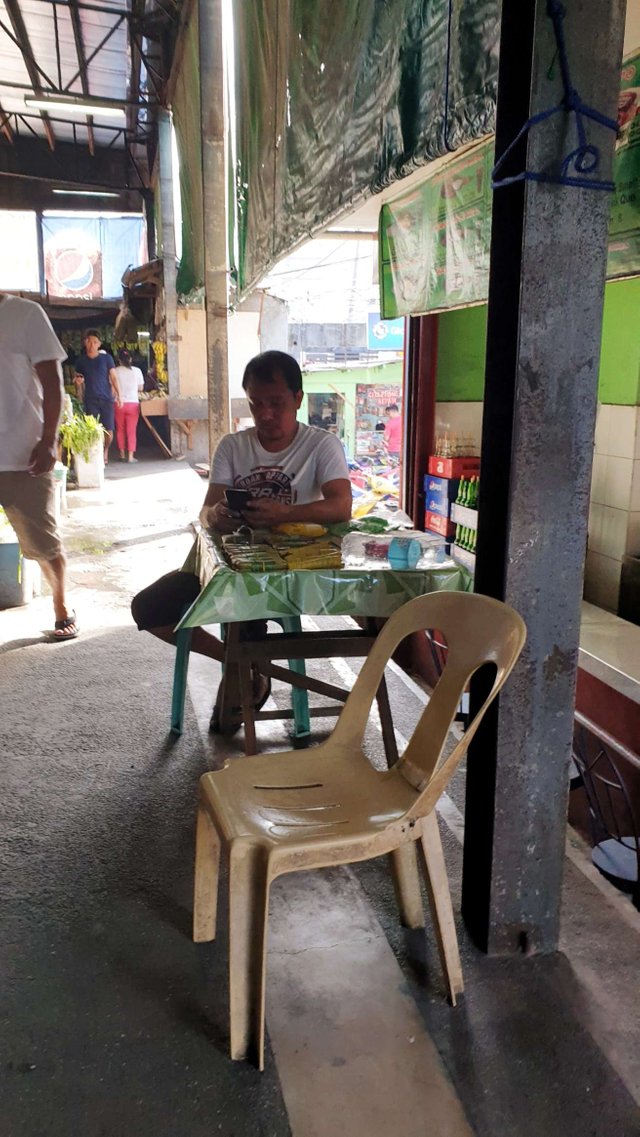 I asked where the woman is and he instead asked how many will I buy and which variety of suman. I gave my order. He started picking bundles and putting them in a bag.
I asked the woman's name while I was paying and he said Grace.
"Grace's suman stall," I thought.
The guy beside the display table was still so focused on his phone when I left. If he is the watcher of the suman, he may not have noticed if someone picks a bundle and leave.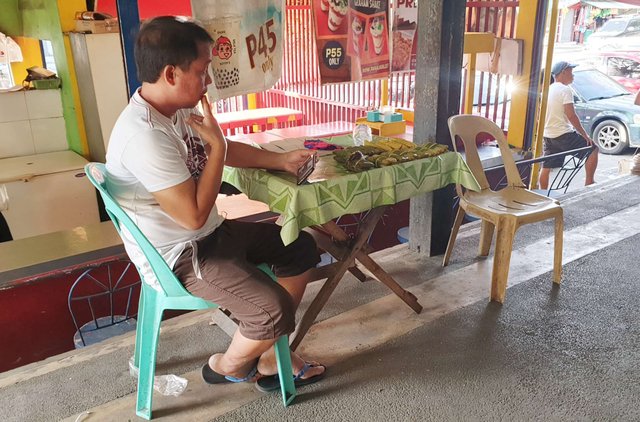 Here now arr my four bundles of suman. Believe it or not, I finished them all. But wait, I am not that glutton. I had them for afternoon snack then dinner.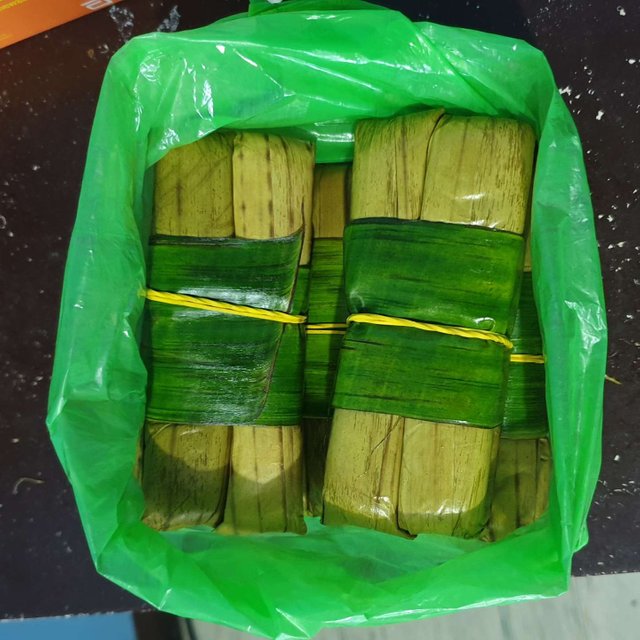 Wondering what's inside the banana leaf? Here it is... And why banana leaf? For one, the leaf can make the cake balmy - soft and aromatic.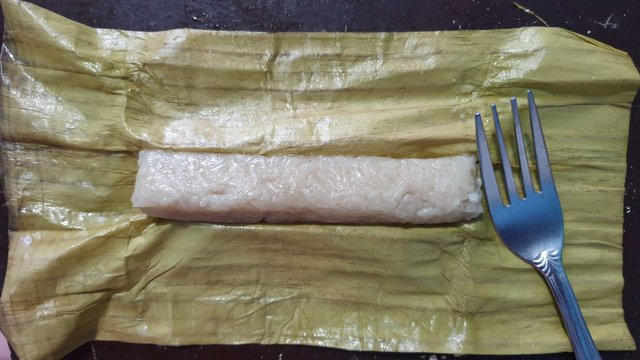 Grace's Suman Stall
Back of Botoy's Litson Manok and Barbecue
San Antonio Avenue
San Antonio Valley 1
Parañaque City
Philippine
---
Restaurant Information

Grace's Suman Stall



San Antonio Ave, San Antonio, Parañaque, 1700 Metro Manila, Philippines
---
Suman for everyone
This post participated in the Tasteem contest Street Food