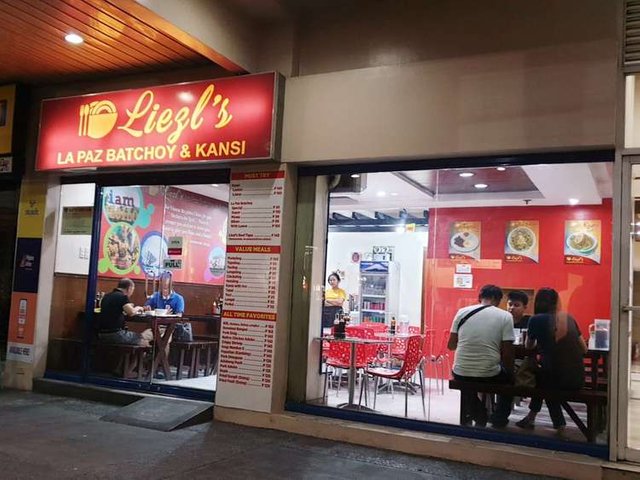 I know that I do not have something for dinner when I get back home earlier so I thought of dining somewhere before going home. Trying to limit fast foods at least once in a while, I thought of having a Filipino dish this time. And good as it is, this restaurant came to mind because I tried their dish once it was really good.
The restaurant is in front of a commercial building so it is very noticeable. From the sidewalk you can alreafy have an idea of what they serve because of the tarpaulin menu standing by the doorway. I was in between crispy shrimps and adobong pusit when I got inside.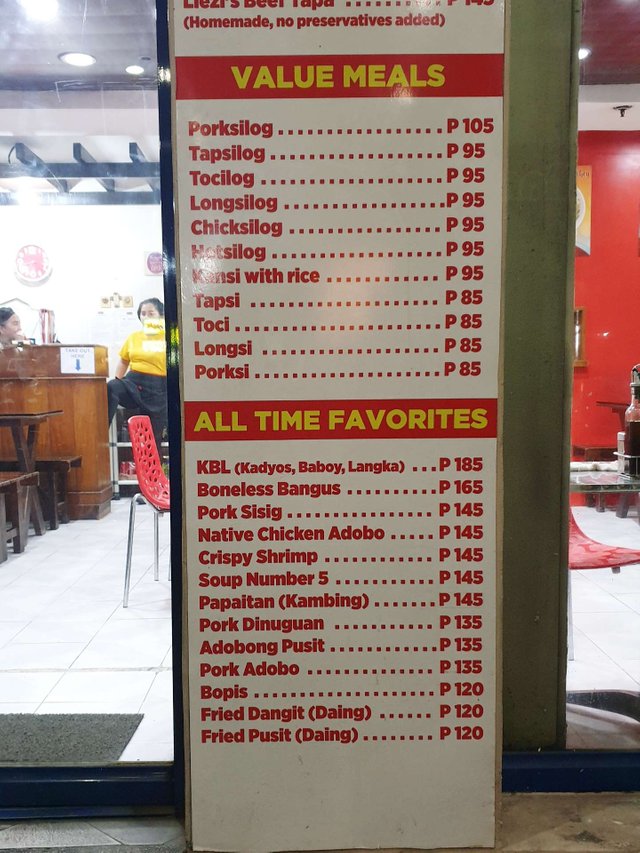 Only two tables were occupied when I got in. I went straight to the counter and before I was able to say anything, the cashier and a crew greeted me. I greeted them back.
The cashier asked if I am dining in or I'll take my order out. I said for dine in.
The crew took her turn and asked, "for how many people, ma'am?" She was asking if I have a company. I guess the answer was obvious but I smiled and answered anyway.
There is one table that is good for two but I pointed at the table for four at the corner. When there are not many diners, I don't mind being lavish at least for the spot to take.
"Can I take that table in the corber?"
"Sure, ma'am." The crew replied.
I walked towards the table and she was already setting this paper placemat right when I got seated. That was quick. She was apparently right behind me.
I asked how the crispy shrimp is prepared and she said it it fried. I thought it was grilled but fried? Let's excuse the fried ones for now. I ordered for the adobong pusit.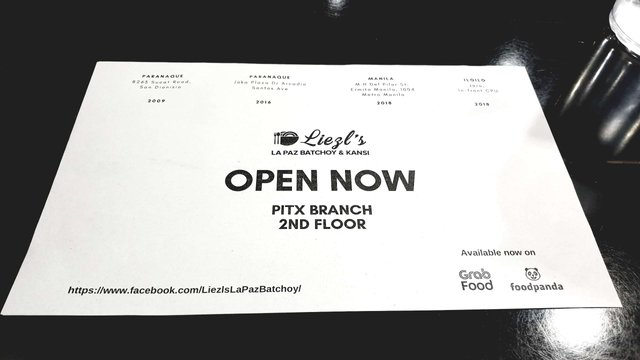 Adobo is a vwry popular Filipino dish.
Philippine adobo (from Spanish adobar: "marinade," "sauce" or "seasoning") is a popular Filipino dish and cooking process in Filipino cuisine that involves meat, seafood, or vegetables marinated in vinegar, soy sauce, garlic, and black peppercorns, which is browned in oil, and simmered in the marinade. It has occasionally been considered as the unofficial national dish in the Philippines.
And pusit is squid.
While I was busy focusing my phone to get this photo, the crew appeared on site and exclaimed.
"Wait, ma'am!" She was coming towards my table.
"Why, it's okay. You can be on the photo."
She did not answer but instead came quickly to me. She was holding a tray with a bowl.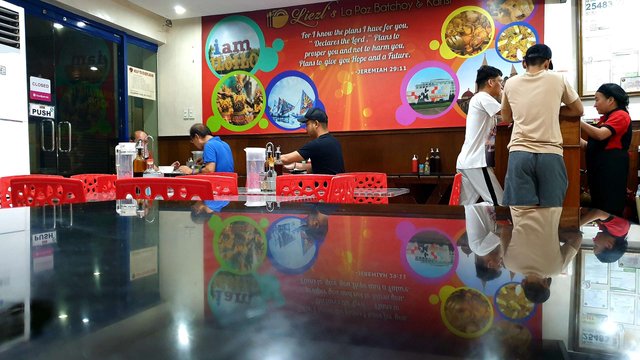 She set the tray on my table and served the bowl with soup.
"There you go, ma'am," she said smiling.
Ah, I did not realize that I have a free soup. I was amused by the noodles at the bottom and the slices of green onions floating. Most free soups are literally just liquid. This one is different. Guess what? It is their specialty batchoy soup, only that it has much lesser ingredients.
I started on it while waiting for my order and I was surprised that I finished it. I guess I was hungry...

On the table to my left are these condiments. Vinegar, grind pepper, catsup, soy sauce, patis or fish sauce, blended vinegar with chili and I don't know what elese are in the bottle behind the white container. The same set is on every table. I just wish they are in uniform containers. I thought that will be cuter sight.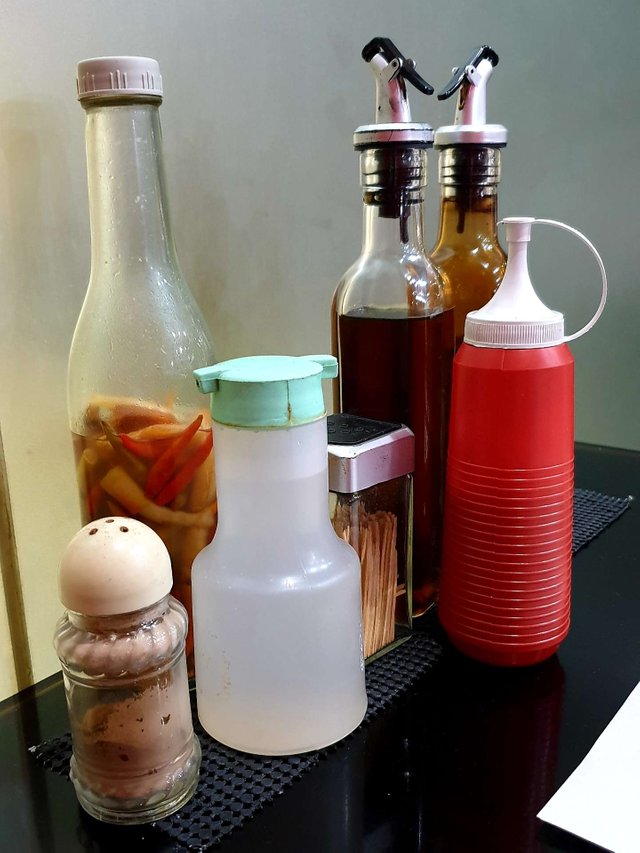 When my order was served, I can't help smiling to see very small amd many squids in the oval bowl. I was expecting just few pieces of the regular sized squid. They offset with the count somehow. And as far as I know, servings in restaurants are measured by the weight, not the count. Though, I thought of getting silly after taking one of the squids. I counted the rest and there were eleven. So I got a dozen of these cute creatures.
Another thing that amused me were the slices of raw green onions sprinkled on top. Typical adobo does not include this ingredient and style. With typical adobo, all ingredients are used as marinate and cooked together.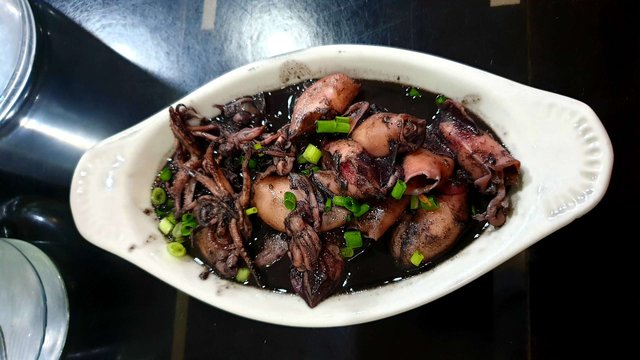 The serving automatocally came with a hot chili and calamansi. Of course, I did nnot touch the chili. But calamansi? That is another thing that is not common with adobo. For any reason that a cook includes calamansi juice in adobo, it is included in the marinate, not as raw. But where is that written as a rule? Of course, I can experiment something different.
I squeezed the calamansi juice over the adobo and I was surprised with the result. The blending was really good. The raw sourness has added more flavor to the adobo specially with the sauce. Its aroma with the green onions also made the dish more enticing.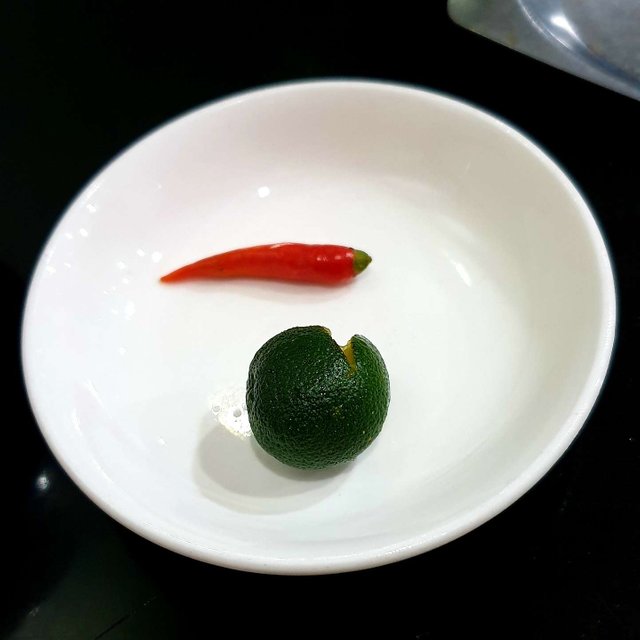 Sometimes, it is good to try something new that is outside of the norm. The green onions and calamansi juice made my adobong pusit very special. If you want proof of that, here are proofs of my clean plate and bowl. And, don't tell anyone that I actually ordered an extra half cup of rice.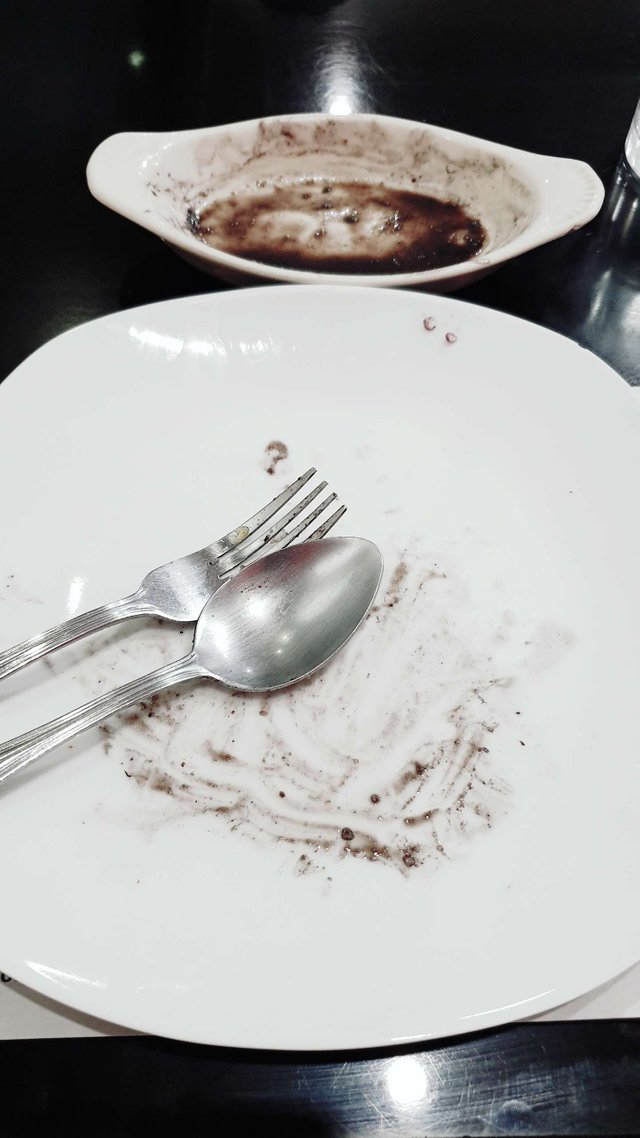 I actually enjoyed my food so much that I took my time with it. Three more tables were occupied while I was eating. All of the five tables were vacated and I was still there. A couple actually came and took over one of the tables that was just vacated. They were the only diners when I left.
When I started to leave, the crew was quick enough to approach the table and clean it the moment I got out of it. They serve fast, they prepare the bill fast and they clean fast. That is how a business should run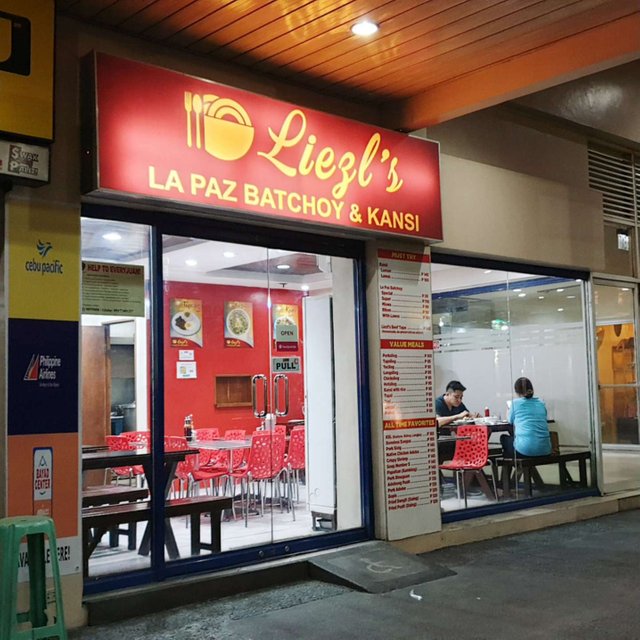 Liezl's La Paz Batchoy and Kansi
Jaka Plaza
Doctor A. Santos Avenue
San Antonio Valley 1
Paranaque City
Metro Manila
Philippines
---
Restaurant Information

Liezl's La Paz Batchoy and Kansi



A-, Unit 12, 8288 Dr Arcadio Santos Ave, San Antonio, Parañaque, 1715 Metro Manila, Philippines
---
Cute cephalopods in a bowl
This post participated in the Tasteem contest Seafood Restaurant