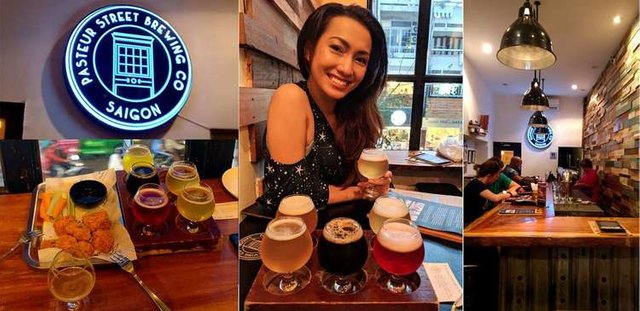 Hi Everyone ❤
Today I would love to introduce you all to a warm and friendly place to drink and relax at the center of Ho Chi Minh city (or Saigon as some people still call it). And if you are a beer lover, specially those that have a passion for craft beers, you must come to this place. It's Pasteur Street Brewing Co.
As you know Vietnam is famous for a vibrant beer drinking culture. And Pasteur Street Brewing Co is one of the first craft breweries that started the craft beer revolution in Vietnam.
Pasteur Street Brewing Co combines American craft brewing techniques with fresh and exotic Vietnamese ingredients to create delicious classic and unique tasting craft beers. There are many unique flavors for you to choose from.
Beside great beers, this place also has so many other great qualities that would make me want to visit it with friends.
---
The Address & The Location
The Original Saigon Tap Room: 144 Pasteur Street, District 1, Ho Chi Minh city, Vietnam.
They are located on one of the main streets at the center of district 1, so everyone including tourist can find it easily. I like this tap room most.
They have 4 more tap rooms in Ho Chi Minh city and Hanoi city, you can check the addresses on their website https://vn.pasteurstreet.com/contact/
---
The Space & The Atmosphere
The bar faces onto the front of the street, but the way to come in is a set of stairs via an alley. It looks nice and is decorated in the local style, making you feel like an explorer that has discovered a hidden gem.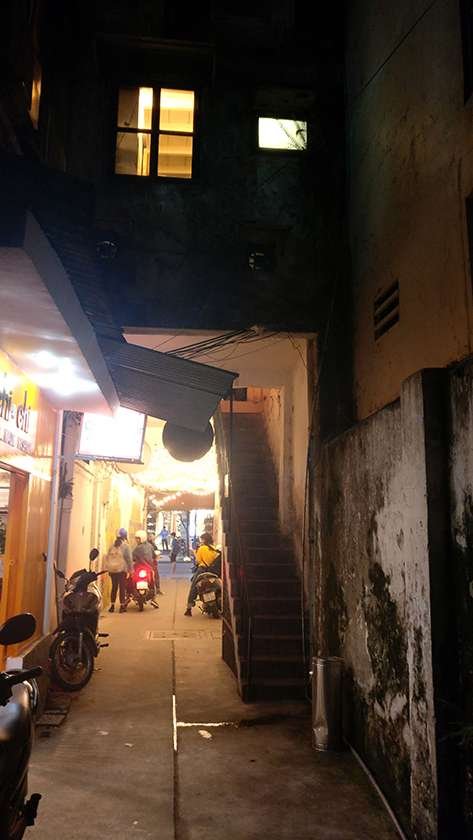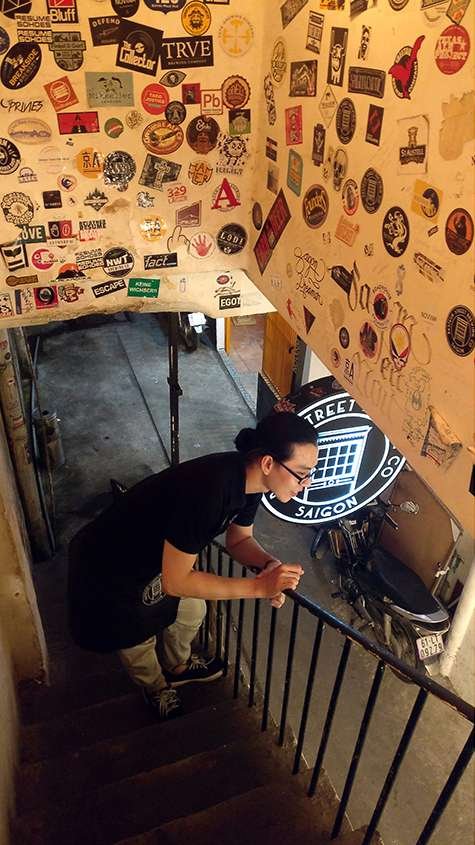 The tap room inside is narrow but quite long. The space is simple but effective. I felt very comfortable and cozy here. The music is not loud so you can enjoy the drink and chit chat with friends after a long working day.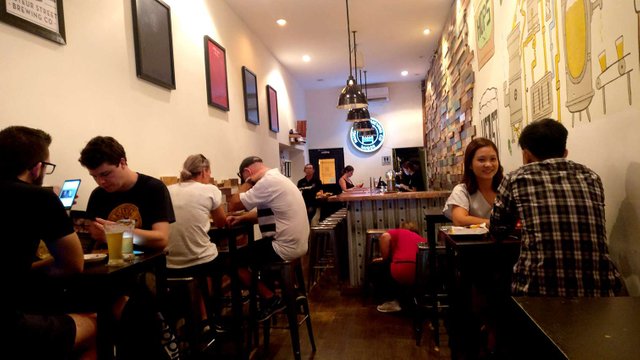 You can sit at a table or sit at the bar. My favourite place is near the big window where you can see the view of the main street. It is quite relaxing and peaceful to watch the rain out of the window or the many people outside going about their day.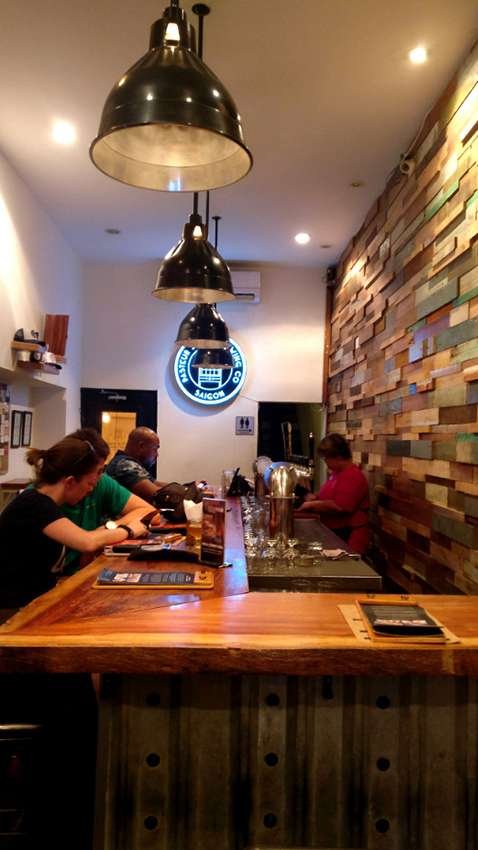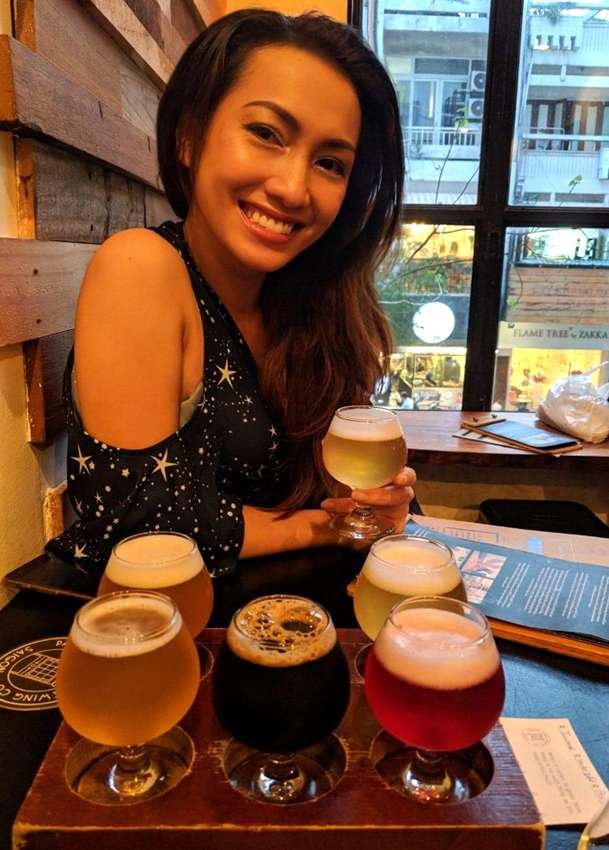 ---
The Menu & The Price
The beverage menu is quite interesting with a lot of information. They have many different glass sizes and 12 different tastes of craft beers, start from 2,5 USD each. The price is quite reasonable at the center of district 1.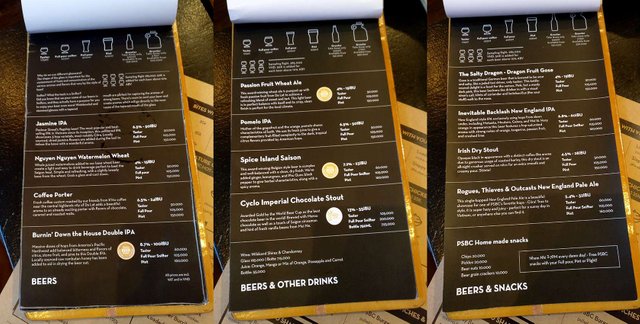 The food menu also has many choices from snacks, bites, fried chicken to sandwiches and burgers as well as plates to share and desserts. With the wide range of options, you should be able to find most of the things you want to unwind and enjoy your time.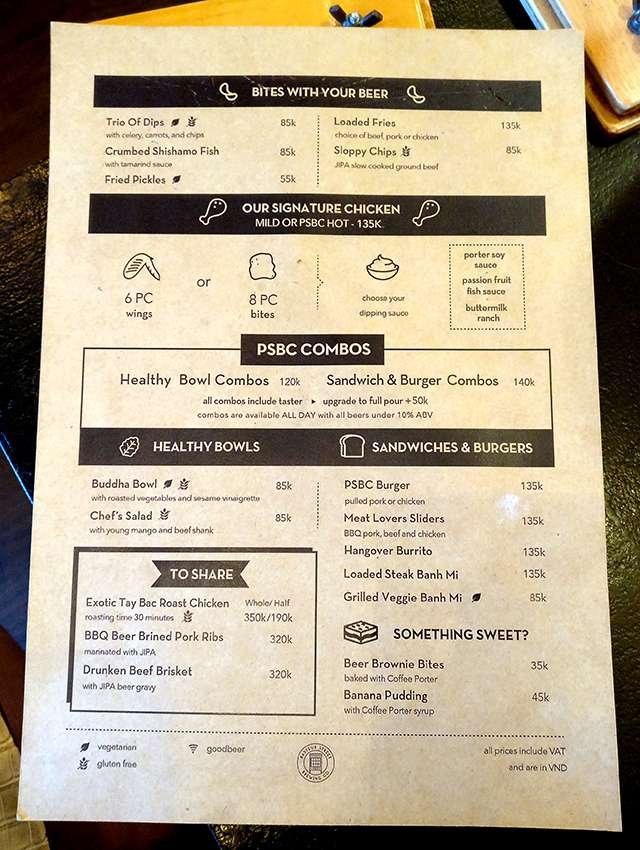 ---
The Beverage & The Food
For my drink I chose the Sampling Flight with 6 different tastes: Jasmine, Watermelon, Passion fruit, Saison, Cyclo, and Dragon fruit. It costs 285,000 VND plus 50,000 VND for Cyclo (charge more for beer above 10% ABV). That's just about 15 USD.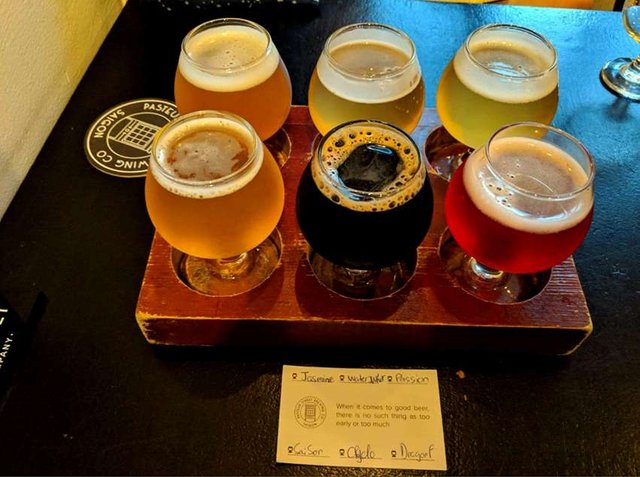 You should drink the Watermelon beer first as it has a very fresh and pure taste. It refreshes the mind and awakens the taste buds.
My favourite tastes are Passion fruit and Saison. Passion fruit taste is a little sour, but it leaves an aroma of the passion fruit lingering on your tongue. The Saison is complex mix with ginger, lemongrass and Phu Quoc black pepper making it more spicy, I found the combination to work well and was enjoyable.
Cyclo beer is a black beer and the most expensive beer there, but for me it was too strong and had a strong herby taste I couldn't drink much of it after having few sips.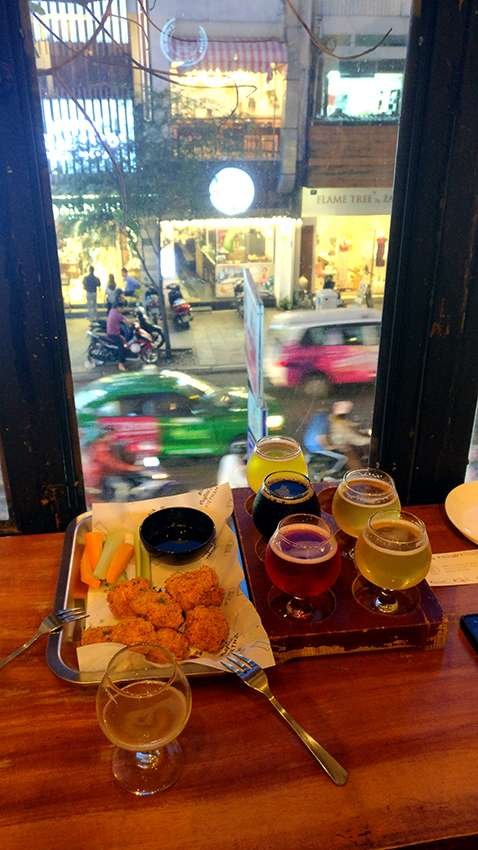 I ordered their signature chicken, there were 8 pieces of fried chicken with passion fruit fish sauce. The chicken was good enough and the sauce was quite nice.
---
The Service
The staff were very nice and friendly.
The motorbike park inside the alley is free of charge is a good point as not all bars and restaurants offer that.
---
Rate: 8/10
It's a good place to visit to drink craft beers and relax with friends after work or after dining.
Thank you for taking time to read this post, it gives me great joy to be able to share my experiences with you all. If you enjoyed reading this, please upvote, comment on Steemit and bookmark this post on Beer lovers' paradise: Pasteur Street Brewing Co. Much appreciate ! ❤
---
By: @livvu
---
Restaurant Information

Pasteur Street Brewing Co



144 Pasteur, Bến Nghé, Quận 1, Hồ Chí Minh, Vietnam
---
Beer lovers' paradise: Pasteur Street Brewing Co
This post participated in the Tasteem contest Wanna go get a beer?