Night Market's Seaweed Salad Popiah.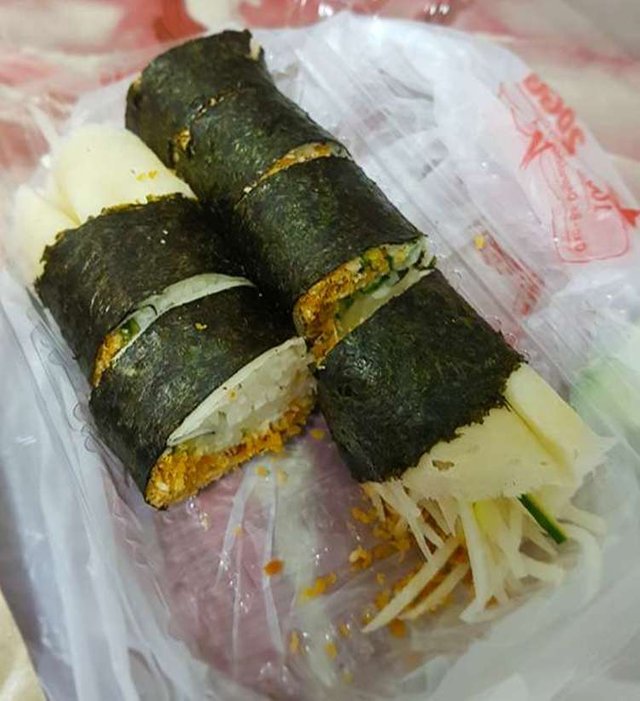 Street Food can be A Simple Delicious Healthy Food too!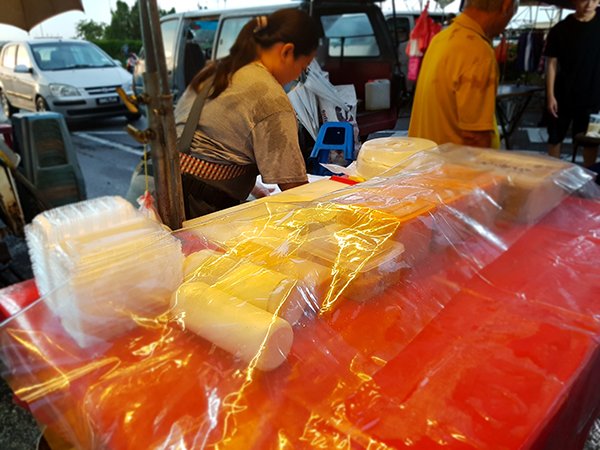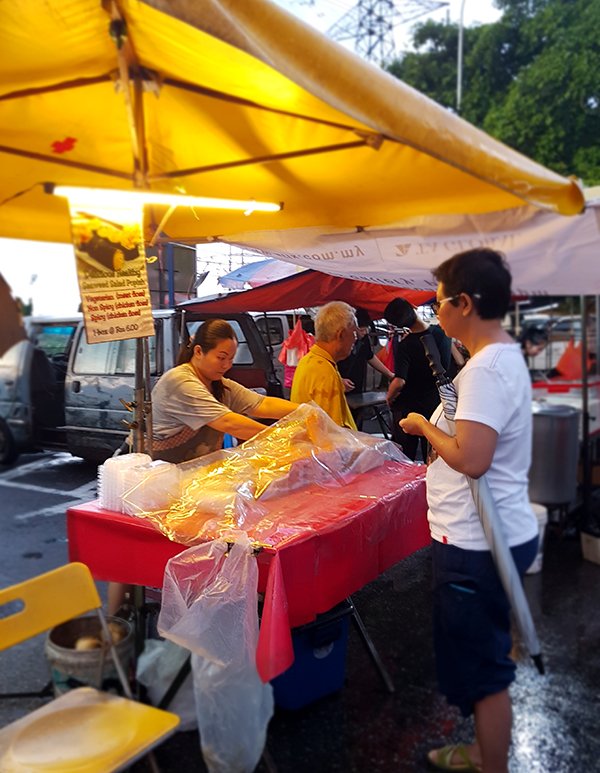 It's been raining every day in the evening, but we never missed out the chance to find delicious food even on a rainy day.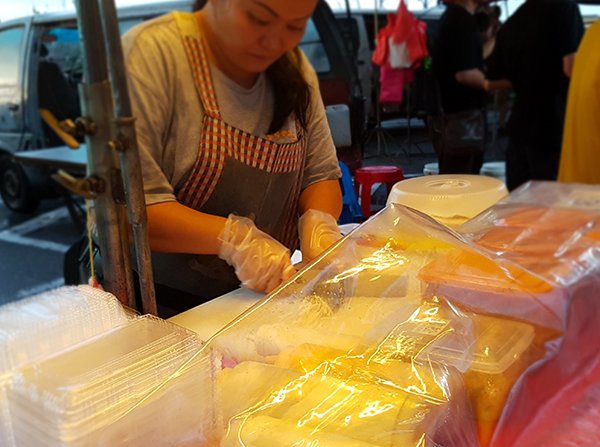 Setia Alam Saturday Night Market is the longest night market in whole Malaysia. It's about 2.4 km long, filled with local foods from all races, even those popular Taiwanese and Thai food has joined in the crowd, making this night market even more fascinating and much to explore!
I have tried many types of food here and would love to share them with you all here at @tasteem. Today I will be sharing the Seaweed Salad Popiah stall since the theme for this contest is STREET FOOD!
Sellers are getting creative considering the competitiveness in the night market. Many are selling the same thing, to get a niche market one have to be creative at what they can attract the foodies!
Since Rose needs to eat "clean" most of the time, street food usually are not suitable for her diet. Right until she found this wonderful life-saving stall!
What is a Popiah? "Popiah" is actually a thin wrap freshly made out of flour, wrapped with ingredients which are usually all kind of vegetables and sauces, some even added salmon or chicken... And end it by wrapping the whole thing with crunchy seaweed.

A Simple Menu and Simple Food.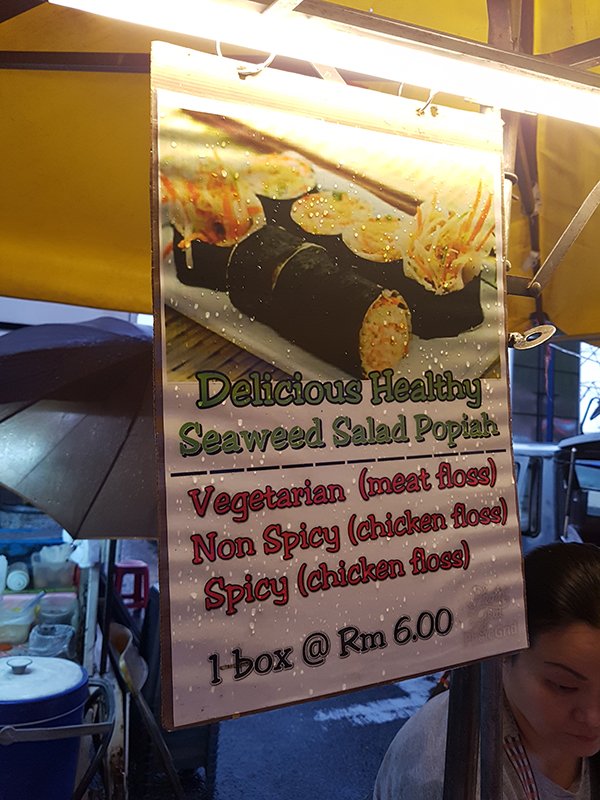 This stall have a very simple menu, each box is only cost RM 6 (USD 1.44).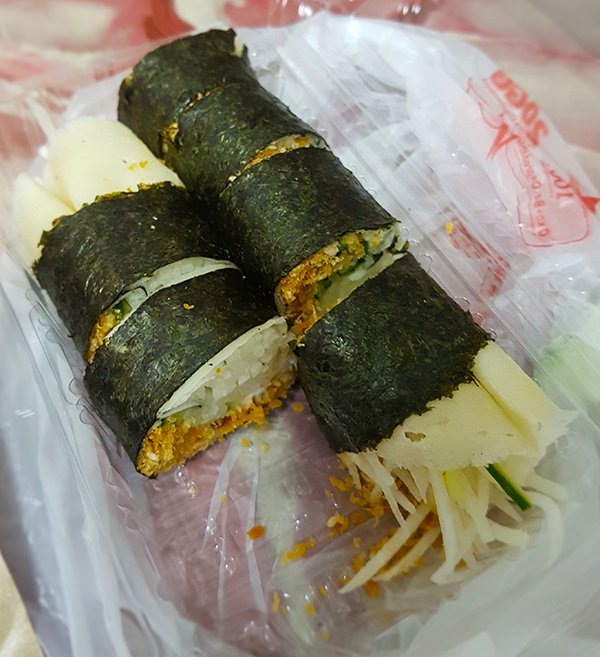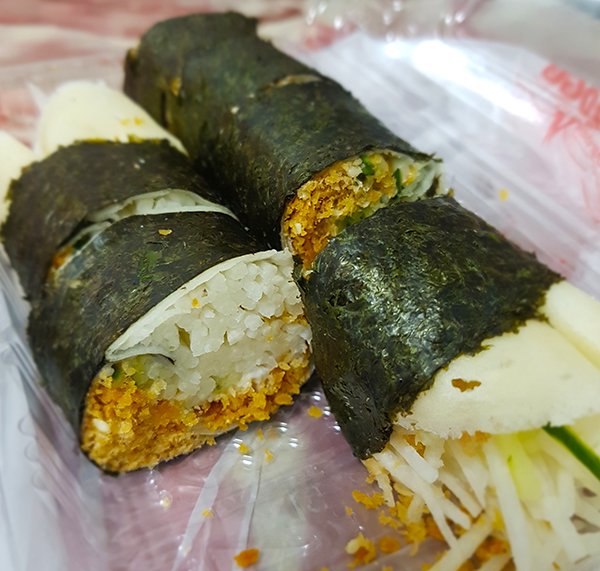 We always ordered the Vegetarian Popiah. Inside are made out of chopped "Jicama" or some called it "Chinese turnip" or "yam bean", cucumbers and some very crunchy fried onion-like thing which I have no idea what it was yet...
The ingredients are all fresh vegetables and the meat is actually not the actual meat floss, but some crunchy flour made kind of thing that makes the combinations less boring and more flavour to it.
It's really very refreshing when you have the first bite, no added sauces make the taste very original, all came from the fresh vegetables and the seaweed added some salty taste to it makes the whole thing just so amazingly delicious.

Overall
For those who want to "eat clean" for a while, this kind of food is definitely should be on your list. Plus it's worth the price you are paying considering the portion and the healthiness of it.
The stall is operated in a clean environment even though it open at the side of the street. Simple, clean and good food.
Thank you again for reading my review, hope you enjoy it! See you in my next post!

All photos were taken with my Samsung Galaxy S7 Edge.

Seaweed Salad Popiah.
Address: Setia Alam Saturday Night Market - Jalan Setia Prima A U13/A, Setia Alam, 40170 Shah Alam, Selangor, Malaysia.
Business Hour: 4.30 am - 11 pm (Saturday Only).
Location:
!steemitworldmap 3.096853 lat 101.444261 long Setia Alam Saturday Night Market d3scr

Thank you for stopping by, this is a place where I can share the things I enjoy in life, art, gardening, nature, foods. This is why my divider above are filled with all the different kind of icons that I love doing. I hope you enjoy my post so far, leave me a comment if you like.
谢谢您的到访,这里是个我可以分享关于我所喜爱的生活,包括艺术,园艺,大自然,食物等等的地方。 这就是为什么我上面的页脚全都是我喜欢做的不同类型的图标。 我希望您喜欢我的帖子,如果您喜欢,不妨留下您的评语。
Proud Member of: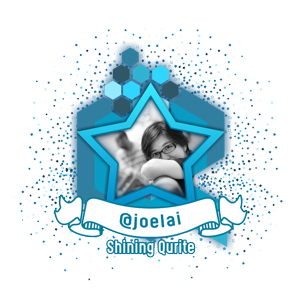 Proud curator and editor of #cn-malaysia

---
Restaurant Information

Seaweed Salad Popiah Stall.



Jalan Setia Prima A U13/A, Setia Alam, 40170 Shah Alam, Selangor, Malaysia
---
Night Market's Seaweed Salad Popiah.
This post participated in the Tasteem contest Street Food