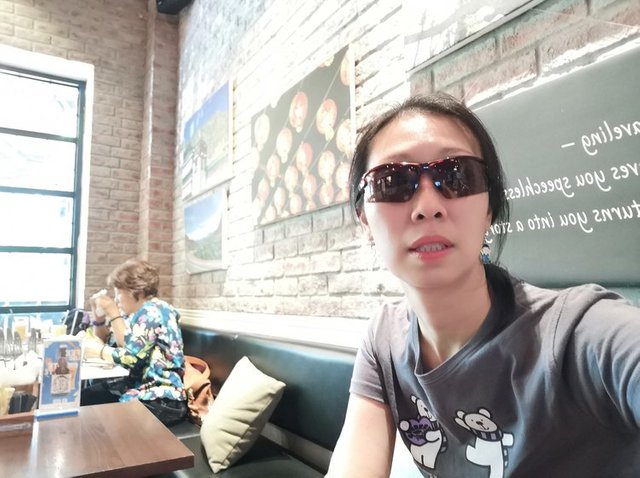 I've been wanting to check out this bistro for weeks but unfortunately due to the tight working schedule here, time is just very limited. Thankfully, it's a long 3 days weekend for us here from 31st till 2nd, thanks to the VN National Day on the 2nd.
And since it's Malaysia Independence today, I thought this would be the best time to have a celebaration ! Of course, there are many other reasons to celebrate as well... But, that will be for another post :)
Let me share with you about Journeys Sandwich Bistro. I found out about this place from Tripadvisor being a highly recommended place for breakfast & brunch. Looking at the photos shared by diners who have come here, I trust it must be really good.
So, here I am...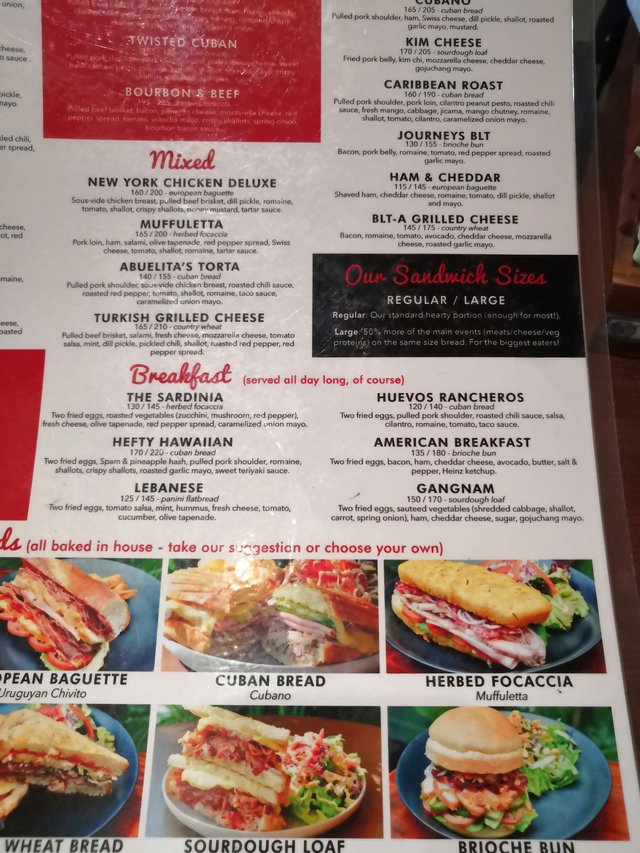 Menu #1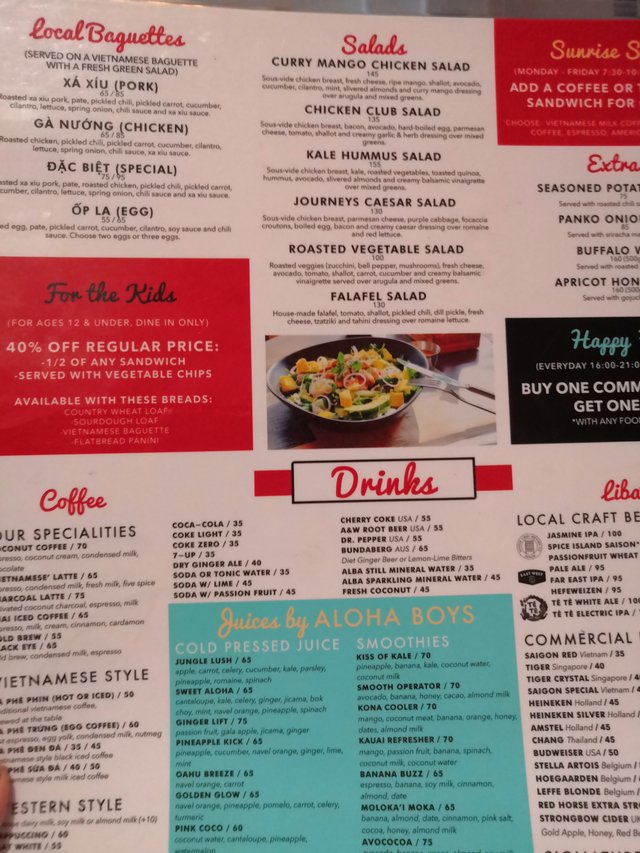 Menu #2
And I'm absolutely delighted to see and taste their food. Not only is their menu full of variety from all sorts of bread to every type of filling you can think off. Maybe just a bit too much if you ask me. I had a bit of a hard time selecting what I wanted that the wait staff had to come and recommend.
It would have been best if they didn't try to put everything on a 1 fold menu instead split it up into a 2 fold menu booklet instead. Maybe it's their way of confusing us diners :(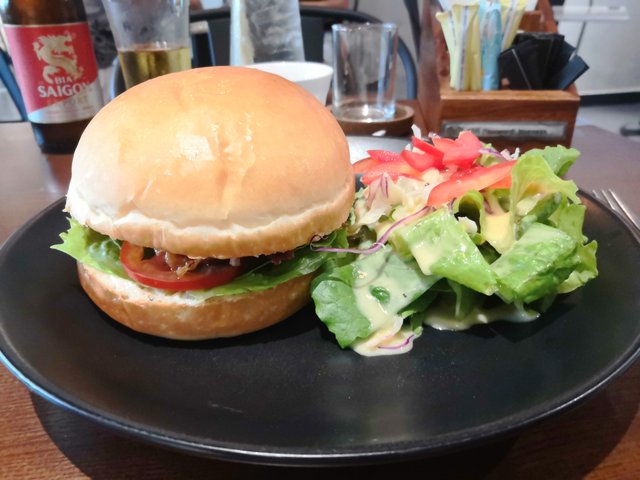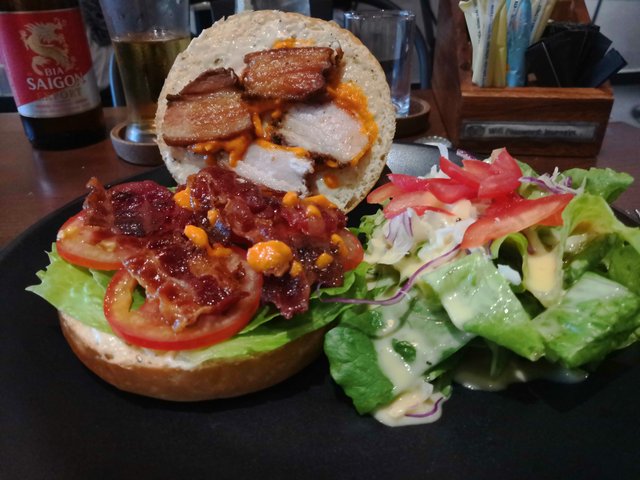 I chose their signature Journey's BLT which to me was save since it's my first time here. It was totally amazing; the bread was soft and fresh, the bacon and pork slices were just divine. I ate everything on my plate. Even the green salad came with passion fruit dressing which I like; the sour taste is just my kind of thing.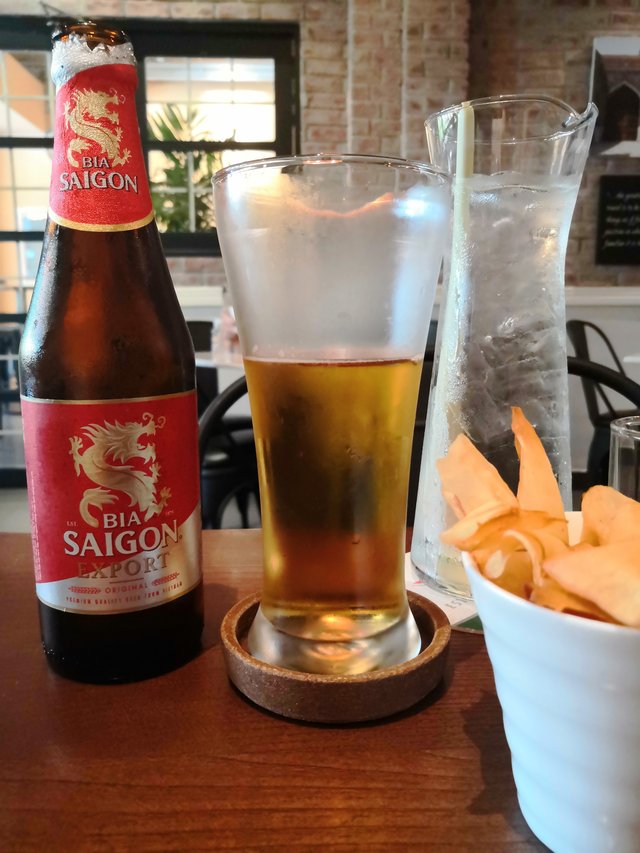 To celebrate, I decided to toast to myself with the Signature Bia Saigon Red. I've never tasted this before only the Bia Saigon Original. To be honest, I'm not sure what's the difference; price perhaps ? I know it may too early to enjoy beer at 2.47PM but in some other parts in the world it's Happy Hours !!
Yeah.. I know, it's just an excuse but if I'm going to have a blind date, I've got to be a bit intoxicated enough to start talking to a stranger in front of me; especially if it's only 1 person for at least 60 minutes!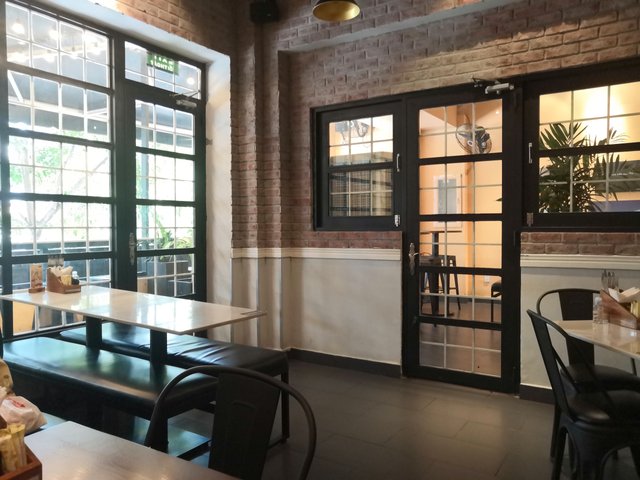 Journeys interior decoration set up is nice and cosy. Music is not too loud and they have nice R&B music which is soothing for the diners.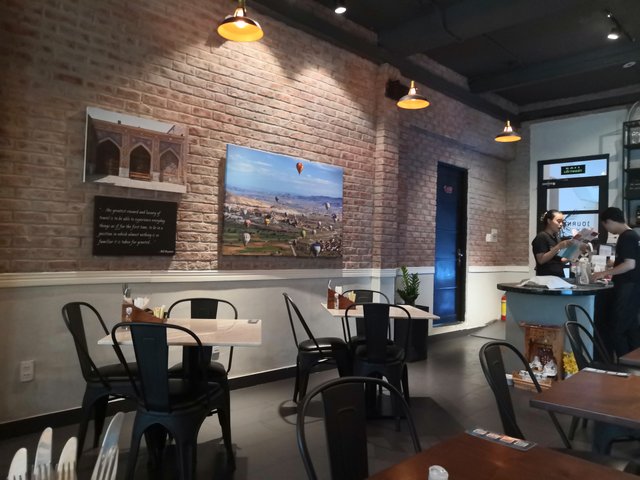 As I was writing this post while I'm at Journey, I had the unexpected or unfortunate experience to witnessing a small mice running around the inside of the restaurant :( The service staff were extremely worried because there were several Europe diners and they could really write some very bad comments on Trip Advisor. I haven't decided if I would but if I was being honest, I should. Sometimes, you can have the best food and excellent service but once hygiene is bad, it's a downhill for the entire place !
Would I come back here again ?
Oh hell YES !! If it's for a blind date.. ha ha
---
Restaurant Information

Journey Sandwich Bistro



30-36 Phan Bội Châu, 1st Floor, Bến Thành Ward, District 1, (Enter through 34 Phan Bội Châu), Phường Bến Thành, Ho Chi Minh City, Hồ Chí Minh 700000, Vietnam
---
Journeys Sandwich Bistro | Tasteem Review
This post participated in the Tasteem contest Where to eat for my blind date?