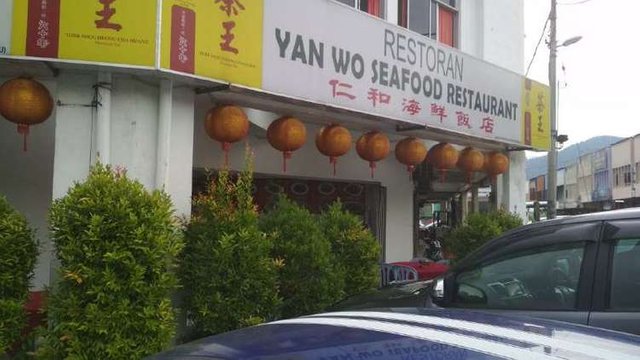 Talk about family dinner, it's always a pain in the... errmm... how should I put that in a food and restaurant review? Alright, pain in the tongue. It's always price, service, taste, presentation and availability. I had this great opportunity which suggested by fellow Steemian @tanlikming, previously when @godit came to visit to Malaysia some months back. And since the family consist of 9 adults and 2 children, I suggested the family to try this restaurant out as I have good experience previously. I forgot to snap a photo of the menu, but who needs a paper menu in a Chinese restaurant? One would have problem trying to understand what are the ingrediants anyways. So, the best bang for bucks is always open your mouth and ask what's good and tell the budget range so you wouldn't feel being slaughtered when the final bill came.
Shrimp fried egg 虾仁煎蛋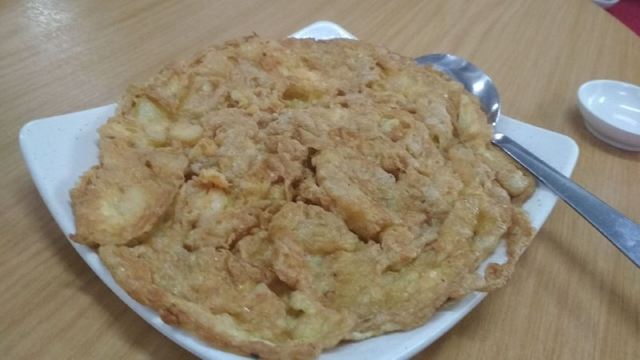 As usual, this one is for the kids. When my sister in law's son is around, we couldn't avoid this dish. I wasn't expect what kind of super fried egg we have, but the texture of the fried egg is marvelous. If you tried over cooked fried eggs, you'll notice those egg whites are very hard to chew. If you have experience of undercooked fried eggs, you'll find yourself chewing with mouthful of frying oil. This, is not any of those type. I think the egg is being properlly whipped with tremendous amount of air bubble in it, and it's being fried in seriously hot oil, as a result the texture of the egg is exactly like a crunchy french toast! It's like melting in your mouth. Ask me again, I will do order this again, and it's inexpenasive!
Sweet sour chickne cube 咕噜鸡丁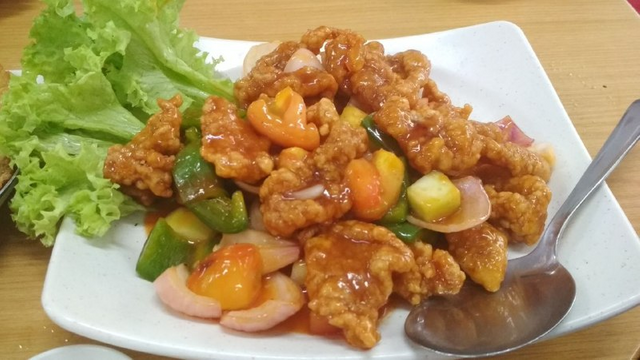 If you ask me, I am usually ordering sweet sour pork. Original receipe were never meant for chicken for this dish, as pork meat texture is slightly chewy compare to chicken. And again, due to kids around, we choose to have chicken being cute in to smaller pieces so the kids can easily manage their own food. What would I grade this dish? Well, for something that I'm not preferred, it's still 7 out of 10! Freaking marvelous. If there's any improvement they should do? I think adding extra sweet sour sauce would really make it a star, and people could have order this dish alone, added with the egg and eat a bowl of rice(what do you expect? typical Asian rice eater).
Pumpkin bean curd(tofu) 南瓜豆腐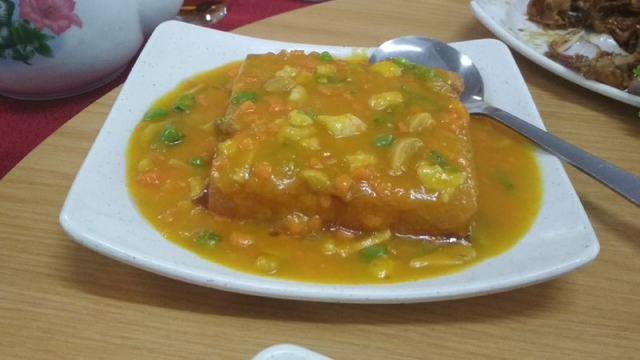 Who would be thinking to use pumpking to make gravy and cook together with beancurd? Well, it's already here. It's not something really special, but the pumpking gravy really makes the rice so much tastier than it should. Forget about the beancurd... well, don't. The beancurd seems not meant for the pumpking gravy(soup), but it does the magic with a little egg taste in the beancurd, makes this gravy dish really mouth watering. To add that, they added extra salt to the gravy and I think if I'm eating rice, I could have pour those sauce and mixed them with a huge bowl of rice, squash the tofu into the rice and whack them mouthful!
Ginger steam fish 姜戎蒸鱼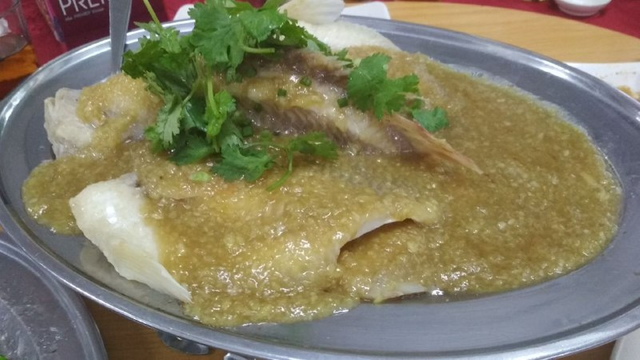 Unlike some normal commercialized restaurant, this place offer first grade steam fish. We ordered this Tilapia, and they literally took 20 minutes to prepare this fish in the steam cage. The meat is tender, fresh and hardly taste of "dirt" in this fish. The blended ginger gravy has been premixed with other unknown enhancement sauce, which, who cares! As long they don't kill me. I'm the kind of person dislike ginger, but I ate like half of the fish all by myself!
Dual color spinach 双色苋菜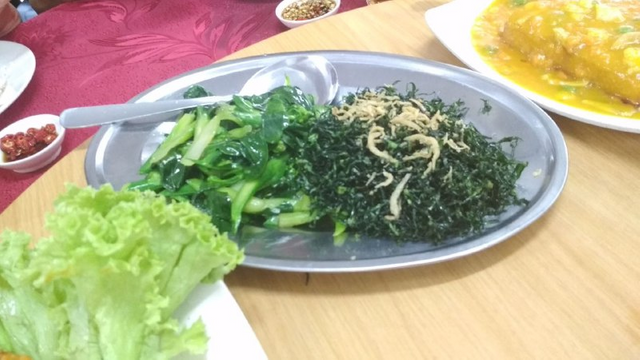 I am known to be the old kids at home, probably anyone who knows me long enough would agreed that. I don't usually like to eat vegetables, and even if I eat, I could have probably being under pressure to eat it. But not this time. We ordered this special dish with two type of cooking style in one plate. On the left is boiled spinach, and on the right is graded fried spinach. Ofcourse I'm aiming for the right portion of the dish. If you come for this dish hoping your kids to eat some vege, get them to close their eyes and you shove this into his/her mouth and ask her what this is, they will probably tells you it's some tasty cracker.
Summary
We closed the bill for 9 adults and 2 children, at
RM174.60. Frankly speaking, for such price this is literally one of the best in town. The floor staff is very attentive. By the time we arrived there, it's a little close to peak hour and majority of those table either prebooked or currently occupied. Immediately one of the floor staff came to ask for my request, and he quickly arrange me for temporary seat. Like within 5 minutes, they quickly rearrange the setups as some customers are leaving and we got ourself a nice seat by the side. Location of the restaurant is at the corner lot of shops. During weekend and night time finding parking would have no problem at all.
To take note
Here's the thing, if you search for this Restaurant by keying in the name Yan Wo Seafood Restaurant, be sure to include Taman Ehsan in the search. Or else it will send you to Tropicana.
---
Restaurant Information

YAN WO Seafood Restaurant Taman Ehsan



2414, Jalan E 3/6, Taman Ehsan, 52100 Kuala Lumpur, Selangor, Malaysia
---
YAN WO Seafood Restaurant 仁和海鲜饭店
This post participated in the Tasteem contest Your weekly choice