Struggle with Green House 青屋虾面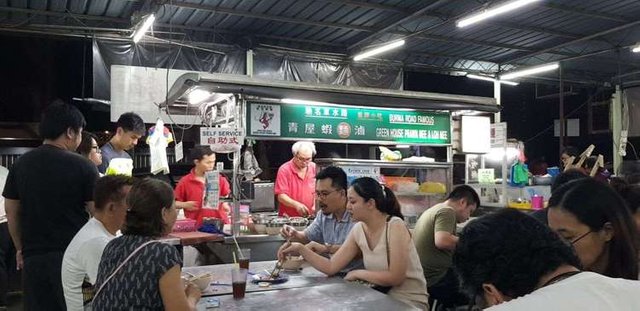 Penang is a place that usually us Southern people called it taste bud killer. The food taste is at the extreme and mind bending.
Well come to Old Green House for their famous prawn noodle. Note that there's two different green house here, not on the same road sign, but they are from the same street! There's a story behind how that happen, but we're not going for history class today. Let's just stick to the old one and I shall introduce you the one without "old" next time around!
Take a good look at the dark color broth on the left, those are prawn extract. If you're not familiar with the smell, you'll probably think someone haven't change their socks for 6 months straight. And usually when we order this dish, we will go with BeeHoon(rice vermicelli) so it will absorb the broth into the noodle. They generously put a chunk of fried onion to bring blow your mind when these onions explode in your mouth.
And ofcourse, how can we miss the side dish of oyster omelet when we're in Penang? We used to STAND, yes standing by the road side, and infront of Gurney bay eating sand and dust with this beautiful dish back in the 80s and 90s. Until the city council start to sweet away street hawkers, fried oyster omelet has become rarer by the day.
Piece over another piece of oyster burried within the egg are ready to explode in your mouth. It's so juicy, and the taste of the oyster is ever so sweet and fresh as if jumping into clean sea water(ok don't go to the beach just yet, or you'll feel differently).
Last but not least, we Malaysian do not really know how to appreciate coffee, but we make a decent coffee just because we like them! If you're going to try the "old school" taste of coffee, please go with Kopi O Bing. Kopi means Coffee in Malay. O means "dark" in Hokkien dialect. Bing is Ice in Mandarin(common communication language amongst all Chinese). And the coffee is served lightly sweetened, rather than they give you syrup and you ended up sticky everywhere. Just be very careful with this beverage. It's so easy to go down, and the spiciness of the food, you're just going to accidentally finished it a little too soon and you'll have to order another one.
---
Restaurant Information

Old Green House Prawn Noodle



223, Jalan Burma, George Town, 10050 George Town, Pulau Pinang, Malaysia
---
Struggle with Green House 青屋虾面
This post participated in the Tasteem contest Your weekly choice