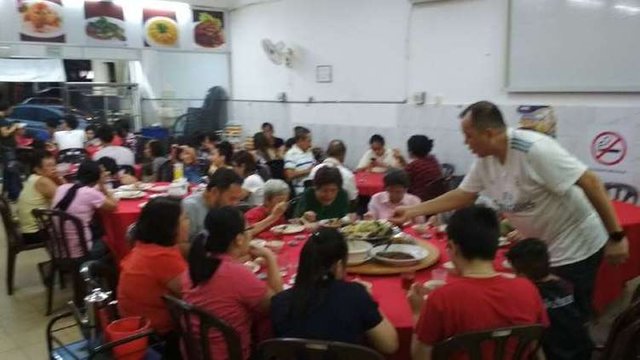 I would like to introduce everyone to one of the latest addition of good and affordable sit down dinner at Sri Damansara. Why did I NOT take a picture of the restaurant? Because the out look was not ready yet. The previous owner has just moved out and the restaurant moved in totally blown my mind and I had to give you the location, anyone near by can come for family dinner. Wait a minute? Am I at the wrong category? Aren't this supposed to be at seafood restaurant? Or weekly choice? Well, may be I'm at the wrong category to review this restaurant, but I wanted to highlight this is one the most affordable, cheap and fabulous sit down dinner place.
Menu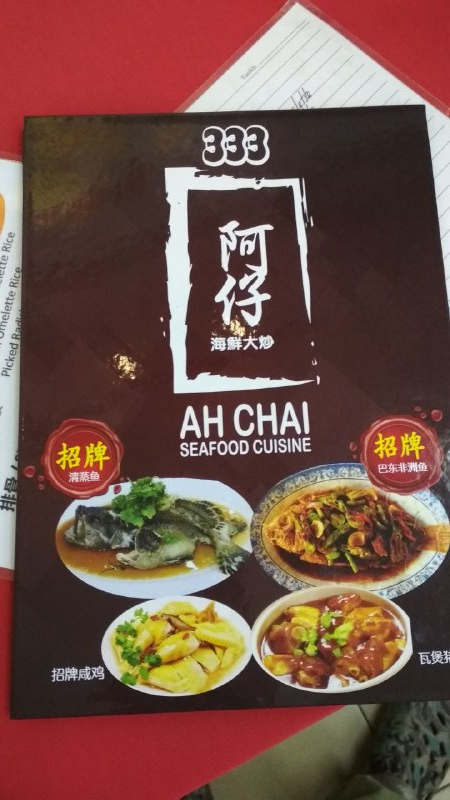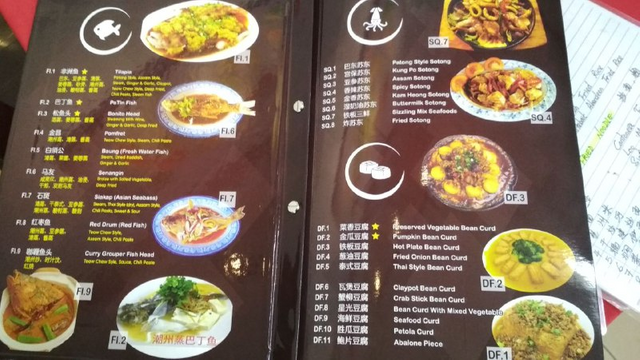 Looking at the menu, they're newly printed and there is no pricing spelt on the menu just yet. If you're not comfortable with the way they conduct business, feel free to ask for individual pricing before ordering, so you can eat with peace of mind.
Fried Tilapia fish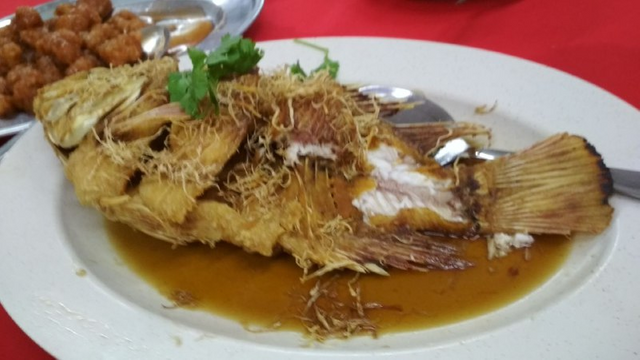 Black Tilapia is cheaper than red, simply because of the color. Chinese like red, hence the red Tilapia is more expansive. But what gives you an idea of black does not taste as good as red? This fish is about 600gm! And guess how much it is? Holy mother of God, it was RM18 a fish! It's like unreal, been many years I haven't heard the price of PER fish. They usually priced by the weighing scale, but this fish is big enough for the whole family and for the children as well. I like the sliced ginger and the unique ginger smell does goes down pretty well with the fried fish and the soy sauce.
Minced meat beancurd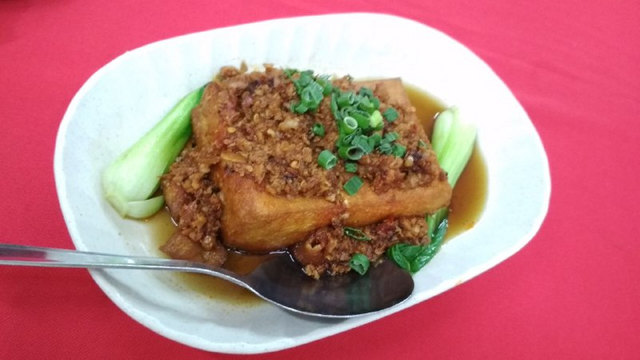 Usually, minced meat bean curd we ordered are having some chopped meat on top of the tofu. But this one, the minced meat looks more like a real crusher grinded meat, mixed with dried shrimp and many spices. If you have young children who do not take spice, do not order this dish. But if you're ok with mild tolerance of hot and spicy food, this doesn't feel too hot but it definitely helps you to speed up chewing of white rice. Taste is marvelously good.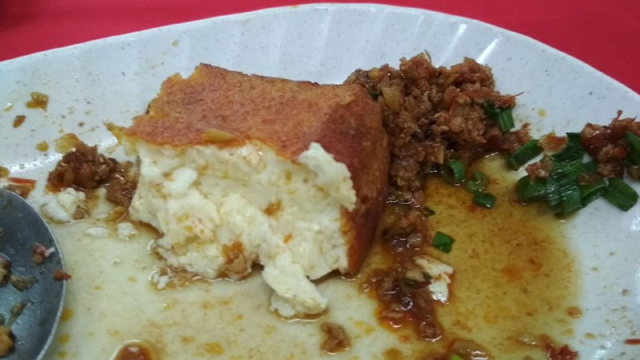 The tofu is extremely soft from the inside, but the skin is very crunchy.
Sweet sour pork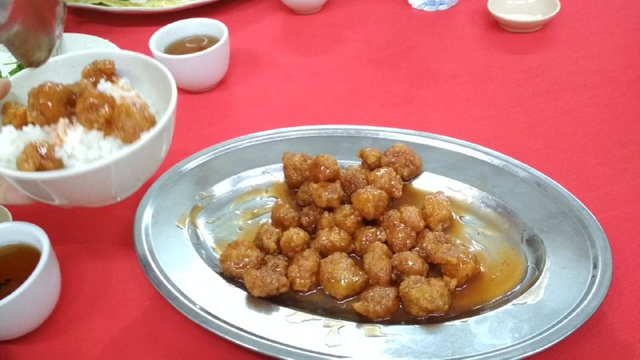 Usually, this dish came with mixed vegetable, but we already have a huge bowl of vegetable soup, I'm sorry I forgot to snap a picture of that as we split them up to smaller bowl so we can save some space on the table. Since we have vege soup, so we ordered the fried pork that dip in sweet and sour tomato sauce. This is one particular dish, regardless of adult or young children, we all love it. The sauce from this dish can literally make you leak saliva.
Long bean fried egg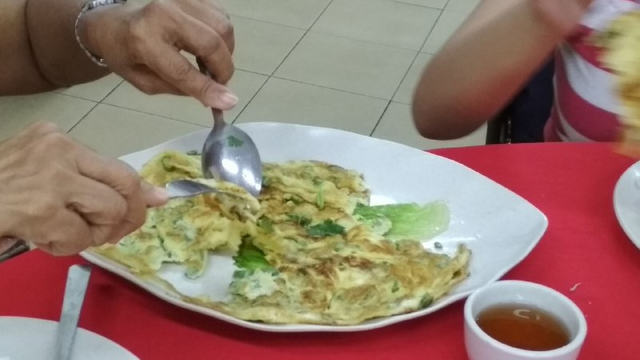 We usually like to eat Lotus fried egg, which previously I have explained about why is it called Lotus. This time, we changed a little, use long bean to fried egg. You know when kids doesn't eat vege, the best part is using egg to hide them, to hide the fibre texture and to hide the green color. Again, this dish earned everyone's trust, regardless adult or children. Best of all, you know we ordered the sweet sour pork, dip this egg into the sauce once again you'll have to add another bowl of rice.
Unbelievable experience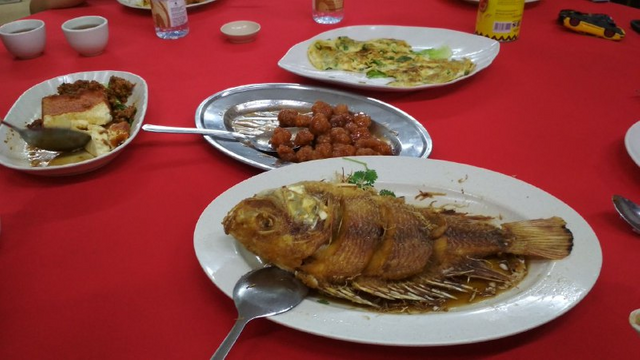 You saw my pictures has always been incomplete. Most of the time, if not all the time my picture has someone's hand, someone's spoon, someone is grabbing those food, that's because our family doesn't give a damn of the food photography. As soon as something came, the very first moment someone will have their fork there. Trust me, this is how real we are! Food is tasty, and they can't stay any longer on the table. And the total bill came to, RM78, covering 6 adults and 2 children. Tell me, where else can you find such good food at such extremely affordable price? I wouldn't say it CHEAP, because they're not. They're simply too good to be true.
---
Due to recent change of location, you will get wrong address from Google Maps, if you search directly via restaurant name. I have suggested for location change, but that subjected to officials approval I guess? For the time being, kindly refer @steemitworldmap for the actual location of this place. And I have also tagged a shop next door to this restaurant for ease of finding the location.
---
Restaurant Information

Ah Chai Seafood Cuisine



6, Jalan Angsana SD 2/2b, Bandar Sri Damansara, 52200 Kuala Lumpur, Selangor, Malaysia
---
Cheap as in extremely affordable family dinner
This post participated in the Tasteem contest Cheap and Fabulous? Totally possible!