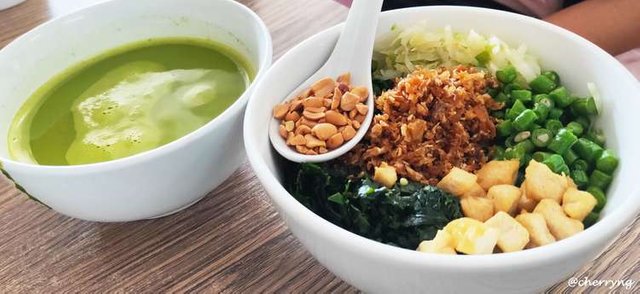 Hello dear Steemians,
Have to ever try Thunder Tea Rice? Lei Cha is Hakka traditional cuisine. It is made from rice, peanuts, mung beans, tea, ginger and other raw materials. It is made into a paste with ceramics, added with water and stirred evenly. Its nutritional value is very high and a healthy choice.
大家好!
你们有吃过擂茶吗?擂茶是客家传统美食。它是由大米,花生,绿豆,茶叶,生姜等原料,用陶制擂钵打烂成糊状,加入水,搅拌均匀而制成的。其营养价值非常高!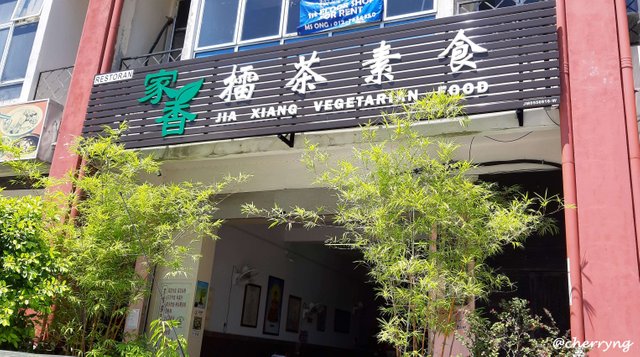 Today I would like to present to you a Vegan Thunder Tea Rice Restaurant which's located at Pontian Kechil. The restaurant boss is a devout Buddhist. There are many Buddha painting and Buddhist books in the restaurant that is free distribution for the customers.
今天我想和你们分享一家位于笨珍的擂茶素食馆。店主是位虔诚的佛教徒,餐馆里摆放了很多幅佛像画座和佛教书籍和结缘品,供顾客结缘。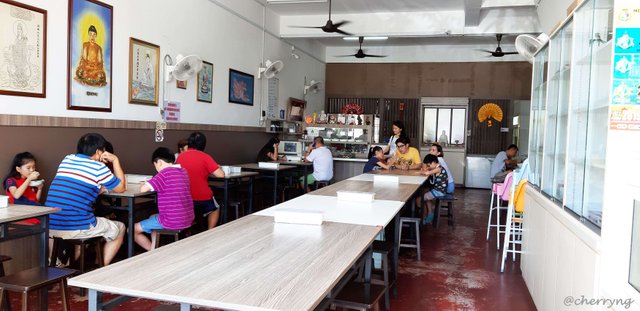 Like some other vegetarian restaurant, the interior is simple and clean. Let me share with you what we had ordered.
和一般素食餐厅一样,室内简单而干净。
看看我们点了什么。
Thunder Tea Rice. This bowl Thunder Tea Rice consists of long beans, cabbage, green vegetables, dried bean curd, peanuts and salted preserved radish. This preserved radish fried with oil, enhance the taste of Thunder tea rice. It is very delicious and fragrant. The price is RM6.50.
擂茶饭。这碗擂茶饭有长豆,包菜,青菜,豆干,花生和菜蒲。美味之处是菜蒲有用油炒过,非常香! 价钱是马币6.50.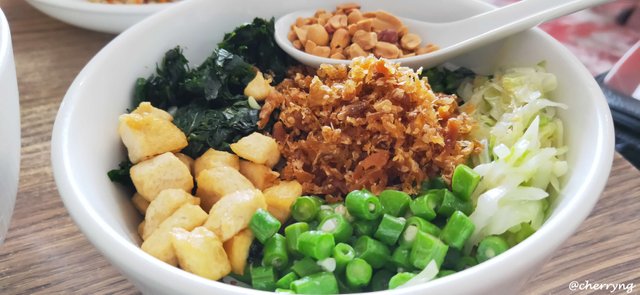 The white rice is mixed into brown rice. It is tasty even you repeat eating.
白饭参入糙米饭,吃多也不会腻。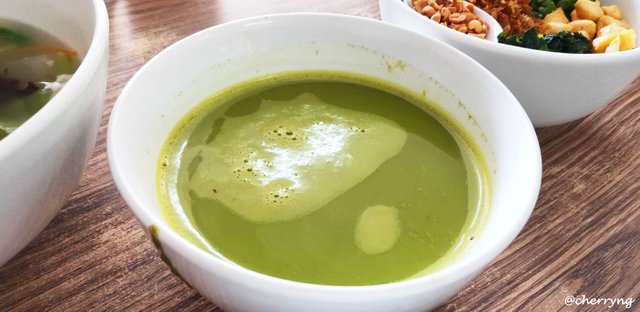 With the special made Thunder Tea Soup, it is so tasty! No bitter taste at all.
配上特质擂茶汤,太好喝了! 没有一点苦味,赞!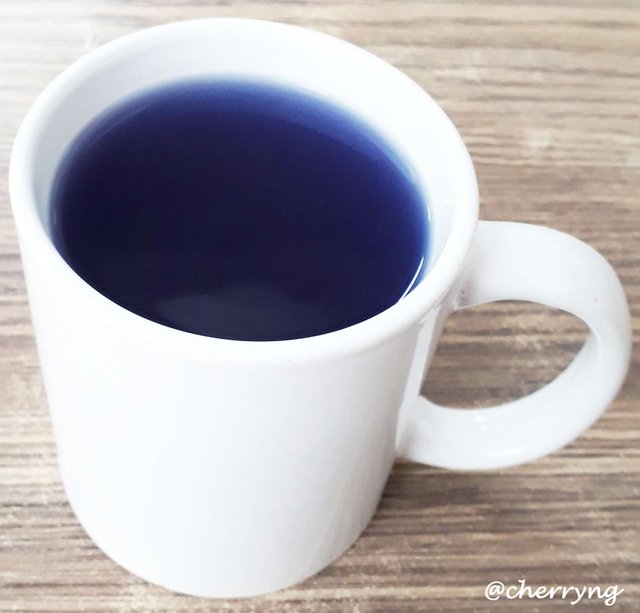 Blue Flower (Butterfly Pea Clitoria Ternatea) Tea. It has the effect of clearing away heat and detoxification. The price if RM1.50.
兰花茶。有清热解毒的作用。价钱是马币1.50.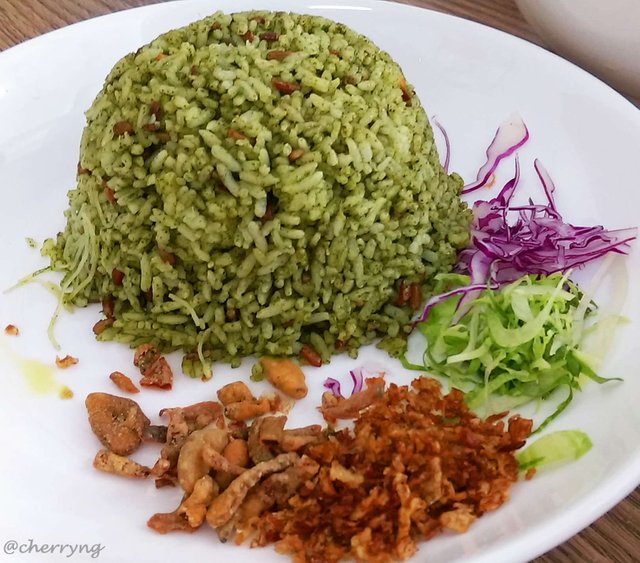 Xiangchun Citron Fried Rice. Those who like to eat Citron, can order this fried rice. I not really like the taste of Citron, so I felt the taste is average. The price is RM6.00.
香椿炒饭。喜欢吃香椿菜的人,可以点这道炒饭。我不太喜欢香椿菜的味道,所以觉得这道香椿炒饭,味道一般。价格是马币6.00.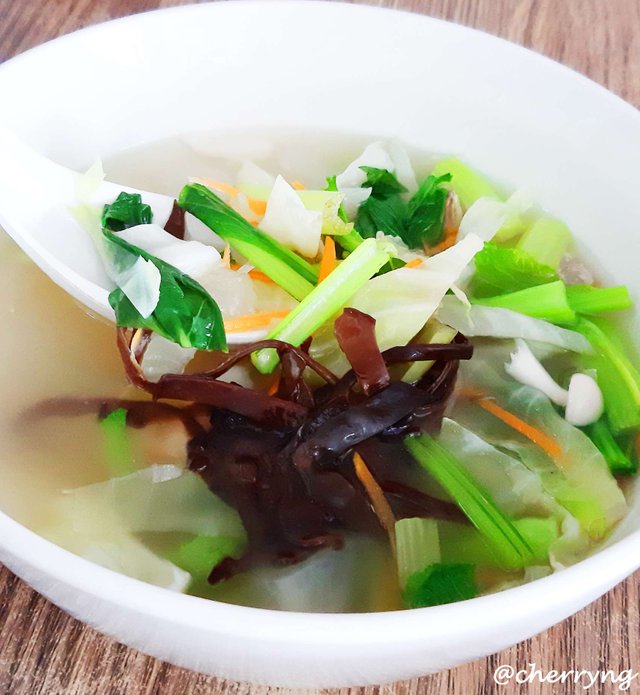 Vegetable soup. This bowl of soup made with vegetables, taste delicious and great! The vegetables in the soup are fresh and delicious!
This Vegan Thunder Tea Rice Restaurant is not only providing nice Thunder Tea Rice, the other dishes are healthy and delicious too, with reasonable price. If you want to eat Thunder Tea Rice, I recommend you to try it!
蔬菜汤。这碗用纯蔬菜熬成的汤头,真是清甜美味,汤里的蔬菜新鲜,好好喝!
这家擂茶素食馆,除了擂茶饭,其他素食都很健康美味,价格公道。如果想吃健康擂茶的朋友,我推荐你们可以去这家试一试!
谢谢!
Address: 3G, Jalan Delima 1/1 Pusat Perdagangan Pontian, Johor, Pontian Kechil.
Business hours: 9am-3pm every day except Tuesday
---
Restaurant Information
Lei Cha Vegetarian Restaurant



1, Jalan Delima 1, Pusat Perdagangan Pontian, 82000 Pontian, Johor, Malaysia
---
Healthy Vegetarian Thunder Tea Rice (Lei Cha) @ Lei Cha Vegetarian Restaurant (擂茶素食)
This post participated in the Tasteem contest Be Veggie