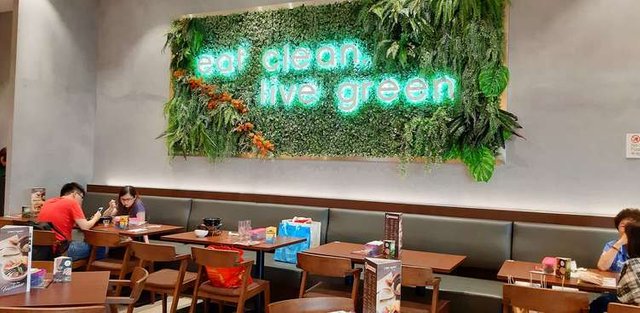 Hello dear Steemians,
Nowadays people are paying more and more attention to healthy eating. This kind of vegetarian restaurant, one after another has been opened, and we can found easily in different places. Today I would like to share with you a very good organic vegetarian restaurant. There are many branches in Malaysia, it is BMS Organics Vegetarian Restaurant.
大家好!
现在人对健康饮食越来越注重。这类的素食馆,一家又一家,像雨后春笋般,在不同的地方都可寻获。今天我想和你们分享一家很不错的有机素食餐厅。在马来西亚有很多分行,它是BMS Organics 有机素食馆。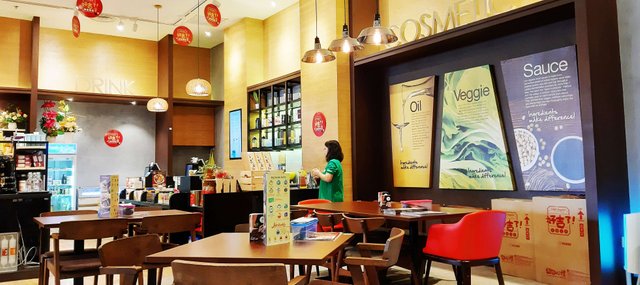 The interior of this vegetarian restaurant is simple and nice with a large greenwall on one side with wroten, "Eat Clean, Live Green".
这家素食馆的室内设计,简单大方,在一旁还有很大的绿色墙壁,写着标题: "Eat Clean, Live Green"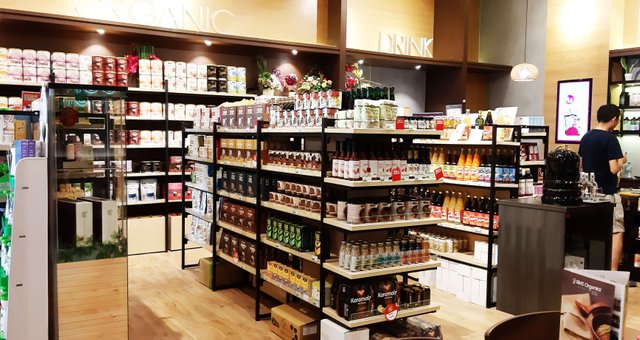 It is not just a vegetarian restaurant, it also sells a variety of organic products, such as vinegar, juices, cookies, supplies, food, etc. All health-oriented products are available to find here.
它不只是家素食馆,它也售卖各种个类有机产品,如果醋,果汁,面条,饼干,用品,食品等等,都是以健康为主的产品。应有尽有。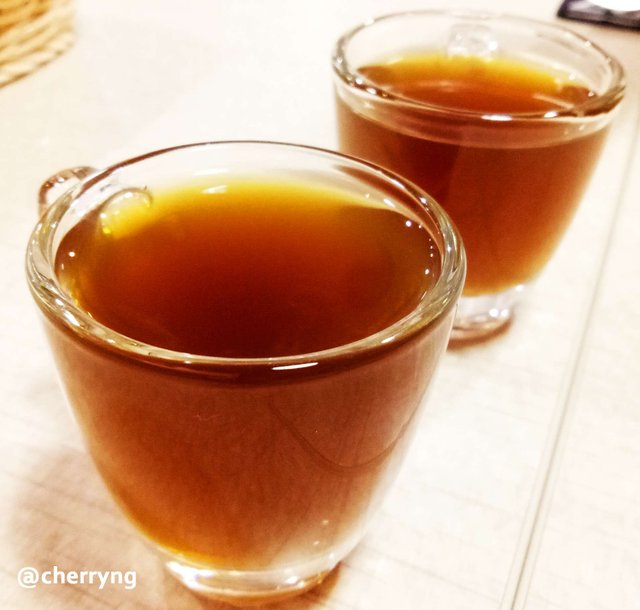 Every diner can enjoy the brown sugar ginger tea after they take order, which's free of charge. The taste was really good. I asked a waiter about the ingredients. He said that they were selling this brown sugar ginger tea products. For enhance of flavor, they added lemongrass.
每位食客在点餐后,都能享用这个餐馆提供的黑糖姜茶,是免费的喔。味道真的好好喝,问了一位侍应生,他说是他们售卖的黑糖姜茶,为了提味,他们加了香茅。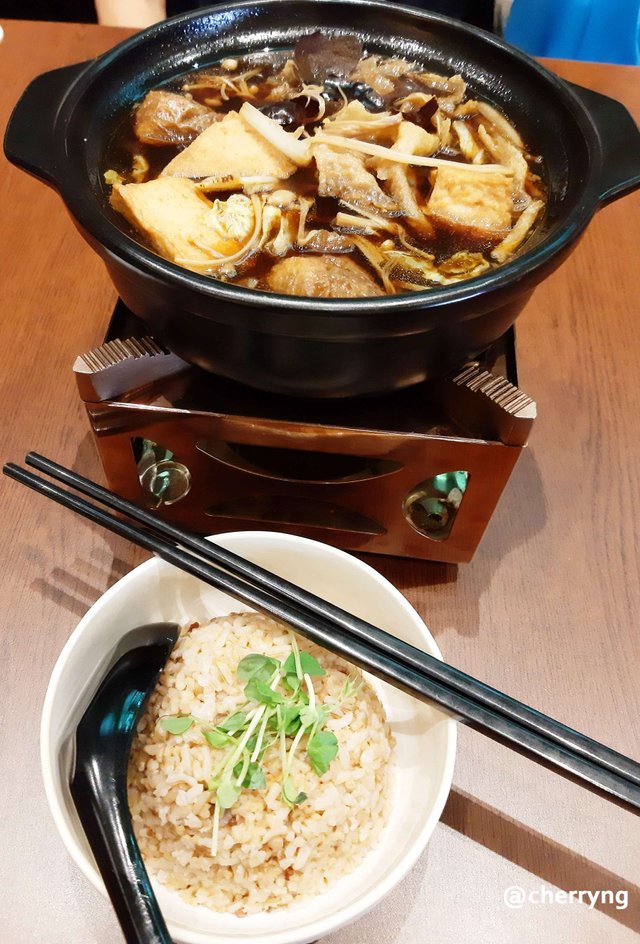 The 1st dishes is Herby broth pot set with brown rice. Compared to Puchong branch, the ingredient is a bit less, but the soup is still nice.
第一道是素骨茶。比起Puchong的分行,这家的汤还不错,只是料有点少。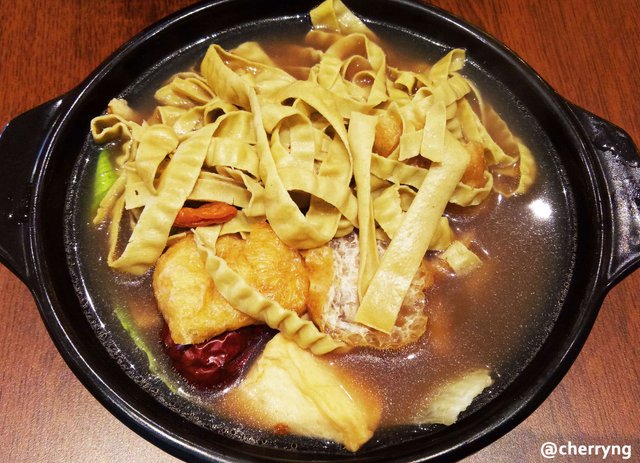 The second is Bean noodles in herbal soup. The bean noodles are very chewy. Good try.
第二道是药材汤豆板,面条很有嚼劲。不错。汤头一般。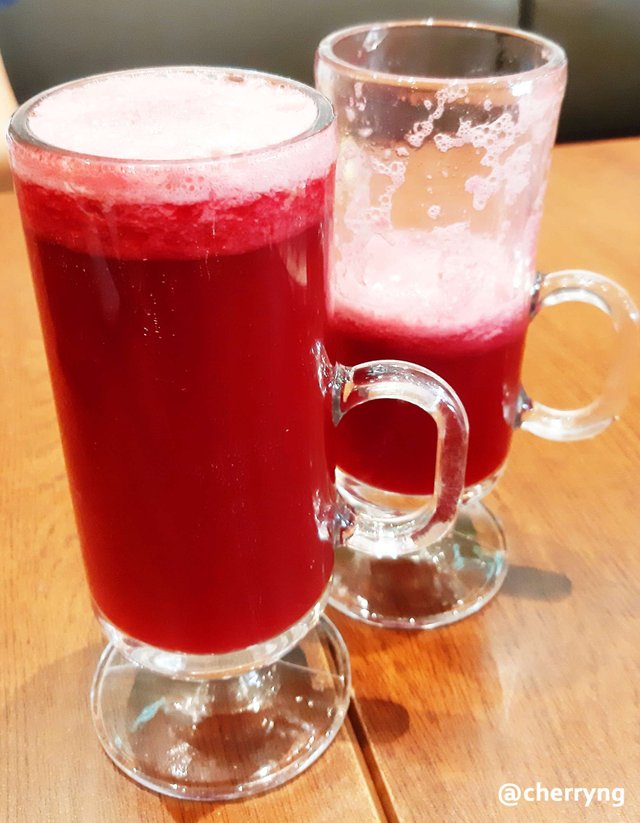 We also ordered a good juice, Will Power fruit juices (lemon, beetroot, green apple, honey)
我们也点了好好喝的果汁。

The little's one mushroom pasta. The children's meal is delicious, especially the mushroom spaghetti. The mushroom is super Q, yummy! Thumb up!
这里的儿童餐很好吃。香菇意大利面很美味。香菇口感好Q嫩,100分!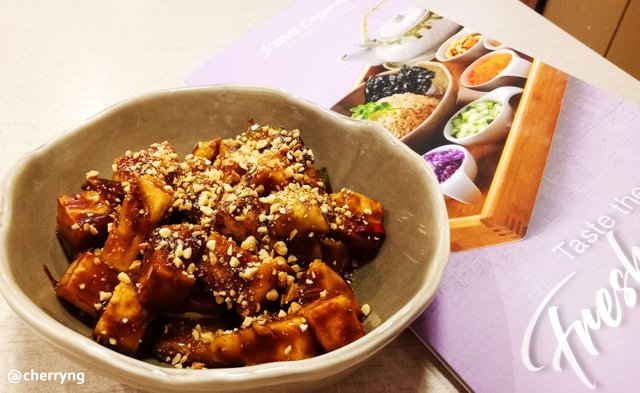 Next is Fresh tropical Rojak (contain peanuts)
哈。。还有水果Rojak.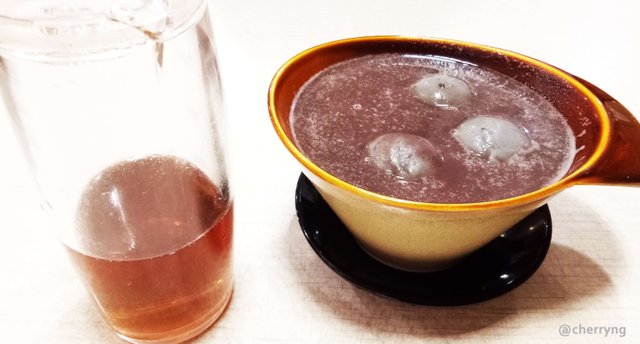 This is recommended dessert, Red bean delight with glutinous rice ball. The restaurant offers honey, and we can add it to the red bean soup with personal sweetness. It is really delicious!
这个值得推荐,红豆汤圆。餐馆提供蜜糖,我们可以以个人甜度喜好来加入红豆汤里,真的非常好喝。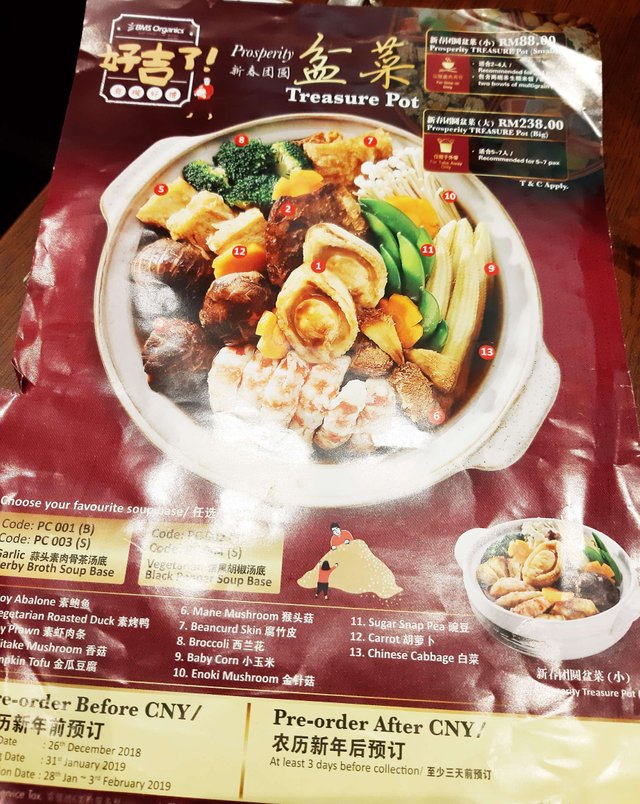 Their treasure pot has 13 types of ingredients. Small one cost RM88.80. Big one cost RM238.00.
他们的盆菜有13种料。小的售价RM88.80。大的售价RM238.00.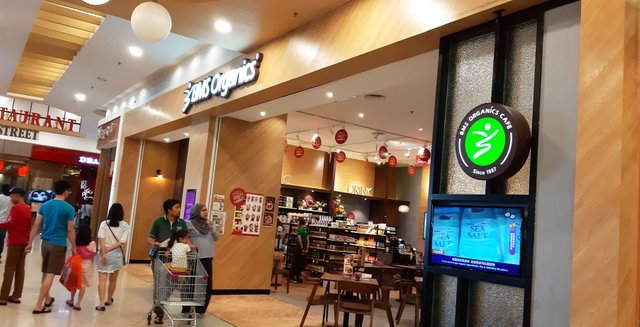 Although the price is higher than the average vegetarian diet, the vegetarian diet in this restaurant really makes me want to go back again!
Address: G-15, Ground Floor, Aeon Bukit Indah Shopping Centre, 8 Jalan Indah 15/2, Taman Bukit Indah, 81200 Johor Bahru.
Website: http://www.bmsorganics.com
虽然价格比起一般的素食馆高一些,但是BMS ORGANICS的素食真的让我回味无穷,去了又去。
地址:G-15, Ground Floor, Aeon Bukit Indah Shopping Centre, 8 Jalan Indah 15/2, Taman Bukit Indah, 81200 Johor Bahru.
谢谢!
---
Restaurant Information
BMS ORGANICS



8, Jalan Indah 15/2, Taman Bukit Indah, 81200 Johor Bahru, Johor, Malaysia
---
Organic Vegetarian Meals @BMS ORGANICS (美味有机素食)
This post participated in the Tasteem contest Your weekly choice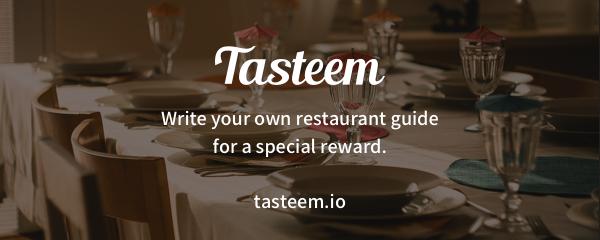 !steemitworldmap 1.4817895 lat 103.6556812 long BMS Organics Aeon Mall Bukit Indah D3SCR