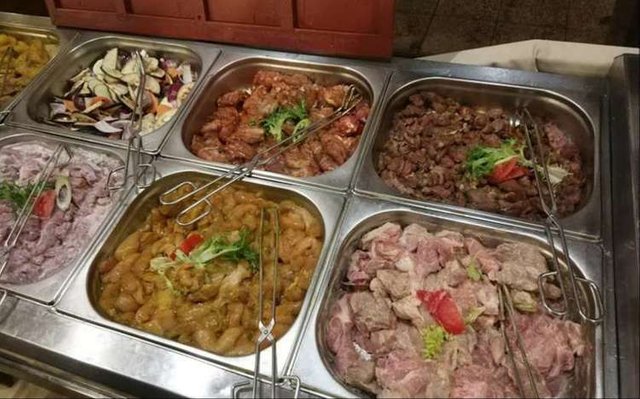 Less than a week ago I got the chance to visit the Mongolian Barbecue all-you-can-eat restaurant in Budapest. It is located on the Buda side, and it is the predecessor of the popular all-you-can-east restaurants existing today (whereof the most popular is the Trofea Grill chain).
At the Mongolian Barbecue restaurant you pay a set fee, and you can later eat and drink as much as you want to in the restaurant. You can choose starters from a menu and they will be served you at the table, while you can walk and pick the main courses by yourself. Here you will find lots of meat that you can pick, give it to the chef, who will then grill it on a plate before you, making sure that you get it fresh and exactly the meat you prefer.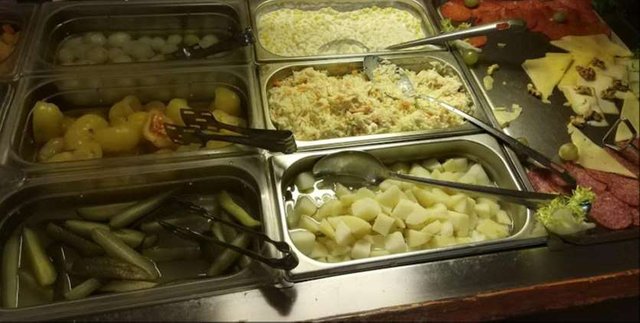 At the first picture you can see a picture of parts of the meat available, and above here you can see some of the side dishes that is available next to the main courses.
What is important, is that you can drink as much beer and wine, water, apple juice and so on next to the meal. If you want to buy special drinks like short drinks, those are not included, but the average visitor will get everything they need of drinks included in the price.
Once you are finished with your main course (you can eat as many times as you like), you can again find the menu and ask for different desserts available there (which also are included in the price).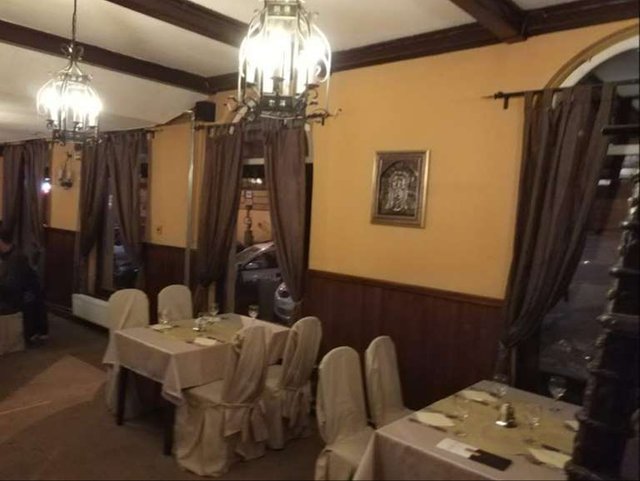 Depending on when you go, the price level varies between 12 and 17 Euro. And considering that you can eat and drink unlimited, that is very, very cheap! And again, the quality of the meat is very good!
Absolutely a place worth visiting if you want to eat and drink a lot for a cheap price in Budapest!
---
Restaurant Information

Mongolian Barbecue



Budapest, Márvány u. 19/a, 1125 Hungary
---
Mongolian Barbecue in Budapest (Tasteem review)
This post participated in the Tasteem contest Cheap and Fabulous? Totally possible!