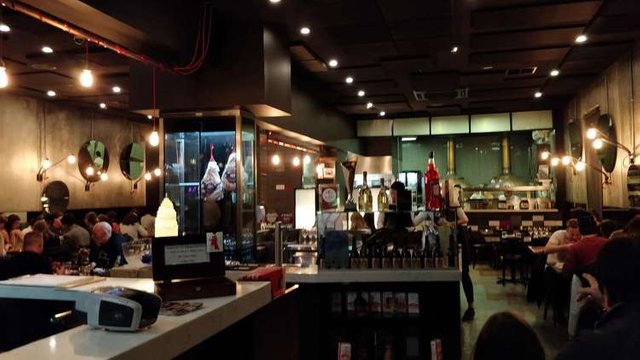 Now, I know that every restaurant and little corner store makes the claim that they have the "BEST XXXXXX in the whole world".... so, it isn't such a big deal when you see such a claim being made these days... after all, not everyone can claim to have the best version of everything in the world....
However, 400 Gradi... it has made that claim, and it is in Melbourne, the home of Australian food culture... and on the famous Lygon street, renowned for great restaurants and particularly Italian ones!
... and it has won awards for their version of the Margherita (plain) pizza (twice winning the Oceania prize for the Pizza Gala festival in Naples)... plus, we had friends and family that were telling us that we really should try it out when we were in Melbourne...
So, we made a special night out and took an opportunity to visit the place... with kids and grandma in tow! It would have been nice to just visit as a couple only... but why would we deny the best pizza in the world to our kids?

The Space
When you first enter... you do get the impression that it is more of a restaurant rather than your local pizza takeaway. The waiters are properly trained and professional and there is good emphasis put upon spacing and lighting...
The restaurant is really quite a popular location... so bookings are definitely in order!
Unfortunately, due to the large crowds, the area does get quite noisy... and it definitely isn't a great place for little kids to run around in! However, we were able to keep our toddler distracted and restrained..... but if you have a runner or a free roamer... be warned, perhaps it is babysitter night!
It is casual in dress... despite the fact that the website (and a lot of the clientele....) makes it seem up market and more suitable for a dressy night out.

The Menu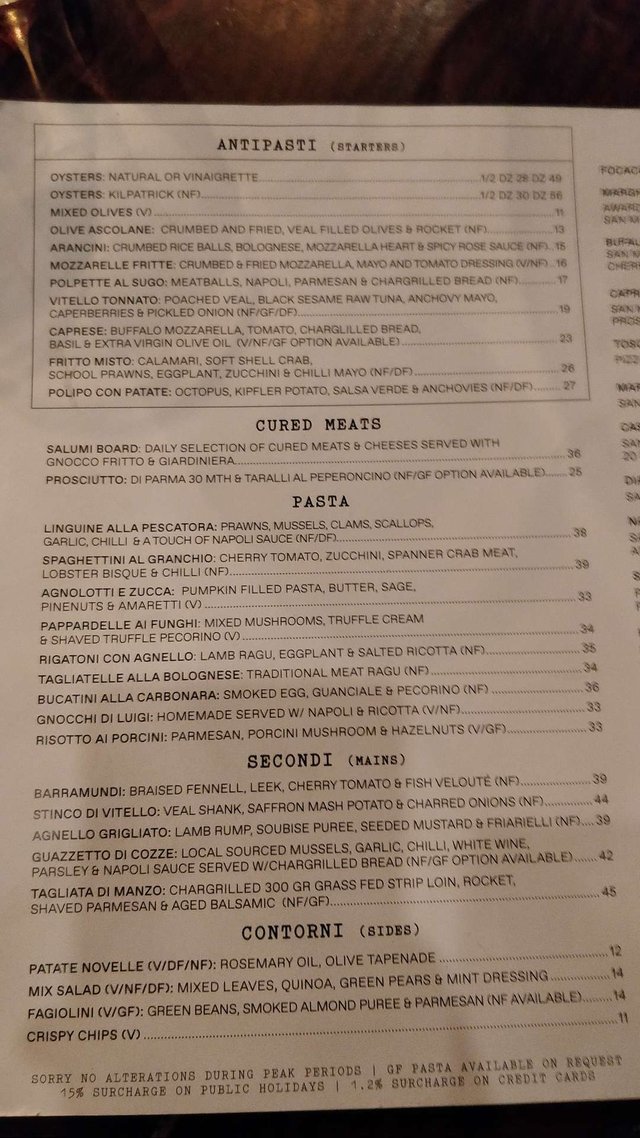 Okay... a wide variety of quite normal Italian starters and mains. Pasta is in abundance as are other specialties from the Neapolitan region from which the restaurant takes it's inspiration.
Everything looks great... but we are really here for the pizza... so, best not to load up too much on this!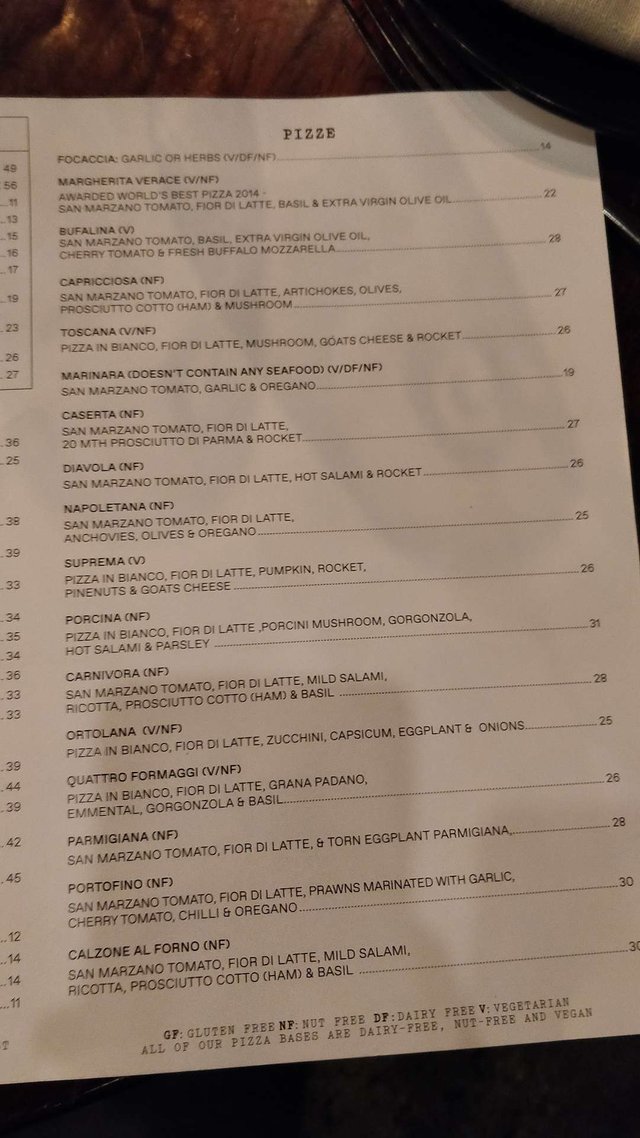 The main event... the pizzas... and there are so many! No pineapples...

The Food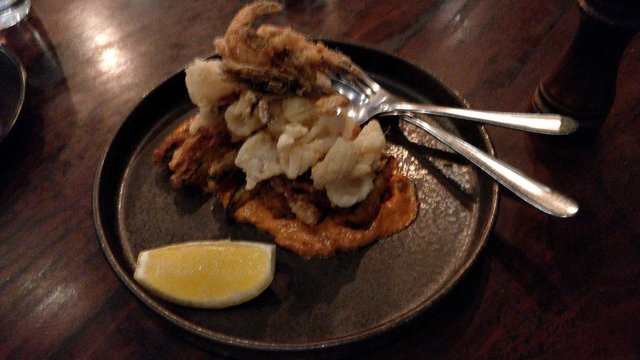 Our first starter was a mixed seafood that was lightly battered and fried. I wasn't expecting too much of these "other" dishes when I first was planning to come here... but it was quite a nice eye (mouth...) opener. It can be hard to get seafood just right... keeping things moist and tender, overcooking tends to be the most common mistake... however, no amateur mistakes here. Top quality food and cooking!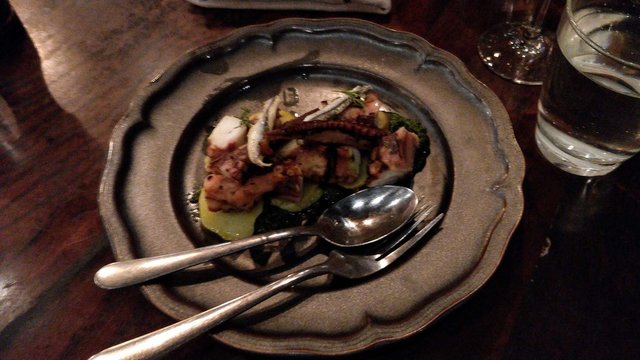 Octopus... it is another dish that is really hard to get right. It has to be done really very quickly, or the meat gets a hard and rubbery texture and it just tastes bleah... I had the best ones in Spain, and I had tried to get something similar to show my wife in Netherlands... but it was a dismal failure.
However, this was a pleasant surprise here... I took my chances on this being a decent restaurant and knowing how to do it properly, and I wasn't disappointed! Perfectly tender and with a great sauce under as well!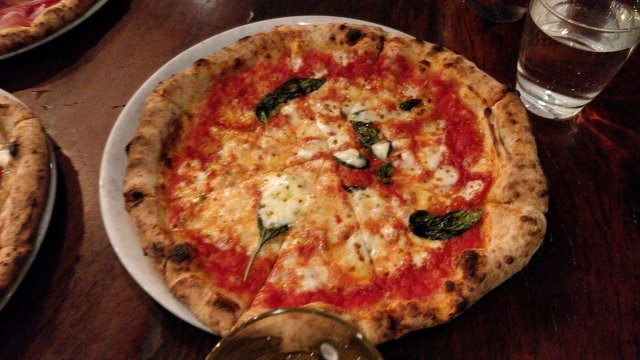 Okay... the much-hyped star of the evening, the Margherta Pizza... award winning and the REASON why we came here! How was it?
Stunning... I can see why it won the awards! Base was light and sides nicely crisp.... but the thing that really made it? THE SAUCE! Oh my gosh, I've not tasted a better tomato sauce in my life... I have no idea what they did with it, but it is indescribable.... this sauce as the basis for the cheese and basil... well, it is impossible to go wrong!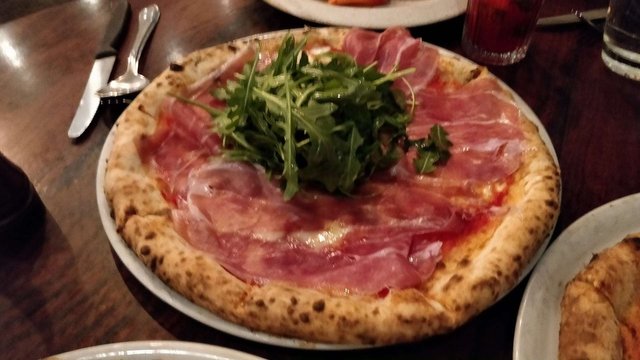 As a nod to our meat lovers... we have a Prosciutto pizza with a nice dose of Rocket. Again, high quality pizza with limited but top quality ingredients. No overstacking of flavours here...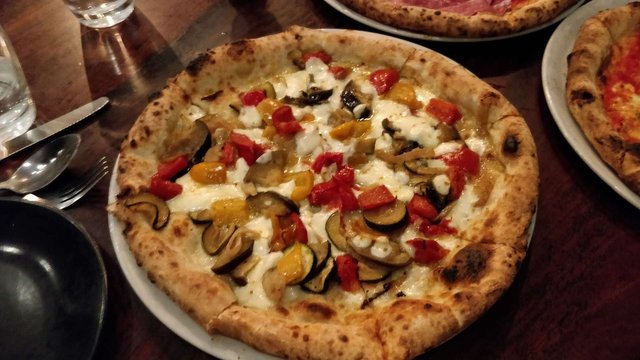 ... and lastly, our "healthy" pizza. A Roasted vegetable pizza with a white sauce. I'm not normally a fan of the white sauce pizzas... but this time, I would make a huge exception... I don't think that there is any bad pizza on this menu at this restaurant!

The Experience
What can I say... you have to try the Magherita pizza here... there is just no other way to experience the wonder that is the sauce. Well, the only other way is to order a basic pasta, which uses a similar if not the same sauce.
The experience was great... I would definitely recommend this place to anyone finding themselves in Melbourne. All the sides were great, the pizzas were the stars.
The wait staff were nice and mostly friendly, and it is a great place for casual or slightly dressier feed. Definitely a great place to take someone who you want to impress!
That said, it is a touch on the pricier side... on the other hand, you are paying for some pretty good quality, but if you are expecting Domino's prices (like some of the online reviews....)... well, you are really in the wrong place!
Will definitely return many more times... well, if I find myself in Melbourne...

Opening Times
Monday 12–11pm
Tuesday 12–11pm
Wednesday 12–11pm
Thursday 12–11pm
Friday 12–11pm
Saturday 12–11pm
Sunday 12–11pm

Contact Details
Address: 99 Lygon St, Brunswick East VIC 3057, Australia
Phone: +61 3 9380 2320
Website: https://400gradi.com.au/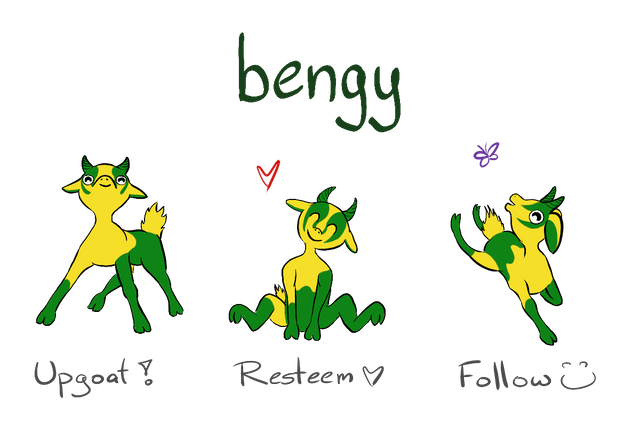 Upgoats by ryivhnn
Account banner by jimramones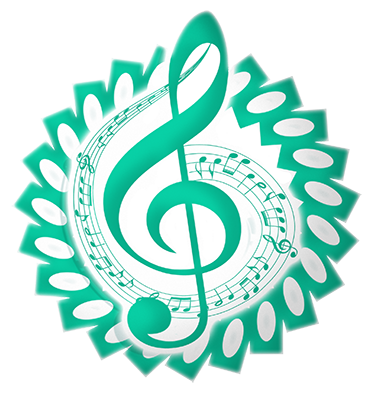 The classical music community at #classical-music and Discord. Follow our community accounts @classical-music and @classical-radio. Community Logo by ivan.atman

---
Restaurant Information

400 Gradi



99 Lygon St, Brunswick East VIC 3057, Australia
---
400 Gradi (Melbourne, Australia): A Tasteem Review
This post participated in the Tasteem contest Pasta vs Pizza