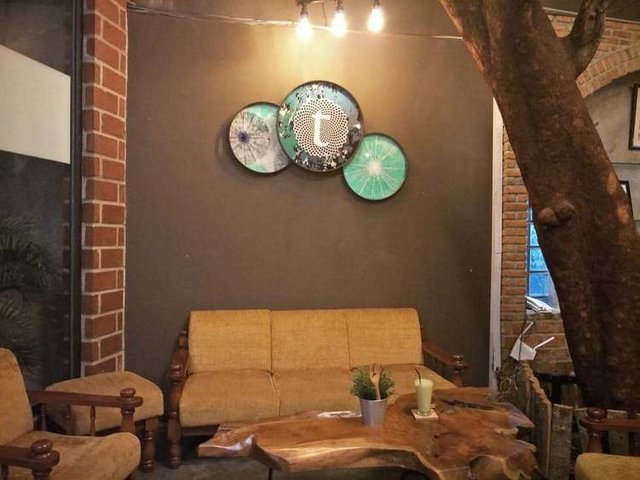 Why does Jakarta need more cheap cafes?
Jakarta is the capital of Indonesia, where many people are looking for high-paying jobs. This metropolitan city certainly has an expensive cost of living, sometimes it cannot afford to be fulfilled with a salary called greater than other cities.
Most Jakarta residents are migrants, students and workers. Including me, workers who have big dreams of success in Jakarta.
Jakarta needs more cheap cafes to meet the needs of migrants in the city of Jakarta to gather with friends to unwind, or just be alone to work with a laptop.
Lifestyle developments that automatically also change the economic system, making many workers work more often not necessarily in the office. Most workers now only work in front of a laptop, in a comfortable place like a cafe. The field of media and communication especially social media has become a field of money-making that offers many jobs.
That is why many young people who need cheap cafes to work, full time or as a freelance after returning from the main work office.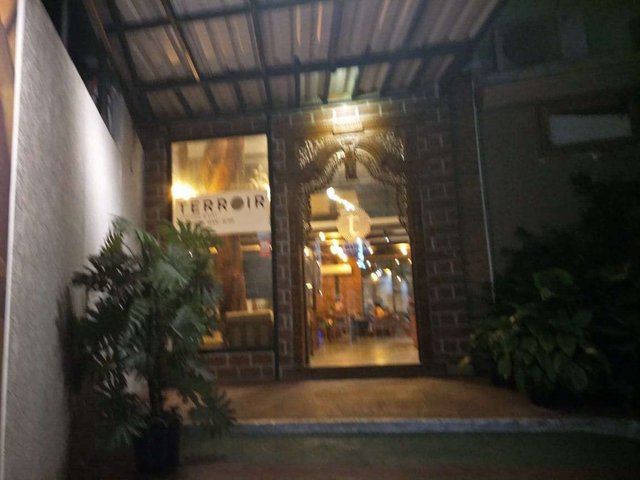 A Hidden Gem Cafe
Hidden and not found, does not mean that a cafe has such poor service. Cafes hidden in Jakarta areas actually have good service. They are in places that are hard to find and good points, these hard-to-find places actually provide peace, away from the hustle and pollution of Jakarta.
Cafes that occur in places that are hard to find do not mean they are really hard to find. With technological sophistication, you don't need to worry. For residents of Jakarta who are accustomed to using online transportation services, they will also have no trouble finding this place.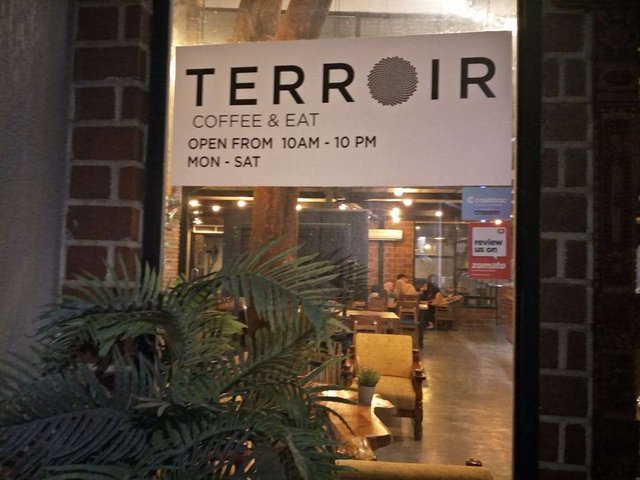 Terroir Coffee & Eat: A Hidden Gem, Undiscovered The Cheap and Fabulous Cafe In South Jakarta
Terroir Coffee & Eat is one of the cafes which is a hidden gem in the area of Dharmawangsa-South Jakarta, Indonesia. Regarded as a valuable gem because Terroir Coffee & Eat has cheap food prices with a taste that does not disappoint, and has a luxurious design place. The design of the Terroir Coffee & Eat room at night shines like a beautiful and precious gem.
Terroir Coffee & Eat Design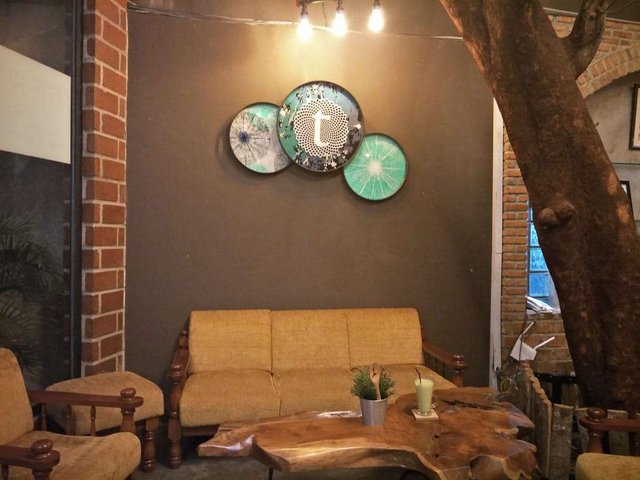 Terroir Coffee & Eat has a beautiful classic design to enjoy in the present.
Wooden ornaments that dominate the tables produce a warm impression to provide comfort to visitors. Look at the texture of this table! Unique and polished to be more beautiful.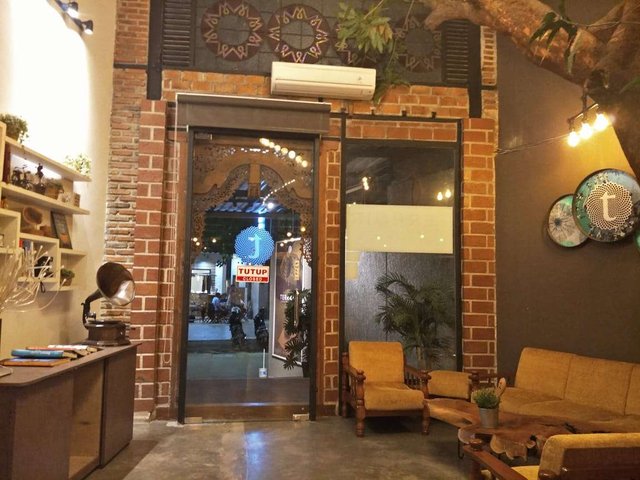 There were also wood elements from the large tree trunks that were near the door table, also at my desk area at that time.
Luxury Design with Beautiful Lights
The lighting provided by the effects of light bulbs is the best choice for applying a luxurious touch to the design of a room.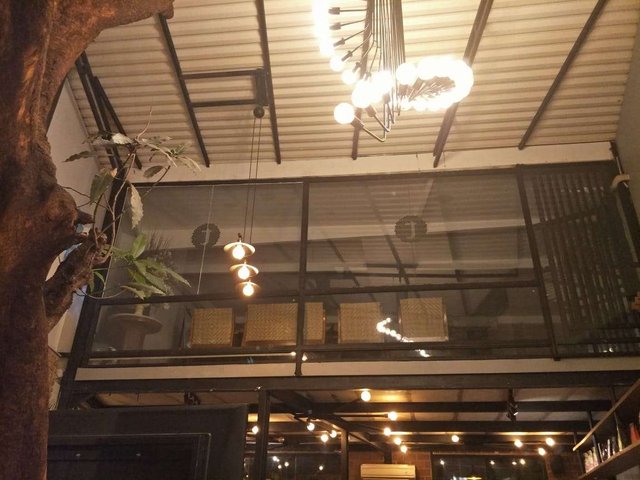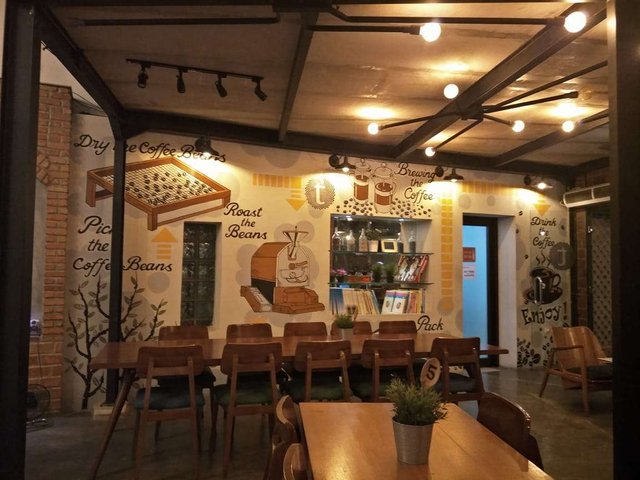 Terroir Coffee & Eat intelligently applies this function. Light bulbs are hung in several places that make the cafe atmosphere look luxurious, not cheap, even though the price of food is cheap.
The table number marker also has a unique sign, using a large wooden spoon.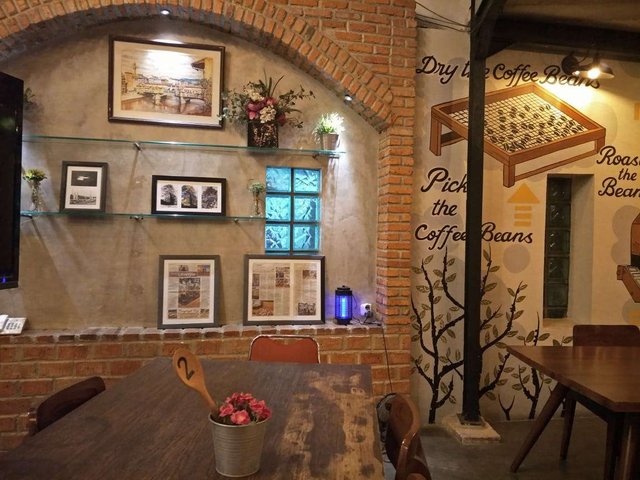 Do not forget the classic accessories placed on one side of the room. Usually visitors take pictures in this area.
Terroir Coffee & Eat also has a bar system for paying for orders, and for making drinks. Even though it has a bar like this, Terroir Coffee & Eat does not provide alcohol.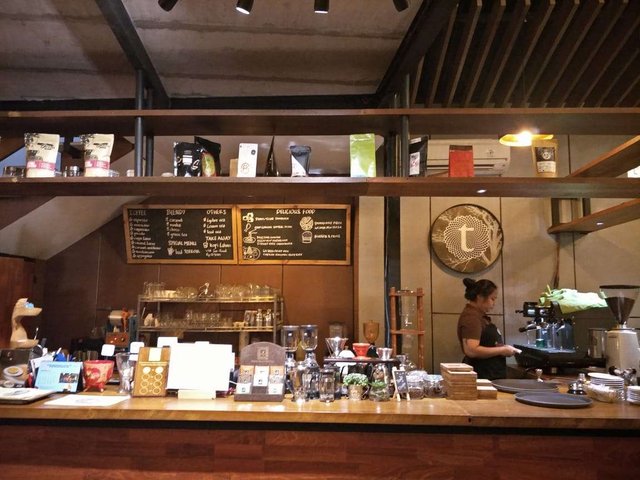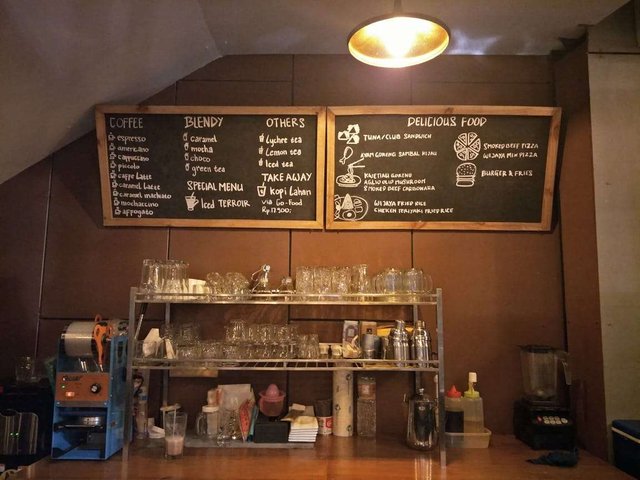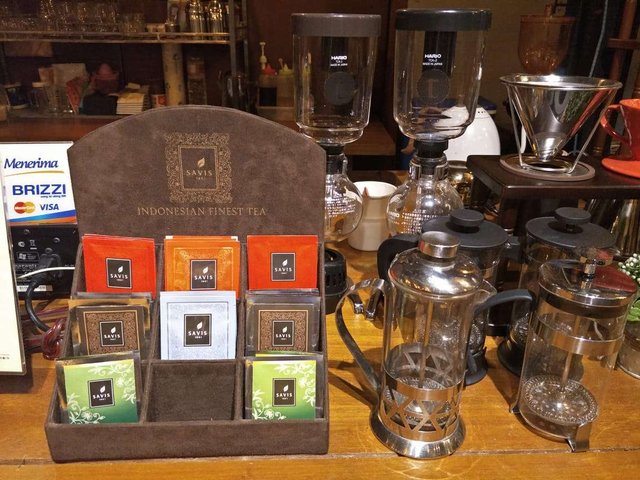 Terroir Coffee & Eat has two floors, accompanied by a smooking room.
Menu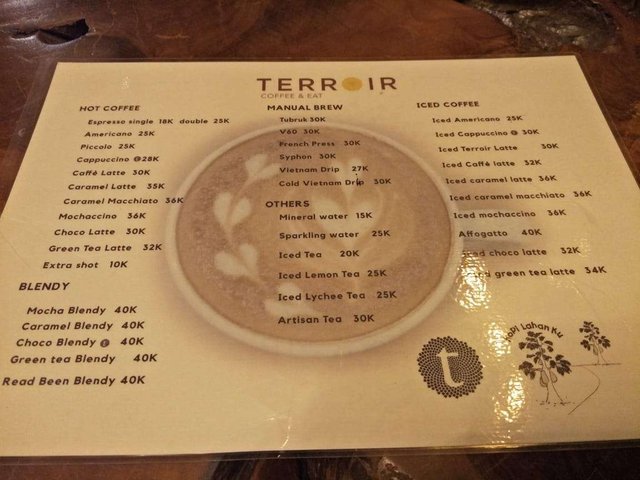 Terroir Coffee & Eat has a menu of coffee highlights and types of pasta. The variety of coffee is quite complete with the types of coffee menus that you usually enjoy coffee lovers.
Light Bites, Soup, & Noodles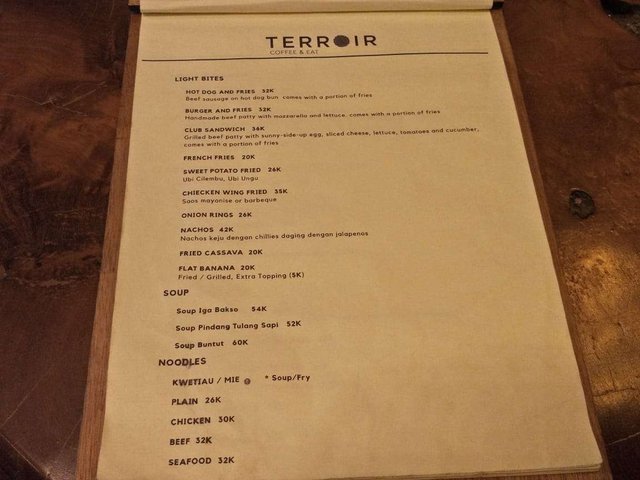 For visitors who want to just eat snacks, or enjoy the opening menu while chatting and waiting for other friends to come, can try the Light Bites, Soup, or Noodles menu.
Main Course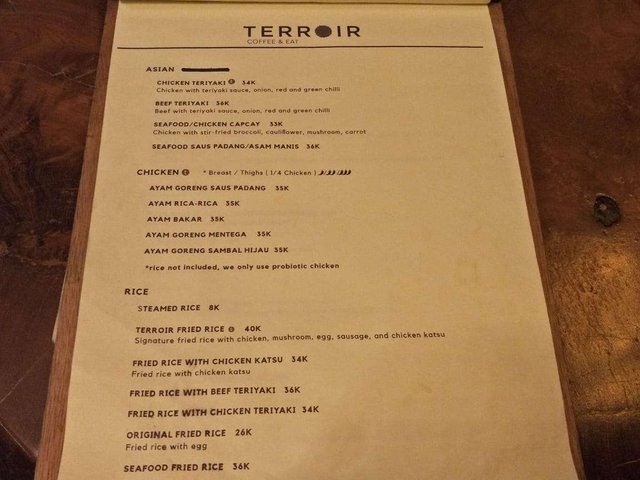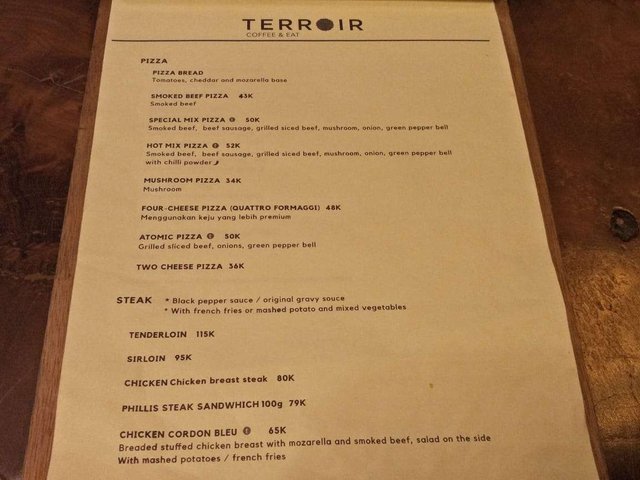 Terroir Coffee & Eat
provides main courses in Asian and Western style. For Asian food, Terroir Coffee & Eat offers a variety of rice, chicken and noodles.
For Western dishes, Terroir Coffee & Eat offers steak and pasta dishes.
Dessert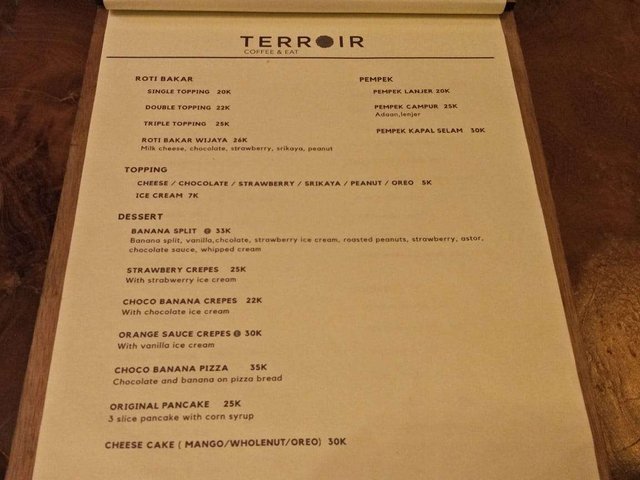 Visitors can try a dessert menu that is no less delicious than expensive restaurants in Jakarta. The favorite dessert menu at Terroir Coffee & Eat is Banana Split, Crepes, and Cheesee Cake with a blend of choices of mango, wholenut and oreo toppings.
My Impressions and My Choices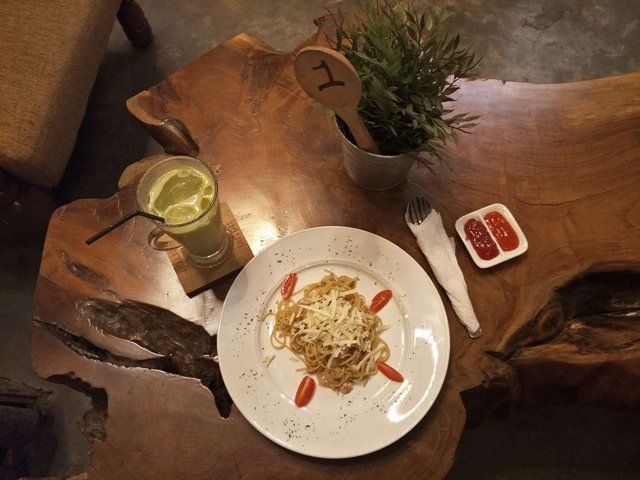 I found this place because of the reason I want to eat pizza! I am looking for a cafe recommendation that offers cheap pizza around South Jakarta that is close to my house.
Finally I found this place because I looked at the Zoomato application. The rating is good around 4 so I don't hesitate to come here.
As soon as I entered Terroir Coffee & Eat, it really exceeded my expectations of cheap cafes, because the design was not like a cheap cafe. It's beautiful and luxurious.
Aglio Olio Mushroom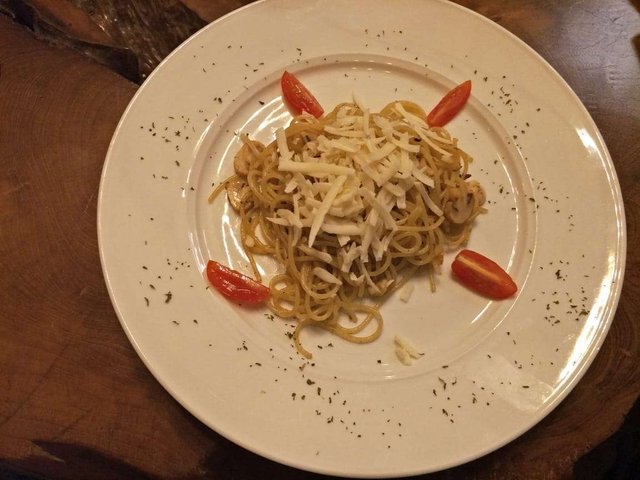 Actually I want to eat pizza, but it turns out I'm also hungry and decided to choose dinner with Aglio Alio Mushroom with a choice of spaghetti pasta types.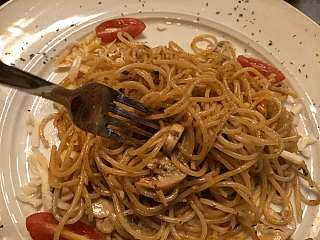 The texture is definitely al dente, but for the taste I don't really like it because to be honest I can't live without spicy taste. But this doesn't matter because there are chili sauce helpers. Finally I finished this pasta without remaining!
Pizza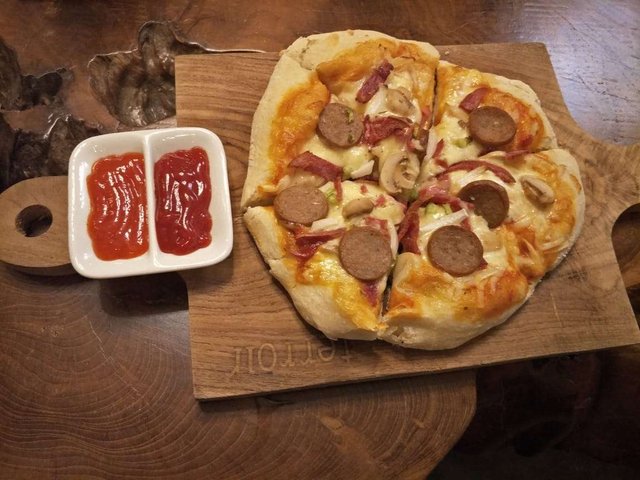 I am not a Pizza lover, but somehow I want to eat pizza. I was lucky to find
Terroir Coffee & Eat
! Not for reasons of cheap prices, but precisely the type of pizza I like!
The reason I'm not a Pizza lover is because sometimes pizza has a texture that is too dry. But with Terroir Coffee & Eat's pizza, I began to believe there was always a decent pizza I enjoyed to be a small gift for my day.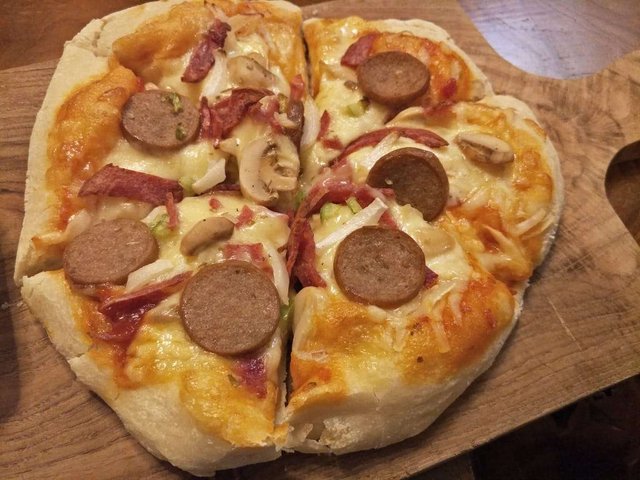 I ordered Special Mix Pizza, which consists of smoked pizza, beef sausage, grilled siced beef, mushroom, onion, and green pepper bell.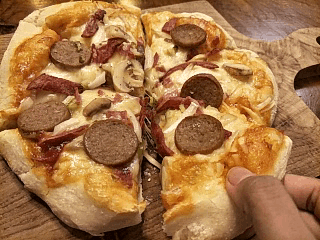 I like the pizza texture made by Terroir Coffee & Eat's kitchen! I spent 6 pieces of this pizza myself even though I had eaten spaghetti before.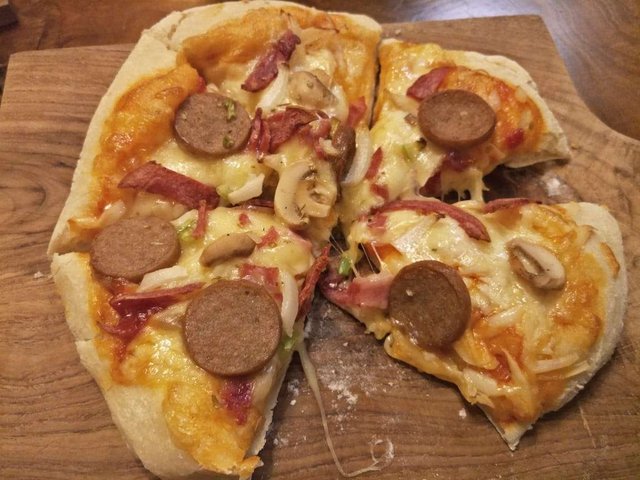 It's really cheap, but luxurious and amazing, especially to be enjoyed when you wait for payday.
Green Tea Latte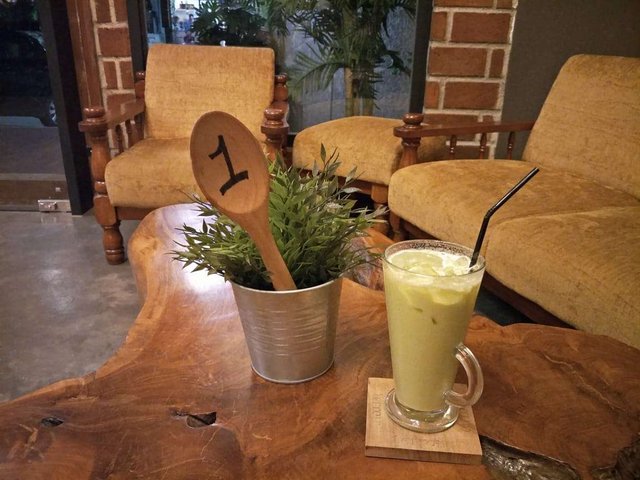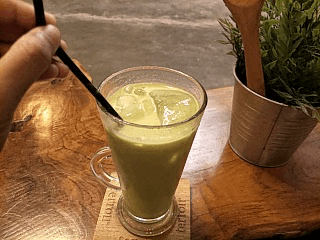 Ice latte is the right choice to refresh yourself and your mind! I chose green tea latte. As we know green tea also has many benefits for health, not just a favor for a variety of menu offerings.
Final Word of Yummy Traveler at Terroir Coffee & Eat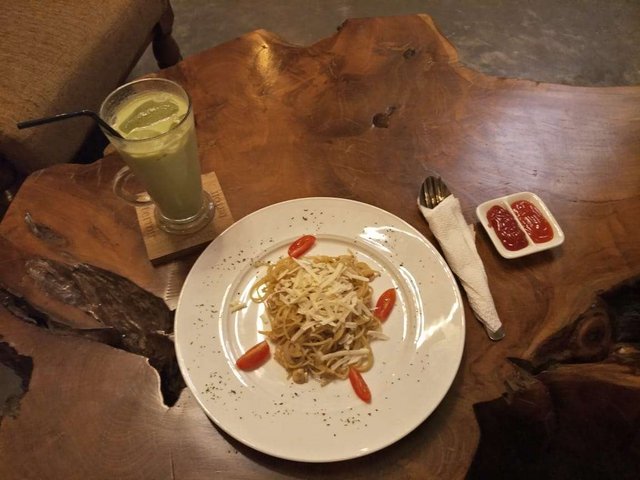 Finding Terroir Coffee & Eat is something to be thankful for cheap cafe seekers with luxurious taste and the design of a beautiful and comfortable place.
Terroir Coffee & Eat becomes a hidden gem in the South Jakarta area that you must visit when you visit Jakarta.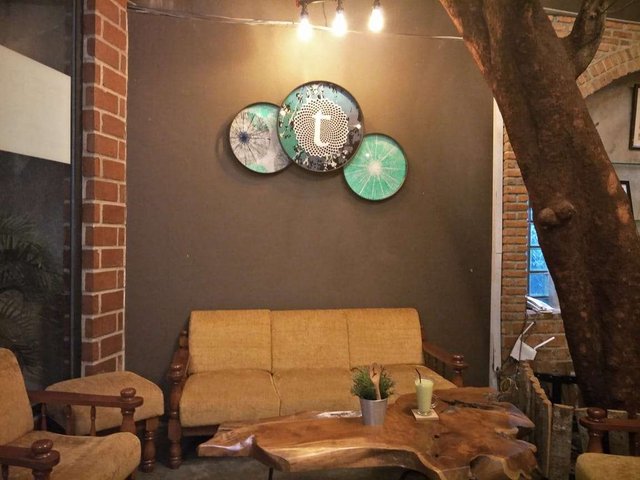 Restaurant Information
Opening Hours: Mon-Sun: 10 AM-10 PM
Specialist Menu: Coffee, Asia, West
Part Bonus
Like the previous Yummy Traveler edition, I will also give a bonus part in the form of a short video for you to imagine the real situation and conditions of Terroir Coffee & Eat. Enjoy videos that I only took and I edited using my cellphone! Enjoy!





KEEP TASTEEM ON!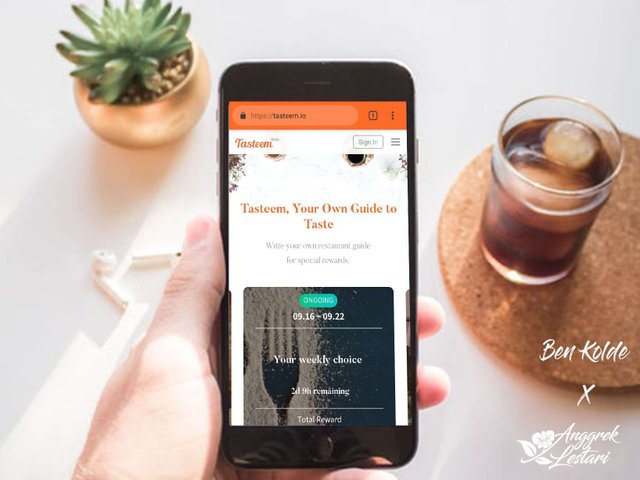 Don't forget to use tasteem.io if you have review about place to eat and get a special rewards from @tasteem! Feel free to join on Tasteem Discord Channel: https://discord.gg/SZvH5bA
---
Restaurant Information

Terroir Coffee & Eats



Jalan Wijaya Timur I No.6, RT.15/RW.2, Petogogan, Kebayoran Baru, RT.15/RW.2, Petogogan, Kby. Baru, Kota Jakarta Selatan, Daerah Khusus Ibukota Jakarta 12170, Indonesia
---
Terroir Coffee & Eat: A Hidden Gem, Undiscovered The Cheap and Fabulous Cafe In South Jakarta [Yummy Traveler #12]
This post participated in the Tasteem contest Cheap and Fabulous? Totally possible!