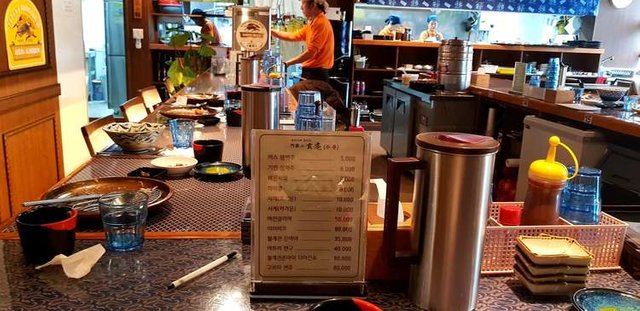 Allow me introduce a great Japanese diner in the Gangnam area of Seoul.
It is the kind of place where you can enjoy a nice lunch or dinner or perhaps just a light meal and drinks.
It's called Sutta Soba Doncatsu (수타 소바 돈카수).
Sutta means handmade.
Soba is a Japanese cold noodle dish.
Doncatsu is breaded and fried pork cutlet.
I went to the restaurant for lunch. It is usually crowded, but lucky for me I got a seat at the counter without waiting. In case you don't know crowded equals delicious or at least a good deal.
I didn't feel like ordering soba because it is winter. I have also tried most of the doncatsu.
So I asked the chef, "What's new boss?"
He replied, " Kimchi Cheese Doncatsu Rice Bowl."
So I said, "Sounds delicious!"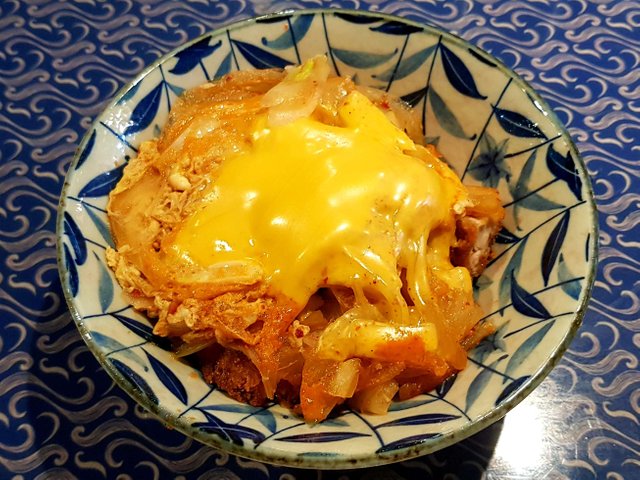 In fact I was lying. It wasn't bad but compared to their normal food, it was so-so. I do like and encourage the chef to try new things. Experimenting will keep me coming back.
The menu is all in Korean and Japanese, but basically it is just different types of pork cutlet plates or bowls and a couple types of soba. Already perfect if you ask me.
They are now building a specialized noodle room out front so everyone can see them making noodles. I guess that will give me something else to look at besides #tasteem posts while waiting in line for lunch.
The interior looks like a typical Japanese diner. There is a counter around the server area, the kitchen is exposed and there are tables along the walls.
The restaurant is located behind the Kyobo Tower at Shin Nonhyun Station in a building with many other shops and businesses like everything else in Gangnam. Go to 2F above the Compose Coffee shop.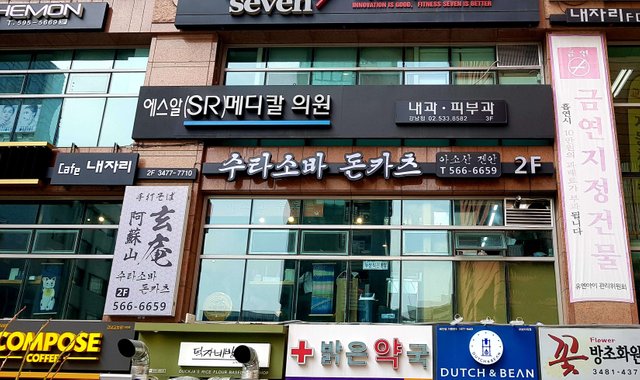 Few restaurants get their own building or even floor for that matter in the city.
If you only have one chance, I recommend the set which comes with both soba and doncatsu. Maybe you can wash it down with a Kirin draught beer.
Bon Appetite! =) ♡
---
Restaurant Information

수타 소바 돈카수 (Sutta Soba Doncatsu)



7 Sapyeong-daero 56-gil, Seocho 4(sa)-dong, Seocho-gu, Seoul, South Korea
---
Handmade Soba & Doncatsu Diner
This post participated in the Tasteem contest Your weekly choice